Humphrey B. Bear to Stage Mums and The Lost Nirvana
Amie Casey is a rising star in the Australian entertainment industry. With an early career in modelling, Amie has since established herself as a leading actress and producer with both television and film credits.

In 2016, Amie founded Red Empire Productions, a film and television production company specialising in Sci-Fi and Fantasy genres, using Blackmagic Design cameras and technology to produce cinematic quality shows that propelled her work into the spotlight.

Amie's most recent accreditation as a producer is upcoming television series The Lost Nirvana which stars some of Australia's most in-demand actors including Gyton Grantley (Underbelly), Chai Hansen (The 100), Nikolai Nikolaeff (The OA) and Tessa James (Home & Away).

Never afraid to tackle controversial topics in her work, Amie is at the forefront of the exciting growth of the Australian film and television industry and as a young woman in the creative arts, is particularly engaged in discussions around feminism and innovation in television and cinema.



Interview with Amie Casey
Question: What inspired your passion for film?

Amie Casey: As a child I used to lose myself in hundreds of books. I was obsessed with immersing myself in worlds that I felt were out of reach and learning from another's life experience. I love a mixture of scifi/fantasy, historical literature and biographies - the more exciting and controversial the better. I feel like I naturally gravitated towards film because it was my way of becoming a part of stories that I love to lose myself in. The film industry is fast-paced, wracked with adrenaline, challenges and risks, but a deeply creative and satisfying outlet.


Question: Can you describe your role as a producer?

Amie Casey: The way that I see my role as a producer is to help build and guide a production from start to finish. From the initial conception of an idea, shaping it into a product, bringing the right team together to capture and portray the vision, and overseeing the finishing pieces as they come together to form the product our audience will ultimately (and hopefully) come to view and love.

I believe each producer has their own way of navigating productions however I like to run my sets with a focus on professionalism and trust, so that each team member always feels respected and valued which I believe is integral to running a smooth ship.


Question: What's it like being a female in this industry?

Amie Casey: From personal experiences I found it difficult as a young, female to penetrate the production side of a male dominated industry. In the past I found men preferred working with other men, which resulted in having to work twice as hard to come half as far to break into the industry as a producer. As an actress, however, this was much easier to make my mark. I was always given more opportunity as an actress then I was an opportunity to learn skills that would support a career in producing.

In 2015, after acting in and producing the television series, The Lost Nirvana - starring well-known Australian actors - my social media following grew as did my opportunities as a producer.

The first step towards people in the industry taking me seriously was working on We Were Tomorrow followed by the support of Blackmagic Design. The most important thing you can bring to the table as a producer trying to establish yourself is the gear you use.

Blackmagic Design's support has opened many doors and helped facilitate productions. Men take me more seriously as a professional women in the industry because I have the support and equipment from Blackmagic Design.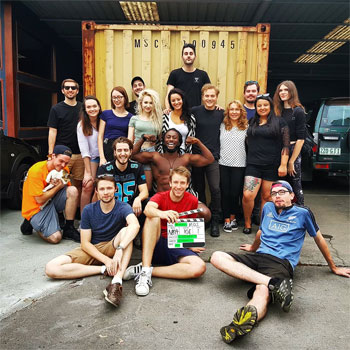 Question: What motivated you to begin Red Empire Productions?

Amie Casey: My motivation to begin Red Empire Productions originated from exposure to two influential Australian female producers. Seeing these successful women make their mark in the industry showed me my dream of being a producer was possible. Fortunately I closely was mentored by, Kristijana Maric, who then drove me to pursue my vision of creating my own production company.

The name Red Empire Productions comes from a combination of multiple things. It was important for me to have the name -Empire' as I believe it is reflective of my personal brand and adds an achievement direction for the company.

The -Red' at the beginning is my hint to the world that our productions will never be scared to push the boundaries of humanity and explore thought processes and imagination linked to the always controversial: passion, violence and taboo.


Question: Are you able to tell us about your production credits?

Amie Casey: Yes! I dabbled in some local productions around the 2014/2015 mark. My first major production opportunity as a producer and leading actor came around mid 2015 for a feature film project called We Were Tomorrow which starred well known Australian actors including:

Chai Hansen (The 100)
Gyton Grantley (Underbelly)
Tim Pocock (Dance Academy)
Lara Jean Marshall (The Saddle Club)
Nikolai Nikolaeff (The OA)
Alicia Banit (Dance Academy)
Christopher Kirby (Queen Of The Damned)

After pitching the film out to distribution, we were advised to reshoot as a four episodic first season for a television series. We had the privilege of bringing our core actors back as well as a few more great Aussie talents, including:

Tessa James (Home & Away)
Nic Westaway (Home & Away)
Beau Brady (Home & Away)

The first season of the series, renamed The Lost Nirvana, is unreleased, as of yet.

Since 2015, I have been privileged to work on a number of other productions as a producer including:

Digital series Stage Mums
The feature film -1' starring Dan Ewing (Home & Away)
Digital series Interface, starring Charles Terrier (Neighbours), Dan Ewing (Home & Away), Hugh Parker (The Family Law), Ellie Popov (Thicker Than Water)

I also have had the pleasure of joining the production team of Humphrey B. Bear as a Junior Producer.



Question: What's a typical day like at Red Empire Productions?

Amie Casey: As a creative production company no one day at Red Empire Productions looks the same. Our days range from brainstorming, to site production, workflow tracking, client meetings, and project development.

We are fortunate to work in a space with writers, producers, cinematographers, production designers, and entertainment lawyers. This makes for a diverse and creative work environment enabling us to collaboratively develop ideas. This also makes for a fun and vibrant work space.


Question: How is Red Empire Productions providing a fresh perspective on the Australian Film Industry?

Amie Casey: Red Empire Productions pushes the boundaries by creating fresh Australian content that explores taboo and controversial themes and topics. We seek to challenge social narratives through our productions and develop content important to shifting social ideologies.

We believe that creating excellent Australian content is about exploring the unique narratives within Australian culture, from an Australian perspective. Red Empire Productions has the trust in the Australian Film Industry's talent to produce leading content within Australia. We use Blackmagic Design equipment to create with Hollywood grade quality.

Red Empire Productions also leads by example within the industry. By focusing on skill, not gender, our productions provide a balanced perspective to our audience and other industry professionals.


Question: What is your 2018 goal?

Amie Casey: My personal goal for 2018 is to learn to balance my professional and personal life a little better. At the moment it feels a little one sided, but I feel like I'm cheating, because it doesn't feel like work.

Professionally I am very excited for Humphrey B. Bear! We are also moving through the post-production process for my recent production, Interface. I absolutely cannot wait to share it with the world! I believe we've got a bit of a gem there.

Red Empire Productions is also progressing with the development of another series production called Society and a feature film which we also have in the works.


Question: What's next, for you and Red Empire Productions?

Amie Casey: For Red Empire Productions, our immediate -next', is bringing Interface through post-production and delivering to distribution. In addition to developing the previously mentioned series, Society.


Interview by Brooke Hunter