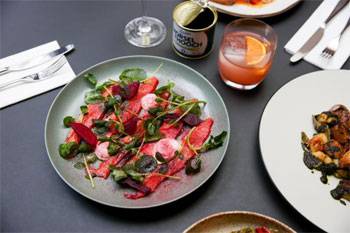 Exceptional Australian Produce
Occupying prime corner real estate in Melbourne's food destination laneway, Katherine Place, Archie Green has just updated its menu and made it, well more relaxed.

Channeling really delicious Brasserie fare, Archie Green's new menu can be termed a new take on 'Australian Brasserie'. Touting many delicious dishes that are a nod to Chef Gomez Braham's time working alongside culinary greats such as Peter Gilmore of Quay and English Michelin Star winning chef Tom Aitkens in London.

Gomez Braham says; "We are a new restaurant and we want to give people food that they really enjoy eating. With the new menu, we have listened to our customers and they want sublime produce, simple delicious dishes and the option to graze or to feast."

Clearly, the Archie Green team is passionate about food and the new menu speaks to this.

The new Archie Green menu offers dishes such as charred King Prawns with garlic and jalapenos, Confit Chicken leg or succulent twice cooked Millbrook Pork Belly.

Brasserie classics such as Grain Fed Rangers Valley Steak served with a classic Café de Paris butter, onion rings and charred cos lettuce are heavy brasserie hitters, but also lightly nuanced Duck, Pork and Pistachio Terrine, and Chicken Liver Parfait beguile and satisfy. Desserts see the return of a retro Ice Cream Sandwich with banana and rum parfait or a Crème Catalan.

Sommelier Stuart Quinn is marrying the grape and the grain on a beverage list that sings to the delights of both. Classic and craft beers are offered on tap from Asahi Super Dry to Hop Nation and Mountain Goat. The cocktail list offers a selection of quality spirits with a new lift such as The Talented Mr Ripley, a Tromba tequila rounded out with a Strangelove Bitter Grapefruit and house made grapefruit sherbet. The wine list offers an interesting collage of wine styles, at a nice price to suit most palates.


'Cheap prices does not mean cheap booze' at Archie Green and their Happy Hour is indeed very happy, as it is three hours. Premium glasses of wine are yours at a snappy $9 per stem and $10 cocktails are affordable luxuries all week from Monday to Friday 4pm – 7pm.

Capacious dining booths ensure plenty of room for festive gatherings and business lunches. A private dining table seating 14 is available to hire on special occasions. A black and white interior with touches of green was inspired by archetypical industrial Melbourne style and softened with plants throughout.

Archie Green is available for function bookings and the venue can be booked in advance for special events. Owner Paul Hourigan, previously of Riverland and General Assembly, is a hospitality professional and has brought Archie Green to life with the help of his wife, Ange Hourigan. Archie Green is the culmination of his hospitality experience and love of the industry with their shared passion for food.