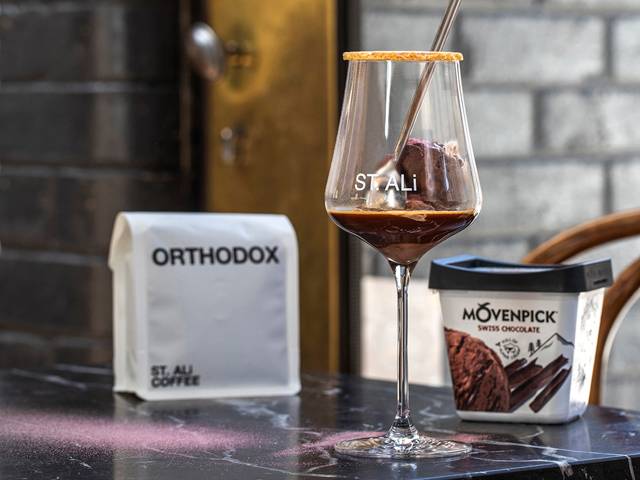 Coinciding with the first Friday of summer, Mövenpick Ice Cream and ST. ALi Coffee Roasters are bringing Melbournian's a new way to experience their coffee with the introduction of the Alchemy Affogato – available at the ST. ALi café in Yarra Place, Friday 6th December, while supplies last. Mövenpick Ice Cream will also be scooping their signature Swiss Chocolate, Cookies & Caramel and Chocolate & Salted Caramel flavours, now available exclusively at Woolworths, at ST. ALi from 9:30am- 12:00pm.

In what coffee expert and ST. ALi founder Salvatore Malatesta is calling a 'quintessentially Melbourne' creation, the limited-edition collaboration brings together the two brands' shared obsession with the highest quality ingredients, attention to craftsmanship and pursuit of simplicity.

"This collaboration celebrates everything that Melbourne loves: quality coffee and ice cream, a sense of culinary rebellion, innovation and summer," commented Malatesta, a pioneer of Melbourne's third wave coffee and culture scene and creator of the Alchemy Affogato.

In this elevated interpretation of the traditional affogato, Malatesta combines his Italian roots with his Aussie thirst for creativity and innovation to create the Alchemy Affogato. The dictionary meaning of alchemy nods to the process of transformation or combination, which complements the pairing of Mövenpick's signature Swiss Chocolate flavour and ST. ALi Orthodox coffee for an exclusive twist on Australia's coffee culture.

Mövenpick passionately selects the best natural ingredients for every scoop of ice cream, including the purest cream straight from the Swiss Alps. This Alpine Spirit is engrained within the brand's heritage and inspires Mövenpick craftsmen working in pure nature to deliver real experiences worth sharing with consumers.

"We know that the best moments in life come from when simple things are done in extraordinary ways. Just like Mövenpick Ice Cream is a simple blend of the purest ingredients, drinking coffee is another simple pleasure in life. We want to celebrate how the simple can be revolutionary and use this innovative pairing to welcome in the Australian summer of 2020," said Antje Rummel, Head of Marketing at Mövenpick Ice Cream.

Those in Melbourne can taste the Alchemy Affogato first-hand at St. ALi on Friday 6th December, while supplies last. Ice cream and coffee lovers can also purchase Mövenpick ice cream at Woolworth's to make the unique creation in the comfort of their homes.

Mövenpick Swiss Chocolate, Cookies & Caramel and Chocolate & Caramel flavours are now available exclusively at Woolworths for RRP $11.50.