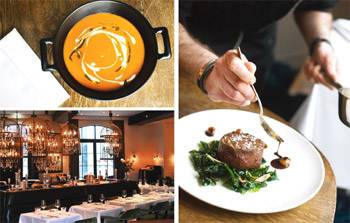 Restaurant Grace Opens at Hotel Zoo
Be it the on-the-pulse Berliners or the worldly cosmopolitans who are calling Hotel
Zoo Berlin home these days (at least for an evening), the Grace Restaurant at Design Hotels™' fifth hometown member is fast becoming a hotspot of the city. The speakeasy-esque Grace Bar has already earned many devotees since opening in November 2014, and the new Grace Restaurant adds a finishing touch to the buzzed-about property on Kurfürstendamm. The airy dining room oozes laid-back sophistication, providing the backdrop for a menu where bold and unexpected exoticism elevates classic pairings. www.designhotels.com/hotel-zoo-berlin

A Culinary Journey
The menu marries Asian and Italian influences with modern German musings, and in doing so, carves out a niche in the flourishing Berlin dining scene. A young, ambitious team leads the kitchen, playing with international flavors without overpowering the fine ingredients. The compositions are unique riffs on global favorites. Think tomato Yum Yum soup and tiger prawns topped with a pesto of Kaffir lime leaves and coconut cream, or pork belly roasted in sweet hoisin sauce and served with an edamame ragout. The timelessly sexy oyster is brought in fresh daily, served with Sicilian herb butter and gratinéed with aged Pecorino cheese.

A Feast for the Eyes
The 200 sqm space offers 115-seats, is flanked by two terraces, and is accessed by a separate entrance on Kranzler Eck. White painted brick walls, champagne-hued wood paneling and industrial floor-to-ceiling windows are warmed by an open fireplace, ambient lighting and generous mirrors. Like the hotel, the restaurant bears the signature touches of LA/NYC based designer Dayna Lee. For the approachable elegance, Lee created a series of islands where earthy beiges, browns and greens make up the landscape. For the central focal piece of the room, antique birdcages are re-purposed as
chandeliers with time worn novels clustered underneath. Leather banquette seating and velvet George Smith armchairs are arranged around the centerpiece. Two wooden plank tables welcome the communal or parties up to twelve, while low level round tables and deep armchairs are grouped window-side.

Hotel Zoo Berlin is once again the pride of Berlin's Kurfürstendamm following extensive renovations in 2014 by American design team Dayna Lee and Ted Berner. Amid the revitalization of Berlin's City West, the iconic Hotel Zoo Berlin is reinvented. With 145 rooms and suites, a rooftop terrace, a light-flooded Living Room, a winter garden, and
the intimate Grace Bar, an iconic piece of Berlin history has made a grand comeback. Now, with the opening of Grace Restaurant and an entertainment concept run by the Berlin-based events agency Tehrani & Brandts, a legend is reborn.