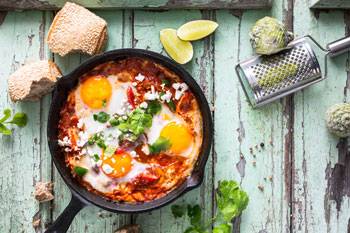 Combining the benefits of a big breakfast with the leisure of a long lunch, brunch is here to stay and those who embrace the burgeoning brunch scene will love what Melbourne has to offer. From the stalwart of eggs cooked in every conceivable manner to breakfast options from a cast of nations, we list our brunch besties and all about a half hour drive from the Melbourne Airport.

The Hardware Societe
Address: 120 Hardware St, Melbourne VIC 3000
Phone number: +61 3 9078 5992
Opening Hours: Monday to Friday 7:30am - 3pm, Saturday and Sunday 8am – 3pm

Compact and quaint, this French inspired café is located amongst a plethora of eating options in Melbourne's bustling Hardware Lane. Inside is warm, bright and clean and those seated at the bar get a great view of the kitchen action. The French toast and baked eggs with chorizo are sumptuous staples. This is a popular place with locals, who are happy to wait a little and pay a little more. Classic pastries in a glass showcase make it difficult to leave without a delicious delicacy for later. The Hardware Societe is about 30 minutes' drive from the PARKROYAL.

The Kettle Black
Address: 50 Albert Rd. South Melbourne 3205
Phone number: +61 3 9088 0721
Opening Hours: Monday to Friday 7am - 4pm, Saturday and Sunday 8am - 4pm

Located in a genteel traditional white terrace in south Melbourne, this renowned café is about 30 minutes drive from the PARKROYAL. The scandi inspired Interior of blonde wood, modern lighting and hexagon tiles contrasts nicely with the classic exterior. Artfully arranged on charcoal slabs, every dish is as pretty as a picture. This is gourmet café fare indeed. Try the hotcakes; they are positively infamous. No bookings taken for brunch on weekends.


The Grain Store
Address: 517 Flinders Ln, Melbourne VIC 3000
Phone number: +61 3 9972 6993
Opening Hours: Monday to Friday 7am - 4pm, Saturday and Sunday 8am - 4pm

Just 30 minutes' drive away, located on the west side of the CBD, the Grain Store offers a bigger brunch menu. The décor is farmhouse country chic with painted timber, marble and fresh flowers and the cooking is equally honest. This is all about superior country cooking infused with traditional European and modern Australian influences. Expect heirloom vegies, seasonal produce and sustainable practices. Alternate tastes terrific!

Rudimentary
Address: 16/20 Leeds St, Footscray VIC 3011
Phone number: +61 497 058 173
Opening Hours: Monday to Friday 7am - 4pm, Saturday to Sunday 8am - 4pm

This hip little joint is a proving a hit in the suburb of Footscray. What was once a vacant run down block has undergone a trendy transformation. Housed in three converted shipping containers, the result is a delightful, light filled fit out spilling out onto an astro turfed garden. This relaxed establishment includes an onsite herb and veggie garden. Vegans and vegetarian options are available. Try the Buttermilk waffles with maple, pancetta and fig or the Reuben sandwich; there is nothing rudimentary about this food. Just a 25 minute trip from PARKROYAL Melbourne Airport.

Auction Rooms
Address: 103-107 Errol St, North Melbourne VIC 3051
Phone number: +61 3 9326 7749
Opening Hours: Monday to Friday 7am - 5pm, Saturday and Sunday 7:30am - 5pm

Situated in North Melbourne and housed in the old WB Ellis auction house, the unassuming exterior belies what lies within. The industrial chic interior manages to be simultaneously cool and inviting. No cookie cutter breakfast options here; the food deserves its Good Food Guide recommendation and one look at the enormous red coffee roaster and you know that coffee is taken seriously. There's the "coffee of the day", blends are roasted on site and a whole wall of beans to buy. A great brunch spot, twenty minutes from the PARKROYAL.