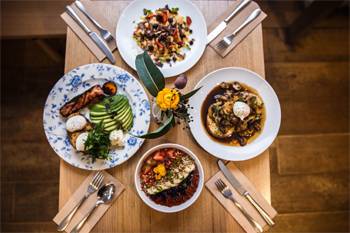 The Lucky Penny
Though the foundation of South Yarra may be made of fashion and finesse, The Lucky Penny is a foodie haven that is giving Windsor a run for its money.

After two years as Head Chef at Red Spice Road's flagship venue (winner of The Age Good Food Guide 2016 People's Choice Award) Head-Chef/ owner Noah Crowcroft embarks on his first business venture with The Lucky Penny.

Inspired by local produce and sustainable urban living, Crowcroft's culinary ethos is simple; food tastes best when it is in season. Having spent his childhood summers on a farm in rural Victoria, Texan raised Crowcroft is committed to fresh, tasty and ethically sourced produce.

From brunch connoisseurs and pretty-food-searching Instagrammers, to the health conscious and vegans; from those who may feel a little dusty and need a Sunday morning feast, to foodies of all sorts - the new owners of this Chapel Street hot-spot have got the south-side covered.

The Lucky Penny's Spring menu boasts Coffee-Cured Salmon with Meredith's Goats Cheese, crispy potato, poached eggs and pumpernickel; Pulled Pork Eggs-Benedict on Dr Marty's crumpets with chipotle hollandaise; and Belgian Waffles with fresh mango, macadamias, coconut, manuka honey flakes and a waffle cone packed full of mango sorbet.

Completing the new Lucky Penny crew are the talented hospitality duo Tim McGregor and Tavis Rogerson. If you've eaten on Chapel Street in the last ten years, chances are you've been waited on by these two hospitality professionals. The three lads have joined forces with local entertainment entrepreneur, Lanis Lanigan.

The Lucky Penny pays homage to vintage modernism and the stylish space boasts a rustic Scandinavian vibe. Award winning Biasol Design Studio has fitted out the venue; fresh white brick walls are complimented with pale wood furnishings, tanned leather, perfect soft lighting and a reclaimed wooden bar.

The Lucky Penny is a culinary gem on South Yarra's busiest strip. Pop in and say hi; it's highly likely you'll want to stay a while.