Carmelo Munzone No Brakes Interview
Carmelo featured on Channel Seven's The X Factor in 2012, and was one of the most popular contestants of the series, becoming the first ever contestant to be brought back to the show following elimination. Since then, Carmelo has gone on to perform internationally, including for Usher in New York City.

Carmelo has just released his first single internationally, and it has been co-written by The Duelists, who have worked with people like Ciara, Jessie J, Adam Levine and Timbaland.



Interview with Carmelo Munzone
Question: How would you describe No Brakes?

Carmelo Munzone: No Brakes is very much a song about breaking through the obstacles that stand in your way. It's a song about things getting you down, and for you to always be able to run straight on through unburdened and smiling.


Question: What was the main inspiration behind No Brakes?

Carmelo Munzone: The main inspiration for no brakes has really come from my journey during and after the show, there are so many things to consider when trying to get up on stage and do it for the little guy, it's a constant battle of confidence and impression that is quite difficult for your regular sort of guy to grapple with everyday and so the inspiration for the song comes from those moments when you feel the heat, and learn to take it in your stride.


Question: Do you write your own songs? What's your inspiration when writing?

Carmelo Munzone: I most definitely do! And No Brakes is no exception, I'd cowritten it with a producer from the team 'THE DUALISTS' after their work with maroon 5, and I couldn't be happier that I did put that pen to paper working with such a good fit!

Whenever I'm worried, or emotional or just have something big on my mind, I pick up a pen and paper, take it EVERYWHERE - and I wait a few days until I've thought up the simplest way to describe something that's made up so many feelings and I write it down!

That becomes the core of my chorus and my verses all work hand in hand with the same journey I've just had so I can tell the story most honestly.


Question: What have you been up to since The X Factor in 2012?

Carmelo Munzone: As many gigs, meetings events as a can and as very supportively as I can do it!

I love supporting my amazing fans and am always happy for a good power performance but I also love to help out a good causes! Other than that I write as often as possible and on such a roller coaster since the show, the album's definitely gonna be something fierce!


Question: Can you tell us about performing for Usher in New York City?

Carmelo Munzone: New York City is now my new favourite city (OUTSIDE of Oz of course) but singing in front of Usher is nerve wracking! His music has definitely been a big part of my life - he had a new single in the charts practically every month of high school! It was definitely amazing to sing for him, but what the cameras didn't show you was my leg shaking pretty much throughout the whole performance! I'd never thought I'd be in that position!


Question: What music/artists do you listen to when you are not playing your own?

Carmelo Munzone: My favourites are definitely Bruno Marz, One Republic, Maroon 5, Jessie J, James Morrison, Ceelo - And the list goes on!


Question: What's next? Tour/Album/Single?

Carmelo Munzone: I have one single and am about two songs off writing my whole Album 'Lucky 13'!

Definitely very excited for that, and while I haven't really thought about it, having a tour in the works might not be a bad idea!


Question: Was there a moment you contemplated throwing in the towel?

Carmelo Munzone: I think every musician does at some point, but as they say, those who never take the risk, never have much to gain.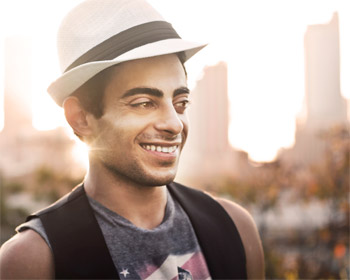 Question: Do you prefer performing live or recording?

Carmelo Munzone: LIVE of course! Recording can be A LOT of fun but it takes a lot of energy to sing with the same feeling for every take, and a lot more energy to keep the producers fingers off that auto time button!

Besides performing an audience has the ability to give you the best and worst feelings in the world - but I'd say it's definitely worth the risk.


Question: What/who was your inspiration to go into the music industry?

Carmelo Munzone: I'd say Ryan Tedder of one republic, his ability to write for so many artists and still be able to tell such a story with every song is what inspires me- it shows that when you write for a person and not just a 'style' it can really touch more people than you could hope for, because the person can believe in the story with their own voice, and I think that makes all the difference.


Question: What is the biggest challenge you have faced along the way to your musical success?

Carmelo Munzone: I would say getting people to consider you for who you are and not what they've seen from a certain perspective. I've never wanted to be forced to prove something, but with what I've written and what I've released now for my friends, fans and public- I think it's relatable enough not to prove anything, but to take someone on that ride with the song.


Question: What's a typical day like?

Carmelo Munzone: Well these days it always starts with GYM!! Gotta keep up the health (becoming a bit of a health nut these days!) then I'll work with what my managers and Publicists send through, try to find some time to sing for me! Then head out to gig if I'm lucky or get some more boring business stuff done with my manager! I like to be very hands on with my career, by the end of the day hopefully an event or some writing, and then if I get a couple days or so in my week I also enjoy teaching singing as well! I love keeping myself busy! Haha


Question: What has been your favourite part of becoming a music artist?

Carmelo Munzone: Definitely meeting fans! And jumping on the stage!


Question: If you could collaborate with another artist, who would it be?

Carmelo Munzone: Again, I'd say Ryan Tedder from one republic.

Amazing talent and amazing singer but I'd definitely have to CO-write!


Question: Do you have a website fans can visit?

Carmelo Munzone: Not quite, but keeping up with the times I'm always reachable and updating on: www.facebook.com/carmelo.munzone
https://twitter.com/MeloMunzone
www.instagram/carmelo13



60 Second Quiz
Full Name: Carmelo Robert Munzone
Nickname(s): Melo!
Star Sign: Gemini
Favourite Food: Lasagne
Favourite Film: V for Vendetta
Favourite Actor: Natalie Portman (I don't know why)
Pet: I have a cat but I want a husky
Person You Would Most Like to Meet: Ironman! He's real right?
Hobbies/Interests: Singing, gym, cooking, cycling, reading and definitely traveling
First Job: Big W getting checked out at the checkouts!
Are you a Pub, Bar or Club kind: Definitely a bar kinda guy, never been into dancing away the night and going crazy, but give me a bit more life than a pub and I'm set, all that can change with the right group of friends though!
What Can You Never Leave Home Without: MY PHONE! Sad but true- If I don't have it I can still feel the vibrations. We have a bond.
What is the first thing you think of when you wake up in the morning: COFFEEE

Interview by Brooke Hunter