Julianne Moore Suburbicon
Cast: Julianne Moore, Oscar Isaac, Matt Damon
Director: George Clooney
Genre: Crime, Mystery

Synopsis: Suburbicon is a picture-perfect 1950s suburb where the best and worst of humanity is reflected through the deeds of ordinary people. But when a home break-in turns deadly, a family must turn to blackmail, revenge, and betrayal in order to survive.

Suburbicon is directed by Academy Award® winner George Clooney (Good Night and Good Luck) and written by Academy Award® winners Joel & Ethan Coen (No Country For Old Men), and Clooney & Academy Award® winner Grant Heslov (Argo).

Suburbicon stars Academy Award® winners Matt Damon (Good Will Hunting) and Julianne Moore (Still Alice), with eleven year-old Noah Jupe (The Night Manager and upcoming Wonder). Also starring is Oscar Isaac (Star Wars: The Force Awakens).

Clooney and Grant Heslov produce Suburbicon under their Smokehouse Pictures banner alongside Black Bear Pictures' Teddy Schwarzman (The Imitation Game). Joel Silver (Sherlock Holmes) of Silver Pictures is executive producer with Barbara A. Hall (Good Night, and Good Luck).

Clooney reunites with a dynamic creative team including Academy Award® winning cinematographer Robert Elswit (There Will Be Blood), production designer Jim Bissell (Good Night, and Good Luck), costume designer Jenny Eagan (Our Brand Is Crisis), and Academy Award® winning editor Stephen Mirrione (Traffic).

Shot entirely in Southern California, on location in Los Angeles County and Orange County.

Suburbicon
Release Date: October 26th, 2017
About The Production
Trouble In Paradise

In the decade following the Second World War, America's emerging middle class was moving to the suburbs: idyllic, affordable homes in planned communities. For many, the American Dream of owning a home was becoming a reality for the first time.

'The GI Bill helped everybody coming back from the war to buy a nice house with a garage and a yard. You could get a good job, live in a nice neighborhood and start a family, as long as you were white," says Clooney. What's fun is peeling back that veneer of the perfect home life, and seeing how ugly things can get."

'George and I were writing a script based on the events that unfolded in Levittown, Pennsylvania," says Heslov. 'In our research, George came across a documentary film from 1957 called 'Crisis in Levittown," It's the true story of what happened when William and Daisy Meyers became the first African American family to move in to Levittown."

'The day the Meyers moved in, the mailman assumed Mrs. Meyers was the maid and asked her if Mrs. Meyers was home," Clooney recounts. 'When she explained that she was Mrs. Meyers, the mailman took it upon himself to go door to door, calling himself -The Paul Revere of Levittown,' asking everyone -Have you met your new neighbors?' By that evening, there were about 500 people on their lawn shouting racial epitaphs, hanging Confederate flags, and burning a cross on the lawn next door."

Around the time they were working on their Levittown idea, Clooney recalled a script the Coen Brother
s had sent to him sometime back in 1999 called Suburbicon. 'It was a comedy/thriller with similar themes to Fargo and Burn After Reading: hapless characters making really bad decisions. We thought we'd like to make something a little less funny and a lot angrier. It seems like a good time for a film that feels angry." 'At that point George had the idea to take the existing Suburbicon script and setting it in Levittown during the week the Meyer's moved in," says Heslov.

'There's something in the national consciousness that wants to look at this era with rose colored glasses," says Matt Damon, who plays embattled suburban father Gardner Lodge. 'We want to believe everyone was somehow happier, but obviously people are people, and there was still a lot of dark stuff going on."

On the surface, Gardner Lodge is a model husband and father, but he finds himself out of his depth when
he has a brush with Suburbicon's criminal element.

'You start the film with a certain set of assumptions about my character," says Matt Damon. 'But as those assumptions begin to unwind as we watch him attempt take control of a situation, and continually fail."

'Matt is a consummate professional with a tremendous range," praises George Clooney, 'but he takes particular pleasure in playing a buffoon."

Matt Damon consulted period photos to find the right physicality for his character. 'I put on a few extra pounds," Matt Damon confesses. 'Men of the 50s didn't exercise the way we do today. They tended to be very thin or very beefy. My grandfather was kinda beefy, and I wanted to look like him, so I had to change the shape of my body. It's a small detail, but it felt more like the time."

'Matt Damon had recently finished Jason Bourne so I was afraid he'd show up looking like he could take care of himself in a fight," George Clooney admits. 'Luckily, he'd also just done Alexander Payne's Downsizing and I was happy to see him come to set a little fleshier, looking more like somebody's dad."

Gardner leads a seemingly idyllic, Rockwellian life in the town of Suburbicon with his wife, Rose (Julianne Moore), and their son Nicky (newcomer Noah Jupe). 'Rose isn't a tremendously happy person, and not entirely happy in her marriage
," Moore explains. 'She holds her husband responsible for the car accident that left her in a wheelchair." Rose's twin sister Margaret (also Moore) helps out around house, eventually becoming a permanent resident.

'At the start of the film, Margaret is the sweeter, simpler sister," says Moore. 'She's secretly envious of her sister's life, which creates some tension and informs the decisions she makes."

Moore approached playing siblings pragmatically: 'Like any role, you find what makes them unique on the page. How do they use language? How do they speak? Obviously, they're going to look alike, so you do what you can to alter your physicality and physiognomy." Clooney relished the opportunity to cast Moore in a dual role.

'Julianne can literally do anything," commends Clooney. 'She'd played a twin before, years ago on a soap opera, and came up with a great character moment where Margaret dyes her hair blonde to look like her sister, which I think tells you a lot about who she is." The Lodge family's calm façade is shattered when two street toughs, Ira (True Detective's Glenn Fleshler) and Louis (Cold Mountain's Alex Hassell), invade their home in the middle of the night and take them hostage. The break-in takes a tragic turn when the burglars chloroform the family, killing Rose.

Things escalate from bad to much worse as Gardner's poor decisions draw him into a ham-fisted game of cat and mouse with Ira and Louis.

'You often see Matt playing very intelligent, erudite characters," says Alex Hassell. 'So it's interesting to see him as a deer in headlights, struggling to get out of these situations." A confessed fan of the Coen Brothers, Fleshler was pleased to be canonized in the Coen's extensive -rogues gallery' of criminal pairs spanning from Raising Arizona to Fargo. 'Ira and Louis are a somewhat dangerous, somewhat inept twosome, the kind you see in a lot of the Coen Brothers' movies," says Fleshler. 'They're guys living on the fringes of this idyllic place who don't feel like they've gotten a fair shake."



'They make a great duo," says Damon. 'They're very different, and each can do a whole range of things, from lethal to goofy, depending on the tone George decides the scene calls for."

While Ira and Louis hound Gardner at his work, Margaret contends with suspicious life insurance claims investigator Bud Cooper (Oscar Isaac), who begins to doubt their version of the tragic night's events.

'Cooper realizes very quickly that Gardner and Margaret aren't the brightest," says Isaac. 'He suspects something's fishy and at that point, he has a lot of room to play."

'Oscar is someone I've been blown away by the last few years. He's a whole other level of good," says Clooney in praise of Isaac. 'I'm envious, because Cooper was the role the Coens originally offered me. It's a great character that sets into motion a series of pretty horrendous crimes. He basically gets to come in and steal the movie."

As his father and aunt find themselves otherwise occupied, Nicky is left to deal with the trauma largely on his own. Finding a young actor to play the emotionally complex role of Nicky provided Clooney and Heslov with one of their greatest challenges on the film. 'Casting Nicky was the hardest thing in the world," Clooney recalls. 'If you're not rooting for the kid, the movie doesn't work."

After reading over a hundred child actors for the role, Clooney and Heslov discovered 11 year old Jupe in England. 'I've never seen anyone like Noah," praises Clooney. 'Not only does he do a perfect American accent, we were always able to get everything we needed in one or two takes. I played a pediatrician on ER for five years, working with two or three kid actors a day, and never saw anybody like this. This kid should absolutely be in front of a camera."

Jupe explains his onscreen father/son relationship: 'I don't think Gardner gives him a lot of cuddles or reads him stories before he goes to bed. He's just not that kind of dad." 'The open communication parents and children have today wasn't common in this era," Damon says. 'So there are these seismic incidents that happen in this little boy's life, and there's nobody there to share them with."

Jupe continues, 'Nicky is always observing things and working them out in his head, because he feels like there's no one in the world he can trust."

Nicky's Uncle Mitch (Gary Basaraba) provides Nicky with some much needed adult guidance and levity in the wake of his mother's death.

'Mitch is the bereaved brother of Rose and Margaret and a lifelong bachelor," says Basaraba. 'He never had kids of his own, so all his paternal instincts have been transferred onto his nephew. As a good Catholic, he's somewhat apoplectic that his beloved sister married Gardner, an Episcopalian. He believes Nicky should be in a better environment." 'Uncle Mitch is a very funny, teddy bear of a man," Jupe explains. 'Nicky looks up to him because he's a good role model and he makes him laugh."

Nicky also finds a friend in Andy Meyers (Tony Espinosa), a boy his age whose family has just moved into the neighborhood, becoming the first African American family in the previously all-white Suburbicon. While Nicky is thrilled to have someone new to play with, the rest of town has a different reaction.

Have You Met Your New Neighbours?

'When they told me it was a dark comedy, I said -there's nothing funny about this situation," says Karimah Westbrook, who plays the fictional Mrs. Meyers. 'But there's a great deal of irony and social commentary in my character's story. They're a growing family in search of the American Dream and feel like they'll be welcome and safe in their new home. Unfortunately, their new neighbors are really disrespectful and sometimes dangerous: breaking windows and jumping on their car. Meanwhile, there's a real problem next door no one is addressing."

The real life Meyers were deluged day and night with a constant stream of auditory harassment, as a mob of neighbors banged drums, blew loud instruments and sang loudly in an effort to get them to leave.

'In our research, we saw that these protestors built a wall around the Meyer's house, flew confederate flags, burned crosses and wrote a petition to have the family removed. We use the actual wording from the petition in the film," Clooney explains.

'When you see a film that deals with race and bigotry in the 50s or 60s, it's almost always in the South," says Clooney. 'We're used to people with Southern accents using this kind of language, but as someone from Kentucky, it's worth discussing that these are people from Pennsylvania and New York scapegoating minorities. This kind of bigotry existed in the Northeast; it's not hard to imagine it happening anywhere."

'Throughout the film, we use actual footage from the documentary," Clooney continues. 'Sometimes you have to see the real stuff to make it really land. Often the bigotry is casual and shocking to an audience today, but the truth is, this wasn't that long ago.

'Suburbicon speaks to the time we are living in," adds Damon. 'The neighborhood is building a wall around the house of the African American family that just moved in, trying to annex their little area. Meanwhile, the crazy people in the neighborhood are right around the corner."

'Everybody's looking in the wrong direction," says Clooney. 'They want to believe this myth that nothing bad happened before the minorities arrived. When we look back at this time when America was great, we have to remember that it wasn't particularly great for a lot of people. That's a conversation that's always topical."

Building Suburbicon

To assemble the postcard perfect world of Suburbicon, Clooney turned to frequent collaborator, Production Designer Jim Bissell. After five films together, Clooney and Bissell have developed a short hand that keeps them on the same page creatively and visually.

Bissell praises Clooney's versatility as an artist for the clarity of their working relationship. 'Film is a culmination of all the arts," says Bissell. 'It's great that George directs, writes and acts, but what's most helpful for me is that he can draw. He's thought through everything in the film from a dramatic and visual perspective, which he's able to convey in his drawings. I can always tell what he's looking for."

For Suburbicon, Clooney and Bissell's visual directive was 'anonymity and sameness," creating a world where the Lodges hide in plain sight.

While Suburbicon is modeled after the uniform, cookie cutter community of Levittown, Pennsylvania, Bissell and his team crafted the ideal onscreen suburb entirely from Southern California locations.

'Though we shot in California, we wanted the houses to emote the sense of Anywhere, USA," says Bissell. 'Our biggest consideration as we scouted locations for filming was finding houses in as good of condition as possible, with few trees surrounding them."

In one Fullerton neighborhood, production discovered the perfect exterior for the Meyers' house, as well as two dozen other period appropriate homes featured in an opening tracking shot. 'The Fullerton houses were built in 1958, which was perfect for us," Bissell explains. 'The neighborhood took great pride in keeping the original architecture, and there had been very little upgrading. It was an outstanding location, because even the colors of the houses were the same."

In addition to authentic period houses, many of the neighborhood's older, damaged trees had recently been removed to repair the sidewalk, which saved the production significant effort in turning back the clock.

'Our neighborhood needed to look brand new, but most housing developments built in this period have trees that are sixty years old," Bissell explains. 'There was some discussion whether or not we could just digitally remove the older trees, but given the cost, time and labor involved in that process, we were fortunate to find a location where we wouldn't need to."

The landscaping and exteriors of many of the Fullerton homes were touched up with a fresh paint job and period landscaping, including box hedges and vintage light fixtures. 'Whenever we shot on location, the neighbors were so fantastic to us," Clooney recalls. 'We'd uproot their lives, paint their houses, and shoot outside all night, but they were still really supportive."

For the exterior of the two-story Lodge home, the cast and crew shot on location in nearby Carson. The Lodge home was painted a vintage color that Bissell describes as 'sickly green."

'The color was typical of the time, but I chose it along with a rust colored trim to hint at Gardner's personal decay from his smugness and self-involvement."

The communal lot between the Lodges' and Meyers' homes serves the story as an escape and a distraction from the intensity of Nicky and Andy's respective home lives, but finding fenceless backyard in Southern California proved elusive.

'From Oxnard to Fullerton, all the houses from this era have six-foot high concrete brick walls," Bissell laments. 'So we had to make our own, specific to our needs."

The backyard was built from scratch in Mystery Mesa in Santa Clarita. Surrounded by fields in the middle of nowhere, the art department worked tirelessly for three weeks to transform an empty lot into eight backyard facing façades, with low ranch-style fencing that housed swing sets, porch rooms, and large metal clotheslines.

The interior of the Lodge home was built in its entirety on a stage on the Warner Brothers lot in Burbank. In just seven weeks, Bissell and his team created both floors of the Lodge home, a temple of mid-century design, chock full of muted browns, rusts, moss greens, and mustard hues, complete with living room, kitchen, den, bathroom, and bedrooms. Many of the crew recognized pieces of furniture and set dressing from their youth.

Bissell worked closely with Clooney, Heslov and Academy Award® Winning Director of Photography Robert Elswit (There Will Be Blood) to ensure the set would accommodate the producers' vision.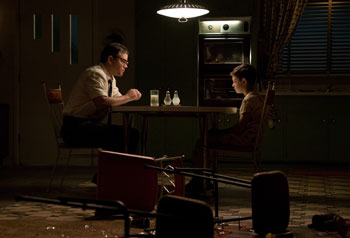 Elswit shot on an Arri Alexa camera in an anamorphic format with -C' series Panavision lenses which provided a classic film look. The wider image area of the vintage Paravision anamorphic lenses allowed Clooney to compose close ups or medium close ups of one actor while still holding other actors in the frame.

'The house was our biggest set piece," Clooney explains. 'About two-thirds of the movie happens here, so Grant and I had a very specific way we wanted to shoot the house style-wise. We storyboarded most of the shots we'd need, and figured out if we could shoot through the stairs or between the chimney and wall and know where the shadows were."

Another major interior set was the offices of Pappas & Swain, Gardner's workplace. The wall-to-wall wood paneling and muted colors would serve as the perfect period backdrop to watch Gardner unravel.

Additional photography took place in the cities of North Hollywood, Encino, Santa Clarita, San Fernando, Altadena, and Pasadena.

At Valley Plaza Recreation Center in North Hollywood, a large, mostly vacated strip mall was transformed to look like a 50s shopping plaza. The period window displays were convincing enough to prompt passersby to peek thru the windows and ask crew members when the stores opened.

The Karger Grocery Store set in the city of San Fernando was another large scale effort by the production team. Bissell was thrilled to find a recently vacated JCPenney that fit their needs.

'The JCPenney had been built in 1940s, and the exterior still had original period detail," says Bissell. 'Then we took the interior and built the grocery store set."

The shelves of the store were populated with 2500 period appropriate boxes created by the art department, as well as 10,000 real canned goods dressed in replica vintage labels. To legitimize the store's cereal aisle, the production found a rare, mint condition -Tony the Tiger' Frosted Flakes display online. For the bakery section, production purchased hundreds of original Taystee and Wonder Bread wrappers from online collectors.

'It's astonishing what people collect," marvels Bissell. 'And now those collectors and hoarders sell things on the internet which is great when you are in search of hard to find set dressing décor. Ebay is the new flea market."

While production found many period collectibles in good condition online, other key items required some favors.

For the Lodge's living room, Prop Master Matt Cavaliero (La La Land) and his team were tasked with finding a Zenith Flash-Magic TV, the first television with a wireless remote control. After many sleepless nights, Cavaliero found one in pristine condition at the Early Television Foundation and Museum in Ohio. The museum graciously agreed to lend the set to the production.

In addition to tracking down over one hundred and fifty mid-century cars and trucks, Transportation Coordinator George Sack (Live By Night) was responsible for finding duplicates for a few key vehicles. Gardner's 1957 Oldsmobile, the Meyers' 1954 Chevrolet Bel Air, Louis and Ira's 1954 Volkswagen Beetle, and a 1959 Crown Fire Truck are each damaged or destroyed in the course of the film, requiring a duplicate car to remain unspoiled for shooting. Says Sack, 'We had to find a 1959 Crown Fire Truck to match the hero fire truck we eventually wrecked. The Los Angeles County Fire Museum had one in their scrap yard that we were lucky enough to acquire."

The extensive motor pool provided a quick fix for masking any anachronisms that might sneak into frame. Whenever a modern fire hydrant or signage was visible, the transportation department found a creative way to block it with a period appropriate vehicle.

Suburbicon Style

'I think you'll notice in Suburbicon, most every man is wearing the exact same outfit," says Costume Designer Jenny Eagan (No Country For Old Men), working with the 'anonymity and sameness" directive and color palette as Bissell. 'A short sleeve shirt with a tie or a two button suit. Maybe the pattern is slightly different, but their wives all shopped at the same store."

'We worked with Jenny before on Our Brand is Crisis, and absolutely loved her," Heslov recalls. 'It was a very specific kind of wardrobe and she was able to design exactly what we needed."

'Everybody's pants are pulled up, their ties are short and their ankles were showing," Clooney explains. 'Everything had to be made, and Jenny knew how to not only do it quickly, but in a way that made costumes not look like costumes. That was a huge plus."

Eagan began the staggering task of creating clothing for every man, woman and child in Suburbicon with many a trip through a vintage catalog. Says Eagan, 'You look at the Sears catalog and everyone is dressed up, so you dial that back a bit because realistically, you want people to live and be comfortable in their clothes."

'The Fifties were a more glamorous time. People took pride in the clothes they had. You never saw a pair of sweat pants on the street," says Eagan. 'You rarely saw women wearing pants, for that matter."

Eagan's wardrobe provided a key piece of Damon's transformation from international assassin Jason Bourne to suburban schlub Gardner Lodge.

'It's tempting to make Matt look good," Eagan admits. 'This era tends to seem very glamorous in film, but George's idea was to make Gardner a little bit sloppy. He's a regular guy, trapped in his life and his job, in over his head and not nearly as smart as he thinks he is. His clothes tell us he's not equipped for what this movie throws at him."

Eagan also collaborated with Moore to develop each twin's personal aesthetic. 'We figured a lot of it out in the fitting room," Eagan recalls. 'I had imagined Rose's wardrobe as a bit more conservative, classic 50s housewife, but talking to Julianne, we decided Rose no longer puts as much effort into her appearance as she used to. Margaret, on the other hand, is more youthful, flirty and wants to draw more attention to herself."

Says Moore, 'Jenny is a great collaborator, and got it from the get go how the two characters I play would differentiate themselves as sisters and also in terms of their personality." For Nicky's wardrobe, simplicity proved to be the key.

'Sometimes, you can over think these things," Eagan admits. 'It was a relief to talk to my father, who would've been about the same age as Nicky is in the film, and be reminded me that kids at that time wouldn't necessarily have brand new clothes. Nicky would have t-shirts, jeans and a -Sunday Best' suit he would wear to the funeral. Young boys didn't have a lot of things, but what they did have, they took care of. Things were made better then, and lasted longer."

An Actors' Director

'Any time I've had to act in a film I directed, I hated it," says Clooney, who remains off camera in Suburbicon. 'But I've enjoyed this process more than on any other film. From the beginning, everyone was hitting on all cylinders."

'It's so much easier for him not to have to be in it," Heslov confesses with a laugh. 'It's so much easier for everybody."

'Working on a film with George is like working on a car in your backyard," says Damon, expanding on Clooney's metaphor. 'You throw the hood up, gather around, and go to work. It's fun, it's collaborative, and we're not precious about any of it."

'He's a very generous director," adds Moore. 'He has a genuine appreciation for everyone in the room and what they're capable of, and has a real sense of joy in what he's doing. He's there because he wants to be."

'George wants everyone to have a good time, and tell a cool story," says Isaac. 'No one's time or energy is wasted."

Clooney credits his mentors: 'I learned a lot from working with The Boys (Clooney's term of endearment for the Coen Brothers). They're really efficient, storyboard all their shots, get what they need and move on. I've also been lucky to watch Steven Soderbergh and Alexander Payne work up close. I try to learn from all of it.

'Whenever you make a movie, you hope people enjoy it, because if they do, you get to make another one," Clooney says. 'Our job is to make the best films we can for as long as we can, because someday, we won't be able to. We're committed to staying in the sandbox as long as we can, doing the stuff we want to do until they take the toys away. We are very lucky to be doing what we do for a living, and we acknowledge that every day."


Suburbicon
Release Date: October 26th, 2017