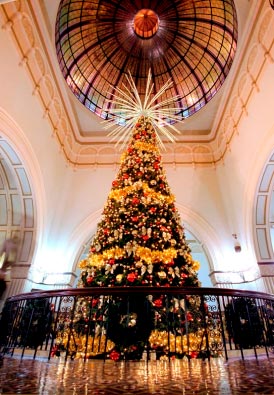 Taking 30 decorators, eight riggers and two electricians more than a fortnight to install and decorate, the Queen Victoria Building (QVB) will again host Australia's largest indoor Christmas tree. Standing 24 metres tall and extending through three floors, an estimated 4.5 million people will view the QVB Christmas tree, making it a must-see venue for the festive season.

When completed the QVB Christmas tree features 1700 branches, 15,000 Swarovski crystals and is adorned with 40,000 lights, 8,000 baubles and 400 bows. Swarovski Crystal (Ground Floor, QVB) who sponsor the tree, design each Swarovski crystal decoration to reflect light and create the festive 'wow' factor.

According to The Christmas Company's Andrew Blades whose company installs and decorates the QVB Christmas tree, by following some simple guidelines it is easy to create a similarly spectacular tree at home, minus the height of course!

A good design strategy for any Christmas tree big or small explained Mr. Blades, is to consider a pattern for placing the ornaments beforehand and always position the lights prior to decorating.

"All too often people make the mistake of putting the lights on last and then find themselves in a tangled mess of ornaments and electrical wiring," said Mr. Blades. "Always position the lights first and for large trees try either a spiral pattern or series of horizontal circles or for smaller trees try a zigzag pattern."

To decorate the tree Mr. Blades suggests using similar sized decorations in a diamond shape pattern, then fill in the diamond 'spaces' with decorations of different shapes and textures to add depth to the tree.

For a special Christmas touch, Mr. Blades recommends hanging photos of children's faces in star or flower shaped mini frames which can be stored and added too each year.

"The QVB Christmas tree is a firm favourite with children and adults alike," explained QVB Centre Manager Janette van Straten. "It's a must-see every festive season and we are expecting lots of families and shoppers to come and share the Christmas spirit with us again this year."

The QVB Christmas tree - 25th October until 6th January.