Here at GIRL, we love a good gossip session as much as the next gal does! So each month feast your eyes on the juiciest goss as our resident gossip queen DIVA gives you the inside scoop on all your fave celebs.Sorry Delightful Diva, this month, I THE SQUIRREL, have hijacked your GOSSIP COLUMN! But don't despair, I'm quite happy for you to respond to all my GOSS!
News from the "American Squirrel", the marriage of
Nicholas Cage
and
Lisa Marie Presley
is a goer!!! Surprised? Not me, I mean Lisa Marie has already been married to Michael Jackson, so nothing about the daughter of the King surprises me!
Delightful Diva says, "Why thank you Mr Squirrel, so nice of you to let me have a say in MY gossip column! Regarding Lisa Marie, well you know what they say, you can have all the money in the world but you can't buy taste and in this instance, Lisa Marie has lucked out in that department once again! It must be hard for the poor darling whose dad was ELVIS - the King of music and women - now where in this day and age is she going to find someone as delicious as her father was? I rest my case!"
Hot off the Press - Britain's once popular girl group the
Spice Girls
have split up! Yes no longer spicy enough for music fans all over the world,
Mel B
and
Posh Spice
have dumped their group manager. Internal squabbling has become so bad that
Sporty, Scary, Baby
and
Posh
will not even meet up as a group.
Delightful Diva says, "Well the rest of the world knew it was going to happen, pity the Spice Girls couldn't see the inevitable fate that awaited them. Oh well, girl bands are a dime a dozen today so it looks like it's out with the old and in with the new!"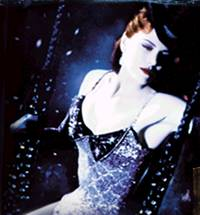 The goss on
Nicole Kidman
and
Russell Crowe
has been out of control lately ...and Nicole and everyone else!!! But I can tell you from the Squirrel's mouth that nothing is happening there!!! I mean as we all know Russell is too busy with his band doing gigs in Sydney and TV Appearances. The word on Russell is that he'll be back to more acting very soon!! As for Nicole, well she called the Squirrel a few weeks ago and from her mouth the words of "I am happy to be single Squirrel" came through! And NO the Squirrel didn't ask her out, of course!
Delightful Diva says, "Russell and Nicole? The Squirrel and Nicole? I am not sure which one is scarier!? Oh well, I guess Russell and The Squirrel are far better choices than her mono-brow ex-husband is! Oops! Now that was very naughty Diva!"
Supermodel
Christy Turlington
has postponed her wedding plans to Director and Actor Ed
Burns
because of the American Crisis... Well, Christy, as you are aware, this could be a good time to remember the "Awesome Times" you and "The Squirrel" used to have together... Maybe you are having second thoughts about the Big Day?? Thinking about little old me?? I'm here for you babeeee!!
Delightful Diva says "It seems that The Squirrel has been a bit of a Latin Lover of late, Nicole, Christy - what about the Delightful Diva? Do you think you could find time to go on a date with me in between all your celebrity rendezvous?"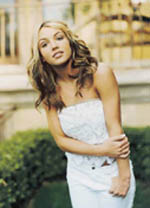 Hmmm...leave that one with me! Delightful Diva, you're not going to believe this one!! Five minutes ago I got a call from friend
Britney Spears!!
Yes, she just wanted to let me know that the police had returned the home video Britney,
Mr Timberlake
and I made a few months back!! She also sounded very congested! Well she had the flu, and it looks like she's going to have to spend lots of time in bed to get better. So she'll be missing
Lil' Bow Wow's
9th Birthday Party!! Or is he 8?? Mmm...
Delightful Diva says, "Mr Squirrel - you HAVE been getting around a bit lately, haven't you? Good news about the return of Brit's home video show - with you involved Mr Squirrel, I can only imagine the content of that video!! Hope Britney gets well soon, but just a word of advice Brit - underwear is meant to be worn under your clothes not outside for the whole world to see! The Diva wouldn't want you getting sick again!"
Well we all remember those
"PESKY HAMSTERS"
and those crappy songs don't we? We don't? Yes, I am glad to say, they have disappeared out of the charts and into oblivion!!! Am I happy? Oh yeah, that will teach them for kicking the Squirrel out of their stupid band!!
Delightful Diva says, "Yay for The Squirrel! Glad to see the Hamsters are where they belong - in a mouse trap!"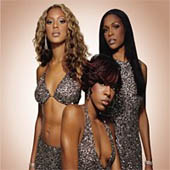 Destiny's Child
have canned all plans to tour Australia... Well they have canned all their tours to be precise... And they're not the only ones!!
Blink 182, Janet Jackson, Weezer
and a stack of other musicians are set to stay at home!! Could it be time for The Squirrel to start that music career again?
Delightful Diva says, "While I absolutely adore you Squirrel and think that you ooze spunk and sex appeal, you can't sing to save yourself! So why not leave it up to the professionals and squirrel along and play with your celebrity friends. Then again, what is Lil' Bow Wow doing making albums?"
The first "Hobbit Movie" is set to open in London on December 10, 2001. Word on the street is that it could out do such Blockbuster movies like
Star Wars, Jaws
and
Jurassic Park
... The other word on the street is that our own
Nikki Webster
is reportedly trying to get a role in the second movie in the trilogy. Mmmm well, I may like nuts, but I think THAT is the nuttiest thing I have ever heard!
Delightful Diva says, "You're not wrong there Mr Squirrel! I think you'd play a much better part in the movie and perhaps even give Nikki a run for her money!"
In the biggest news of the month, good old
David Hasslehoff
(Mr Knightrider and Mr Baywatch) had to delay the new smash hit, "Knightrider Does Baywatch". Apparently the car we know as "Kit" and
Pamela Anderson
didn't want to travel to Hawaii for the shooting!!! Mmm, I can understand Pamela's excuse... I mean, she has kids, but "Kit"!!! David's recent response to the matter was: "That stupid moron car!! I should have sent it to the wreckers, or Bob's 'Honest Bob Car Dealers'... Time for an update, anyone know where Herbie the Love Bug is??"
Delightful Diva says, "I think he is in retirement where good old Pamela and Mr Baywatch should be!"
The
Telly Tubbies
allegedly were caught inside a Supermarket in London, trying to stuff as much food into their mouths as possible... Secret Squirrel Sources say that the incident didn't go unnoticed by bewildered shoppers... one even commenting on how much "Taller" and "Fatter" they all look in real life! As a good friend of all the Tub Boys I was pretty saddened by this news, and promised I wouldn't spread the goss in Australia... Oops!!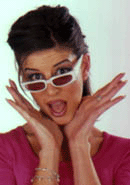 Delightful Diva says "Naughty Squirrel, you just can't keep a secret can you? A little like the Diva really! That's why we're a match made in Heaven! Now give me back my gossip column! Please?"