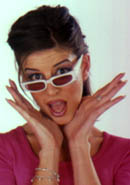 DIVA'S GOSS (with special guest THE SQUIRREL!)

Here at GIRL, we love a good gossip session as much as the next gal does! So each month feast your eyes on the juiciest goss as our resident gossip queen DIVA gives you the inside scoop on all your fave celebs.

SO YOU'RE BACK WITH VENGEANCE DIVA? Hmmm... well see if you can CRACK a NUT as TOUGH as THE SQUIRREL!!

English model and actress Elizabeth Hurley and her movie producer partner Stephen Bing are expecting their first child in April. The announcement was made public earlier this week and Hurley is set to bring up the child on her own. In a curious twist, ex-boyfriend Hugh Grant with whom she remains close was photographed accompanying Hurley for a hospital check-up. Her partner was nowhere to be seen! The plot thickens hey?

The Squirrel says, "So let me see.... The Bing and the Hurl are the parents, but the Duck is the Nanny?? Mmm.. Squirrel thinks you will have to start eating NUTS with less KICK or you will go NUTS!! No seriously... poor old Hugh tried and tried and tried and tried to get Liz ... Well, in a decent Movie with him... Liz also has been trying to for ages, but they both seem to have lost the plot... I mean does anyone care anymore about these two anyways??"

And in more baby news, funnyman Ben Stiller and his gorgeous wife Christine Taylor are also expecting their first child. The couple is said to be thrilled and can't wait to become parents. Let's just hope the little tyke doesn't turn out to be as hyper as his/her daddy!

The Squirrel says, "Imagine little Ben Stiller's running around all over the place!!! ARRRRRGGGHHHH! That Ben and I have had some interesting run-ins over the years... None more so Infamous than the 'Texas Nut Massacre' when Ben decided that he would incarcerate as Many Squirrels as possible to get as many Nuts as possible for his own EVIL use....We all (well I hope we all) remember that it was the SQUIRREL who brought Christy Taylor to FAME!!! Less we forget Christy!!! "

It seems that babies are just popping out everywhere! Doesn't anyone believe in watching television anymore for a good night's entertainment? Obviously not! Spies for a New York newspaper insist that Demi Moore is pregnant. The father is said to be her boyfriend, martial-arts instructor Oliver Whitcomb, who has lived in Idaho with her and her children for several years. Moore already has three daughters by her ex husband, Bruce Willis: Rumer, 13; Scout, 10; and Tallulah Belle, 7.

The Squirrel says, "I heard on the Grapevine through the HOLLYWOOD SQUIRREL ASSOCIATION that Bruce couldn't give a HAIRY SQUIRREL what DEMI does these days!! Apparently he is happy that the KIDS are happy and that's it.... Other rumours circulating about Demi is that she is a NUTCASE, a FASHION DISASTER (Better speak to BELINDA!) and hopelessly addicted to JAM (or translated in English, Jelly!) "

Euro singing sensation Samantha Mumba has been ordered by her doctor to stay in bed and rest for at least two weeks after the overworked darling collapsed from exhaustion recently. She has been working flat out preparing her new album and promoting her latest single release. Her manager reports that she began having dizzy spells while recording in the studio. My guess is that she has been spending too much time partying with Mr Squirrel!

The Squirrel says, "Well the Goss there DIVA is like the Goss you have already reported on... is Sammy BABY pregnant? Mmmm WATCH this space!!! "

Titanic star Kate Winslet and her 11-month-old daughter received a scare recently while aboard a flight overseas. A man on the same flight allegedly went a little kooky, standing up and making loud disturbances. My sources also tell me that the man in question claimed he was a terrorist and was wearing a Squirrel suit, but these reports were not being confirmed. Now who in their right mind would impersonate a squirrel?

The Squirrel says, "MMMM... I don't know where you get your GOSS from DIVA, but if I find that guy, I will crush him with my SUPER HUGE NUTCRACKER!! Anyways, Kate hasn't called me lately, so I am assuming that our relationship is off and that she is now SCARED of SQUIRRELS "

Original pop princess Kylie Minogue has been dissed by her future father-in-law who has labelled her an "ugly dwarf." Minogue is currently going out with male model James Gooding and rumour is rife that he is going to propose to her anytime soon. Mr Gooding said his son, reportedly seen with Minogue looking for engagement rings, has rarely been to see him since he left his wife 10 years ago. But in the same breath he stated, "but no matter when the wedding happens, I'd wish them all the best." Maybe the fact that Ms Minogue is a multi-millionaire might have persuaded Mr Gooding to change his mind?

The Squirrel says, "DUMP THAT PRETTY BOY KYLIE!!!!! It will only lead to heartache!!! And besides, this Squirrel is more MACHO and CUTER than that 2 BIT Loser!!! "

Latino babe J.Lo a.k.a. Jennifer Lopez has hit the headlines again for a number of reasons. Firstly, her backstage demands continue to be outrageous. Appearing in an upcoming Top of the Pops show, she has demanded that ten rooms be allocated for J.Lo and her entourage. All this for a 3 minute performance! At another function she is scheduled to perform at, her demands include room temperature Evian water, white linen, white lilies and a huge trailer for privacy! Gee, we can only imagine what her demands must be like at home! But we don't think her new husband Cris Judd is going to complain. J.Lo has just given her husband a raise to $1 million, making him the highest-paid choreographer in the business! Hey Squirrel, I think you and I are in the wrong biz!

The Squirrel says, "MMM... Diva, I think you're right... Cracking NUTS for Japanese tourists and being a FAMOUS movie Director like I am doesn't seem to cut it anymore... GEE I'd drop my NUTS job and make J.Lo a decent movie for nothing if she'd marry me... Then again I don't think she would appreciate the Squirrel... mmmm.... Maybe the Delightful Diva would consider a Career in Movies and Music and a SQUIRREL making a decent Movie for her????? ;) "

Well I guess you just CRACKED ME... THE Squirrel has given in... Welcome Back DELIGHTFUL DIVA!