"Unconditional acceptance from your pet is something you can't get from any human..."
Dr. Joanne Righetti loves all animals but confesses that if she were one, she'd definitely be a cat living in her own house, living the pampered life.
A renowned animal behaviourist who features on Channel 9's Talk to the Animals, Dr. Joanne Righetti says that owners and pets can often look uncannily alike because people choose an animal to match their personality or try to match pets with how they would like to be seen themselves!
With a dog, four cats, a husband and three sons, a typical day in the life of Dr. Joanne Righetti begins pretty much the same -chaos! Dr. Joanne Righetti sees clients during the day at vet clinics or makes home visits, then heads off to run training courses on topics like dog bite prevention. In the afternoon she writes columns for various pet and consumer publications and sometimes makes it to the gym before going home to be Mum.
You can talk to Dr. Joanne Righetti about
What inspired her to become an animal behaviourist
As well as her long-time love of animals, Dr. Joanne Righetti has always been fascinated by animal behaviour and why they do the things they do. This fascination drove her to develop her animal knowledge and build her own profession.

Talk To The Animals

This re-vamped classic Aussie show on Channel 9 sees Dr. Joanne Righetti bringing common pet behavioural problems to light and providing practical and easy solutions to show viewers how to get their little loved ones to behave. "I also love the stories that allow me to work with animals I don't often work with - like horses. Plus... the pet owners are always fascinating!" she says.

Animal causes close to her heart

Dr. Joanne Righetti is a consultant to and Director of the Delta Society Australia and The Animal Welfare League NSW.

Pets

Dr. Joanne Righetti's first ever pet was a little moggie cat called Tony who she received for her 8th birthday

Today Dr. Joanne Righetti has four cats named Clyde, Maise, Mew and Ginger; and a dog named Cherry.

Media

Dr. Joanne Righetti has a regular spot on ABC radio, bark! magazine and writes a series of pet behaviour booklets for pet owners, including 'Barking Problems Solved' and 'Cat Toileting Problems Solved'. She also writes numerous articles for everything from The British Medical Journal to the Encyclopaedia of Animal Welfare.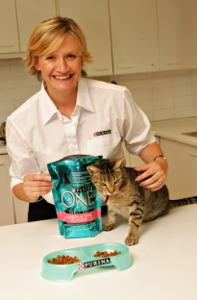 "Your pets may not be perfectly behaved all the time but if you invest love and time with them your bond will be one of the most rewarding you'll experience"

To leave a question for Dr. Joanne Righetti at the Purina PetCare Advice Centre please call 1800 738 238