Hailee Steinfeld The Edge of Seventeen
Cast: Woody Harrelson, Hailee Steinfeld, Blake Jenner
Director: Kelly Fremon
Genre: Comedy
Rated: M

Synopsis: Growing up is the great equaliser.

No matter your family situation, walk of life, or specific personal experience, anyone who has ever gone through adolescence understands the growing pains and awkwardness that go with the territory when it comes to navigating the transition to adulthood. The times change, the modes of communication evolve, but some things"like the first pangs of love or the sting of a friend's betrayal" never change. Creating a film about growing up in our digital age took a writer who could poignantly capture the voice of this generation. From five-time Oscar® nominated and three-time Oscar® winning producer James L. Brooks (Spanglish, (Broadcast News, Terms of Endearment) and writer/first-time director Kelly Fremon Craig, The Edge of Seventeen is a coming-of-age comedy with a refreshingly authentic voice.

Nadine (Hailee Steinfeld) and Krista (Haley Lu Richardson) are inseparable best friends attempting to navigate high school together… until Nadine's older brother Darian (Blake Jenner) and Krista begin dating. With her view of the world rocked, Nadine is forced to see the people in her life – including her well-meaning but distracted mother (Kyra Sedgwick), and unlikely mentor and History teacher Mr. Bruner (Woody Harrelson) – with fresh eyes and new appreciation that people"and life"are more complicated than she thought.

The Edge of Seventeen
Release Date: January 5th, 2017



About The Production
Writer/director Kelly Fremon Craig was inspired to pen The Edge Of Seventeen by the authentic teen films of her youth, a type of film not often found in today's marketplace. 'I've always been intrigued by periods of rapid emotional growth and self-examination, when situations change around us, forcing us to step into new roles and re-determine who we are and how we feel about ourselves. I started this project in an effort to try to capture this particular age and generation as truthfully as I could and with a respect for the complexity and messiness of it all. Passing from youth to adulthood is intense and terrifying and beautiful, and in many ways the experience of anyone, any age, shedding their old self and becoming new. I wanted to explore that."

Kelly Fremon Craig's spec script about a girl and her best friend in high school came to the attention of legendary Oscar® and Emmy® Award-winning producer James L. Brooks at Gracie Films. 'Kelly Fremon Craig had a first draft and when we first talked - just as she was leaving the office - she turned around and she said -No one will ever work harder than I do.' And that did it,'" laughs James L. Brooks. 'Our time together had been just a surface meeting until that moment. I took it as somebody telling their core truth."

'Honestly, I wasn't captivated by that first draft," admits Brooks. 'It was good work. But when Kelly Fremon Craig said that, then we went to work. She went away for a big chunk of time. I'm a big believer in research. She'd bring back interview tapes and we'd look at it and it would inspire us."

'The first time I read the script, I thought this is special," remembers longtime James L. Brooks collaborator and Gracie Films producer Julie Ansell. 'The characters were so full and so funny. We spent almost four years working on it, which is our process. This is what we like to do. We look for character-driven comedies and drama. We like to find a person with a voice, with something to say, and then help the writer fine-tune it. This is an amazing piece of writing"

'The thing that's so great about Jim is he is so committed to capturing something honestly," comments Kelly Fremon Craig. 'Part of why we have such a good relationship is we both go nuts over getting the details right. James L. Brooks is always pursuing the truth. When we started this process, we took a journalistic approach. Are we saying something real? I really tried to figure out what was going on emotionally today, and how technology is affecting relationships. But interestingly, I found so much of the core things were exactly the same as my own coming-of-age experience."

'Kelly Fremon Craig came back with a second draft and it was oceans away. I have never thought it possible that there could be that great a difference between a first and second draft because in that second draft, there was a voice, there was somebody who saw the world differently," says James L. Brooks. 'With every movie there is a constituency and that constituency knows whether or not you are telling the truth. There were people who talked differently and yet revealed themselves to be familiar people as they talked differently. The dialogue was brilliant, the story came together and it was daring and fresh. I was flap-jawed. From that point, Kelly Fremon Craig was an extremely talented woman taking the express train to her destiny."

'Kelly Fremon Craig was amazing during the whole development process," agrees Julie Ansell. 'She threw herself into it. She got into the pain and everything she found elevated the script from a very funny, sweet script into something that really hit you honestly. Kelly Fremon Craig captures the voice of these kids, and got the emotions that I remember feeling back in high school, when there's inherently so much drama and so much that you learn about yourself. You have to go through the pain of finding out who you are, to come out the other end as a stronger person."

'You are paying very righteous dues when you do research," adds James L. Brooks. 'The third time you hear something you think it's generally true. But also, meeting those kids, seeing those faces in your head… it creates something in you that wants to serve their truth. It's a small thing, but it makes a difference in creating characters that linger."

'In my opinion, she wrote literature," James L. Brooks furthers. 'A voice is an unusual thing in Hollywood, and for somebody to come along with an individual voice and get their movie made is a big deal. When there's a distinctive voice in a script, and it doesn't happen that often, it's great to show up. At 3:00 in the morning on a cold set, you have to know why you're there."

James L. Brooks describes the story succinctly. 'After reading the first draft, there were some people who wanted to title the film Besties, and that first draft focused on a friendship between two girls. But now it's about a lot more than that. The friendship is still the catalyst for a lot of action, and the story is mainly about this central character Nadine, but there are a couple of people in this movie with secrets, which adds great tension."

Nadine and Krista are inseparable friends… until Nadine discovers Krista has quietly begun dating Nadine's older brother Darian. 'Nadine's a girl who has always been on the outside, but she's had her one anchor, her best friend Krista," Julie Ansell describes. 'But it's that time to start growing and moving on and Krista's started to do that. Nadine comes to realise that a lot of what she thought about the people in her life is actually not true. She begins to see life through eyes other than her own. By the end of the movie, she starts to understand that people and life are more complicated."

Gracie Films' reputation for acclaimed and thoughtful material as well as their track record for mentoring fresh filmmakers made it the perfect home for Kelly Fremon Craig and her screenplay. 'I don't do this very often and when I do, the motivation is always the same… a writer with a real voice, and that writer will always play a continuing role with the movie. That's all we do with our little group," says James Brooks. 'The first writer we worked with was Cameron Crowe for a picture called Say Anything, and he ended up directing that project. With Wes Anderson on Bottle Rocket, we knew he was going to direct going in, and with Kelly Fremon Craig we knew it going in. We knew this would be her film to direct."

As with any first-time director, there were concerns. 'Kelly Fremon Craig is an Orange County girl, just a delightful human being and there was a moment when we worried whether she'd be too nice for the job," laughs James Brooks. 'But she's a force of nature. I don't think she knew it was going to come to her like that. It's a passion project and something went off inside her. Two days in, we knew she was born for the job, which has been great to see."

Co-Producer Amy Brooks adds, 'One of Kelly Fremon Craig's strengths is that she's always open, always learning and she can't get her fill. Even when filming, Kelly Fremon Craig never stopped the research process. Kelly Fremon Craig brings rawness and laughter, and I feel so lucky that I get to go to work and sit next to Kelly Fremon Craig every day. She allows you to be yourself. That's what the cast feels and I know that's what the whole crew feels."

The dialogue in the movie is particularly raw, especially from the main character Nadine. 'We might be the only R-rated movie that cheered when we were told that we could be an R. Not because we wanted to be a shocking R, but because to be an R meant letting everybody let it rip and be themselves. It wasn't like we're gunning for a certain rating, it was just about being real," says Amy Brooks. 'It is rated R for reality. The film had to have the cadence and the heart and rhythm of how people really talk to each other. That was so important to Kelly Fremon Craig. If you spend two seconds with Kelly Fremon Craig, you see she goes for the truth all the time."

'Plus every five pages there's a twist," adds Amy Brooks. 'When you started to think you'd figured out what this movie was about, there was a surprise. The story is familiar and comforting, like you want a movie to be, but full of surprises."

The film has themes that will resonate with all audiences. 'When times seem really down, you learn from it and go through it and become stronger," addsJulie Ansell. 'It's about how friendship can wax and wane and change. People change, a mother and daughter can come to understand each other a little bit more. Audiences will feel an affection for Nadine and what she's gone through in learning to understand herself, and come out ultimately feeling like this character's going to be okay."

Amy Brooks adds, 'Kelly Fremon Craig really captured the comedy and sadness in how a family falls apart and comes together and falls apart and comes together while they're grieving. She also captured that teacher that calls you out, that you hold onto for the rest of your life because that teacher got you as you…saw you and celebrated that. I hope everyone feels -I got this movie in a personal way and it's mine. This movie was for me.' But this movie is for all of us."


About The Casting

The heart of the story is 17-year old Nadine who feels she doesn't quite fit in. 'The central character of The Edge Of Seventeen is somebody you've never seen before, but the minute you see her you're not going to forget her," states producer James L. Brooks.

Oscar® nominated Hailee Steinfeld is the center of an exceptionally strong cast with wide appeal. 'This is a character-driven movie and finding Nadine was an incredible journey - very difficult and incredibly important," remembers producer Julie Ansell. 'We must have seen over 1,000 girls – from knowns to unknowns. We read everybody and we weren't going to make the movie unless we found the right actress.

Hailee Steinfeld walked in and that was that. Actually, every part was like that. It was very important to find the right people for every role, because the film is so performance-driven that without the right cast, you don't have a movie."

'Casting was enormously difficult across the board, because I wanted people that felt real," describes Kelly Fremon Craig. 'Hailee Steinfeld is a wunderkind. She is staggering. I actually know that nobody else in the world could do this part, because the casting process was so enormous over so many months. Hailee walked in and she was just Nadine from top to bottom. She's so alive and follows every impulse. She gets this character deeply. It's electric. Directing her, I just wanted to get out of her way."

'Hailee Steinfeld is a great young actress. This is the right role at the right time with the right actress. It takes so much for any movie to work," muses James Brooks, 'especially a movie that has an original voice. The minute you're original, you're in space… you're not quite on firm ground."

By her junior year, Nadine has not yet made peace with the one-two punch of simultaneously hitting puberty and losing her father four years before. 'As well as being funny, Hailee Steinfeld brings an intelligence to Nadine. She can bring both strength and vulnerability, but at the same time you get a character who is really hurting," adds Julie Ansell.

Hailee Steinfeld comments, 'Nadine is so smart, witty, quick, and feels everything. Most times when characters are hit with a curve ball, they try to cover it up or mask their emotions. But Nadine wears her feelings, her heart, and her everything on her sleeve. There's something so refreshing about seeing someone that feels so much. She's so desperate for any kind of human connection, it's amazing to watch her seek that with anyone she possibly can."

'I'm 18-years old, so I know almost everything in a teenager's life is, in such a reasonable way, so blown out of proportion," says Hailee Steinfeld. 'Every little thing that happens is such a huge event. Everything that happens to Nadine means so much. Everything matters. Everything is so deeply felt." 'I felt so connected to the core of the story because of how many characters that have something so relatable going on in their lives," reveals Hailee Steinfeld. 'The script was true to a teenager's life in the 21st century. I personally have experienced so many of the things that Kelly Fremon Craig wrote for this character and her writing is so honest and raw. It was a weird vulnerable state going in there admitting to Kelly Fremon Craig the similarities to what my friends and I have really experienced."

Hailee Steinfeld adds, 'Real conversations between kids in a high school hallway are not always appropriate. Kelly Fremon Craig did an incredible job capturing that, but not making it more than what it is. The tone of the script has a perfect balance. Kelly Fremon Craig made every single page so descriptive and so deep, yet focusing on the internal struggles of each character. I loved that the script goes so far into the details of this girl's world, covering everything from how she's feeling to what she's wearing."

Up-and-coming actress Haley Lu Richardson was cast in the pivotal role as Nadine's inseparable best friend Krista who falls for Nadine's brother. 'Krista is a good person, a really sweet girl who wants the best for the people she loves and for herself," describes Haley Lu Richardson. 'I love her so much because she's maternal towards Nadine. I imagine her being raised really well, with good morals. She's selfless and has always been there for Nadine. When she is confronted with the choice between doing something for herself and doing something for Nadine, it's not easy for her to make the choice that fulfills her, but she's brave and she does it. Nadine and Krista met when they were very young so they are super comfortable with each other and feel safe together. Now that they are in high school, Nadine is still figuring her stuff out and Krista is her rock."

Kelly Fremon Craig adds, 'Finding an actress who could go toe-to-toe with Hailee Steinfeld was a serious search because she is so good. Hailee Steinfeld can run circles around most everybody. But Hailee Steinfeld and Haley Lu Richardson really had a great chemistry and felt like lifelong friends instantly. Haley Lu Richardson is also dead real. You don't see the acting. She's so absolutely inside the moment and so present. She's such a smart actress and incredibly self-aware when it comes to her own talent. She knows the work that she has to do to get inside the role and she does it. She always shows up with a great attitude and delivers and it's 100% real. She feels like your friend and she's complicated and interesting. She brings so much truth to the role."

'The relationship between Nadine and Krista is the ultimate best friend relationship," describes Hailee Steinfeld. 'If they're not in the same room, they are likely texting or on the phone or on FaceTime. They're everything to each other, especially Krista to Nadine. Krista is every person in Nadine's life that she's ever wanted. Krista is always there for Nadine."

Haley Lu Richardson connected with the onscreen friendship, 'The script was very real, sweet but quirky and specific at the same time. I've held my friend's hair before while she was vomiting.

I know about those real moments, but it's definitely not a stereotypical high school kid movie. It's what you see in high school, the language you hear, and the stuff you go through during the emotional roller coaster years."

'But the story is also not what you expect. The first time reading the script, I was thinking that there was going to be a moment where Krista decides not to pursue a relationship with Darian to placate Nadine, and she doesn't do that," reveals Haley Lu Richardson. 'That was cool because that's what would likely happen in real life. There's not always necessarily a happy ending in the way you expect. Most times you have to go through a struggle and separate from the comfortable to then find what is your next step."

'Nadine feels her best friend is being taken away," explains Hailee Steinfeld.

'Krista is the only person that understands Nadine. She can get along with anybody, but Nadine's hard to read, and Krista's the only one that's ever given her that time and shown her affection. The moment she perceives that Krista is being taken away, it tears Nadine into a million pieces. Even though Krista is with her brother and wants so badly to make it work between all of them, Nadine sees it as her life coming to an end. Unfortunately, she feels her best friend is no longer hers."

'The main goal Kelly Fremon Craig and I had for Krista was not making her the villain that goes off with her best friend's older brother and breaks her friend's heart," adds Haley Lu Richardson. 'We didn't want to make her this girl that all of a sudden turns into a cool girl with everything she wants. It was important that being with Darian is the best thing in the world for her, but also the hardest decision she's ever had to make because it's breaking her best friend's heart."

'Again we had a large search for both of those roles," says Julie Ansell. 'We cast Blake Jenner as Darian fairly quickly. We thought the Krista part would be easier but it turned out to be very difficult. Luckily, Haley Lu Richardson came in pretty late in the process. At the beginning, you only see Darian through Nadine's eyes and they have a difficult relationship. At first, the audience won't realise he's actually the backbone of the family, who sacrifices for his mother and sister. One of the biggest things that Nadine starts to understand is her brother isn't who she thought he was, is actually this really quiet hero, and she learns to appreciate him."

'The perception of Darian can easily be that he is Mr. Popular and he's got it all, a perfect life. But on the inside, he's definitely broken," describes Blake Jenner. 'He's been putting himself back together since he was 14. Once his family lost their father he dubbed himself the caretaker. Their mom couldn't cope and be the mother that they needed. He's always subdued his own emotions for the sake of his family. He's cut off the potential of his own life to be their Batman. There's more than meets the eye with him. There's a lot of pain. His dad passed away at the prime time where most fathers and sons talk about the birds and the bees, and what it means to be a man. He has had to teach himself, so there are a lot of voids in Darian."

'I come from a big family, so I've always been a sucker for family-oriented films," adds Blake Jenner. 'Stories revolving around a family in turmoil always hit home for me. The second I read the script I was hooked because they are all living their own separate lives within this one world that they share. I was Darian growing up, except I was the youngest of four boys. But with my friends, I always felt some responsibility to them because I wanted to be a big brother. I tried to be there for them, so I understand what it's like cutting off your own ability to feel for the needs of others. This movie is a lot like therapy for me."

Director Kelly Fremon Craig had Jenner write in a journal while prepping for the role. 'Blake Jenner is one of the most committed, researched, and hardworking actors I've ever seen," comments Kelly Fremon Craig. 'His talent is extraordinary and he blew me away. The minute he came in, he had me crying.

'He puts so much work and nuance into it. He was so game to really look at his character's back-story. Darian is a complicated character, because you think he's one type of guy at the onset, but then you find out there's a lot more underneath. Blake Jenner is so ridiculously handsome, but also a guy who's a million miles deep. He was just the perfect person to play Darian."

'Kelly Fremon Craig's script is so youthful, timeless, and definitely not sanitised," comments Blake Jenner. 'It's a story about a family who lost their way a long time ago and with ebbs and flows, they find themselves again and reach peace. There are several different little movies within the movie. I love that Nadine is ballsy and not filtered. I know a lot of girls who are very forward with their language, so it's nice not to see a watered down version of a girl who has gone through a rough time. The movie definitely does not shy away from the R-rated language. It sounds corny, but it's just life. It's not trying hard. These characters are who they are. They're losing their temper and dropping F-bombs when it's warranted. They're crying and keeping to themselves and reaching out for a loved one when it's warranted. It's all real, which I like."

The leading trio enjoyed the camaraderie on screen and off. 'Blake Jenner is a good guy and a really thoughtful, grounded, and wise actor," says Haley Lu Richardson. 'Hailee Steinfeld was raised really well. She's young but she's got her stuff figured out. I like working with her. Sometimes it's really hard to stay in an intense emotional scene because we're singing a song from a YouTube video between takes. Like the scene in the fast food restaurant when Krista is telling Nadine that she wants to be with her brother Darian. Hailee was so in it, I was so in it, living and breathing the characters, and improvising back and forth."

Hailee Steinfeld agrees, 'Haley Lu Richardson and I hit it off quickly, developing a natural banter between us. We picked up on each other's mannerisms, so we were able to bring those the little things that we each do to the screen."

'In reality, I'm very close with my family, so to play a character that feels so completely isolated has been really challenging," admits Hailee Steinfeld.

'Specifically, it's been very hard to work with Blake Jenner because I really like him. We find so many things in the moment. He's such a great guy, but he is very good at playing the brother that Nadine doesn't like very much. Their relationship is so layered because Nadine thinks he has everything – looks, grades, and friends. Every person he walks by shows him attention and love. Nadine walks down the hall and people snicker… and we're related!"

'I love their relationship. It's a tug of war the entire time because they're speaking different languages," adds Blake Jenner. 'He's setting aside his frustration, and she's speaking freely about hers. My last audition was a chemistry read with Hailee Steinfeld, doing one of our heavy scenes, and she was just all there. She's a great actress, who is willing to jump into the deep end and give it all she has. She's inspiring as this misunderstood character trying to find her way in the aftermath of tragedy. Nadine related to their father the most and when she lost him, she lost her light. She's playing the victim because all she's ever really known is being lost, so Darian has had to be the responsible one."

Veteran actors Kyra Sedgwick and Woody Harrelson portray the key adults in the story – Nadine's mother and teacher.

'Kyra Sedgwick is so wonderful because she's gifted at comedy but she's also a beautiful dramatic actress," comments Kelly Fremon Craig. 'Kyra can be big and she can be small. She did a great job of capturing especially Mona's hidden vulnerabilities, those little moments where you have compassion for her. Even in the moments where she's not her best self, you can always feel for her character and know that there's a person inside, maybe missing the mark, but always trying really hard."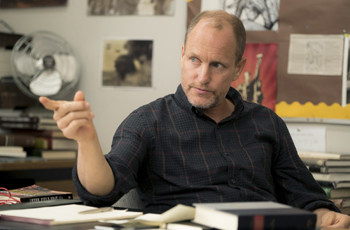 'I absolutely love Mona," states Kyra Sedgwick.

'Perhaps somebody will feel she's not likeable, but to me, she's someone who's just trying to do better. She's now alone in the world, and is somebody who never really had a lot of tools to cope. She finds herself grasping. In the best of circumstances, Mona would struggle with being a mom, but especially when her go-to guy isn't there. Her son Darian reacts by being an uber-responsible parentlike child, which is its own version of hell. Nadine does the opposite - I can't please my mother so I'm going to act as terrible as possible. Nadine feels smarter than her mother, and both teens feel like they have to take care of themselves, they're lost at sea without really having a parent who's fully present."

'It's pretty remarkable that Kelly Fremon Craig was able to really show the hole that is left in this family in such a lean, brilliant way. The father is there for such a short amount of screen time, yet you completely understand the loss this family has felt," explains Kyra Sedgwick. 'The script is very impressive, great writing with so many layers. It's very special. I know how good a part this is. I'm really grateful to be able to be funny and be broken and fragile and sad as well… there's not a lot of opportunities like that."

'Kyra Sedgwick was always somebody that we had talked about for their mother. She's a gifted dramatic actress, and can be pissing funny," comments James Brooks.

'Early in the movie, there's a scene where Mona has to back up out of the car, her skirt's hiked up, and she's trying to get her kid, who doesn't want to go to school, out of the back seat," describes Amy Brooks. 'Kyra Sedgwick is so inherently funny and great at physical comedy. She's classically funny, like Lucille Ball-funny." Kyra Sedgwick comments, 'That scene is right on the edge of farce, but it's still real, devastating and hilarious. You fall in love with a character when you laugh at something that they do. You can take her to some harder places later because the audience fell in love with her vulnerability at that moment of just trying to hold it all together.

All really great humour comes from pain, and trying to put a game face on pain is funny. It's hilarious because we relate so much. Kelly Fremon Craig and I talked a lot about what it's like to be in Mona's head and what she's really struggling with and why Nadine is so triggering and difficult for her. Why it is that they really push each other's buttons so intensely? Kelly Fremon Craig recently had her first child so we talked a lot about how hard it is to be a mom. You want to do it perfectly but you just can't, and you're constantly reminded of that over and over again."

Hailee Steinfeld enjoyed creating the strained mother-daughter dynamic with Kyra Sedgwick. 'Kyra Sedgwick's a firecracker," states Hailee Steinfeld. 'Nadine has a very interesting relationship with her mom because Nadine really feels like she is the parent. Nadine feels she doesn't need her approval. Even though she pretends she's got it under control, her mom is her mom, and she needs and wants her mom in her life. There are so many layers within that relationship so it has been fun to bring to life."

'Hailee Steinfeld is really just a total natural, but also has a lot of complexity and depth to her," comments Kyra Sedgwick. 'She's curious and a wise soul, who is super bright, so those super smart things that Nadine says just roll right off her tongue as if they're hers. Hailee is lovely, she's doesn't have an entitled bone in her body which is surprising and wonderful."

Filmmakers needed a powerful actor who could make an impact on a lead character with limited screen time and were thrilled to cast Oscar® nominated actor Woody Harrelson as Nadine's History teacher. 'We needed a Mr. Bruner who could stand up to Nadine," says Julie Ansell. 'They have a fractious relationship, but at the same time the scenes between Woody Harrelson and Hailee Stenfeld are hysterically funny."

'There are maybe a handful of actors with the dexterity that Woody Harrelson has - he is so ridiculously funny and then can break your heart in the next minute. He can't have a dishonest moment on screen," comments Kelly Fremon Craig. 'Mr. Bruner needed the deadpan and the cool. I felt so enormously lucky to get Woody Harrelson, and he just crushed it. What I love about Woody Harrelson is he comes in with so many ideas, and some of his ideas are the best jokes in the movie."

'Woody Harrelson and I are good friends. It was just the right thing that happened at the right time. He happened to be coming through Los Angeles, we met up, and the next morning he was able to meet Kelly Fremon Craig. Woody Harrelson really has the most crowded schedule a human being can have," laughs James Brooks, 'but we were able to make it work."

'I was interested because my buddy James Brooks is producing it; and Kelly Fremon Craig wrote an amazing script and when I met her I thought she was terrific. A high school gal in the middle of crisis is not a story I would necessarily see myself being involved in, but it's really wonderful writing. It's very funny, very smart, and also very unique, so I was psyched to jump in," comments Woody Harrelson.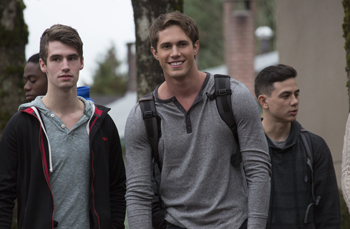 'Mr. Bruner is one of these guys who is probably pretty good at his job, but he comes in, punches the clock, and looks forward to getting home to his girlfriend and his baby. In some ways, he's maybe not the model teacher. But he has a special relationship with Nadine in that he honestly likes her," adds Woody Harrelson. 'Nadine does not connect with anyone else in the school, but for some reason she connects with my character. He's certainly a sounding board for her and someone who she can come to for help. He's not the most sentimental guy, and yet it's obvious that he cares about her."

'As I told Kelly Fremon Craig, that scene where Nadine walks into his home, and sees the baby and the girlfriend, is so beautifully written that I cried," admits Woody Harrelson. 'It really touched me. In fact, that scene was another of the things that made me want to do the movie. The moment is a big surprise to Nadine because she thinks I'm some lonely guy. It's cool when she and the audience see another world that they don't expect with Bruner."

James Brooks reflects on their chemistry, 'It just started happening, developed through the first day. It's nuts because a week and a half ago Woody Harrelson was playing Lyndon Johnson and then he had to go to Europe for the opening of The Hunger Games. Next he gets on a plane, travels 18 hours, the next morning he shows up and it just clicked in the first hour."

'Woody Harrelson and Hailee Stenfeld are electric together," agrees Kelly Fremon Craig. 'I don't know if you could possibly plan or manufacture their chemistry, which happened almost the minute they got in the room together. They bounce off each other, and trust their instincts and follow what would happen in the moment. They're fiery and every take was different and alive in its own way, with such vitality that you cannot take your eyes off either of them."

'Nadine's stuff with Mr. Bruner is my favourite thing about this whole movie," says Hailee Steinfeld. 'Reading those scenes for the first time, I remember thinking -How the hell does Kelly Fremon Craig come up with this stuff? It's so amazing!'

Nadine is reaching for any reaction out of this guy. The great part about how it's written is he's there for her, but is so un-phased by any outrageous thing she has to say. That keeps her on her toes, and keeps her thinking of any possible thing she can say for shock value. One of the things I love so much about Nadine is that she doesn't hold back. She and Mr. Bruner have this real beautiful connection. He's a bit of a father figure for her. I'm a huge fan of Woody Harrelson and those moments are some of my favourites."

'Hailee Stenfeld is an extraordinary actress. In the first scene we did together, I was really amazed with how adept she is at flowing with everything and trying new things," says Woody Harrelson. 'She's a very creative and very smart actress… really has the goods. She knows what she's doing and it's great to see someone with that ability at this early stage of her career. James Brooks and I both think that she has the potential to be acting for the next 60 years. She really is good."

Making his major motion picture debut, Hayden Szeto plays Erwin, a classmate awkwardly pining after Nadine. 'The minute Hayden Szeto came in, we said -lock it up'," says James Brooks. 'We didn't need to audition anyone else."

'We actually cast Hayden Szeto before anybody else. Literally he was cast before we had money for the movie because we liked him so much," laughs Julie Ansell. 'We had thought Erwin was going to be the hardest one to cast. Erwin is attracted to Nadine and is very nervous, but he's also sweet and funny. We were worried about finding a strong young actor who could do all of that. Erwin really is one of the best parts of the script because here's this unlikely guy, who typically never ever gets the girl."

Julie Ansell adds, 'You want him to get the girl. You want her to be with him. You really do root for him. Erwin appreciates Nadine in a way that no one else seems to and really gets her."

'Hayden Szeto crushed his audition with his ability to improv, which is unparalleled," reveals Kelly Fremon Craig. 'Hayden Szeto has a lightning fast mind. He is so funny and so quick. You're nailed to your seat watching them and you're just dying to see what he's going to do next. He's so loveable and you just adore him. Especially after we put him on a Ferris wheel when he's afraid of heights, and throw him in a pool when he can't swim."

'You do root for the characters, because they're not plain archetypes, they're real people. That's the genius of Kelly. It's great writing," comments Hayden Szeto. 'Talking to your crush in high school, you don't know what's going to happen and these awkward moments are so honest. Kelly has a great eye for that. So many of the characters remind me of people in my life. There's no good or bad person in this. I was the Darian of my family and my sister always had a chip on her shoulder."

Hayden Szeto adds, 'I've also been Erwin. Every boy has been Erwin… that boy who is just trying to get through it, trying to be somebody, and trying to fit in. Erwin had a real strength to him. I chose not to play the defeat of being the nerd.

In real life, people don't want to fail. People want to win, and that's the angle that I came from with Erwin. He just wants to get the girl. Erwin's personality is a direct shield against any awkwardness because he's already very selfdeprecating. Part of his charm is his weak points are also his offense."

'I asked Kelly Fremon Craig what inspired her to write the part of Erwin and she told me she went to a university with about 80% Asian-American students," shares Hayden Szeto.

'During her time there, she met some of the most charismatic, funniest, and talented people who didn't take themselves too seriously and she found such charm in that. This story is very grounded in truth and she feels that real life is very diverse and interracial couples are everywhere. It's not a thing."

Hailing from a family of Chinese artists, Szeto has dual Canadian and Hong Kong citizenship and lives in Los Angeles. 'From my own personal experience auditioning for American films, and even my mom asked why I didn't go back to Hong Kong or China to be an actor, because she commented that, -they don't write any good parts for you.' The roles available are the nerd or the friend. But I felt that somebody has to stay here and inspire people to write those parts," says Hayden Szeto. 'To complain doesn't get you anywhere, you've just got to do the work. You're an artist.

You're not here to prove something, because art is not about doing something right, it's just about doing. My own culture is very calculated. Chinese culture is very meticulous, very safe, and they value stability. I'm blessed to have this opportunity to be a storyteller in America and to play this part. I couldn't ask for anything more as an Asian-American artist."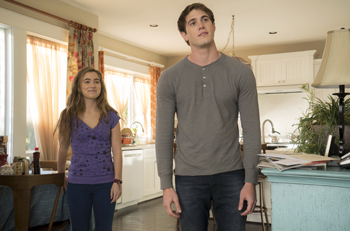 'I parallel with Erwin quite a bit. It's quite a big part and sometimes I feel like I'm the new guy, if you compare me to the seasoned cast. Hailee Steinfeld is a prodigy and the situation can be intimidating for me, just as Erwin's intimidated by Nadine. It works to my advantage. Hailee Steinfeld is a powerful, powerful actress, and sometimes I catch myself just watching her. She's overwhelmingly beautiful and not just on the outside, she has such a great soul. She's also a machine, managing her Twitter, her Instagram, and her Facebook… communicating with her fans in between takes. I'm just trying to prepare," laughs Hayden Szeto. 'She'll deliver in the scene and then be back on her phone. How does she do that?" 'When we shot her reaction to watching my character's student film, there's no actual film being played on set, yet her eyes were glistening and her reactions were so genuinely real," remembers Hayden Szeto. 'I got emotional watching her performance on the monitors, afraid I was the only one being affected. But I looked over to James Brooks and Kelly Fremon Craig, who were glued to the screen, and I'll never forget this because James Brooks whispered, -Wow.'"

Two Canadian actors round out the cast: newcomer Alexander Calvert playing Nadine's crush Nick, and veteran Eric Keenleyside appearing briefly as Nadine's father Tom, whose untimely death kick starts the story.

'Right off bat the script sounded like how people actually talk in that weird unforgiving environment that is high school," comments Alexander Calvert. 'The girls felt like real characters. I liked that Nadine really had a voice that sounded like how I felt at 17… a little bitter and a little upset. She's really an outsider, who is forced to be alone, and has to deal with herself. But Nadine starts to find herself, she just makes it through. That's what high school is actually about: making it through."

'I've been shooting the TV show -Arrow', playing a villain named Anarchy, simultaneously with this movie. It's been very fun because I get to go from torturing families there and come here to hang out at high school again. One day I worked on both sets and ended up shooting for almost 24 hours straight. Good thing I'm young-ish," laughs Alexander Calvert.

The entire cast juggled very busy schedules to be a part of this special movie. 'Between Alexander Calvert being on -Arrow,' Blake going to -Supergirl,' Hailee having a hit single and releasing an album, plus Woody opening Hunger Games and starting the next Planet of the Apes, our cast is constantly going in and out. But when they come back to set, everyone feels like they are back home. We developed our bubble here with this blissful shoot. The only complaint I have is I so badly want to see everybody at once. Unfortunately, there's not a scene in the movie where our entire cast is together, so a sequel would be worth it just for that reason alone," laughs Amy Brooks.

'Kelly Fremon Craig gave this great speech at the production meeting before we started filming," remembers James Brooks. 'She sits down for the first time, as a director, with 50 people around this big octagon table, and she talked about wanting the film to be truthful and as honest as possible, and stating that everything about the production should be about supporting the actor's performances. You sit there in that moment thinking -I'm glad to be here.' It was the first day the crew was getting all together and to have somebody say that out loud was great."

Julie Ansell adds, 'Kelly Fremon Craig seems to be born to the job. Part of what we like to do at Gracie Films is work with new writer-directors with a really strong vision, like Kelly Fremon Craig. Surrounding her with people who are very competent and know how to support her, she's just thrived. She has an innate ability for directing, and she knows what she wants."

One of the team supporting Kelly was legendary acting coach Larry Moss. 'Larry Moss is an amazing acting teacher who James Brooks knows," explains Amy Brooks.

'Kelly Fremon Craig, James Brooks, Julie Ansell, and I sat in on one of his classes and we didn't see an actor who didn't cry. He'd do these tiny adjustments and their performance would change. We staggered out of his class having witnessed greatness. Larry Moss has now become part of our family. Kelly Fremon Craig welcomes everyone with a -What do you have to give?' attitude. This is a party, just bring your favourite food. Kelly Fremon Craig is pretty singular in not having an ego or vanity about -This needs to be all mine.' Every character in this movie has a number of arcs, which are tough stuff to play, so Larry Moss was a great resource for anyone who wanted it."

'Working with Larry Moss has been a dream come true for me," shares Hailee Steinfeld. 'When I auditioned, Kelly Fremon Craig and James Brooks asked if I was cool with working with Larry Moss. They were all on the same page. I was able to build this foundation with Larry Moss, and them come here to Vancouver and play with Kelly Fremon Craig, knowing I was ready for anything she could throw at me."

'Larry Moss opened my eyes to so many things going between the scenes and how to figure out what's happened in between, which is something that you should subconsciously do as an actor," adds Haley Lu Richardson.

'The first time I met Kelly Fremon Craig was a hastily arranged meeting in LA when I was weighing whether or not to do the project, and we took a long walk," remembers Woody Harrelson. 'I thought -wow, this is a really incredible lady.' She's very strong and funny, but you can never really tell how someone will be as a director because it's such a huge undertaking. Some people absolutely fall apart under the pressure. I was interested to see what would happen with Kelly Fremon Craig once on set. Also, James Brooks told me that of all the directors working, only 1.8% are female, which is shocking. So I liked the aspect that this has a female director, and that she wrote it. When I came to Vancouver, I was really delighted because she's so smart on set and really knows how to talk to actors.

She articulates what she wants very well. She's very patient and decisive. She's getting the most bang for her buck and getting the most out of these scenes. And she doesn't really compromise. It's not like -okay, well that's good enough. Let's move on.' She's going to make sure she gets the right take."

'Kelly Fremon Craig has been so helpful to me in building Nadine as a character through so many conversations, over many months now," says Hailee Steinfeld. 'You can see in her eyes how passionate she is and where everything about this character comes from." Haley Lu Richardson agrees, 'Kelly Fremon Craig is very collaborative. She told me right off the bat, -I want you to feel free with this character. I don't want you to feel boxed in, I don't want you to feel attached to the words,' which are amazing. I've developed a trust with her. It's a very simple story but the way it's told is so special." 'Early on before we

started shooting, Kelly Fremon Craig asked me to do a stream of consciousness exercise, writing from the character's perspective," recalls Jenner. 'I was improvising and not being filtered... getting to his state of mind - anger, happiness, whatever - just going with it and Kelly Fremon Craig made no judgments. She was willing to have conversations no matter how long they ran."

'Kelly Fremon Craig wasn't telling me exactly what to do, but she was sending me in the right direction," adds Blake Jenner. 'I totally feel we're being taken care of by an artist. She lived and breathed these characters for so long. We're in amazing hands because she's got blood in this. She's owns it. It's inspiring to be on set having these conversations because they came from her heart. Every single word of this came from her. You definitely see the artist at work."

Prior to the start of principal photography, the director led the cast through a period of intense rehearsal. Kyra Sedgwick enjoyed this, 'We started with a really good improv with Hailee Steinfeld and I. Coming from theater, I love rehearsal and it was interesting to talk to Hailee Steinfeld about it because she's not used to rehearsal."

'It was great to also have James Brooks there – I'm a big fan of that guy, he's an idol. He's truly a god, really he is," laughs Kyra Sedgwick. 'But what scares me about James Brooks is that the actors in his movies often do their very best work. It's a little scary asking yourself the question -will this be my very best work?' There isn't a false moment in any of his movies. He's an icon, and his movies are unforgettable. They make a very deep and lasting impression, and they stand the test of time, which is so unusual."

Kyra Sedgwick continues, 'I asked James Brooks, how do you manage to get these incredible performances out of people? He said that it really starts by making sure that everybody in the cast and crew know that their paramount task is to create a safe place for the actors to do their best work, and that nothing's more important than that. The shot's not as important and the lighting's not as important. After being on this set, I believe Kelly Fremon Craig feels the exact same way. Each day lives or dies on the performances."

'It's so incredible to watch James Brooks process everything on set. Just when you think maybe he's not listening, he comes up with the most insane and relevant idea. He's so in tune and brilliant," comments Hailee Steinfeld. 'I actually met him when I was younger at The Simpsons Movie premiere because he knew my dad. I didn't see him again until I auditioned and now to be on a set with him is really surreal, to be on something that he is involved with is special."

Haley Lu Richardson agrees, 'He's a big deal. Just about everything that man has touched has turned to gold. He's a genius who created all of these iconic things, yet he's so friendly and sweet. But then all of a sudden, he laughs and has this crude humour that you wouldn't expect. My mom's pretty jealous that I'm doing this movie right now with him because Terms of Endearment is her favourite movie ever. The first time I met James Brooks, I came down from my hotel room to go to a wardrobe fitting and I was super nervous. I saw him in the lobby and he invited me to ride in his car. I thought -you don't know how cool I feel right now.'"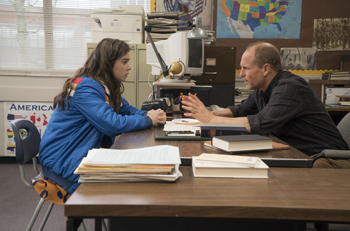 'When I came for the table read, I was looking at the name tags around the table, and I noticed James L. Brooks is going to be sitting right there!" laughs Hayden Szeto. 'When James Brooks walked in, I wanted to go up and shake his hand. What an honour, I even had a speech prepared in my head.

Then he said, -you're funny, love your audition tape.' It was like Michael Jordan saying you've got a nice jump shot."

Hayden Szeto adds, 'James Brooks has been a father figure to me throughout the whole production. I was definitely overwhelmed the first couple days on set, and he said something really profound. He and Kelly Fremon Craig actually pulled me aside and he told me a lot of actors spend their whole lives looking for what he calls their mirror, who they really are. He and I felt that I'd lost sight of that, of who Erwin was, and he pulled up my audition tape and showed me, -this is your mirror.' It was a really touching moment. He told everybody to get out and Kelly Fremon Craig asked, -what do you need?' I needed space and time and they cleared the room for me. They told me to shut the door and take as long as I needed. I'm so thankful to be working with these people that believe in me so much. It's incredible having somebody of that level being so patient with somebody so new. That talk with James Brooks and Kelly Fremon Craig that day really sums up my whole experience on this project because I learned something great in that room."

James Brooks has a stellar track record of mentoring actors and filmmakers. 'I remember years ago, Jim was flying off a lot to Dallas, Texas," comments his friend Woody Harrelson. 'I was wondering how good must this script be that he's trusting a first time director and all these basically first time actors, and putting all this effort into it? Of course it was Bottle Rocket, and it was Wes Anderson directing Owen and Luke Wilson. James Brooks has such wisdom and passion about material… it's hard to even imagine how much influence he has when he's mentoring someone."

'I hope that people watch this film and think -I know that person, I am that person, I've been there, and I've felt that'," comments Kelly Fremon Craig. 'I hope people see themselves reflected in it. That was my own experience writing it."

'This movie fits into that genre of the classic John Hughes films and Fast Times at Ridgemont High, but also I feel like this is breaking the mould," says Blake Jenner. 'I haven't read a movie that's about coming into your own and finding yourself that has perfect balance between comedy and drama, but this makes you laugh and cry like you're a baby."

'You feel like you watched someone go through something, and really struggle to get there, but get there at the end," says Haley Lu Richardson. 'The lesson is no matter how hard and intense something seems in the moment, you're going to get through it, learn from it, and end up being stronger." 'When people come out of this movie, I really want them to know they can make it through. I wish more people had told me that high school will end," says Calvert. 'You'll get out. There is life beyond. If I could speak to anyone struggling in high school, I would tell them that it ends. Life gets more interesting as you age. You do not want to peak in high school."

'Growing up watching movies, they've always given me hope that no matter how bad problems get, you can solve them if you have the will to," shares Hayden Szeto. 'I hope this film draws attention to how fragile we all are and how, as human beings, our greatest asset is to be empathetic, which can also be our greatest downfall. Sometimes we overreact and it's okay to admit that."

Hailee Steinfeld sums up, 'The Edge Of Seventeen is a story of a girl trying to find connection and contact with anything and anyone. The most satisfying thing is watching her realize that it's been there all along."

About The Production

Principal photography on The Edge Of Seventeen began on October 21, 2015. The shoot utilized a multitude of practical locations around Vancouver, BC, Canada to create a fictional Pacific Northwest location, called Pointview, Oregon.

First-time director Kelly Fremon Craig enjoyed collaborating with her cast and a seasoned behind-the-scenes team to bring this story to the big screen. 'Everything about this production – the locations, the sets, the lighting - had to feel real and had to serve the performances," states Kelly Fremon Craig. 'As a director, I'm very much about helping everybody follow their impulses and instincts. When blocking a scene, I like to ask the actors -where do you feel your body wants to go?' The actor's physicality should guide the staging.

Something great that Jim said to me early on, was that the best-case scenario is when everybody shows up on set and has a different idea of what the scene is going to be… and the best day is when it's something nobody thought of. The alchemy and electricity of everybody getting together gives you something more. That's totally exciting to me."

Kelly Fremon Craig adds, 'I didn't expect directing to be such an oddly perfect extension of writing. So much of the work was actually done in the writing, but also movie-making is such a team sport, everybody puts their print on it. Everybody helps birth the baby… the makeup, the hair, the costumes, and the props - all of that goes into shaping the movie. Filmmaking is such an exacting, delicate thing where every detail matters. There are no small things. Getting all those details right has been a big deal to me."

Originally Kelly Fremon Craig had set the story in Orange County, California where she was raised. 'There was a time when we couldn't imagine that this movie wouldn't be shot in Orange County," shares Amy Brooks. 'But Vancouver is such a wonderful place to make a movie, and once we got here, the location was inconsequential. Teenage drama and comedy can unfold anywhere on the globe."

'The location switch actually helps the story, because the Pacific Northwest has a real feel of the fall, which add to the atmosphere of the story," adds Julie Ansell.

'Vancouver is really representing any city U.S.A. but there's something about being in a place that is beautiful. Where when you drive to work, it's amazing, and it fills you. Having beauty all around you has been the big part of this experience," comments James Brooks. 'The world is coming here, it's such a film capital, and the crew has been great. Vancouver is a boomtown and there's an excitement. The best thing that happens to you on a movie is when you absolutely lose yourself in the work, everything fades away, and you're in that reality. The great thing is if you're showing up for the right reasons. If you're trying for stuff that makes sense to you, and that's beautifully true in this one."

One of the key locations for the film was Guilford Park Secondary School in Surrey, BC, which played the fictional Lakewood High School.

'On the first day Blake Jenner and I shot together, we were actually filming in a real high school that was in session," shares Haley Lu Richardson. 'We had done a couple takes when the bell rang, all the kids were rushing through the hallways during their passing period and we were just standing there. Being there made us realise that we had to talk louder and faster in the scene, because that's how it really is in high school. Actually filming in a place where normal kids, real teenagers are experiencing their everyday life, brought you into that world right away."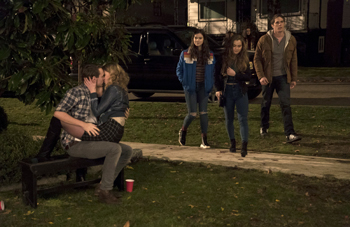 'I witnessed a crying meltdown going on in the bathroom," laughs Amy Brooks. 'We all started to forget that we were grownups who aren't in high school. We were in their environment and they were hosting us, but we all went back to high school. Being in an active high school felt only helpful. There were bells going off and people were going through set to get to their lockers… high school does not stop for a movie. The teenagers were genuinely living their lives…sometimes very dramatic, sometimes very funny."

'The crew was having to go around the students but actually being on location brings a level of truth to the movie," adds Julie Ansell. 'Being in real suburban homes, even if we're in tight little spots like having to shoot in a small bathroom and sticking the camera in the shower, makes it seem more real. All of it helps actors to get into their characters."

Filmmakers selected about twenty locations in the Lower Mainland of Greater Vancouver, including a number of real homes, to help tell the story.

Nadine's house was in the suburb of Richmond where much of Nadine and Darian's home life plays out; while Erwin's mansion was in the tiny neighborhood of Shaughnessy; the house party was staged on location in Burnaby; and Mr. Bruner's modest home was found in Coquitlam. Other memorable nights of filming took place at the Playland of the PNE Fairground, as well as Vanier Park.

Erwin's mansion featured key scenes shot in his bedroom, with custom artwork by noted filmmaker/animator David Silverman (The Simpsons Movie), as well as a poignant and funny sequence in the backyard swimming pool. 'There's a scene where Nadine comes over to Erwin's big house to go swimming," shares Amy Brooks. 'Hayden Szeto, who is not a strong swimmer had to do cannonballs, because we had cameras underwater. But he just jumped in the water. It was so cold that day and the pool was probably a good 90 degrees, so the problem became how to get the steam off the pool."

'Hayden Szeto was totally game for everything we asked him to do. The poor guy, but you would never know that he never really swam before as he was jumping in," laughs Kelly Fremon Craig. 'Another freezing night was during the Ferris wheel scene and he played his nervousness into the character. It was fantastic, better than it was written."

'We shot until four in the morning on that old-school Ferris wheel. That was quite a night," remembers Amy Brooks. 'Hayden Szeto has a fear of heights and when he saw the very large Ferris wheel with a cage he said, -It's okay. I'll use it.' They didn't come down for four hours. I don't know a lot of actors who have a fear of heights and say -No problem. I'll use it.' That huge Ferris wheel was going pretty fast by the way."

'Kelly Fremon Craig allowed us to go off script, so it didn't even feel like work. It was a good time. Erwin attempts to make a move on Nadine, and it goes horribly wrong. Kelly Fremon Craig let us just react off of each other and ad-lib. She just kept the camera rolling for a couple of revolutions. Hailee Steinfeld and I had to deal with the awkwardness, because they never stopped it. Eventually, I asked the operator to please stop," laughs Hayden Szeto. 'We kept going and going and going. Thank God, I have an improv background, so I love that freedom. I really do love that Ferris wheel scene. Hailee Steinfeld and I had a lot of laughs that night."

Weather again played a role the night filmmakers shot at Vancouver's Huntington Beach in Vanier Park. 'The weather in Vancouver in the fall of 2015 had been very wet and cold. The night that Hailee and Alex shot the scene of Nadine and Nick Mossman on their date, there were sheets of rain. I actually shot it on my iPhone," laughs Californian Amy Brooks. 'They were in a car for nine hours filming. There's no preciousness from the actors. Everyone goes the extra mile, weather be damned. I'll never forget that night because the cast and crew survived in the pouring rain until four in the morning, yet Hailee and Alex managed to have chemistry right away. I learned a lot that night about two actors being very kind to each other because the circumstances are so demanding. It was miserable, but that scene is special to me for that reason."

Guided by the expertise of Costume Designer Carla Hetland, filmmakers spent a lot of time on the personal details of Nadine's world. 'Clothes say a ton about a character," comments Kelly Fremon Craig. 'Waking up in the morning and going through my closet and saying -I feel this way so I'm going to wear that.' It speaks so much about who the person is and what they value."

'What's unique about this movie is that there isn't one look," says Amy Brooks. 'The clothes reflect how each individual character would dress. How does what they feel and think about themselves, and think about how they want to appear to other people, how does that translate into how they dress? Carla Hetland the costume designer, Kelly Fremon Craig, and all the actors were amazing at contributing to that fun discussion."

'The style was very important. We spent a lot of time looking at pictures of what today's teens are wearing," shares Julie Ansell. 'But Nadine doesn't dress like everybody else. She really is her own person and the clothes hopefully reflect that, but she's not even dressing to stand out. It's just what she likes and who she is. Nothing quite matches, but it works really well together."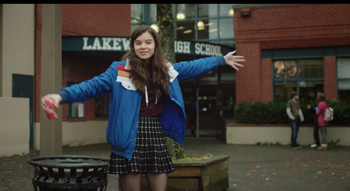 'Kelly Fremon Craig had such a strong vision for this movie and had two boards in her office with pictures, magazines photos, and colours and fabrics samples," describes Amy Brooks. 'They were the most amazing boards because you could walk into her office and see the movie she wanted to make, in all its style and texture and mood. She had the palette in her mind. Nadine's socks were always in the script, but it morphed during pre-production when Kelly Fremon Craig said, -She wears tights all the time.'"

Nadine's outdoor jacket became the character's other signature fashion statement. 'The incredible thing that happened with Carla Hetland, Kelly Fremon Craig, and Hailee Steinfled - they got how a girl who feels like she doesn't fit in, who doesn't necessarily want to fit in, who doesn't necessarily care about fashion but has an eye, would dress. Hailee would come in and the clothes would sing or they wouldn't because Hailee was bringing how Nadine moves in the clothes."

'There were so many conversations about Nadine's hero jacket. It was so daunting because it almost becomes like a Fonzie thing. What will the jacket be?" Kelly Fremon Craig ordered a ski jacket online but it didn't quite work. So Tatiana Andrianko, the seamstress that works with Carla Hetland, made it and added the fur. Kelly had a real idea about where the pockets would be and that's when Nadine really started to be born. As soon as Hailee Steinfeld put that jacket on, we all went, -Yes!' and were hooting, hollering, and laughing. -This is it. That's Nadine. We are making this movie.'"

'Laughter has been a huge thing making this film, and that is totally all Jim. Everybody's imitating him," shares Kelly Fremon Craig. 'James Brooks laughs during the takes. At first I was worried he was ruining a great take, but they told me not to worry. They've taken his laugh out of every single movie he's ever done. He gave all of us the freedom to laugh. The really wonderful thing is being able to touch upon issues that are a little darker or dramatic, and then have relief from them through the laughter. That's so much of what life is… it's painful and then it's not, it's good and then it's not, and it's all punctuated by humour."

'When he's laughing, he's really laughing," comments Julie Ansell. 'Studios have had to develop techniques to get his laugh out of the soundtrack because he's reacting to what he loves. It's great. Jim Brooks' laughter is completely natural. He can't help it and the actors really respond to the stamp of approval. When you hear James Brooks in the background, you know you're doing well. As we went along making this movie, Kelly Fremon Craig was getting more and more boisterous when she likes something too. It's very infectious."

'To hear James Brooks laugh off-camera was one of the coolest feelings. If you got a laugh from him, you were doing good," comments Calvert. 'I was honoured to get his time, shooting or working with him in one-on-one rehearsals."

'Everyone had the feeling that we're making something special. There is a vibe on this movie. We just laugh. We laugh all night. We work hard and we crack each other up. Kelly Fremon Craig gives license to everyone's right to be themselves," comments Amy Brooks. 'It spreads and it's contagious. You want to be in this day with these people. As James Brooks' daughter, I'm proud of his laughter, which is something people recognise when they turn on TV Land late at night. His laughter is singular."

The infectious spirit ran throughout the production, from top to bottom. 'We're working for STX, which is a new studio and there's an energy with a new studio. They did not imagine a small picture like ours being any part of their business model, but they are people who consistently went with the script. They wanted to exist to be different, and they are," says James Brooks.

Principal photography on The Edge Of Seventeen wrapped on December 2, 2015 in Vancouver, BC Canada.


The Edge of Seventeen
Release Date: January 5th, 2017
Review: Love this coming of age movie that touches on the many issues that face teens with friendship, relationships and loosing their virginity. Beautifully done with plenty of comic entertainment. Highly recommend The Edge of Seventeen.
Rating: 9