6 Reasons Why You Should Eat Australian Superfoods This National Nutrition Week
Hayley Blieden, dietitian and founder of The Australian Superfood Co says: "You don't have to travel the world to find superfoods... Australia has its own group of powerful and nourishing superfoods that have been sustaining our indigenous communities and growing in our backyards for millennia!"

Mushroom Pappardelle with Mountain Pepper Leaf

Preparation Time: 10 mins
Cooking Time: 10 mins
Serves: 6

Ingredients
10g dried porcini mushrooms
100g unsalted butter
1 white onion, diced
500g Swiss brown mushrooms, thickly sliced
1 tbsp Mountain Bush Pepper
3 garlic cloves, finely chopped
1 tbsp balsamic or red wine vinegar
1kg fresh pappardelle (see Notes)
1/4 cup flat-leaf parsley, finely chopped
Grated parmesan, to serve
1/2 cup fresh sage, to serve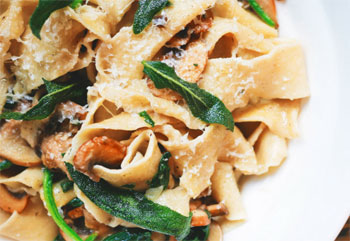 Method
Soak dried porcini in boiling water for 10 minutes. Squeeze out and reserve soaking liquid, then slice the mushrooms. Set mushrooms and soaking liquid aside.
Over medium high heat, melt 60g of butter in a large frying pan. Add onion, and fry for a few minutes until golden. Add the porcini and Swiss browns and fry gently for 2-3 minutes until softened. Add the garlic and Mountain Bush Pepper and cook for another 2 minutes until softened.
Add vinegar to deglaze any mushrooms or onions that may be sticking to the bottom of the pan.
Cook pasta in a medium size pot of boiling salted water according to packet instructions. Drain and add the pasta to the pan of mushrooms along with 1/3 cup (80ml) of the mushroom liquid and the remaining butter.
Once the butter has melted, add the parsley and toss to combine. Season with salt to taste, then divide among bowls and sprinkle parmesan cheese on top and torn sage.

For National Nutrition week, Hayley Blieden, Founder of The Australian Superfood Co, shares her top tips for why you should be eating Australian superfoods:

Eat locally
Our indigenous community has been living off these native Australian superfoods for over 50,000 years! They can be used for medicinal and culinary purposes and provide the real taste of Australia.

Nourish your body
These native ingredients boast an abundance of health benefits. For example, our Kakadu plum has the highest amount of Vitamin C than any other fruit in the world so we love adding a small teaspoon to our smoothies in the morning! A little goes a long way and can help to boost immunity year round! Quandong as well contains twice the Vitamin C of an orange and is a valuable vegan source of iron and zinc and can be added to desserts and sweet treats.

Tantalize your tastebuds
In addition to the health benefits, they have exotic and interesting flavours that can transform a simple dish into something truly spectacular. Our finger Lime provides a zesty and citrus-like flavour and can be used in place of lemon in all your savoury or sweet dishes. How about try our Mountain Pepper Leaf which can be used like normal pepper but you'll enjoy the exotic difference.

Impress your guests
We all eat with our eyes and our native superfoods add beautiful colour to your dishes. In particular, Davidson Plum which offers a tart flavour and goes perfectly in your sweet desserts, adds a wonderful purple hue as well as Vitamin E for youthful skin!

Cook like a pro
There are top chefs all over the country using our native ingredients in their dishes but they can also easily be used at home in the kitchen and are a lot of fun to play around with. Love your coffee but don't want the caffeine hit? Try swapping your coffee beans for our Roasted and Ground Wattleseed and enjoy a DIY Wattleseed Latte. The Wattleseed provides a nutty flavour and is high in protein and low GI and can be enjoyed as a caffeine free alternative.

Support our indigenous communities
By choosing native Australian superfoods, you're helping to preserve the history, culture and tradition of our indigenous communities. We've partnered with a woman's centre in the Wadeye Community in the Northern Territory and since starting TASC, have provided seasonal employment to over 300-400 community members.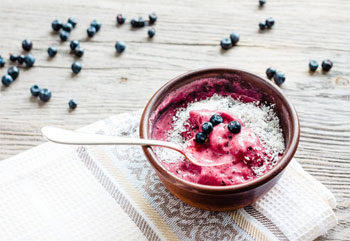 Riberry Vegan Nice Cream

Serves: 3

Ingredients
3 bananas, sliced and frozen overnight
1 tbs Freeze Dried Riberry
1 tsp Freeze Dried Davidson Plum
½ cup blueberries (frozen or fresh)
½ cup raspberries (frozen or fresh)
pinch of cinnamon
2 tbs coconut cream
1/4 cup shredded coconut

Method
Place bananas, Riberry, Davidson Plum, berries and cinnamon all in a food processor and blend until texture is smooth.
Slowly add the coconut cream and continue to blend until an ice cream consistency forms.
If mixture has not become sloppy, eat immediately.
Alternatively, place in freezer for 1 – 2 hours in a container and scoop out to serve. Sprinkle with shredded coconut and enjoy on a warm day.



Interview with Hayley Blieden, Dietitian and founder of The Australian Superfood Co.
Question: What message would you like to spread during National Nutrition Week?

Hayley Blieden: As an Accredited Practising Dietitian and Nutritionist (BNutDiet, M.B.A.) with a passion for Australian bush food, my job is to educate Australians and the rest of the world on the incredible produce that we have growing in our back yard which has been sustaining Indigenous Australians for over 50,000 years. These foods are not only absolutely delicious but are some of the most potent and nutrient-dense health foods on the planet. Our very own powerful group of fruits and seeds are so rich in vitamins, minerals and antioxidants, that they have surpassed the superfood master, the blueberry, and have set new global standards for nutrition and taste. For this reason, I'd love to remind people to eat locally and support our Indigenous communities in doing so! We all want to stay healthy and for our family and friends to be healthy too and we don't need to source our foods from overseas to do so. Keep it local.


Question: What are your top five Superfood products?

Hayley Blieden: It's too hard to narrow it down to only five but the superfoods I use most would have to be:
Kakadu Plum
Davidson Plum
Wattleseed
Aniseed Myrtle
Lemon Myrtle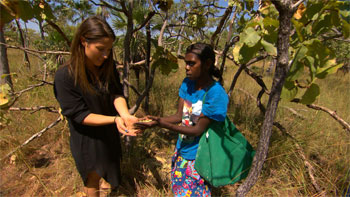 Question: What originally inspired your passion for health and food?

Hayley Blieden: From a young age, I had always followed a very healthy lifestyle. It was a no brainer for me that I was going to study to become a Dietitian and Nutritionist so I could share my knowledge in the hopes of improving the lives of others. This was something I've been passionate about for as long as I can remember! However, I always knew I didn't want to follow the traditional dietitian's path, choosing instead to focus on designing foods to enhance the way people feel and perform. A growing global interest in health and foreign superfoods ignited my curiosity about Australian superfoods, so I began researching what our country has to offer. I set off on a journey to Alice Springs and Uluru where I visited remote communities and discovered reoccurring health issues born out of inadequate consumption of fresh foods. The community elders were complaining about their generally inadequate diet. Instead of relying on their traditional diet, which featured fresh bush tucker, they were now consuming mainly cheap, processed fast foods. I delighted in tasting bush tucker for the first time. My excitement continued to build as I realised that these native foods, which sustained Indigenous Australia for so long, had distinctive and intoxicating flavours. This is when I knew that I wanted to share these foods and flavours with Australia and the world.


Question: Why is it important we don't consume caffeine?

Hayley Blieden: Most of us rely on coffee or caffeine to wake us up in the morning or to make sure we're alert towards the end of a work day. But caffeine does more to our bodies than just keep us alert. Over time, a reliance on caffeine can cause withdrawal symptoms; such as anxiety, irritability and drowsiness, and can make it difficult to rely on our body's natural source of energy.

At TASC, we're all about living in moderation so too much of anything puts us out of balance. For this reason, we prefer to have a natural start to our day by consuming a Wattleseed Latte. The Wattleseed provides a nutty and earthy flavour and is a high source of protein so it's become a staple in my home!


Question: What is the Kakadu plum and its benefits?

Hayley Blieden: Kakadu Plum is Australia's star superfood performer. Kakadu Plum has exceptional nutritional and antiseptic properties and has been an important food and medicine in Northern Australia for millennia. The native Australian fruit boasts the highest recorded levels of Vitamin C of any fruit in the world, measuring up to 100 times the Vitamin C content found in an orange! It also exhibits outstanding antioxidant capacity, being 5.2 times more potent than the blueberry.

Due to its extreme potency, you only need a small amount to reap the benefits. I love adding a teaspoon to my smoothie or smoothie bowl in the morning - it provides a tart taste with a delightful aroma of stewed apples and pears, with some cooked citrus, pickled and floral musk essence. If you're yet to try it, it's an absolute must!



Kakadu Plum Smoothie Bowl

Serves: 2
Time: 10 Minutes

Ingredients
2 frozen bananas,
roughly chopped*
1 mango, roughly chopped* 1 cup of ice
1 cup coconut water
1⁄2 cup almond milk
1 cup The Australian Superfood Co, Lime, Coconut Macadamia Burst Granola
1⁄2 tbs Kakadu Plum

Toppings: Sliced strawberries chia seeds granola, nuts coconut yoghurt

Method
Place banana and mango in a blender. Add ice, coconut water, almond milk, kakadu plum and half the granola. Blend until smooth.
Divide the mixture evenly between two bowls. Arrange the strawberries, remaining granola, chia seeds and nuts in a moon shape on top of the smoothie. Gently swirl a little coconut yoghurt into the uncovered smoothie, if desired.
*Banana and mango can be substituted for 2 cups of Coles frozen Tropical Smoothie Mix.


Question: What is The Australian Superfood Co.?

Hayley Blieden: My experience in the Northern Territory drove me to explore the nutritional content and current farming practices of Australian bush tucker. I was thrilled to discover that Australian bush tucker has superfood nutritional status and realised that Indigenous communities could benefit from collecting and cultivating bush tucker.

The Australian Superfood Co was born when I decided to produce a range of products which feature Australian superfoods where I aim to share the age-old Aboriginal wisdom, provide healthy, natural foods and promote the growth of Aboriginal communities. Our products include bars, granolas and fruit and herb powders which are packed with vitamins and antioxidants that provide an exciting eating experience.

Since starting the business two years ago, we've partnered with a women's centre in the Wadeye Community in Northern Territory where we now provide seasonal employment to over 300 community members, something we're extremely proud of and are thrilled to be able to contribute to the development and economic stability of this community.


Question: What's a typical day like, for you?

Hayley Blieden: I'm up bright and early at 5:30am and always make sure to start my day with a cuddle from my baby girl Mila before I have to answer some urgent emails. I then get my exercise done which is usually a run around the neighbourhood or I enjoy a group fitness class. It's then breakfast time with Mila where I have my Kakadu Plum smoothie. After dropping her off at mum's house, I make my way to the office where I'm flat out all day.

After work, I pick up Mila and we love meeting our friends and Mila's bub friends at the park to unwind. In the evening, Gaz, my husband, is home from work and we all eat dinner together before we bathe and put Mila to bed. I then continue with some emails, have a tea with Gaz to catch up on the day and then we head to bed to do it all over again the next day!


Question: What five ingredients could you not live without?

Hayley Blieden: Kakadu plum - I add a teaspoon to my smoothies every morning and enjoy the flavourand health benefits it provides. I love knowing I'm doing good for my body through the food I consume!
Wattleseed - Since giving up caffeine, Wattleseed has become a staple in the house. I love waking up to a Wattleseed Latte before heading out for the day and I don't have that 3pm slump anymore where I need to duck out the office quickly for a coffee.
Aniseed Myrtle - it has a strong liquorice scent and flavour and many antioxidant, antifungal and antimicrobial properties. It is also a good source of magnesium, lutein, folate, vitamin E, and vitamin C. I love adding it to tea, cakes and dressings!
Dark chocolate - I have to admit, I'm a bit of a chocoholic and love indulging in a piece or two of dark chocolate after dinner.
Avocado - rich, creamy and delicious with an abundance of healthy fats and antioxidants that promote heart and brain health...enough said!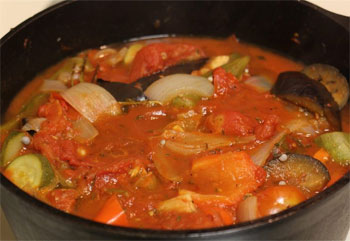 Question: Could you please share your favourite recipes with us?

Hayley Blieden: Ratatouille with Aniseed Myrtle

Prep time: 5 mins
Cook time: 40 mins
Serves: 6 (as a main or 10-12 as a side)

Ingredients
2 aubergines
5 tbsp olive oil
2 red onions
4 cloves of garlic
2 red capsicums, or 1 red and 1 yellow
½ cup anise myrtle
3 large courgettes
400g can of whole tomatoes
2 tsp herbs de Provence

Method
Preheat the grill to high.
Cut the aubergines into 1cm slices, then place on a baking tray and brush with 1 tablespoon of oil.
Grill for 10 to 12 minutes or until golden brown. Turn the slices over, brush with another tablespoon of oil and grill for 5 to 8 minutes, until golden.
Peel and finely slice the onions widthways, peel and grate or slice the garlic, then deseed and slice the capiscums. Cut the courgettes into 1cm rounds. In a large frying pan, heat the remaining oil over a medium heat. Add the onions and cook for 5 minutes, until they begin to soften and turn golden.
Add the garlic and cook for a few minutes, then add the peppers, anise myrtle and courgettes, and cook for 5 to 8 minutes until they begin to soften.
Add canned tomatoes, aubergine and herbes de Provence to the pan. Use a spoon to break up the tomatoes in the pan.
Lower the heat, cover the pan with a lid and simmer for 20 minutes or so, until the vegetables are cooked through. Season to taste.
Serve with some crusty bread to soak up all the delicious juices!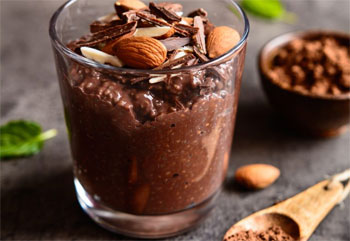 Wattleseed Chia Pudding
Serves: 4
Time: 10 Minutes

Ingredients
2 Cups of Almond Milk (or milk of choice)
1/3 cup chia seeds
1/4 cup cacao Powder
1 Tbspn of Roasted Wattleseed
3 Tbspn of Maple Syrup
1/2 Tspn of Vanilla extract
pinch of sea salt
Top with The Australian Superfood Co Cacao Coconut Crunch Granola

Method
Add all ingredients into a mixing bowl and whisk vigorously to combine.
Divide the mixture into individual cups or one dish and place in the fridge overnight.Serve with fresh fruit, shredded coconut or top with our Cacao Coconut Crunch Granola.


Interview by Brooke Hunter