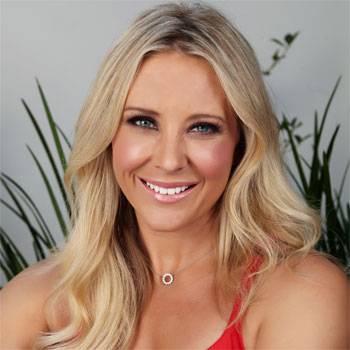 Bounce's new flavour doesn't miss a BEET!
Australia's leading healthy snack brand, Bounce, has announced a brand new flavour to join its nutritious Plant Protein range, introducing Beetroot Cashew. With all the benefits of plant protein and subtle beetroot sweetness, the new flavour can help boost your stamina to keep you feeling upBEET all day long.

One of Australia's leading nutritionists and Bounce Nutritionist Susie Burrell says, 'Bounce Plant Protein balls combine pea and brown rice proteins to replicate the amino acid chain of whey protein. By skipping the whey protein, they remain completely vegan without missing out on essential amino acids that the body doesn't produce naturally."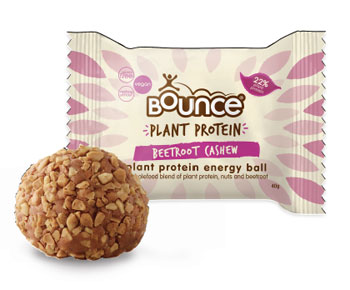 Benefits of Bounce's new Plant Protein balls include:
Rich in protein with 22% plant protein per ball
All natural ingredients – as always!
Contains amino acids and easily digested
Lactose and gluten free gives a better tummy feeling
Sustained energy and feel fuller for longer
No artificial colours, flavours or preservatives and GMO free
Cold pressed to maintain ingredient integrity for optimum nutrition

The third flavour to join the Bounce Plant Protein range:

Beetroot Cashew: Think beetroot is just another vegetable? Think again. Bounce has used the sweetness of the beetroot and smoothness of cashews to flavour this tasty ball. A pocket rocket to pick up the BEET. Cashews are packed with vitamins, minerals, and antioxidants making these balls highly nutritious and delicious. With 8.8g of plant protein, this ball will definitely keep you rolling.

Live the vegan life naturally or simply incorporate the benefits of plant protein into your day.

The Bounce Plant Protein range is available now at Coles and health stores for $3.29 per ball.
au.bouncefoods.com



Interview with Susie Burrell, Bounce Nutritionist
Question: Why do you love the Bounce Plant Protein balls?

Susie Burrell: Up until now it has been really difficult to find a vegan friendly, high protein energy snack for busy people on the go. Finally, we now have a convenient product, that tastes great, is 100% vegan and has good amounts of both carbs and protein.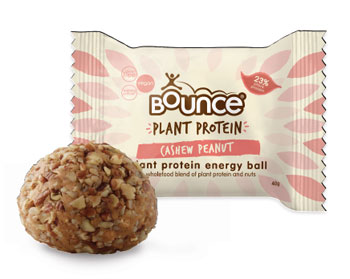 Question: Can you talk us through the difference between plant protein and other protein supplements?

Susie Burrell: Most supplements will utilise a blend of milk protein, which naturally has a full amino acid profile. The good thing about the new Bounce Plant Protein range is that the blend of both rice and pea protein also ensures we have a full amino acid profile but from an 100% vegan product.


Question: Why is it important to have protein in our snacks?

Susie Burrell: Protein helps to regulate blood glucose levels, helps to keep us fuller for longer after eating, it helps to ensure optimal muscle repair and it ensures our snacks are filling and satisfying.


Question: Why should we be adding more beetroot to our diets?

Susie Burrell: Beetroot is a known superfood thanks to its exceptionally high levels of antioxidants.


Question: As we head into Spring what foods should we be incorporating into our diets?

Susie Burrell: The brighter, leafy green salad vegetables; fibre rich legumes such as chic peas and lentils and for the seafood eaters, lovely fresh shellfish such as prawns and oyster which are packed full of key nutrients including iodine and zinc.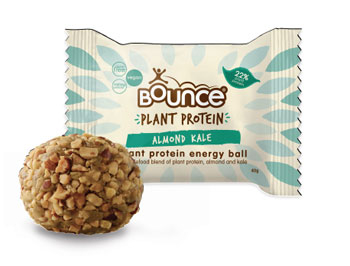 Question: How has your attitude to food changed over the years?

Susie Burrell: I am far more relaxed about it now I have small children and understand that people are time poor and as such need quick and easy options. Good nutrition does not need to be difficult rather we need to know the simple things we can do each and every day to improve our overall nutritional intake. Things like having filtered water on tap at home so you drink more; ordering fresh fruit and vege deliveries so you always have supplies on hand and always keeping a protein rich snack with you like a Bounce energy ball, so you never get caught off guard hungry without a nutritious snack on hand.


Question: What is one piece of advice regarding healthier food consumption you'd like to share with Australia women?

Susie Burrell: Planning is the key to dietary success - if you simply spend a few minutes planning your meals and snacks in advance your daily diet will improve dramatically.


Interview by Brooke Hunter