EIGHT YEAR OLD ARTIST CREATES MAGICAL JELLYBEAN ARTWORK
Giant jellybean artwork designed to mark the home entertainment launch of 'Jack The Giant Slayer"
Child artist Max Treffkorn, who last year exhibited an artwork made of LEGO bricks across the country, has created an artwork made entirely from jellybeans to celebrate the release of Jack The Giant Slayer on Blu-ray 3D, Blu-ray and DVD on July 24.
Max's unique jellybean masterpiece – which features Jack (Nicholas Hoult in Jack The Giant Slayer) climbing up the iconic beanstalk, with the ferocious two-headed leader of the giant army (Bill Nighy) in pursuit – used 10kg of jellybeans, 35 tubes of super glue, and took an entire week to complete!
Whilst this might be the first time Max has made an artwork out of jellybeans, it's not his first foray into the art world. At six years of age Max exhibited a series of artworks at a group show at The Tate in Sydney. If that wasn't impressive enough, just last year one of Max's artworks was recreated out of LEGO bricks by LEGO Certified Professional Ryan McNaught – every kid's dream!
Commenting on his Jack The Giant Slayer inspired jellybean creation, Max said: 'I watched the movie and thought the two-headed giant was awesome so I had to include him in my work. I had lots of fun playing around with the jellybeans, but it was so hard not to eat them all!"
'Jack The Giant Slayer' will be available to own on Blu-ray 3D, Blu-ray and DVD.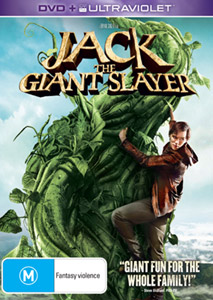 Jack The Giant Slayer
A legendary war resurfaces as relentless giants are unleashed to take over the Earth when 'Jack The Giant Slayer" arrives onto Blu-ray 3D, Blu-ray, DVD and Digital Download on July 24 from Warner Home Entertainment. 'Jack The Giant Slayer" tells the story of an ancient war that is reignited when a young farmhand unwittingly opens a gateway between our world and a fearsome race of giants.
Acclaimed filmmaker Bryan Singer directs the family adventure 'Jack The Giant Slayer," starring Nicholas Hoult as Jack. The film also stars Eleanor Tomlinson as Princess Isabelle; Stanley Tucci as the deceitful Roderick; Ian McShane as Isabelle's father, the besieged King Brahmwell; Bill Nighy as General Fallon, the ferocious two-headed leader of the giant army; and Ewan McGregor as the loyal knight Elmont.
Jack The Giant Slayer
RRP: $39.95
Blu-ray RRP: $44.95
Blu-ray 3D RRP: $49.95