Kathryn McCormick Step Up 4: Miami Heat DVD Interview
Question: I get the feeling that you taught Ryan (Guzman) a lot working on this movie, and you learned some things as well.

Kathryn McCormick: It's crazy. I did So You Think You Can Dance, and I learned a lot about working with a partner who was completely different to me. This time, it was a little bit different because everyone on that show is a dancer, but when I was a contestant on the show, I was a contemporary dancer and my partner had no formal training whatsoever and was more into street dancing. I feel that taught me how to work with someone who has different skills, to listen to them and understand them. It was really neat being involved in the process of teaching Ryan how to be a performer and a dancer. More importantly, we had to develop a trust – I had to show him that I was here for him; that there was no judgment and that I was on a team with him. Once we developed that connection it just worked. With his background as a fighter, he is actually very aware of his body and understands how to move it thanks to his wrestling training. So it was actually a really smooth process.


Question: You have a really interesting background. You've worked with a lot of choreographers and with Urban Poets and at The Fringe festival in Scotland.

Kathryn McCormick: The Fringe Festival program has lots of different shows going on. I think it goes on for at least a month, but I was there for about a week. I did a show called Scribble. Urban Poets is a group of artists that join together to tell stories together and bring up topics that help make people's lives more fulfilling, make them think a little bit and to help them to find the love that they have deep inside of them. That's what we're all about, and we put together this whole show and had about a week to set it up, rehearse and perform it. It was unreal, it was awesome.


Question: Did that lead to your motivational speaking afterward?

Kathryn McCormick: I grew up in Augusta, Georgia, and when I was 18, I ended up auditioning for the remake of Fame in Los Angeles. I booked it in thinking that I would have a job for three or four months. Once I moved out and was ready to start, they decided that they had cast too many dancers and pushed it back so that I only had one day of work. I was a little thrown off by that, but decided that I was there for a reason and so I stayed and started auditioning. This was a time for me to discover who I was, as I was really shy and needed to break out of it to become strong and solid before I started working in the industry. It was a really beautiful process to go through, and from there I auditioned for So You Think You Can Dance. On my third audition I got on the show and made it to the very end.

From there, I met with Thomas Nelson Live Productions, which does Women Of Faith and The Revolve Tour, and was asked to be a part it. It was a huge fear of mine to speak in front of more than five or 10 people, and this meant that I was speaking to 4,000 to 6,000 girls at a time! We saw over 70,000 girls in the matter of 12 weekends. It was the most incredible thing to be able to stand on a stage encouraging girls, and to demonstrate that although I've been on television, I'm the same as they are; and that success is not how high your name is or what you've done, it's how you do it.


Question: I imagine these days it must be really difficult to be a teenage girl because of all of the images that they see on TV and magazine covers, all that Photoshopping and airbrushing. I'm sure a lot of young women come up to you and talk about body image issues.

Kathryn McCormick: They are bombarded by unrealistic images in magazines. Everyone just seems perfect, and they look at them and say, "I want to be that." They don't often ask themselves what -famous' means. People sometimes ask me what it feels like, but I'm not famous. I'm doing this because I'm so connected and love what I do, and it just so happens that someone noticed. If you're true to who you are, then the opportunities follow.


Question: Tell me about your character, Emily in Step Up Revolution. How much do you relate to her on a personal level?

Kathryn McCormick: We relate in a lot of ways. It's actually crazy because I've been in a lot of the positions that she's been in. The director of the company she's trying to get into is played by Mia Michaels. It's funny because Emily's auditioning to get into a company and is intimidated by the woman she is auditioning for, and I auditioned for Mia Michaels before and felt exactly the same way! It just so happens that Emily's dad is a property owner, he's a realtor, and my dad is a realtor too. I grew up in Georgia, which is a little bit different but really close to Miami as well. We're very similar in a sense - Emily is trying to discover who she is, what she wants, what she truly cares about and what her voice is, and I think that that's something that everyone goes through. I'm a little bit goofier than Emily. I also have a little bit more of a rough side, but you can also see a little rebellious and a wild side to her too.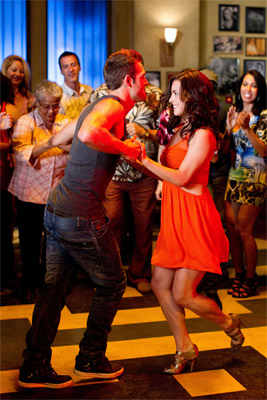 Question: I heard that you watched a lot of flash mobs on YouTube. Back when the original Fame movie came out, they were more of a Hollywood invention and not something you would see in the street, but now it's actually happening.

Kathryn McCormick: Flash mobs are becoming extremely popular lately. You see them all over the place. You actually see them in aid of protests or done for fun and made into clips. Or just to see the shock factor. You see them in commercials to advertise things. I think that flash mobs really work in Step Up, because over time Step Up has featured clashes about 'who is the better dancer". That's great but I'm really in love with Step Up Revolution because there's no battling. It's not about that whatsoever, it's about the motive behind the art, so instead of being performance art, it's protest art. It's going into a place like a business plaza, looking just like the people around you, and then making something happen which causes people to stop and look. I think it's interesting for a Step Up movie to have these different concepts. How can you fit into an environment and have no one know that you're any different until all of a sudden you decide to stand up for something? It's really neat that we use flash mobs. I think they're extremely powerful.


Question: Did you study ballet when you were younger?

Kathryn McCormick: I grew up doing ballet, tap and jazz. Then once I moved California, I started doing a little bit of different stuff.


Question: Latin stuff?

Kathryn McCormick: More hip-hop. I never really trained in Latin at all, but being on So You Think You Can Dance you have a crash course in samba, rumba, cha-cha and Viennese waltz.


Question: What are some new types of dancing that you learned about that other people might not know about? A lot of them get tagged in the -contemporary' category.

Kathryn McCormick: There are so many different styles of contemporary now. It's actually crazy because it's rare that you have the term classic jazz anymore. Even jazz could be called contemporary now. So you have your classic ballet and contemporary ballet that is a little more expressive where you have Travis Wall, who does contemporary movement in very big, breathy and spacious, more round movements. Then you have Sonja [Tayeh], who is also a choreographer and is considered contemporary but is also a little more sharp, hard hitting and specific. You never really know what you're going to get when you say contemporary.

With jazz, you can say classic jazz and know what that is, but sometimes even jazz falls in between. I think these days everyone wants to create their own style, which I think is beautiful but in the same way it can kind of take away from what they actually are. In Step Up, you see Travis Wall's interpretation of contemporary, which is very technical but also has his free movement and interpretation. In the beginning, Emily, my character, is in this restaurant and trying to get into the mob, and she's literally jumping off the tables, flying around and guys are lifting her here and there. You don't really see that in the other Step Up movies along with all the different styles of hip-hop which feature here, the tutting, flexing, old-school hip-hop, bigger movement. Then there's salsa and club salsa. There are so many different styles in this movie that I think it surpasses its predecessors.


Question: Obviously when you portray a character like this, you have to be hip to the environment that she's in. How much did you get immersed into this world to be able to portray your character?

Kathryn McCormick: I had never done a movie like this before. I had always done a character analysis based on my own dances, which is different because it's only three minutes. When you're portraying a story that you're filming over three months, the script's always changing, so you read as much as you possibly can and try to envision your history before and after the events you are portraying. I had to think about where Emily was five or 10 years before - what was she doing? Was she dancing? How was her relationship? Then I had to think about the after - does she have kids? Are they married? Did they break up and why? When you can create that depth inside of you, you become so much more connected to the character, and it gets to the point where you know your character better than the director and the writer, whereas in the beginning they know the character way better than you. Going into it, I wasn't as familiar with Emily. What I read didn't really click with me, but over time I was submerged in a new world. I think it helped a lot that we were away from home in Miami, so we were being put up in a completely different world. I felt myself falling into the character not even meaning to because we were already so parallel to begin with that it just ended up meshing. I truly felt like I was Emily.


Question: Who's the most influential choreographer that you worked with prior to making Step Up Revolution?

Kathryn McCormick: I would have to say that the choreographer that has had the greatest impact on my life is Stacy Tookey. I worked with her a lot on So You Think You Can Dance. I actually took her class a lot when she was teaching, before she'd even been on the show. I think there were five people in her class every week, and that's how I got to know her. She choreographed so many pieces that I did on the show. I've never had someone have such a great influence on me. I feel that she is so humble, so real and cares so much about people and the world around her, portraying issues and bringing healing to so many people. I just love her spirit and her energy. She's someone that you go into the room with and hope to be more like her when you leave, so I think she's had one of the greatest impacts on my life. She makes me better.


Question: Do you have any projects coming up now?

Kathryn McCormick: I've just recently gotten some more acting classes, and I'm still training, dancing, auditioning and taking voice lessons. I'm just trying; I'm not saying I'm great though. I just want to tell stories, and I don't know what that means or where that's going. I'm doing a couple of independent projects and shorts, but I don't have anything big as of now. That's okay. I'm in a transition period and just trying to ride with it, to do my homework and train and be ready for any opportunity and go after everyone that I find. We'll see. I'll probably end up doing something completely random that I didn't even know I wanted to do.


Question: Is there any project you want to do?

Kathryn McCormick: I want to do a project that encompasses everything that I've been a part of - speaking, motivation, dancing and acting. I would love to be in something that makes a profound impact on the people watching but is also entertainment.


Question: What was Scott Speer, the director, like to work with?

Kathryn McCormick: Scott Speer is incredible. It was his first film as well, so there was a lot of pressure on him. Ryan, Misha and I were the three main actors in the movie, and every Sunday we worked on our scenes with Scott. We developed a great friendship and he was very personal and cared very much. In fact, we all cared a lot because it was everyone's first movie, so we created a team and I think that's what made the movie so strong. He loves this movie, he loves the story, and he's so passionate about dance. It was tough love though - he was hard on me and told me the truth everything. There were times he thought I was doing great, and there were times he was completely honest with me. Honesty is so important when you're working with someone, so I really respect him for that.


Question: Is he a dancer himself?

Kathryn McCormick: No, not at all. You wouldn't catch Scott dancing.


Question: You danced on the Oscars in 2010, didn't you?

Kathryn McCormick: I did season six of So You Think You Can Dance, and as a prize as top girl for that I got to dance on the Oscars. We were doing the musical segment, so we danced to music from The Hurt Locker and all the different movies that were up for the award. It was a really neat experience. It was a collaboration of different dancing styles - it was basically Step Up in a show.





Step Up 4: Miami Heat DVD
Cast: Kathryn McCormick, Ryan Guzman, Adam G. Sevani, Steven Boss, Peter Gallagher
Director: Scott Speer
Genre: Drama, Music
Rated: PG
Running Time: 99 minutes

Things are about to hot up as Step Up 4: Miami Heat combines breathtaking moves and fast paced action in this sizzling dance spectacular. The newest edition to the Step Up franchise sees Emily (Kathryn McCormick) and Sean (Ryan Guzman) sizzle on screen with some of the most cutting edge, highly charged dance sequences to date, brought to life in stunning 3D.

Set against a spectacular Miami backdrop, Emily, a beautiful dancer with big dreams, falls in love with Sean, the leader of edgy, flash mob dance crew, The Mob. However, soon after their meeting, Emily's businessman father threatens to build upon The Mob's historic neighbourhood and displace thousands of people in the process. Emily and Sean must band together with the Mob to turn their unique performances into protest art, risking everything for a greater cause.

The incredible choreography and beautiful Miami art culture combined with an electrifying soundtrack featuring Jennifer Lopez, Flo Rida, Timbaland and Lil Jon makes this Step Up adventure the hottest yet.


Special Features:

Commentary with Director, Choreographer and TBD Talent
Featurettes: Becoming A Star, Choreography, Dancing On Their Own, Making The Mob
Music Video: 'Goin' In" - J Lo Feat Flo Rida & Lil Jon
Music Video: 'Hands In The Air" - Timbaland Feat Ne-Yo
Deleted Scenes
Flash Mob Index




Step Up 4: Miami Heat

RRP: $39.95
Blu-ray: $44.95
Triple Play and 3D Blu-ray: $49.95
Quadrilogy DVD (Step Up 1-4): $59.95