Victoria Justice Victorious and Fun Size Interview
Question: What should we expect from the release of Season 3 of Victorious?

Victoria Justice: In Season 3 of Victorious Tori and the gang get in really weird and hilarious circumstances. It's crazy and there is lots of great comedy moments as well as some great, original music coming up including two songs that I wrote titled Make it in America and Faster Than Boys!


Question: Tell us about the motivation behind Make it in America?

Victoria Justice: The motivation behind Make it in America was a universal theme because I feel like everyone wants to -make it in America' and I feel like if you -make it in America' you've made it everywhere. Make it in America is a very powerful and strong title that sounds cool!

Make it in America explains my journey in a lot of ways including moving out to LA and I mention, in the song 'I can see my star sunset and vine" and that is very real because we used to film my show Victorious on Sunset and Vine in Hollywood and I worked across from the Hollywood sign and I mention that too in the song.

Make it in America is a very personal song to me, in a lot of ways and it is about working hard to fulfil your dreams and never giving up on what you're passionate about.


Question: What do you enjoy most about being on the set of Victorious?

Victoria Justice: The people that I work with are what I enjoy most about being on the set of Victorious, I love my cast mates and we all have such a good time. We are constantly goofing around, laughing and being silly. I also love the musical aspect of the show as I am super passionate about music and I write music; my favourite episodes are when I get to perform or when I get to sing a song. Victorious has a very cool vibe.


Question: What's next for Victorious?

Victoria Justice: In Australia, Victorious will be airing a bunch of new episodes with new songs and cool performances. In January, for two weeks, there will be a Total Tori hour and I'm really excited about that!


Question: Tell us about Victorious consumer products?

Victoria Justice: There is a Tori doll that sings Make It Shine along with Victorious clothes, backpacks, lunchboxes and other fun stuff that is cute and adorable.


Question: How does it feel to see yourself on the television, the big screen and hear yourself on the radio?

Victoria Justice: To be honest I am used to it by now. Sometimes it is weird watching older episodes of Victorious at present day because I look so different and I've changed so much and my character has evolved since then. It is really fun and a cool experience!


Question: Tell us about Fun Size?

Victoria Justice: Fun Size premiers in Australia on November 29th and I am really excited because it is my first leading role in a feature film. I play a girl named Wren who lives at home with her single mum (played by Chelsea Handler) and she has a little brother named Albert who is constantly driving her nuts. Wren is invited to the biggest party of the year by the hottest guy in school, on Halloween and her mum forces her to take her brother, Albert, trick-or-treating that night because she wants to go out to a party, of her own. Wren ends up losing her little brother, by accident, and has to go on a crazy search to find him and get him home, before her mum finds out!

Fun Size is a great teenage coming-of-age comedy that has a lot of heart and genuine emotional moments which creates a really nice balance.


Question: How are you similar to your character, Wren?

Victoria Justice: I am similar to Wren in some ways! I think Wren is strong-willed when she wants something and when she believes in what is right and I think I am the same way. Wren has a little bit of a dorky side to her and I can relate to that as well!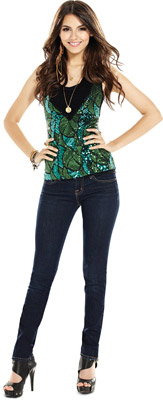 Question: Did you dress up for Halloween?

Victoria Justice: I dressed up twice for Halloween! For one evening I was dressed up as Nicki Minaj which was really fun, I had a short pink wig you can see a picture on Twitter (@VictoriaJustice), it was a really cute outfit and I liked it a lot! On Halloween night I dressed up as Abraham Lincoln.


Question: Why is it important for you to communicate with your fans, on Twitter?

Victoria Justice: I love being able to connect with my fans. It's great that I can reply and respond to my fans because they're so supportive of me, which is incredible and I am so grateful for them and responding to them is the least I can do! It is crazy and amazing to me that if I reply or give a shout-out to a fan it can make their day or week; I love making them smile and that is a very powerful thing to be able to do, I try to use the power wisely (laughs)!


Question: Who do you look up to, for inspiration?

Victoria Justice: My mum, we spend so much time together and I love her as a person because she is always so upbeat and positive. Mum is a smart, cool lady and I am constantly learning from her, every day.


Question: What goals do you have for 2013?

Victoria Justice: In 2013 I will be releasing my album which I have been working and writing my own songs for since I was 16 years old and the time has finally come, which is really cool! I will be going on tour again in 2013 and I would like to continue to do music and film because they're the two things I am really passionate about.


Question: When writing for your album, what inspires you?

Victoria Justice: I gain inspiration from a lot of different sources, sometimes I am inspired by the people that I spend the most time with and I could be inspired to write a song by what they're going through. I am sometimes inspired by what I am going through, feeling or experiencing.


Victorious is an Emmy-nominated sitcom created by hitmaker Dan Schneider for Nickelodeon, which won Fave TV Show at the 2012 US Nickelodeon Kids' Choice Awards. Now in its third season in Australia, Victorious follows Tori Vega (Victoria Justice), a teen who unexpectedly finds herself navigating life at an elite performing arts high school, Hollywood Arts, which is also attended by her madcap sister (Daniella Monet, Nancy Drew).

From her first day at the school, Tori feels out of place among the amazingly talented students, especially mean diva Jade (Elizabeth Gillies, Broadway's acclaimed 13). With the help of Trina, André and her new friends – brooding bad boy Beck (Avan Jogia, Spectacular!), eccentric Cat (Ariana Grande, Broadway's 13) and lovable but psychologically scrambled ventriloquist Robbie (Matthew Bennett) – Tori realises that she was born to perform and that entertaining people not only makes her happy but may change her life.

The series features original music performed by Victoria Justice and the ensemble cast, available on iTunes through Sony Music, and has also spawned a DVD, CD, Nintendo game and a fashion line. The show has almost 5.2 million fans on Facebook and ranks as the #2 show on Nickelodeon in Australia amongst kids 5-12, reaching an average of 124,000 viewers daily (905,000 viewers reached in September) plus even more on FTA Television when aired on Toasted TV (Ch 10/11).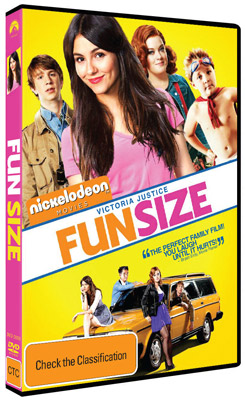 Fun Size DVD
Cast: Victoria Justice, Chelsea Handler, Jane Levy, Thomas Mann, Ana Gasteyer, Kerri Kenney, Jackson Nicoll.
Director: Josh Schwartz
Genre: Comedy
Rated: PG
Running Time: 82 minutes

Teen sensation Victoria Justice (Victorious) stars as Wren, a whip smart high school student who is forced to track down her missing kid brother rather than go to the party of the year. Uproarious antics and eccentric characters ensure that Wren's night turns into 'an adventure the whole family will love!"


Special Features:
The Fun Size Blu-ray includes 'Unwrapped: The Making of Fun Size", a feature on breakout star Jackson Nicoll who plays Wren's brother, a gag reel, deleted scenes, Carly Rae Jepsen's 'This Kiss" music video and a behind-the-scenes look at the making of the video.


Fun Size

RRP: $39.95
Blu-ray: $49.95

Interview by Brooke Hunter