Footloose
Cast: Kenny Wormald and Julianne Hough
Director: Craig Brewer
Rated: Rated M
Running Time: 108 minutes

Footlose is the contemporary re-telling of the beloved classic which debuts in Blu-ray and DVD on February 9th, 2012 from Paramount Home Entertainment. Boasting high-energy dancing, an inspirational story and an impressive cast of rising stars and screen veterans, writer/director Craig Brewer's (Hustle & Flow) modern update thrilled audiences of all ages with its combination of youthful spirit and infectious fun.

Newcomer Kenny Wormald stars as Ren MacCormack, a city kid transplanted to the small town of Bomont where dancing has been outlawed. Ren goes up against Bomont's reverend (Dennis Quaid) to challenge the ban with the help of the minister's daughter (Julianne Hough, "Dancing with the Stars America") and in the process reminds the entire town that dancing is more than youthful exuberance-it's a celebration of life. The film also stars Andie MacDowell (Beauty Shop) and Miles Teller (Rabbit Hole) and features an outstanding soundtrack with musical artists including Blake Shelton, Big & Rich, Ella Mae Bowen and more.

The FOOTLOOSE Blu-ray includes over an hour of bonus features such as deleted scenes, alook back at the original film, featurettes on the stars and their dancing, commentary byBrewer, music videos and more.

Special Features:
Commentary by director Craig Brewer,
Deleted Scenes with optional commentary by director Craig Brewer,
"Fake ID" Music Video by Big & Rich

Special Features BLu-ray:
Commentary by director Craig Brewer,
Jump Back: Re-Imagining Footloose,
EverybodyCut: The Stars of Footloose,
Dancing with the Footloose Stars,
Deleted Scenes withoptional commentary by director Craig Brewer,
"Footloose" Music Video by Blake Shelton,
"Fake ID" Music Video by

Footloose
RRP: $39.99
Blu-ray: $49.99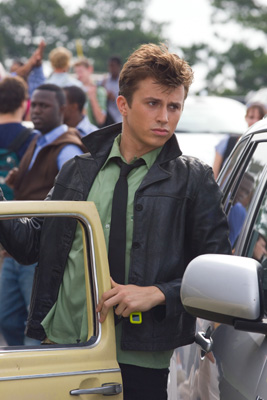 Kenny Wormald Footloose Interview
Question: Hey Kenny, after watching Footloose I feel like we should dance while we do the interview. What do you think?

Kenny Wormad: (Laughs) Oh. Can I take a break? I've been doing a lot of dancing.


Question: Sure. To be honest, you do not want to see me dance. I have two left feet. What's a tip for the millions of people out there like me that can't dance?

Kenny Wormad: (Laughs) Step touch, man. That's how you do it (demonstrates the step touch dance). And drink a little bit.


Question: Excellent. Now, I have to be honest. When I heard they were re-making Footloose I thought it could be sacrilegious because the original is such an iconic movie from the 1980s, but after watching it I was really impressed. What did you think when you first heard there will be a re-make?

Kenny Wormad: I knew it would be a daunting task for whoever was doing it and then to my delight, I was doing it (laughs). We had to make sure we didn't mess it up. We were huge fans of the original and we knew the responsibility we had on our shoulders and with a great director and Paramount behind us, we were in the perfect position to succeed and make it right.


Question: You do get the sense everyone involved held a lot of respect for the original.

Kenny Wormad: They did. It's not like they grabbed a random producer and random director. It was set up from the heart by people who truly loved the original.


Question: Did the director, Craig Brewer, talk to you about the importance of respecting the original?

Kenny Wormad: Yes. When Craig writes a movie he has a big poster board and has things he attaches to it, including white cards and blue cards. The white cards were the new stuff and the blue cards the old. When you looked at the poster board it was half white and half blue so he definitely stayed true to the original film. He always said 'If it ain't broke don't fix it'.


Question: What's it like stepping in to Kevin Bacon's shoes to play the lead, Ren MacCormack? That must have been daunting.

Kenny Wormad: You know what. I heard there were other actors attached to the role before me and I was a bit jealous genuinely because I was a big fan of the original and growing up as a dancer, I knew if I got the opportunity I could hopefully do it justice. With a great director and obviously cast, I felt like I was in the best possible situation to do it right. Thank God for all of those elements because it could have been a whole different thing. I'm glad we made Craig Brewer's Footloose.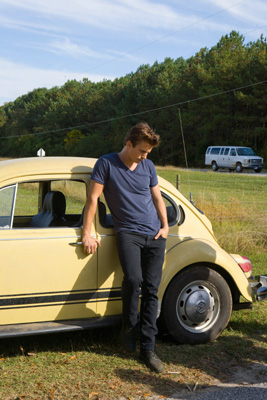 Question: Kenny, you were actually born the year Footloose came out - 1984. I'm sure your Mom didn't take you to the cinema to watch it when you were a newborn, but did you watch it growing up on video or DVD?

Kenny Wormad: I was a huge fan of the original film. I watched it several times. As a young kid, Footloose inspired me to pursue dancing because it starred a male lead who was very masculine. A lot of the 80s dance movies had males who were very masculine and that helped me because I would get made fun of at school when I would miss baseball practice to go to ballet. If I can inspire one kid, or two kids or a million kids, I'll be very happy.


Question: Do you remember the first time you saw the original Footloose?

Kenny Wormad: Yeah. I was about 10-years-old. I was so blown away by the Angry Dance scene. I didn't find a factory and start breaking things, but I definitely wanted to. I was so happy when Craig left the Angry Dance in our movie. I got to break things (laughs).


Question: Footloose is your first big, starring role. Were you nervous your first day on set?

Kenny Wormad: Luckily all of the dance jobs I have done prepared me. I understood how a set goes and flows. It was definitely a new challenge for me, but I welcome new challenges. I was very excited I got to do Craig Brewer's Footloose. Hopefully that will set me up for a while to do more films, not just dancing.


Question: Growing up, what were your favorite movies?

Kenny Wormad: When I was little I was obsessed with Home Alone and Hook. I wouldn't stop watching them. Then when I started dancing, Singing in the Rain was huge for me. It was huge inspiration.


Question: Did you become good friends with your Footloose co-stars?

Kenny Wormad: It was really cool because I met Julianne (Julianne Hough) and Miles (Teller) at my last audition for the film. They had already booked the film. I then started hanging out with Julianne and we worked with the same acting coach. We spent a lot of time together. I actually live just two streets away from Miles so we started hanging out and playing golf and hanging out in bars. I had great friendships with them before we went to Atlanta to begin filming. I think that was the best preparation.


Question: I heard you found out you were cast as Ren MacCormack while you out playing golf. Now, after watching Footloose it is evident you can dance and act, but what are you like on the golf course? What's your handicap?

Kenny Wormad: (Laughs) We won't take about that. I'm still only learning. I've only been playing for three years and apparently you have to play for four years before you can start talking about your handicap. But, Dennis Quaid has a four handicap.


Question: Wow, he's really good.

Kenny Wormad: Yeah. I shoot in the 90s and 80s. Not as good as Dennis.