LENA OLIN ON THE READER
EXCLUSIVE Lena Olin, The Reader Interview by Paul Fischer.
Still glamorous Lena Olin, that many may recall as Sydney's duplicitous mother in Alias, returns to.the big screen in the Golden Globe-nominated adaptation of The Reader. The film opens in post-WWII Germany when teenager Michael Berg becomes ill and is helped home by Hanna, a stranger twice his age. Michael recovers from scarlet fever and seeks out Hanna to thank her. The two are quickly drawn into a passionate but secretive affair. Michael discovers that Hanna loves being read to and their physical relationship deepens. Hanna is enthralled as Michael reads to her from "The Odyssey," "Huck Finn" and "The Lady with the Little Dog." Despite their intense bond, Hanna mysteriously disappears one day and Michael is left confused and heartbroken. Eight years later, while Michael is a law student observing the Nazi war crime trials, he is stunned to find Hanna back in his life - this time as a defendant in the courtroom. As Hanna's past is revealed, Michael uncovers a deep secret that will impact both of their lives. Olin plays dual roles as Rose Mather and Ilana Mather in this complex tale. She spoke exclusively to Paul Fischer about the movie.
QUESTION: Can you talk about whether it was the overall project of The Reader that appealed to you, or if it was specifically this character?
LENA OLIN: Well, you know, I had read the book a few years ago. And then when Steven called me and told me that - he said, "I have this character that's a great character, and it's a pivotal character, and I want you to do it. And the complication is that she goes from - she's 20 years when we first see her in the trial, and then she goes from being 50-something in New York, when we see - where the big scene is." And I read the script, and I was so taken by the mother in the trial, and her witness, and the fact that it's someone who survived, but who clearly is so completely destroyed by her experience. And so I called Steven and I said, "I can't play a 20-year-old. This movie's not gonna work. But I'd love to play the mother." And Steven was intrigued, and we went through screen tests, makeup tests. Because all the producers were worried that it would be, like, a stunt. And it would be, "Oh, Lena Olin is gonna do it." But - so we went through. And Ann Roth, our brilliant costume designer, was also very excited about that idea. So she had wigs made for the screen test, and we had Ivana, who came in from London, our fantastic makeup artist for the movie. And we did a couple of screen tests, so that the producers could see and believe that it would work. And I was excited. Because I think that - you know, everyone - we all turn into our mothers one way or another at some point in life. And there's something that you inherit on the female side of a family, that I feel - you know, I inherit the pain and the joy and the energy, and so many things. So, even if nobody actually - I was so intrigued by the idea that that would be the same person, and there's such different kinds of survivors. Because the mother obviously is completely crushed. And she's out of camp, but in a way, she's - she's not. And Ilana has really moved on. And Steven set out to do - he said, "I want people to be a little shocked when they see her, that she's so - she's an affluent woman who has a life. And who's - yeah, she really has moved on."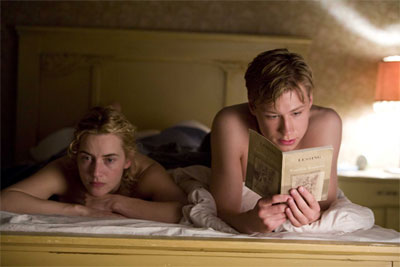 QUESTION: How difficult is it to leave a character like this behind at the end of the day?
LENA OLIN: You don't, you know? You don't. It's something that stays with you. And I think a lot of good work, or good preparation work is done at the end, when you go from rehearsal or a day of shooting, and you come home and you have all these little - like, little elves in your mind and in your heart that keep on working on the character. I think that's actually a very creative phase of the work. And there's no such thing as, you just leave the character behind. You don't.
QUESTION: When you saw yourself as this character, what went through your mind?
LENA OLIN: Actually, it was one of these rare occasions - they screened the film two weeks ago to me in New York, downtown. I watched it by myself. And it was one of those rare things, where I was into it. You know? I was just watching, and I was into it. I wasn't like, "Oh, there I am, and look at my - did they do that lipstick color?" You know, I had none of that. I was really actually into it, when I watched it.
QUESTION: How did you find Steven, as a director?
LENA OLIN: He's amazing. I mean, he comes from the theatre, so he has that know-how. And this was such a great atmosphere to work in. It struck me when we were sitting there, that we were preparing it like we were doing a little mini-play. Because that scene is so - you know, every little world is explosive. And it could so easily tilt, and go in the wrong direction. So, it was like we had to run a marathon, but we had ten meters to run. And it was such a great thing, and such a big help that we were all sort of - yeah, I think we prepared it like a little play, in the play.
The Reader
Starring: Kate Winslet, Ralph Fiennes, David Kross, Lena Olin, Bruno Ganz
Director: Stephen Daldry
Genre: Dramas
Runtime: 2 hrs 3 mins
Though THE READER may boast the typical pedigree of a Holocaust film--acclaimed actors, a literary source, and an Oscar-baiting end-of-the-year release date--this drama has a significant...
Though THE READER may boast the typical pedigree of a Holocaust film--acclaimed actors, a literary source, and an Oscar-baiting end-of-the-year release date--this drama has a significant difference: it focuses on a perpetrator, rather than the victims. Kate Winslet takes on the hefty supporting role of Hanna Schmitz, a woman who has an affair with Michael Berg (German actor David Kross), a 15-year-old boy in 1950s Germany. They spend their brief romance alternately making love and focusing on literature, with Michael reading everything from Chekov to Homer to his lover. Soon, Hanna abruptly disappears, and Michael returns to his normal life. Almost a decade later, Michael is studying law, when he sees Hanna again; she is on trial for her crimes as an S.S. guard during the war. Michael is torn between a desire for justice and his knowledge of a secret that may save Hanna.
THE READER makes full use of hindsight and historical perspective. Based on the bestselling novel by Bernhard Schlink, the story is framed by an older Michael (Ralph Fiennes) who deals with both his personal history and the collective past--and guilt--of the German people. This is a complex film that doesn't give the audience any easy answers; Hanna is undoubtedly guilty of horrific crimes, but she is a multilayered character who is always fascinating and always human, thanks to the terrific performance of Winslet, who plays Hanna over four decades. Director Stephen Daldry earned an Oscar nomination for his work on another literary adaptation, THE HOURS, and he deserves more praise for this polished film.