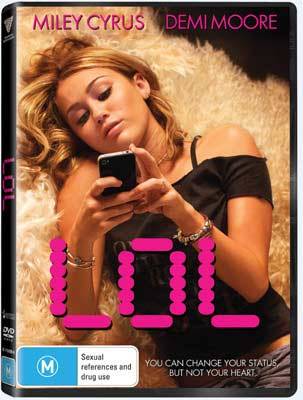 LOL DVD
Cast: Miley Cyrus, Douglas Booth, Demi Moore, Ashley Greene, Adam Sevani, Thomas Jane, Jay Hernandez, Gina Gershon
Director: Lisa Azuelos
Genre: Comedy, Drama, Romance
Rated: M
Running Time: 93 minutes

In a world increasingly connected by Facebook, Youtube and Twitter, Lola and her friends navigate the peer pressures of high school romance and friendship, while at the same time dodging their sometimes overbearing and technologically bewildered parents.

Lola's high school inner-circle includes her BFF Kyle, whom she realises might be the love of her life after a bad breakup with his best friend, friends Janice and Emily, the high school nerd Wen, Lloyd and her rival Ashley – the sexy girl who has her sights set on Kyle, much to Lola's dismay.

Through hilarious and heartfelt moments between Lola and her mother Anne, comes an authentic story that perfectly captures today's reality for teens and parents alike.
LOL
RRP: $39.95
Blu-ray: $49.95