A rich man is nothing but a poor man with money – WC Fields
Cast: Christopher Plummer, Mark Wahlberg, Michelle Williams
Director: Ridley Scott
Genre: Crime, Mystery
Running Time: 132 minutes

Synopsis: All the Money in the World follows the kidnapping of 16-year-old John Paul Getty III (Charlie Plummer) and the desperate attempt by his devoted mother Gail (Michelle Williams) to convince his billionaire grandfather (Christopher Plummer) to pay the ransom. When Getty Sr. refuses, Gail attempts to sway him as her son's captors become increasingly volatile and brutal. With her son's life in the balance, Gail and Getty's advisor (Mark Wahlberg) become unlikely allies in the race against time that ultimately reveals the true and lasting value of love over money.

All the Money in the World
Release Date: January 2018
About The Production
A Rich Start

All The Money In The World began when producer Quentin Curtis optioned John Pearson's book on Getty, called Painfully Rich: The Outrageous Fortune and Misfortunes of the Heirs of J.Paul Getty that focused specifically on the infamous kidnapping. He brought the project to screenwriter David Scarpa.

'I of course knew about that kidnapping but really I had always wanted to do something about money and how it controls and shapes people's lives. When you think about it, so many of our decisions, from who we choose to stay married to and where we choose to live and what jobs we choose to take etc., are driven by that. And obviously people without money are affected in the sense of their choices and options are limited. But money even influences the wealthy emotionally, in that it gives them freedom and power but then what to do with that? When Quentin told me about the project, my first reaction was, -Oh the kid without the ear?' and he said, -Well you know another interesting fact here is that Getty at the time was the richest man in the world and the ransom was well within his means, he had a billion dollars and the kidnappers asked for $17 million which was like a parking ticket to him and yet he refused to pay it.' That got my attention. I said, -I'm in,'" David Scarpa recalls.

It was Getty's notorious miserliness and what that represented emotionally that intrigued David Scarpa.

'The obstacle wasn't paying the ransom and rescuing his grandson – the obstacle was psychological, he just couldn't bear to part with his money. And so the story goes from being a standard issue thriller to something that examines the hold this money has over this man, how it affects his family and even the kidnappers. The most important thing, the life of a child, and he can't bring himself to pay for it for all sorts of reasons. Even this wealthy man, the richest in the world, is held hostage by this money," David Scarpa notes.

David Scarpa worked on the script, shaping the structure based on the kidnapping itself and combining two venerated genres in a new way.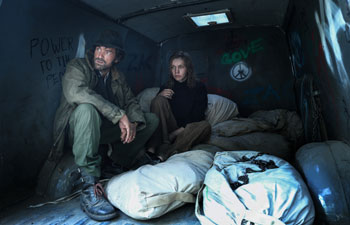 'The kidnapping provided the spine of the script, although we do go back in time to the childhood of the boy and background into who Getty was. The biggest structural challenge was balancing the kidnapping drama with a classic biopic and we sort of smashed those genres together. The idea was to move back and forth between this thriller and this Shakespearean family drama at the same time," David Scarpa notes.

David Scarpa's script landed on the 2015 Black List. Producers Dan Friedkin and Bradley Thomas of Imperative Entertainment read it, and immediately found the story captivating.

'It was huge in scope," the Imperative partners remarked. 'A period piece spanning three continents, telling the unbelievable story of a personal tragedy that struck one of the world's most wealthy and powerful families. We knew immediately that this story, if done properly, would make a beautiful and compelling film. From that moment, we made it our mission to bring this story to the big screen, and we knew there was only one director to do it."

Ridley Scott, who wasn't keen on a movie about the Getty crime … until he read it.

'The word Getty conjured up a specific memory for me, I of course knew who he was and was familiar with the incident and I wasn't particularly interested. But within a few lines and after meeting with Dan Friedkin and Bradley Thomas, I knew I was in good hands. A great script like this is the jewel in the crown and it's the hardest part. When I read it, I thought -wow.' The material and the script were great and I absolutely wanted to make this movie," Ridley Scott recalls.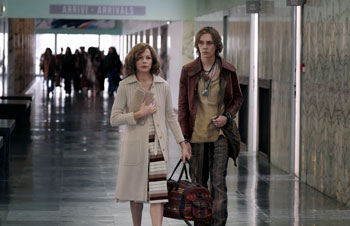 Ridley Scott notes the fascinating dichotomy of J. Paul Getty – his famous tight-fistedness made headlines of course, but so did his business acumen and ultimately his philanthropy.

'He had guts and brains. You don't fly into the Middle East in 1948 and buy up oil and land rights unless you have courage and cleverness. He was a brilliant man, but all that fell away when he was asked how much he would pay for his grandson and he said -Nothing.' Everyone was shocked to the core. But he was also sending a message to the kidnappers. People who kidnap people are essentially terrorists and today, governments won't negotiate with them. So, in a way Getty was being modern in his approach. Did he really mean that? I don't think he could have – it was propaganda from him to the kidnappers. And people forget that he was a philanthropist on many levels. By the time he'd begun to think about his legacy, he was already in the process of building what's now the Getty Villa in Santa Monica, this beautiful museum that's free to the public," Ridley Scott notes.

Initially, Kevin Spacey, transformed by elaborate make-up and prosthetics, played the iconic tycoon. But art and life collided when many men came forward alleging that the actor had sexually harassed them. Swiftly, Ridley Scott along with Imperative Entertainment partners, who also fully financed the film and reshoots, decided to replace him entirely with Oscar ®-winning actor Christopher Plummer.

'As soon as we were made aware of these horrific allegations, only six weeks before our scheduled release, there was no way that we would move forward with the film as it was originally shot. We could not in good conscience let these claims go unanswered. When Ridley and I made the decision to recast with Christopher Plummer, our entire cast and crew could not have been more supportive and we can't thank them enough for their unfailing commitment throughout this entire process" said Dan Friedkin.

This was not merely a reaction to Kevin Spacey's alleged behavior, it also was out of respect for the dedicated cast and crewmembers who had devoted their time and expertise to crafting the film.


As Sony Pictures put it, 'A film is not the work of one person. There are over 800 other actors, writers, artists, craftspeople and crew who worked tirelessly and ethically on this film, some for years, including one of cinema's master directors. It would be a gross injustice to punish all of them for the wrongdoings of one supporting actor in the film."

J. Paul Getty lived a remarkable and yes, cinematic life. A millionaire by the time he was 24, a famous party boy in his youth, hobnobbing with the rich and famous, reckless with his fortune, he eventually returned to the 'family business." He became a disciplined, ruthless capitalist but also a patron of art and architecture. Among other accomplishments, he was the mastermind behind the recreation of Hadrian's Villa we know today as The Getty Villa in Malibu, California. Getty was a man of many contradictions - unfathomably rich and relentlessly cheap, loving and cruel.

Ultimately, J. Paul Getty's contradictory actions, morally ambiguous nature and his complicated family relationships fascinated Christopher Plummer.

'I was thrilled when Ridley Scott called me to do it – I had always wanted to work with him and this is such a fascinating subject. I'm fond of playing real people because the research is fascinating and what an extraordinary character to play. And it is so well-written that I completely jumped at it," Christopher Plummer says.

Ridley Scott and Dan Friedkin always had Plummer in mind and were thrilled when he agreed to take on the role.

'Christopher Plummer was fantastic, delivered beyond what I expected," Ridley Scott says.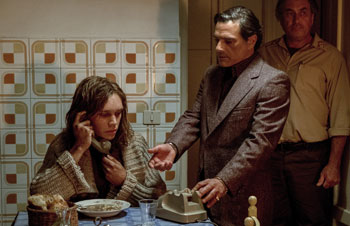 Given the unprecedented nature of Christopher Plummer's casting and the short schedule required to reshoot the scenes and finish the movie, the stakes were very high. Ridley Scott felt confident he had an able partner in Christopher Plummer.

'We weren't even sure this would be possible logistically, as we needed everything to fall into place, from locations to the actors returning for reshoots. But it all hinged on this essential performance and had an absolutely overwhelming feeling Chris could do it. If he had been busy, then we probably couldn't have made it."

Of course, Christopher Plummer was familiar with the infamous abduction and Getty's surprising reaction, but less so about the man himself.

'The kidnapping is a big part of one's knowledge of Getty but he was a very inward man, not particularly showy. Obviously he worshipped money – he liked lovely things because they never change or disappoint. There is a purity for him in beautiful objects that he didn't find in people. I think he also had a less well-known humanity. Even his unsentimental attitude about the ransom – he excused it by rationalising that he had so many grandchildren, to pay for one, then that leads to more kidnapped grandchildren. So there is some sort of cold logic to that and the script asks us to delve into that, especially as it relates to his complex relationship to his family," Christopher Plummer observes.

Michelle Williams plays Gail, John Paul Getty III's indefatigable mother who outwits and out-maneuvers both her miserly father-in-law and the kidnappers in a high stakes effort to rescue her son. She signed on immediately for several reasons, starting with Ridley Scott. 'Well, the first thing that I heard was Ridley Scott, and after that I didn't really need to hear much else. But then it just happened that a great script came along with it, so it was an instant yes," Michelle Williams recalls.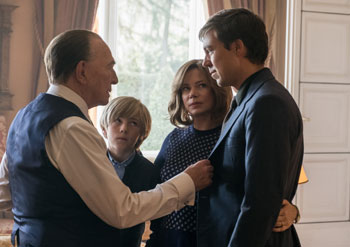 Working with Ridley Scott turned out to be as satisfying as she'd hoped.

'He's such a master and he has such precision and a kind of shorthand that allows him to communicate what needs and wants with incredible economy, which means the days are fast, they never drag and are really fun. It's like there's a creative ball being thrown around and you've got to be alert so you can catch it. He gives you room to grow and discover and play, but if you ever need him, he is there for you. I loved coming to work. He was so full of ideas and surprises. If the scene was in a repetitive path, he'd throw something on it, either intellectually or physically, which made it more exciting and in the moment," Michelle Williams explains.

Michelle Williams researched Gail as much as she could, via clips on YouTube, articles and books that mostly offered third-person accounts or mere snippets of Gail. It was the costume design and hair and make-up departments that initially helped her find her way into Gail.

'It really all came together when I started working with Ridley Scott's incredible costume designer Janty Yates and the fantastic hair and make-up artists (Ferdinando Merolla and Tina Earnshaw). They've worked with Ridley Scott before and there's a reason for it. He's charming and smart and he attracts the highest quality people. It was an embarrassment of riches to be among them. And just wearing someone else's shoes, literally, gives you a lot of information, so all this external stuff was very helpful to me in combination with the internal understanding and imagination of who she was," Michelle Williams explains.

Ridley Scott notes that there was very little research material about Gail available to Michelle Williams aside from pieces she found on the Internet. After her divorce, Gail resolutely removed herself from the fame and fortune of the Getty family and had successfully become a private citizen. It was only the infamous kidnapping that thrust her unwillingly back into the public domain.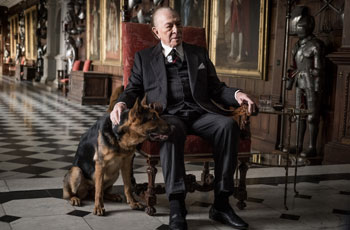 'Michelle Williams is a rare bird, a many layered artist who takes it very seriously. The material we found on Gail was limited. Press would raid her car, her doorways, get her on camera when she would have to address the press. You do see a certain physicality in her which Michelle Williams incorporated. Gail had been a polo player; she was a proper athlete who was above all else very intelligent. And a real modern mom and obviously very determined and disciplined," Ridley Scott says. Although in the movie, they are antagonists, Christopher Plummer was thrilled to work with Michelle Williams.

'I'm a huge fan of hers. She's a marvelous young actress with great versatility. It was fantastic to work with her, even for such a brief time," Christopher Plummer says.

Mark Wahlberg portrays Fletcher Chace, Getty's pragmatic, enigmatic and often morally conflicted advisor and fixer. Like Michelle Williams, Ridley Scott and the material initially attracted Mark Wahlberg to the project, in that order.

'I was always fascinated by the story itself but the real draw was Ridley Scott. I've always wanted to work with him; we've been friendly over probably the past 20 years. I've always been a huge fan and I was in the middle of shooting another movie. I had five days in between two films. I checked with my wife just to let her know what a unique opportunity it was to play this particular part, and also to work with a guy that I admire so much. And when I read the part, I was even more eager because it's not the kind of role I usually get to play. Ridley Scott said, you know, no guns, no teddy bears, and I didn't beat anybody up. It was nice to play a well-educated guy who does a lot of interesting things for Mr. Getty," Mark Wahlberg says.

In fact, Ridley Scott says that Mark Wahlberg has starred in some of his favorite movies – including the one with the teddy bear – but it is Mark Wahlberg's naturalistic style that interested the director. 'I have to say that -Ted' is one of my favorite movies. And -Boogie Nights.' You can tell that he's got a good sensibility not to mention a healthy sense of humor. What I really like about Mark Wahlberg is he is very un-thespian. He is always relatable, even in extreme circumstances. And Fletcher Chace found himself in extreme circumstances throughout his life – from Special Forces to CIA to working for Getty. He's an interesting character because he's a smart man who is capable of great physicality, but doesn't want to use it unless it is absolutely necessary," Ridley Scott describes.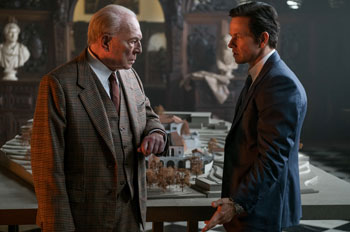 Mark Wahlberg didn't turn up much about Chace in his research, befitting such man with such a secretive job.

'He was head of the crew team at Harvard, a former frogman, Navy SEAL, CIA agent, ran an oil business, and he was advising other oil companies when Mr. Getty realised how resourceful he would be and he ended up working for Getty Oil full time," Mark Wahlberg says. 'You put on the suspenders and the waistcoat and you're pretty much there and the dialogue was so beautiful and well written," he says.

Mark Wahlberg in fact immersed himself into the script and his thoroughness served as his preparation, especially helpful in depicting a character whose loyalties and beliefs are challenged over the course of the kidnapping.

'I read the script out loud four times a day; I know it from beginning to end, back and forth so I don't have to think about it during shooting. For me it was about exploring the nuances of the scenes especially when Fletcher Chace starts to shift. The idea was to track that and to be as prepared as possible so that even when we shot out of order," Wahlberg explains.

Christopher Plummer calls Mark Wahlberg '… a wonderful actor, I was very glad that practically all of my scenes are with him. I was very keen to work with him."

Charlie Plummer, no relation to Christopher Plummer, plays the Getty's unfortunate abducted grandson John Paul Getty III. Plummer describes All The Money In The World as a 'cautionary tale" with relevance today, despite the outrageous, almost unbelievable circumstances of John Paul Getty's capture and the rarefied circles of the Getty family.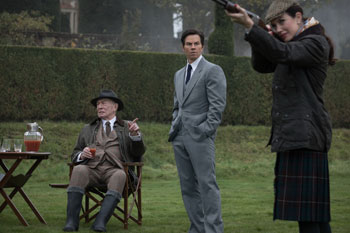 'Ridley Scott and I talked about that a lot in the beginning, the question of what do you do when you seemingly have everything? My character goes from a modest upbringing into the powerful, affluent world of his grandfather and then into extreme deprivation and brutality at the hands of his kidnappers. At the end, he regains his freedom. When you have nothing, there is someplace to go, but when you have everything with no moral compass, then what? He ended up having a very tragic life. I think those questions are applicable today especially for my generation. We live in a society where the goal for a lot of people is to have as much as possible. I think one of the ideas of the film is that if you're a sad person, whether you are wealthy or not, you will still be a sad person because happiness does not come from things outside yourself," Christopher Plummer says.

It was Christopher Plummer's 'gangly charm" that interested Ridley Scott and his ability to play the quintessential 'manchild," whose youthful confidence and insouciance quickly turns to real terror and literal and figurative insecurity.

'He looks like an adult and someone who has experienced the world but he has a boyish charisma. It's why I wanted to open the film under the Via Veneto, like in -La Dolce Vita,' one of my favorite films. It was where the Euro trash and prostitutes and trust fund kids would hang out alongside film stars and paparazzi. To see a 17-year-old, out at night by himself there, looking at women, meeting these beautiful Italian street walkers who are a little bit older than him and he handles himself very well, he's very assured. It's a good intro to him, it tells you everything about him immediately. So, when he's taken, thrown into a world that is inconceivably different, at the mercy of these brutal kidnappers, then suddenly the kid comes back. And Charlie played that beautifully," Ridley Scott says.

Ultimately, Gail is the only character uncorrupted by the Getty fortune. Her only focus being the safe return of her son. The money was just the means by which to achieve that end. Her motivation is the pure love a mother has for a child and her grit and selfless stubbornness becomes an example for everyone. But, as Michelle William's points out, Gail must prove her determination over and over.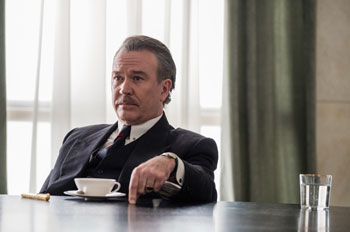 'It's a suspenseful drama of course, but I also think it's a feminist piece. It explores what it's like to be a woman in a man's world. She innately understood that in order to really be taken seriously, she had to gather all her faculties and powers to fight to keep control, so that she could have a seat at the table. There are so many scenes in which she is dismissed, marginalised, kept on the outside because she is a woman. I always love those kinds of characters, tough nuts who are real and complicated with spikey little bits. Gail cannot fall apart, she has to keep her eye on the prize, but the route to achieving that changes day by day, as the situation morphs, often based on events and people well beyond her control," Michelle Williams explains.

All The Style

All The Money In The World takes place in the early 1970s, but straddles several generations and social castes, including the super-rich, radical terrorists and a middle class single mom. Costume designer Janty Yates' wardrobe helped describe and define those disparate worlds. Scott has worked with Janty Yates since 'Gladiator," for which she won the Academy Award®.

'I have been very fortunate to be asked back by Ridley Scott and it's just a delight every time. Typically, after I've read the script, we get together and Ridley Scott gives me brush strokes on the characters, his way of seeing them and then I go and do a huge amount of research. At the second meeting, we're getting some of the characters in place and some of the actors and that has a huge influence on how we see the characters. We continue to wade through the research which is my favorite part of any film and we start selecting and atmosphere and/or representative images and then I start to meet separately with the actors," Janty Yates explains.

For All The Money In The World, Janty Yates used '… as much original stock as possible."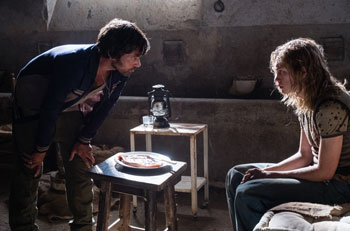 'This film was a joy because we were able to find vast quantities of vintage wardrobe so nearly all the costumes were authentic, which was fabulous," Janty Yates describes. Yates notes that with the occasional exception of Gail and John Paul Getty, the clothing color palette was monochromatic – grays, blacks, blues and whites, a tonal approach Scott suggested.

'Ridley Scott brings so much vision to the table and is so painterly. He loves costume and gets totally involved, which I love, whether it be a cuff or a pocket handkerchief or a tiny lapel pin. He's inspirational and a joy to work with," she says.

Within the context of the fashion of the early 1970s, Yates assigned each character had his/her own style.

'Mark Wahlberg's character of Fletcher Chace had sort of this unknown quality, befitting someone who is ex-CIA. We wanted him to have a bit of a Steve McQueen quality, noting too zany and Ridley Scott was specifically very anti flared pants and big lapels. He has to slide through life fairly unnoticed, but we also wanted him to look great, elegant, so we build him some suits," Yates says.

The style icons of the 1960s/1970s inspired Michelle Williams' wardrobe.

'Michelle Williams's wardrobe was based on Jackie O. casual, not formal but that chic, timeless linear feel of tailored pants, again, nothing too crazy. A touch of Grace Kelly here and there," she notes.

Yates had some fun outfitting Charlie Plummer as John Paul Getty III, a bohemian youngster on seemingly perpetual holiday prior to his kidnapping.

'In researching him, we found he dressed with a wonderful, extreme freedom. All the photographic evidence we have suggests his clothes were from all those wonderful shops on Kings Road in London, like Granny Takes a Trip," Yates says.

Then there was J. Paul Getty himself, outrageously wealthy, but also notoriously pennywise and his attire was no different.

'We put these Saville Row suits on Christopher and combined with his natural gravitas, he was Getty. And while he was the richest man in the world, he was also incredibly parsimonious. So, his Saville Row Suites would last him for 20-25 years. In the research, we would spot the same shoes, the same tie over ten years," Yates observes.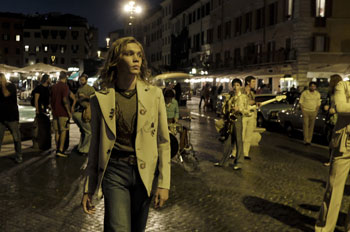 All The Places

John Paul Getty's abduction and byzantine rescue played out in various London and Rome locales and production designer Arthur Max used several famous attractions in those cities as sets and backdrops. These include the National Museum of Rome, playing itself; the Palazzo Fontana, doubling for Getty Oil in San Francisco; the Villa Wolkonsky, the official residence of the British ambassador to Rome, standing in for Getty's Roman home; the Villa Adriana, part of an exceptional complex of classical buildings circa 2nd century AD, created by the Roman Emperor Hadrian, fittingly representing Hadrian's Villa and Hatfield House in London, serving as the Sutton Place, another Getty residence in the UK.

There was never any question for Max but to anchor the production in London and Rome.

'Initially, like any movie and especially a period film, there was a research explosion – delving into material wherever we could find it, in this case several booklets about Rome and the period in general and a kind of intense biographical study of John Paul Getty and his life and family so we could find the aspect or aspects of his character we wanted to emphasize," Arthur Max explains.

Finding the exact locations allowed Arthur Max to revisit his misspent youth.

'The next stage was location hunting, to create Rome and London of the 1970s. I was present at the Via Veneto in 1972. It was my first look at Rome after traveling around Europe. I had driven all night and was very sleepy. I saw a big archway and an old wall and I thought, this must be Rome. So, I parked inside the gate and woke up later and found myself on the Via Veneto. There were some very friendly young ladies sitting on my car at 5:00 am waving at me. So, I had some experience of the ambiance of the time. I also lived in London for a time in the 1970s so it was a world I knew well. And it's fairly recent history so it's very accessible and I had a wonderful team in both Italy and London," Arthur Max recalls.

The London and Rome of the 1970s, Arthur Max adds, was ' … very visceral. It wasn't as polished, much scruffier, especially Rome. There was lots of detritus in the streets, graffiti everywhere, many political posters and billboards in both places and we tried to represent that. Also, the cars tell the story in a big way – where you are, the demographics, the world you're in. But what hasn't changed is the architecture, especially in Rome, except for recent technology. In terms of London, the Hatfield hasn't changed much since I first filmed there as a junior assistant on -Greystoke'!"

The Eternal City also provided many opportunities to portray Getty's wealth and status on a modest movie budget.

'The question was how to portray opulence on a budget. The trick was to choose our locations wisely and how we used them. In Rome, we went to some of the most elegant interiors we could find for various scenes. The Palazzo Barberini is a good example. It's a fantastically beautiful, overwhelmingly awesome museum that we used as auction house. We used the British Ambassador to Rome's residence for John Paul Getty's hotel because it had an ambiance of luxury AND power. And it made a fantastic hotel suite with a terrace and a lavish garden. On the opposite end was the visceral, very brutal side of Calabria – we went outside of Rome into the hills of Lake Bracciano, mountain villages that are very Calabrian. We found the worst kind of abandoned structures for the kidnap houses. So, we had the extremes of poverty to the lap of luxury and everything in between," Arthur Max explains.

The color palette of All The Money In The World reflected this spectrum of time, place and social strata. In San Francisco, Max relied on neutral tones and blues and 'slightly elevated tone, almost spring-like" reflecting a happier time in Gail's life.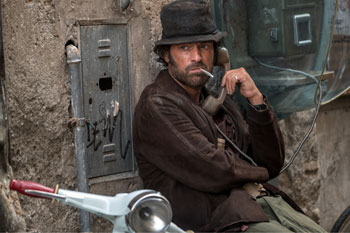 'Then as we got to Rome, we went to black and gold, much more dramatic and heavy, dark woods, walnuts, thickly lacquered door cases that were almost black. Then for the kidnapping the colors, were extreme, nasty and dead tones to contrast with Getty's world in Rome, when we and his grandchildren meet him. Elegant surroundings bathed in oranges, golds, salmons, pinks and russets, a much richer palette. Every phase of the story telling had a different coloration," Arthur Max explains.

The attention to detail from the locations to the sets to the costumes gave a sense of time and place and underscored the pressure Gail faced, from the kidnappers to the Getty empire, in her quest to free her son. It also presented a multi-faceted portrait of Getty who at times could seem both villain and victim. And All The Money In The World faced its own unique challenges in addition to the obvious ones. Even during the swift, unprecedented reshoots, the film never lost its footing, which Christopher Plummer attributes to Ridley Scott.

'He's such a pro. He has a point of view and doesn't do a thousand takes because he doesn't have to, he's already edited it in his mind. He's very much an old school director in that way, along the lines of Hitchcock His films are so eclectic, the subjects he picks are vastly different from each other and I admire that greatly, he experiments and tries new things, but he also knows exactly what he wants, which is incredibly refreshing," Christopher Plummer says.

Ridley Scott remains fascinated by the saga of Getty and his family and while John Paul Getty's reaction to the kidnapping at the time was seen as coldhearted, Ridley Scott notes that as seen through a more contemporary prism, the judgment might be different.

'I think it goes beyond what a mean, wealthy guy he was, it's not really about that. In most instances, he was dead right. He was ahead of the game which was how he became so wealthy – the first man to really buy vasts tracks of oil land in the Middle East, which made him enormously rich for instance. So when his grandson was kidnapped, he was asked an oldfashioned question to which he gave a very modern answer, one you'd get today from governments that refuse to negotiate with terrorists. So ultimately I didn't necessarily admire that sort of courage but I wouldn't call him selfish, he was more clear-eyed and understood about what he considered the void of wealth, the damaged goods that can follow, especially with children born into it who have no purpose and end up as casualties. So it was interesting to examine that as it intersects with Gail's single-mindedness, driven NOT by money but by a true mother's love," Ridley Scott sums up.


All the Money in the World
Release Date: January 2018