LOL
Cast
: Miley Cyrus, Douglas Booth, Ashley Greene
Director
: Lisa Azuelos
Genre
: Comedy, Drama, Romance
Rated
: M
Running Time
: 97 minutes
Synopsis
: As a new year at school begins, Lola's heart is broken by her boyfriend, though soon she's surprised by her best friend, promising musician Kyle, who reveals his feelings for her.
Release Date
: July 26th, 2012
LOL: The Origin Story
Lisa Azuelos both wrote and directed the first incarnation, LOL (Laughing Out Loud)&reg, the French film starring Sophie Marceau, after realising that movies based on teen life in her home country of France were almost entirely missing.
She remembers a film in the '80s called La Boum (The Boom), which was basically The Breakfast Club of her generation, also starring Sophie Marceau. She describes it as a huge generation movie that young people were able to identify with during her time. Much to her dismay, she could not find a movie that the current adolescent generation, such as her own daughter, could relate to in this way. She would often times see her daughter go to the theatre to watch either an American teen movie or a horror film. Her daughter was turning sixteen years old and she felt that nobody in the movie business was reaching out to this pubescent generation. "Nobody's describing their lives. Nobody's doing anything," she explains as she thinks back to how no movie has been made until LOL (Laughing Out Loud)&reg about the generation of today.
So Lisa Azuelos set out to change that. She wanted to create the kind of original story for the adolescent set which addressed the many complexities, pitfalls, perils and dilemmas of modern youth in their quest towards independence, self-identity and adulthood.
There was one moment in particular that incited her to write the story. Her daughter was throwing her first party, a birthday party, at their home. She didn't want her mom to be seen, so Lisa Azuelos stayed behind closed doors listening to the songs that she listened to when she was sixteen. While dancing and simply enjoying herself, she suddenly was hit with the realisation that she was the mother behind that door-the mother of a daughter who, herself, was dancing and enjoying herself to the songs of her own youth. "It grabbed me by my throat and I began to cry," Lisa Azuelos explains. "I thought, 'Oh my God, something's happening here. I'm a mother, she's a daughter, and things are changing. She's not a baby anymore. What's happening here?' So when I'm [in] those kinds of situations, I write, and that's it."
Lisa Azuelos drew her principal characters from subjects close to her heart. Using her middle name, Anne, and her daughter's middle name, Lola, Lisa Azuelos scripted a mother-daughter relationship much like her own. "It's like they want to go away but they want you very near," she says, as she describes the everyday teenage child. She wanted to "tell the teenagers, the daughters in particular, we know who you are." Not only did Lisa Azuelos set out to tell the story of these teens, she also wanted to do this movie for all the mothers out there that had the same questions she did. "I was talking to a lot of parents who had teenagers and they were like, 'What did I do wrong for my child to behave so weird? For my child to say this to me? For my child to want to go out? Not want to study? Want to have fun? I thought I was a great parent and suddenly I discover she hates me.'" Lisa Azuelos wanted to ensure them that they are not doing anything wrong and there is no need to feel guilty. "It's just that their child is not a child anymore and that's the process, the normal process, of saying to your mother, 'I'm your child but I don't want you anymore.'" She then adds, "But the funny thing is, with teenagers, you have to be there as soon as they call you."
LOL (Laughing Out Loud)&reg was a massive hit in France. "Everybody who was seeing the movie, even American people, were telling me, 'Wow, that's so great. It's the first time I related to a French movie that much,'" says Lisa Azuelos. Though it had a crossover appeal for American audiences, Lisa Azuelos knew that there was definitely a challenge for a French movie to be seen by the large American audience. "So I said, 'Well then, I'm going to do the remake!' and everybody laughed at me." People would tell her that nobody does their own remake and that there's no way she would make it. Regardless of these doubts, she met with Roeg Sutherland and Maha Dakhil of CAA and immediately had a great connection with them. She could see that they loved the movie and believed in it. From that moment on, it was off to a start and the American remake, LOL, found its home at Mandate Pictures.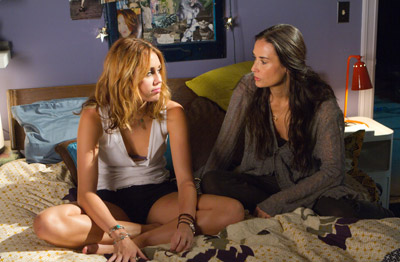 Lisa Azuelos was really excited at the opportunity to do a remake. "It's like my second chance," she explains. "It's very funny because in life, you do things and now you're like, 'Oh, I should have done that?' And, well, life is done. You can't redo something." But for Lisa Azuelos s, doing the remake was the chance to what she describes as a second life. "It's so great because I love the French movie very much and I tried to do better because I have this second chance."
The filmmakers at Mandate and Double Feature Films were just as excited to begin the journey with her. Producer Stacey Sher of Double Feature Films recalls her first introduction with Lisa Azuelos and how it all began. "When I first saw the French film, I fell in love with it. Michael [Shamberg] and I absolutely fell in love with it." She continues, "We saw the film [and] we thought it would be a perfect American remake and we said to her we would love to do this but only if you direct the American version. And she said, 'Yes,' and we were off to the races."
While the original was filmed in Paris, France, LOL was shot in Chicago, Illinois. The producers decided to adjust the movie from Paris to Chicago because "Chicago is a very sophisticated city and it's very typical of United States," says Michael Shamberg of Double Feature Films. Stacey Sher elaborates that Chicago "is a completely cosmopolitan American city without being rarified," in the same way Paris is in France. And given that many successful adolescent films in the U.S., including the famous John Hughes films, American Pie and Mean Girls were set in Chicago, they were confident that this location was relatable to the American audience. The film was also shot in Detroit, doubling for Chicago, which the producers felt was a very interesting city. "It's a city undergoing great transition and we were shooting in Downtown Detroit, as opposed to Anne Arbor or any of the sort of cushy suburbs. So we were all sort of together on this island, the island in Downtown, Detroit," Stacey Sher describes the location. And to wrap, the last few days of shoot were filmed on location in Paris, France.
Being on set was unanimously described as 'so much fun.' With LOL being the first feature film for many of the young cast members, Stacey Sher expresses that they brought passion, excitement and an "un-jaded quality to filmmaking that makes it always fun to be around." For Lisa Azuelos, casting these young thespians were one of the most enjoyable moments in the making of the film. In fact, she describes the casting of a movie as the main part of her job. "When I cast a movie, I've done ninety-five percent of my job. After, all I have to say is 'Action.'"
The process of casting was purely by instinct for Lisa Azuelos. "It's very unfair," she confesses, "because a person enters the room and I know if he's going to do the movie or not. In one second, it's intuitive. So I chose them by heart." Lisa Azuelos continues, "They enter the room, I love them, and I ask them to do the movie. And when they say, 'Yes,' it's great."
Casting LOL
Lisa Azuelos was especially ardent about casting Demi Moore as Anne, the mother. As a matter of fact, she only wanted Demi Moore. "I wouldn't have done it with any other actress. I didn't want to do the remake to just do the remake. I said, 'If I do the remake, it's Demi Moore, otherwise I'm not interested because I've already done the movie.' The only person I want to see as the mother is her," she reiterates.
However, it wasn't until her first day of shoot that Azuelos was firmly convinced of why it had to be Demi Moore. "The first day she arrived, she increased joy at least twice as much as I did. And she's a joy increaser too. She loves to invite people? We're like the same type of women." Given that both women had gone through a divorce and experienced what it was like to raise teenage children alone, there was nothing more for Lisa Azuelos to explain for Demi Moore to capture that character on-screen. It simply came down to the question, "How can we make so many people relate to our story?" Not only did they never argue, but the two had matching working styles. Lisa Azuelos insists that working with her was "just pure pleasure."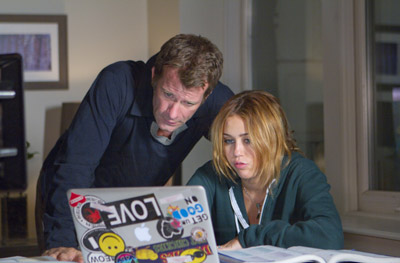 Demi Moore made a big impression on the producers. "She's fun. She is smart. She is relentless in her pursuit of excellence and the truth and what's best for the movie, not just for her character and she's great fun to be around. She is inspiring to everybody. She will make any call just to help the film and she's completely committed to telling the truth of the story, the fun of the story and the emotion of the story," adds Michael Shamberg. He further explains that "Demi Moore is perfect for the role of Anne because, like Sophie Marceau in the original French film, Demi Moore was a big star when she was young and she's a big star now and with children of her own. So the idea that she's still attractive, actually beautiful, and has children-she's wonderful for the part."
Working with Miley Cyrus was just as much of a pleasure. While on set, she was always so happy and always smiling. "I've been so lucky because with this American version I really found the same breed of women," Lisa Azuelos exclaims, "It's like we're the same blood. We like that the work goes quick, fast and clever. No doubt, no arguing, no problem. We just think of it intuitively and it's always right. Shoot it. Let's do it. That's it," she says. Miley Cyrus was also very professional and a great example on set. She was known to always be the first one there and ready to go. She knew her lines, she was on top of her game, and she took her craft very seriously.
Furthermore, Miley Cyrus impressed her director with a natural talent and an infectiously endearing personality. "I just love Miley Cyrus so much," says Lisa Azuelos. "First of all, she's so gifted? Naturally, if she's where she is today it's not because she's been lucky. It's because she's pure energy: heart and joy. I think that people love her for good reason. She brings love to people. And people really love her in return. I'm not sure I had it that much in the French movie, but here I have chemistry between Demi Moore and Miley Cyrus that is absolutely out of control. And I didn't create that. The two of them act like they've been in the same room since Miley Cyrus was born. Although Miley Cyrus and Demi Moore don't really look alike physically, they look alike in the same room. They're like mother and daughter. I've been so lucky that both of them did the movie."
In casting the males, Lisa Azuelos found that besides physical beauty being a common denominator, each actor brought a unique element to the total picture.
Austin Nichols (Mr. Collins), who plays Wrigley High's dreamy math teacher, was an auspicious start. Lisa Azuelos oozes that she had great looking men because "I like very much great-looking men. But they're very different. When I first saw Austin Nichols, I cast him on the spot. It was the first day of casting and I said, 'Wow. Who's this guy?' And I felt this guy was just pure light in the casting room. So I said, 'Whatever happens, I want this guy in my movie.' He was so cute and so nice and gentle. He was a great improv guy too. So I was really happy."
Though the work of Thomas Jane (Allen), Anne's ex-husband, was unfamiliar to Lisa Azuelos, she found him to be exactly what she was looking for. Lisa Azuelos confesses that since Jane's TV show HUNG is not in France, she was unfamiliar with him as an actor. But the day she met him, she said to herself, "I want this guy in my movie." Then she explains that she saw HUNG and thought, "Well, I'm so glad he wants to do my movie, because he's great as the character." For the role of Allen, he had to be "the ex-husband but still you can feel that something's going on with Demi Moore and him and they're still attracted. He had to be good-looking but annoying and nice all at the same time. And Thomas Jane Allen has those things in him. He can be annoying and he can be the best guy and I needed both for this particular part," Lisa Azuelos says.
For Jay Hernandez's (James) character, a Chicago cop who becomes Anne's love interest, Lisa Azuelos wanted someone who could play a cop, but also move deeper into the character. "He happens to be a cop but that's not the story. He's a man that Anne meets and at first thinks, 'I'm not going to date a cop. I can't do that,'" says Lisa Azuelos. Then when she saw Jay Hernandez and Demi Moore together, there was no doubt that they had the same energy and she knew that he was right for the part.
The rest of Lola's gang includes Ashley Hinshaw (Emily), Lina Esco (Janice), Douglas Booth (Kyle), George Finn (Chad) Adam Sevani (Wen), Tanz Watson (Lloyd) and Ashley Greene (Ashley). This young group grew close on-set, traveling as a pack and hanging out as buddies. Sher describes how fortunate it was to have such a cast. "Movies take on the personality of what [the cast] is about. And this movie was about bonding and about community and finding-making your own family of friends. It's such a nice group of people and such an enthusiastic group of people that just came naturally to everybody." Michael Shamberg adds, "We have a really good group of actors who are both real and attractive and heartbreaking so we just have a great cast."
Leads on LOL: Anne and Lola
When Miley Cyrus met with Lisa Azuelos at Demi Moore's home, Miley Cyrus said "Before heading there I read the script and I immediately said to myself, 'I am going in there and signing whatever contract they need me to sign. Whatever they want.'" Miley Cyrus continues, "I read it. I fell in love with it. I fell in love with Demi Moore. Everything about this movie touched my heart. I knew it was like the perfect thing for me. And Lisa Azuelos's amazing."
Miley Cyrus (Lola) sees herself in her character. Her relationship with Lisa Azuelos and Demi Moore helped to create a realistically family-like environment in which to develop. Says Miley Cyrus, "I've always had a really good relationship with my mom. But it's good when you can also have another woman in your life that you can go to and talk to, as well-one that is like a mother figure, but also just a friend with no expectations. And you can just say whatever like. That's what Demi Moore and Lisa Azuelos are for me. On random days I'll get a text from Demi Moore when I may be down. And I'll get a text like, 'Your second mom loves you.' And that'll just turn your day around."
Demi Moore (Anne) was enamored with her character, and the film as a whole, from the start. Having seen the French version, Moore had the luxury of seeing the story already told. "I fell in love with it. I thought it was magical, unique and very honest," she says. "It has unique aspects and a level of honesty that Lisa Azuleos captured that you don't get to see very often between a mother and a daughter on screen."
The American version of LOL presented a challenge to the actors, to make it their own. Says Demi Moore, "It's a very interesting experience because you don't want to paint a picture that's already been painted. And yet you need not throw the baby out with the bath water. There are things that worked in the original that I think are working here, but we also needed to find the elements that were culturally honest and unique to us as Americans."
Demi Moore describes her character as a kind of super mom, totally committed, even if at times, also totally overwhelmed. "Anne is a recently divorced mother of three, dealing in particular with the trials and tribulations of her teenaged daughter, Lola," says Demi Moore. "I think that she's an extremely present, caring mother. Very normal. And I think that a lot of people will really relate to her challenges. What's interesting in this is that, as somebody who has been divorced for a year, she hasn't yet found her way back to romance."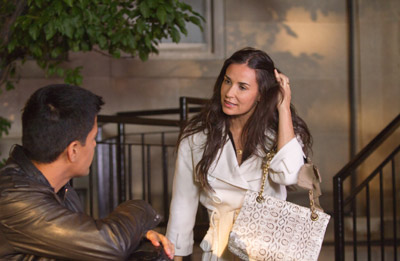 "Both mother and daughter are each on their own path of self discovery. For the daughter (Lola), it's her first time really discovering love. And for Anne, in an odd way it's her first time as well. Even though she's been married and has kids, she's having to rediscover herself and love. That's something that we haven't really seen on film."
Moore was inspired in working with Lisa Azuelos for the first time, saying, "She's incredible. Passionate, smart, funny and deeply authentic. She's a light that uplifts everybody every day. We are two Scorpio women with great intensity and childlike playful spirits it was like reuniting with a kindred soul. We both share a big picture scope but gratefully, she is less of a perfectionist than I am. She helped me to let go and I made sure we didn't let go too far!"
Demi Moore was affectionately considered the mother on set. And the young cast loved to spend time with her. "On one hand," she notes, "we're dealing with professional actors and on the other, I'm looking at them as I do my own kids. There's a feeling that someone needs to look out for, protect and take care of them. I think that's been a role that both Lisa and I have taken. Mothering is in both our natures."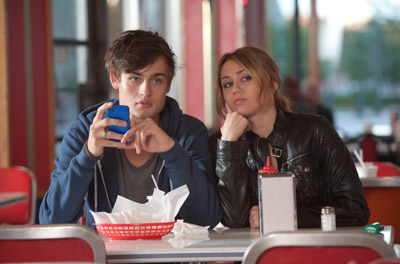 She saw both in her character and in her own experience as a mother, the reality that relationships worth having don't come automatically. "Being a mother of only daughters, I find that the foundation that you create from when they are young is selfishly out of a desire to want them to choose to be around you when they're older. And it's an ongoing effort that has to be made to have that kind of bond. A bond is something you earn. It's not something that you can just have."
She says that a parent's most important job "is to help your children be good decision-makers because if they're good decision-makers they have a foundation of trust and they know that they have a place to fall back on, and there isn't anything that they can't handle."