Phoebe Tonkin and Deniz Akdeniz TWTWB Interview
Question
Did you read the book(s) prior to filming?
Phoebe Tonkin
: I read them in high school, at school camp.
Deniz Akdeniz
: I was 12 and my brother handed them to me and said "read these". They were great, I loved them.
Question
Do you think it is an advantage that so many teenagers read the books at school?
Deniz Akdeniz
: The film is unique in itself, the books have a great fan base and without the fan base, this film would never be going ahead. The film does stand alone as a different medium. Hopefully anyone, even if they haven't read the books, will go and watch the film or even read the books and then go and watch the film.
Question
Do you think that because you had read the books, they helped you in developing your character?
Phoebe Tonkin
: Definitely. The books are so descriptive, even physically the way that John Marsden has written these books is great, the imagery is just beautiful especially with the settings and when the characters speak. We were very lucky because we had a lot to go off.
Deniz Akdeniz
: It was great research material, the script in itself was great for everything and then the book complemented it. I got one or two ideas from the book itself. Stuart Beattie's was a very faithful adaptation; again it is a unique thing.
Question
Do you think that you had read the books it inspired you to audition for the film?
Deniz Akdeniz
: Yes, however, I would have done it, regardless.
Phoebe Tonkin
: It is a great story. When I got the script I was so excited to be apart of this, I wanted to read for any character. I initially went for Robyn and I was called back as Fi. To get any role in this film is a dream.
Deniz Akdeniz
: It does help, it being a childhood fantasy.
Question
Phoebe, can you talk a little bit about changing your appearance to look like Fi?
Phoebe Tonkin
: I was very much for (changing my appearance); it was just a part of turning into this character. Fi is blonde. A lot of people were very angry that I was cast as Fi because I was brunette, it's not that hard to die my hair!
Question
How else did you guys get into your characters; Fi and Homer?
Deniz Akdeniz
: I got cast two weeks before rehearsal started, so I didn't have a lot of time, I had to rush a lot of work in. I spoke to a lot of friends of mine, that are Greek, first generation, and spoke to mates of mine who are farm boys to find out what it is like to work on a farm; it is very hard and I am thankful I didn't grow up on a farm.
We did a lot of work on characters and improvisation.
Phoebe Tonkin
: I went to deportment classes with a woman who teaches at the Miss Australia pageants, which was crazy. I learnt how to walk with a book on my head and not to slouch.
Deniz Akdeniz
: We did a lot of improvisation together, so we all helped each other, throughout the whole process, to flesh out our characters.
Question
Homer is quite a laid back character, are you like this in real life Deniz?
Deniz Akdeniz
: I share the same sense of humor as Homer does, but I don't think I am as much of a trouble maker, as he is.
Phoebe Tonkin
: Obviously you always put a part of yourself into the characters you play. I don't think I am as prissy and sheltered as Fi is (laughing) Deniz thinks I am!
Deniz Akdeniz
: (laughing) I didn't say anything, promise I didn't say anything!
Phoebe Tonkin
: What is true is our friendships, we are really genuinely good friends, off set and we are good friends in the film.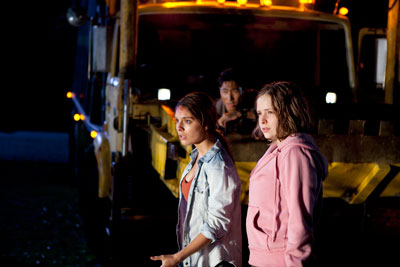 Question
Was it easy to show the changes Homer experiences throughout the film?
Deniz Akdeniz
: It was fun because it was very much what my character would do. Homer has all these skills, which he has learnt, from being an idiot and participating in criminal activities and now he can actually apply them to do some good. His drifting through life, purposeless, and now he has finally found something that he is good at and he can help his friends with. I think everyone in the whole group changes in the sense that they find the strength in something they can add to the group. Collectively they all have to transition and grow up very, very fast.
Question
There are some amazing explosions in the film; can you talk a little bit about the stunts?
Phoebe Tonkin
: Yes, a lot of the things where we were jumping away from explosions, those reactions are genuine, we had no idea what was going on behind us.
Deniz Akdeniz
: That was a one take.
Phoebe Tonkin
: We did one take and Lincoln Lewis (Kevin) got so, so, many meters high.
Deniz Akdeniz
: There were not as much stunts on our half because we were running away from it. There was a lot of running away from things. We all did gun training, learning how to hold a rifle too.
Phoebe Tonkin
: We also learnt how to ride motorbikes.
Deniz Akdeniz
: That was cool because I had never rode a motorbike and Phoebe had to trust me to ride on the back, that was a big, giant, leap for her as well. I had to get a lot of training before I could be trusted with Phoebe on the back.
Question
If this situation happened to you, in real life, do you think you would act similar to your character?
Phoebe Tonkin
: Yes, definitely! I think so.
Deniz Akdeniz
: I'd like to hope so.
Phoebe Tonkin
: You never know that's why I really like the speech Fi has in the movie; you can say that you're going to do this and that but until you are actually there, it's your instinct that tells you what to do, no-one will know what they do.
Deniz Akdeniz
: I think the film really shows that because they're all in the same situation and they don't know what they are going to do or how they are going to react.
Question
Have you had a chance to speak to John Marsden at all?
Phoebe Tonkin
: Yes! He has been on set and to both of our premieres, which is awesome.
Deniz Akdeniz
: From what his told us, he is having a ball. The first time he watched the film he really loved it.
Phoebe Tonkin
: John is such a sweetheart, he is so lovely.
Deniz Akdeniz
: He has been so supportive of the whole process and trusting of all of us, it has been great to have him behind it. It could have been the complete opposite but he has been very encouraging and as Phoebe said he rocked up to both of the premieres, which is cool and he brought his family along.
Question
This is both of your first film; how did the whole experience from auditioning to the premiere go?
Deniz Akdeniz
: I did two seasons of As the Bell Rings but it was quite a different medium to this, this is larger scale.
Phoebe Tonkin
: When we were filming the movie we had a greater amount of time to get a scene right, television is a lot quicker. In the film you could play around, you could change things and see if they worked and if they didn't go back to the original. In terms of the premieres, it's huge!
Deniz Akdeniz
: It is surreal.
Phoebe Tonkin
: When we walked on to the carpet, on Sunday, we were all wide eyed.
Deniz Akdeniz
: Then we were rushed into interviews and autographs. It was great that a lot of people turned out, for it, which is fantastic.
Question
Do you have a preference: movie or television?
Phoebe Tonkin
: It's always different, it's a different role. I love working, filming and acting, so regardless of the medium whether it is television or film, it's what I love doing.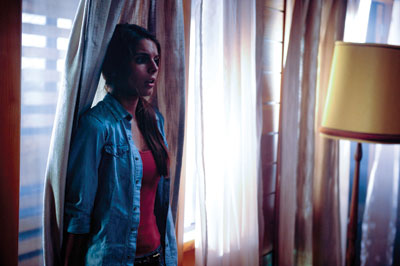 Question
How did you both go building your chemistry for the film?
Deniz Akdeniz
: It was fun! We weren't the main love couple, we were in the background.
Phoebe Tonkin
: It was subtle, innocent and sweet. It was good to find the right moment....
Deniz Akdeniz
: to sneak off.
Question
Romantic relationships would develop in these circumstances.
Phoebe Tonkin
: Yes!
Deniz Akdeniz
: Yes, especially when there is such a horrible tragedy of war.
Phoebe Tonkin
: The world is at stake!
Deniz Akdeniz
: All the stakes increase, all these little things that you do at school all happen tenfold and are increased.
Question
Is there going to be a sequel to Tomorrow: When The War Began?
Phoebe Tonkin
: I hope so! If everyone comes and sees the film and they love it, then we will be 100% on board.
Deniz Akdeniz
: Tell us tomorrow and we will be signing and be on board. I think Stuart Beattie has the idea to do two more films and maybe a television series. That might be the plan, although they just tell me what to do. I hope that is the general gist.
Deniz Akdeniz is Homer Yannos
Tomorrow When The War Began is Deniz's first leading role in a feature film - a role that is bound to launch his career and introduce the world to his wonderful talents. Previously, Deniz has acted in a number of theatre and television productions. Most recently, Deniz played the character of Raff in the television production When the Bell Rings from 2007 to 2008.
Deniz further honed his performance skills with several short courses at TAFTA, NIDA and St Martins Youth Theatre. His theatre credits include an appearance in the production of Angels With Dirty Minds at the Melbourne Arts Centre, as well as playing the role Max in Back To Bacchus at the Children's Performing Company of Australia.
Phoebe Tonkin is Fiona Maxwell
Phoebe Tonkin is best known for the lead role of Cleo Sertori in three seasons of the internationally successful television series H20 - Just Add Water. Most recently, Phoebe appeared in the popular television series Packed to the Rafters.
Phoebe's theatre credits include the role of Helena in Shakespeare's A Midsummer Night's Dream (Australian Theatre for Young People), as well as the role of Don Pedro in Much Ado About Nothing (ATYP).
In 2008 Phoebe was nominated for an AFI Best Actress in a TV Drama award for her work on H20 Series 2, a first for an actor in a teen orientated series produced in Australia.
Tomorrow When the War Began
Cast
: Caitlin Stasey, Rachel Hurd-Wood, Lincoln Lewis, Deniz Akdeniz, Phoebe Tonkin, Chris Pang, Ashleigh Cummings, Andy Ryan
Director
: Stuart Beattie
Genre
: Drama, Action
Rated
: M
Running Time
: 120 minutes
Synopsis
: Based on the Novel by John Marsden, Tomorrow, When The War Began follows the journey of eight high school friends in a remote country town whose lives are suddenly and violently upended by a war that no one saw coming. Cut off from their families and their friends, these eight extraordinary teenagers must learn to escape, survive and fight back against a hostile military force.
Release Date
: 2nd of September, 2010
Website
:
www.twtwb.com