AN UNFORGETTABLE STORY FILLED WITH HIGH SCHOOL FUN, LAUGHTER AND LIFE LESSONS


PROM
Starring: Aimee Teegarden (Friday Night Lights), Thomas McDonell (The Forbidden Kingdom), Danielle Campbell (Prison Break), Yin Chang (Gossip Girl), Nicholas Braun (10 Things I Hate About You), Jared Kusnitz (The Secret Life of the American Teenager), Jonathan Keltz (Entourage), De'Vaughn Nixon (Sonny with a Chance), Nolan Sotillo (Corey and Lucas for the Win), Cameron Monaghan (Corey and Lucas for the Win) and Raini Rodriguez (I'm in the Band).
Director: Joe Nussbaum
Producers: Justin Springer, Ted Griffin
Executive Producers: Samson Mucke
Written by: Katie Wech
Classification: PG
Genre: Drama-Comedy

Who are you going with?

Follow the delightfully fun - and often hilarious - journey of a group of young teenagers as they navigate through the most memorable and also difficult times of their lives in the original film PROM, available now on Disney Blu-ray Value Pack and DVD.

This enchanting coming-of-age story is the perfect family-friendly film that captures all the anticipation, excitement, drama, and humor that accompany every young person's journey through high school.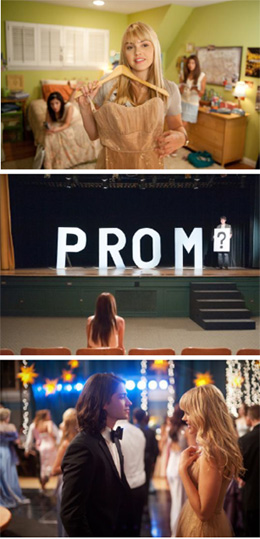 At 'Prom', every couple has a story and no two are exactly alike. For Nova Prescott (Aimee Teegarden), it's a classic tale of opposites attracting when she finds herself drawn to the guy who gets in the way of her perfect prom, Jesse (Thomas McDonell). Fellow seniors Mei (Yin Chang) and Tyler (De'Vaughn Nixon) harbor secrets, while others face all the insecurity and anticipation that surrounds one of high school's most seminal events. Share the laughter and the drama as secrets are brought to light, seemingly steady relationships unravel and new romances catch fire.

Get ready for this hilariously heartfelt date with destiny featuring a hot ensemble cast of rising young stars and cool bonus features. There are hundreds of nights in high school, but there's only one PROM!

Review: A multi-threaded story that connects the dots for a great frun movie about centered around prom, the last dance where everyone in school is equal..

BONUS FEATURES:
DVD: Putting on PROM: Making of Featurette Bloopers

BLU-RAY:
All DVD bonus features, plus...
"Last Chance Lloyd" Exclusive Short - Laugh out loud at all the creative and hilarious ways Lloyd (Nicholas Braun) asks girls to Prom in his heroic quest for the perfect date... actually, any date!
4 Deleted Scenes-With introductions by producer Justin Springer and director Joe Nussbaum.
7 Music Videos:
o Allstar Weekend-.Not Your Birthday"
o Neon Trees-"Your Surrender"
o Moon-"Time Stand"
o Nolan Sotillo-"We Could Be Anything" (English version)
o Nolan Sotillo-.Juntos Lo Haremos Bien" (Spanish version)
o Those Dancing Days-.I'll Be Yours.
o Girl In A Coma-.Come On, Let's Go"

PROM
RRP: $39.95
RRP: $49.95 - 2-disc Blu-ray Value Pack (Blu-ray & DVD)