Regina Hall Girls Trip
Cast: Regina Hall, Queen Latifah, Jada Pinkett Smith
Director: Malcolm D. Lee
Genre: Comedy
Rated: MA
Running Time: 122 minutes

Synopsis: Girls Trip, the new comedy from director/producer Malcolm D. Lee (The Best Man franchise, Barbershop: The Next Cut) and producer Will Packer (Ride Along and Think Like a Man franchises) follows four lifelong friends––Ryan, Dina, Lisa and Sasha"as they travel to New Orleans for the annual Essence Festival, where sisterhoods are rekindled, wild sides are rediscovered and there's enough dancing, drinking, brawling and romancing to make The Big Easy blush.

The all-star cast is led by Regina Hall (When the Bough Breaks) as Ryan Pierce, a successful author at the crossroads in her marriage; Tiffany Haddish (Keanu) as the hotheaded, free-spirited and fiercely loyal Dina; Jada Pinkett Smith (Bad Moms) as Lisa Cooper, a conservative nurse and mother of two children who desperately needs a weekend getaway; and Queen Latifah (Miracles from Heaven) as Sasha Franklin, a gossip blogger who is circling a life reset of her own.

Girls Trip
Release Date: August 31st, 2017



About The Production
Pack Your Bags: Girls Trip Begins

Ensemble comedy is synonymous with producer Will Packer, who has brought to the screen the films in the Think Like a Man and Ride Along series, as well as a number of additional comedies and beloved dramas. When pondering ideas for his next project, he decided he wanted to bring black women to the big screen in a way that they are seldom seen"in a no-holds-barred, R-rated comedy. 'There is this perception or stigma among some that women don't have that kind of fun," says Will Packer. The producer wanted to change all that and reflect the reality of a long overdue ladies getaway…with some heightened comedy thrown in for good measure.

As he began to brainstorm, Will Packer reached out to a friend and actress with whom he has worked on several films to discuss a brewing premise. 'When I was thinking of the idea for Girls Trip, one of the first people I talked to was Regina Hall––even before I spoke with the studio. I said, -What if we had four women who go to the Essence Festival, have a bunch of fun, behave badly, get away with it and rekindle their sisterhood?' She said, -That sounds awesome!' Then I knew I had something."

His very next call was to filmmaker Malcolm D. Lee, whose work he had long admired and who has shaped the genre of dramatic comedy as the writer/director of such landmark films as those in The Best Man series as well as Welcome Home, Roscoe Jenkins. Additionally, as the director of fare from Undercover Brother to Barbershop: The Next Cut, his film voice is quite unique.

'When it came to thinking about a director for Girls Trip, I immediately thought of Malcolm. I had just watched The Best Man Holiday, and I loved how he incorporated drama, heart and comedy and molded it all together seamlessly," lauds Will Packer. 'I pitched him this idea for Girls Trip, and he responded right away. I was excited because I knew I needed somebody who could give us raucous comedy and could get actors to infuse our movie with heart. That's something that Malcolm does very, very well."

Malcolm D. Lee responded to his fellow producer's idea. 'We've all seen the paradigm of men behaving badly and going away on a weekend doing terrible things and getting away with it…and their wives are none the wiser," he offers. 'Will Packer said, -Let's do that with women and set it at Essence.' I told him, -I'm 100 percent in.' This is the perfect place to set the story because it is a celebration of black womanhood and all of its forms."

The director admits that he very much connected to Will Packer's sensibility and imagery. 'Will Packer is passionate about African-American images on screen and wanting those to change the narrative and be dynamic and be real."

The next step was crafting the story beats and screenplay, filled with characters on a fun, flirty and delightfully raunchy getaway. Their five-year-overdue celebration would not only test the deep bonds of long-lasting friendship, it would force them all to come away deeply changed. While the screenplay's four friends are lifelong ones, they haven't hung out in a meaningful way in forever. This long weekend at Essence Festival there will be no kids or rules. Their baggage and their beefs will be hauled out into the opening, and everyone is fair game.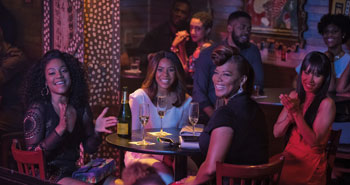 Throughout the development of the script"from screenwriters Kenya Barris & Tracy Oliver, based on a story by Erica Rivinoja and Barris & Oliver"Packer and Lee aimed to tell the story of these four girlfriends just as they were…blemishes and all. While some might appear to have the perfect existence, and others look like they're the perfect mess, the filmmakers honored the blurry lines that brought the characters together and bonded them for life. That comedy and the drama is the most enjoyable to mine.

The director/producer introduced us to the story of this 'Flossy Posse," characters he feels all of us can see ourselves in: 'We have this group of women who went to college together and are best friends. They've become a little estranged in the past couple of years because life has happened to them"whether it is career, friendships, babies or family time.

'They used to go to Essence Festival annually, but in the past couple of years they haven't, and it's time to reconnect," Malcolm D. Lee continues. 'Due to a couple fractures in their relationships, there are unspoken words that get revealed at this particular time"in the midst of all the chaos, fun and debauchery that ensues. I believe everybody, especially women, are going to recognise themselves in these characters."

Malcolm D. Lee appreciated the relatability of these protagonists, who represent so many adults struggling to hold on to the best parts of their youth, while letting go of the past and fully embracing the next chapter in their lives. 'We all know a Sasha, who is very fashion-forward and at a crossroads in their career, as well as a Ryan, somebody who is wildly successful and independent, but may be hiding something," he surmises. 'Similarly, we all know a Dina, who's going to have your back. The one who can turn up the party and make some mayhem happen. You want her around but you're also thinking, -oh, boy, she might get us into some trouble. Then there's Lisa, who has lost her way and has to rediscover her womanhood. She once was this fierce, sexual creature who is now trapped in mom jeans."

Ryan, Sasha, Dina and Lisa"better known as the 'Flossy Posse""all head to New Orleans for the Essence Festival, with plans to stay up late, drink, dance, unwind, get wild and crazy and make memories. With the nonstop energy of Bourbon Street as the backdrop, they'll deal with some long-lasting issues that explode into the open. Lisa herself, Jada Pinkett Smith, explains the origin of the term: 'It's that young girl phrase when you name your clique."

Meet the Flossy Posse: Cast of the Comedy

Ryan Pierce, an author and self-help entrepreneur who knows you can have it all"if you just work hard enough for it"is trying to save her unraveling marriage to Stewart. Sasha Franklin runs a gossip blog and is at the point in her career where she's wondering if the decisions she has made to try and get to the top have been worth it. For her part, Dina is quick-tempered, goes from 0 to 100 quickly and will say whatever she wants. She's basically the person you secretly wish you could be and fiercely loyal to her girls. Lisa Cooper is a conservative nurse and divorcée with two kids who needs this weekend more than anyone else in New Orleans ever dreamed of needing it.

To capture the whirlwind energy of this group of disparate, delightful women, Will Packer and Malcolm D. Lee searched the world of standup, comedy and film. Fortunately, the combination of actresses they found proved delightful as the Flossy Posse.

As the filmmakers envisioned the women who would become their characters, they thought about who could capture the essence of each. By approaching both longtime friend––and new ones––they found the distinct voices of the characters. Both Will Packer and Malcolm D. Lee have worked with Regina Hall and knew she was perfect to play Ryan. Will Packer shares why he chose the performer: 'Regina Hall: has such layers that she's able to bring to a character. She's so charismatic, extremely funny and witty, but then also gives you such depth."

Malcolm D. Lee, who actually selected Regina Hall for her very first on-screen debut (as the scene-stealing Candy, a stripper with a heart of gold in The Best Man), agrees with what audiences have long demanded: 'I wanted to see Regina make that transition from character- and supporting-actor to leading lady. She's extremely funny and talented. I was certain that she would be able to bring a humor to the role that a lot of actors aren't able to do. Even though Ryan is the emotional spine of the film, I knew that Regina specifically would bring a lot to the table."

T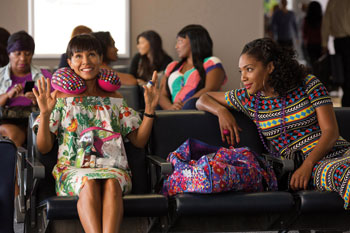 he respect is mutual from Regina Hall. She reflects: 'This is my fourth time working with Malcolm D. Lee. We're like family. It's good to have a rapport with your director because you can talk to him about what you feel your character is and explore it together. I was with Malcolm D. Lee in my very first movie and I was probably number 10 on the call sheet back then. Still, he valued me just as much 18 years ago as he does today. That's a pretty amazing thing to be able to say."

Although Regina Hall was one of the first people with whom Packer brainstormed the comedy, she loved seeing how the film's writers brought such life to her character and the other members of the Flossy Posse. The actress reflects: 'I thought the story was very funny but also had a lot of heart. There are terrific messages of sisterhood and support and lifelong bonds." Mindful of the point of view that Will Packer and Malcolm D. Lee have brought to the world of film, Hall appreciated that Girls Trip takes their work to another level. 'What I loved most is to see four black women get to have this much fun onscreen; these characters are just so multidimensional."

The only married member of the Flossy Posse, Ryan appears to have everything that the girls dreamed of when they were co-eds. Hall reflects, however, it's anything but that. 'Ryan got married in college and became an archetype of what a couple is. She and Stewart have bought into that reality. They've bought into the dream that they sold, and it became part of her identity. I don't think Ryan knows how to be without it."

The next of the four leads who were cast in Girls Trip were the inimitable Jada Pinkett Smith as Lisa Cooper and multifaceted Queen Latifah as Sasha Franklin, who first so brilliantly appeared onscreen together in F. Gary Gray's endlessly watchable Set It Off.

Will Packer admits he's thrilled about putting the two global stars in another movie: 'This is the first time in 20 years that you see Queen Latifah and Jada Pinkett Smith on screen together. When we were casting the movie that was actually an afterthought. Queen Latifah was right for Sasha, as Jada Pinkett Smith was perfect for Lisa. Then we realised how great it would be if we got them both and put them together. Once we discovered that they were both interested"and they talked to each other because they have maintained a great friendship throughout the years"we knew we could have something special. It could get no better."

Of the production's Lisa, Will Packer raves: 'I've been a fan of Jada Pinkett Smith's for years. She's somebody who I admire as an actress. This was a role that I thought she would really respond to, so I sent it to her to consider. She immediately loved the part and had some thoughts about what we could do to make the character even better."

Jada Pinkett Smith discusses her interest in joining the Girls Trip production, and in one word, it is 'cast." She reflects: 'I wanted the opportunity to work with Queen Latifah again. I'd never worked with Regina Hall, and she's absolutely hilarious. That and, of course, I've had the blessing of meeting Tiffany Haddish and working with her."

The veteran performer gravitated to her character because she saw such a light in her, albeit one that had dimmed over the years but was still a part of her. 'Lisa's been caught up in the mother game," Jada Pinkett Smith offers. 'When she was in college she used to be a wild child, but now she's so domesticated. She doesn't have much of a style anymore because it's just about her kids and about work. This trip that she's going on with her girlfriends will help her get her groove back."

When it came to casting Queen Latifah, Will Packer was as happy as anyone in the cast or crew to reunite Jada Pinkett Smith and her former co-star. 'Queen Latifah is somebody who we know can do comedy, drama and we know she can act," he says. 'So it was a role that we took and wrapped it around her to make it fit her persona."

Queen Latifah punctuates the connection of family in the film, saying: 'This movie is all about sisterhood. We step in at different times, and we all supply what the others need. Sometimes you just need a hug. Sometimes you need to be checked. Sometimes you need to be snapped out of something or a shoulder to cry on. The bottom line is we're always there for each other; it doesn't matter what's going on. We will shut everything down to be there, and women can relate to that. They need to see that, so we are going to show it to them in more ways than they probably even thought."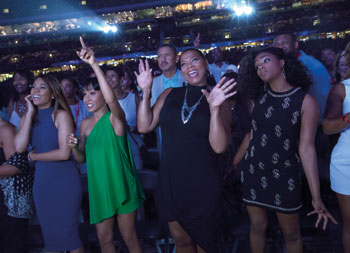 The actress appreciated that she had to go to darker places with her character, as Sasha is perhaps experiencing the biggest life change among the four friends. She explains: 'Sasha is currently a blogger, but that's not what she wants to be doing. She's a journalist by training, and she always expected that she and Ryan would do that together. But that went another direction when Ryan started her own thing with her husband and left Sasha in the dark trying to figure out what to do next. She drifted into writing salacious stories that her heart is not into. She's also not in best place financially "living high post on low ink, fronting a little bit."

The last lead role cast was Dina, who is undoubtedly the comic relief of the group. After auditioning several actresses, the filmmakers chose Tiffany Haddish, who has her roots in stand-up. Lee recalls the process, saying: 'We auditioned quite a few people for Dina. I had just seen Tiffany Haddish on The Carmichael Show and knew there's something about her that is kinetic. She makes other people react. When it came down to looking at audition tapes, one thing came to mind: -Who makes me laugh the most?' Consistently, it was Tiffany Haddish. She's the Energizer Bunny; she's always on and always funny. She's always got something smart to say, and I love her for that."

There was no bigger fan of Tiffany Haddish on the production than executive producer James Lopez. 'When Tiffany Haddish joined our cast, we knew we were in for a wild ride. The woman is crazy, hilarious and the life of the party," Jennifer Lopez says. 'This is going to be a great breakout for her. She's done some features in the past, but I feel that this particular piece is really going to showcase her talent."

The actress appreciated her big break, and she dove into her character. Describing the down-on-her-luck but never-out-of-the-game Dina as 'a firecracker," she offers: 'Dina is in a place where she just wants to have a good time. She's stressed out, and she just lost her job. She hasn't told anyone yet but when it comes to releasing some stress, she's down for that. This is her chance to forget about what's going on in the real world, and to be with her friends who always make her happy. She doesn't have to think about how these bills are going to be paid."

Tiffany Haddish has the best response for why the group is known as the 'Flossy Posse." In her signature style, she laughs: 'They were all in college, looking good, flossing on these hoes and staying fresh. The girls had the best dance moves, best hairdos and outfits. They were flossy, and they were a posse"like apostles. That's where the word -posse' comes from, because the apostles kicked it with Jesus." She pauses, 'Who knows? Dina might be the Jesus of this group! That's why. Flossy Posse."

Husbands, Agents and Lovers: Supporting Cast

Other players in the girls' world include Stewart Pierce, played by Mike Colter, who has exploded onto the scene with his riveting work on Netflix's Luke Cage and Jessica Jones. Ryan's charismatic husband and a retired football player, Stewart just wants the business enterprise he shares with his wife to continue to flourish. Still, he senses that he is growing more distant from her. 'He's got the great wife by his side, but really he's by her side because now she is taking all the spotlight that he was used to getting as a football player," explains the actor.

Will Packer explains how the performer is crucial to the story: 'Mike plays Stewart with a level of depth that's needed for this character: a guy with a supersized ego, Stewart's ego has been badly bruised. He tries to offset that through his interactions with another woman. Stewart is that perfect guy who you love, but you love to hate. He's got the perfect wife, but that's not enough for him."

Simone, played by Deborah Ayorinde, also of Luke Cage fame, is the other woman"caught between being in love with Stewart and figuring out what she wants out of her life.

Elizabeth Davelli, played by Private Practice and Bad Judge's Kate Walsh, works as Ryan and Stewart's agent. This weekend is pivotal for all three of them, as Elizabeth must convince investors that the couple is the definitive authority on love and relationships. Unfortunately for her…things don't go quite so smoothly. 'My character is trying to get them this big deal and all sorts of madness ensues," says Kate Walsh.

Larenz Tate, who exploded onto the scene as O-Dog in Menace II Society and currently stars in TV's Power, portrays the ladies' university friend Julian Stevens, as well as an unexpected flirtation for Ryan. A talented musician who works as bass player for R&B artist Ne-Yo, Julian appears to be everything Ryan never knew she needed.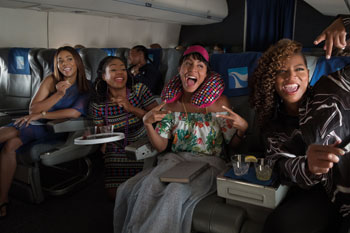 Tate describes how his character fits into the story: 'Julian is a guy who has a cool vibe. He's an old college friend of the girls, and his bond with Ryan has always been a little stronger. They've always had this unspoken, mental, physical attraction; they just never crossed that line. For whatever reason, circumstances did not see it for them to be together. He's a guy who doesn't have any hidden agendas and he's someone who Ryan can really trust"and vice versa."

Last but not least, Kofi Siriboe, who currently stars as Ralph Angel Bordelon on the wildly successful series Queen Sugar, is the rookie on the all-star team. He plays Malik, the handsome younger guy who wakes Lisa up to the fact she's been living in her head for too long…and helps her realize it's time to follow her passions. 'Malik is a young man from New Orleans," explains the actor. 'He's a frat dude enjoying his weekend, and his boys are out on Bourbon Street and run into these ladies. He and Lisa hit it off––just energetically at first––then next thing you know it progresses from there."

Vegas of the South: Shooting in New Orleans

The comedy was shot on location during the Essence Festival's annual weekend of fun in New Orleans. While it was challenging to maneuver the cast through the tens of thousands of people in attendance"not to mention the regular cavalcade of Bourbon Street partiers"the cast was able to connect with the people in a special way.

Even the most accomplished of performers in Girls Trip were amazed by what it was like to shoot in New Orleans at the height of a beloved festival. Ultimately, it was sticking together that got them through.

'The energy of the Essence Festival is unbelievable and incomparable," reflects Queen Latifah. 'You have hundreds of thousands of people in this town, and it's fully loaded. All these performers, all these things are happening, and you're trying to shoot a film in the middle of that. You're playing characters, but in real life you're Queen Latifah, Jada Pinkett Smith, Regina Hall and Tiffany Haddish. We were all like, -How are we going to pull this off?' We didn't just have to shoot in a stadium, but the Superdome"the stadium of all stadiums"packed with people while a concert is happening. Still, it was the energy and mania of what we had to do that goes us through."

Tiffany Haddish discusses one of the special moments for her, one that will resonate for many years to come: 'Shooting at the Essence Festival was awesome and amazing. There's this one scene where Ryan is talking to a theater full of people. When we were shooting that scene, the whole room was full from the front to the back. We had to walk to the back of the room and pass all those beautiful black men and women.

'It took everything in my soul not to cry because to see that many black people care and support is the most beautiful thing in the world," the actress continues. 'It's powerful. I've been in stadiums full of people, and I never felt that much pride in a room before. They were all just so proud to be a part of something and to be together."

The shoot wasn't short on fun-filled adventures for the Flossy Posse and their crew. A major highlight was when the crew stumbled upon flying above the streets. The idea for a Zipline to be in Girls Trip came from producer Will Packer. 'Somebody in my office was telling me that in real life in Las Vegas a guy went on the Zipline and urinated on the crowd intentionally, and got arrested for doing it. That is a heinous and horrible act. He meant to do it, and that's a terrible story." The producer pauses. 'Of course…when I heard it, I said, -That's the funniest thing I've heard all day and that would be great in a movie! We've got to do that quickly before somebody else does.'"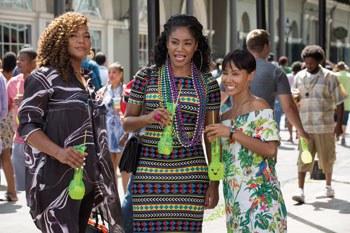 Not ones to waste time, Malcolm D. Lee and Will Packer created this scene where the women are hanging out on Bourbon Street having their share of drinks. 'They see the actual Zipline," shares Will Packer. 'Later, we find our inebriated crew up on the Zipline going across the middle of the French Quarter, right across Bourbon Street. The scene is everything that we thought it would be. We talked about it at the beginning and wondered if our actresses would be down to do this. You come up with all these crazy ideas, but you've still got to find talent who's willing to do some of the silliest things that you could think of."

Jada Pinkett Smith was the focal actress in the scene, and she was braver than most would be in the same situation…and game for the challenge. 'I always thought Ziplining was something fun to do and a perfect idea to have on Bourbon Street. A great setup for something wild and crazy. So, it didn't take any convincing at all, and I knew it would be a lot of fun," says the performer.

However, shooting the Zipline scene was quite challenging. Will Packer explains: 'We had to shut down Bourbon Street. Bourbon Street is never shut down––24 hours a day and seven days a week for 365 days a year it is packed with drunk people partying, having fun. We had to rig a massive Zipline to go across, and we had to attach to the existing structures and make sure that we had our stunt performers go across to test the weight. Once everything was there, we tested it, made sure it was safe and we let it rip!"


Girls Trip
Release Date: August 31st, 2017