Britney Young Glow Interview
Witty and lively, rising star Britney Young stars on Netflix in the new summer wrestling-comedy 'Glow" executive produced by Jenji Kohan ('Orange is the New Black"). Young plays -Carmen,' the daughter of a wrestling dynasty family who wants to be a wrestler, but is not yet prepared for the Hollywood limelight. Inspired by the short-lived but beloved show from the '80s, 'Glow" tells the story of Ruth Wilder (Alison Brie), an out-of-work, struggling actress in Los Angeles who finds one last chance for stardom when she's thrust into the glitter and spandex world of women's wrestling.

Watch the Glow Trailer, here.

Born in Tokyo, Japan, and raised in Eagle River, Alaska, Young loved exploring her dad's 1980's movie collection. As an eight-year-old, Young reached to the top shelf of the collection and pulled down 'Raiders of the Lost Ark." She became fascinated with how this film was created and shot and wanted to know how the cameras could capture all the action and how Harrison Ford could memorize two hours of dialogue. This was the early start of Young's interest in film production and acting.

In her high school years, Young was popular amongst her peers, serving as class president, homecoming princess and captain of the cheerleading team. Young graduated from the USC School of Cinematic Arts and was soon drawn back to her home state of Alaska, where she landed her first production job on the film 'Big Miracle" starring Drew Barrymore and John Krasinski. She continued to work in production on several films and TV projects some of which include 'Savages," 'Joyful Noise," 'The Campaign," 'The Mentalist," and most recently 'Crazy Ex-Girlfriend" where, as the Executive Producer's assistant, Young closely worked with the show's creators Rachel Bloom and Aline Brosh McKenna.

After working in production for several years, Young landed one of her first acting roles on a friend's web series titled 'Ana Mead." While filming this series, Young met her current manager and realized her true passion was in front of the camera. Young continued to audition and landed a recurring role as 'Little Debbie" on TruTV's 'Those Who Can't," followed by roles on 'Crazy Ex-Girlfriend," 'Better Things" and landing her biggest role to date as -Carmen' on GLOW.

Young is an avid reader and loves mystery and historical fiction. Some of her favorite books include To Kill a Mockingbird, the Sherlock Holmes short stories and novels, and Ready Player One by Ernest Cline. Young also enjoys swimming, dancing, watching her favorite sports teams the New York Giants and Los Angeles Lakers, playing board games and is a self-proclaimed 'obsessed" fanatic of Disneyland. Young is very passionate about supporting her community and donates to non-profit organizations that support women's rights, civil liberties and the homeless.



Interview with Britney Young
Question: Can you tell us about Glow?

Britney Young: Glow is the fictionalised telling of an all-female wrestling league in the mid-1980s called the Gorgeous Ladies of Wrestling. The show follows a down on her luck actress Ruth Wilder (Alison Brie) as she gets an unexpected chance of stardom, butts heads with the shows director Sam Sylvia (Marc Maron) and tries to keep her distance from her estranged best friend Debbie (Betty Gilpin) who is hired to Glow's headliner.


Question: Why did you decide to audition for Glow?

Britney Young: Many things made me decide to audition. When I got the audition information from my agent, what really stood out to me was the character description for Carmen. It said she was a "gentle giant." I was really drawn to the word 'gentle." In this business, I usually go out for mean girls or bullies so to see that Carmen was going to be this nice, sweet person I was really excited to play a character like that. Also, any audition that tells you to wear no makeup and comfortable gym clothes: I AM IN! I was also really excited to potentially be a part of an ensemble cast that was primarily female and to get to work with a producing team that was predominantly female as well. That's not commonplace in Hollywood, so when this show came along that had both a big female cast and producing team, I knew I wanted to be a part of it.


Question: Can you share with us some of the best moments you had, on set, while filming Glow?

Britney Young: Oh everyday was a fun day; I know that's cliché to say, but it's true. Our cast is so great and our crew is amazing! We all became very close while shooting, and in between takes we would be cracking jokes and laughing, with each other. It's such a joy to go to a job where everyone involved is so excited and happy to be there. But, I will say, one of the standouts days was during episode five when Carmen, Debbie (Betty Gilpin) and Melrose (Jackie Tohn) attend a real wrestling match. This was the first time us girls had seen any live wrestling, so we really got into the match and at times were laughing and cheering so hard we couldn't even get our lines of dialogue out. It was such a blast to see in person what we had been training at that point almost three months for.


Question: Did you have to do any training before stepping into the ring?

Britney Young: I had absolutely no training whatsoever. I mean on the first day, Chavo Guerrero Jr., our wrestling coordinator, had to teach us all how to get into the ring. We all were acting cocky like we knew how to do it, but low and behold, we really didn't. So when I came in along with all of the other girls it was really starting from ground zero. We had to learn everything.


Question: Those costumes are insane – what was it like in the costume department of Glow?

Britney Young: YES! Huge props to our costume department and designer Beth Morgan. I am in love with all the costumes on the show. Beth really did an amazing job of visually showing each character's personality through the clothes they wore. She was able to find so many amazing vintage pieces from the 80s that were so fantastic. Our seamstress, Jessica, was fabulous; she made so many leotards from scratch and she could make any outfit that was too tight or too big fit you. It was such a dream!


Question: How are you similar to your character, Carmen?

Britney Young: Carmen and I are very similar in that we both are sweet and kind spirits. We want those around us to succeed just as much as we want to succeed ourselves. I am a big family person, and so is Carmen, it's something that's very important to both of us. We value our friendships and relationships. I think we are different in that Carmen is still finding her self-confidence and she is very shy. I myself am very confident and outgoing (not to say I don't have my bad days), so playing someone who is the opposite to that was actually very much a challenge and I enjoyed every minute of it.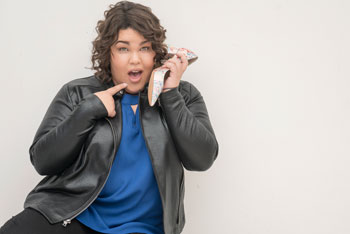 Question: What was the most difficult part about stepping into the role of Carmen?

Britney Young: Interestingly, I think the most difficult part of playing Carmen was sometimes second guessing if I was going too far with being sweet. Like I said, I don't usually play kind characters, so there were a lot of times on set where I would second guess myself a bit and be like wait is this not believable, and just having to trust my instincts and say "this is perfect, its Carmen!"


Question: What did you learn working with Alison Brie?

Britney Young: Oh my goodness, I learned so much from Alison. Being on set with her and the rest of the girls was the best master-acting class I could've taken. Alison is so professional and very talented but above that, she is the sweetest person you will ever meet. She really cares about those working around her and treats everyone equally whether they are on the crew or in the cast, and I really appreciated that. She is also very open to any questions you may have. She actually gave me suggestions on how to memorise so many lines each day, which helped me a lot.


Question: Can you share some information about your time on the set of Crazy Ex-Girlfriend?

Britney Young: Yeah, I had a blast working at Crazy Ex-Girlfriend! I was the assistant to creators Aline Brosh McKenna and Rachel Bloom. As their assistant, I helped to run the writer's office, helped with correspondence with the network and studio, attended meetings and you know, did typical assistant duties. But they are such wonderful bosses; they really included me in every step of the production process and were so supportive of me following my dream of becoming an actor.


Question: What's next for you?

Britney Young: Right now I am just enjoying life, getting out there and auditioning and trying to find new projects. Excitedly awaiting word on a Season 2 for Glow!


Interview by Brooke Hunter
Photo Credit: Bobby Quillard