Cara Delevingne Valerian and the City of a Thousand Planets
Cast: Ethan Hawke, John Goodman, Rihanna, Cara Delevingne, Dane DeHaan
Director: Luc Besson
Genre: Action, Sci-Fi
Rated: M
Running Time: 137 minutes

Synopsis: A spectacular 3D event set in a universe beyond imagination, the main events of Valerian and the City of a Thousand Planets begin in the year 2740. Classic and familiar, yet wildly exotic and exciting, this epic adventure follows Major Valerian (DeHaan), a roguish government operative and a rising star in the human army. He is an extraordinary warrior with a sixth sense for tactics, and is widely known for his bravery. Accompanying Valerian on his journeys through space is his intrepid partner, Sergeant Laureline (Delevingne), whose innate intelligence is matched only by her steely determination, fierce independence and impressive displays of strength.

As their adventure begins, Valerian and Laureline head to the desert planet Kirian, where they are tasked with infiltrating the seedy underbelly of the bustling intra-dimensional Big Market. Under orders from the Minister of Defense (Hancock), they have been directed to retrieve the last surviving Mül Converter – a tiny creature with miraculous powers that could help them save a peaceful civilization presumed to be lost to history.

With the Converter as precious cargo aboard their spacecraft, 'The Intruder", Valerian and Laureline next travel to Alpha, the massive space station known throughout the galaxy as The City of a Thousand Planets. Their primary mission is to ensure the safety of Commander Arun Filitt (Owen), but the mystery at the centre of Alpha soon takes on a more disturbing urgency, and Valerian and Laureline must decide whether to trust their instincts over the information they've been given on their mission.

When Laureline is abducted by the twisted Emperor Boulan Bathor III (Roman Blomme, Little Glory), Valerian must venture into the red-light district known as Pleasure Alley in search of information and uneasy allies. There, he encounters Jolly the Pimp (Hawke) and Bubble (Rihanna), a shape-shifting performer whose unique talents come in handy as she assists Valerian in a daring rescue of Laureline.

Enduring wild skirmish after epic battle, Valerian and Laureline finally enter the radioactive Red Zone at the center of Alpha, where they discover the dark secret behind their mission and attempt to save The City of a Thousand Planets before time runs out… and a civilization is destroyed forever.

As Valerian and Laureline plot their course through this visually stunning, intergalactic space adventure, they must navigate flying car chases, shootouts with criminals of the alien underworld, narrow escapes from deadly creatures, and space battles unlike anything ever seen on the big screen.

Valerian and the City of a Thousand Planets
Release Date: August 10th, 2017
About The Production
From Page to Screen: Valerian Takes Flight

Long before Luc Besson became one of the world's foremost action auteurs – writing, producing and directing a string of iconic hits – he was a young boy transfixed by a comicbook series called 'Valerian and Laureline," which debuted the decade before he happened upon it. Recalls the filmmaker: 'When I was 10 years old, I'd go to the kiosk every Wednesday. One time, I found this magazine called -Pilote.' Inside, I discovered -Valerian and Laureline.' I thought, -Oh my God, what is this thing?' That day, I fell in love with Laureline, and I wanted to be Valerian."

Luc Besson quickly became addicted to the engrossing graphic serials written by French author Pierre Christin and boldly illustrated by Jean-Claude Mézières, devouring all 22 volumes. 'It was the 1970s, and it was the first time we saw this modern girl kicking ass," he shares. 'It was not about the superhero with the cape. This was much more light and free and enjoyable because Laureline and Valerian were like two normal cops today – except it's the 28th century, and everything is weird and amazing."

First published by Dargaud in 1967, the comic-book series on which the film is based inspired Luc Besson not only to imagine his seminal The Fifth Element, it also influenced other filmmakers to create some of the most iconic science-fiction movies of the last half-century. With his love of 'Valerian and Laureline" always in the back of his mind, Luc Besson grew up to become the creative force behind such influential action films as La Femme Nikita and Léon: The Professional. It wasn't until he started filming his cult-classic, retro-futuristic dystopian epic The Fifth Element, that he considered taking his childhood fantasy hero off the shelf and began toying with the idea of adapting the graphic novels into a movie. Luc Besson laughs: 'Jean-Claude Mézières, who designed The Fifth Element, said to me, -Why are you doing this? You should do Valerian!"

Constrained by the relatively primitive visual effects technology available in the 1990s, Luc Besson knew it would be some time before he was able to create the wondrous 'Valerian and Laureline" universe he knew the source material deserved. 'When I went back to read the comic books again," he recounts, 'I decided it was impossible to make the films. The technology at the time was not good enough to re-create all these worlds and aliens." It would take a seismic jolt and a huge evolutionary leap forward in visual effects to enable the filmmaker to bring 'Valerian and Laureline" to life. After James Cameron invited Luc Besson to the set of his space epic Avatar, the French director made up his mind. 'When Avatar arrived, it made everything seem possible. I remember thinking, -One day I will come back to sci-fi with these new tools, where the only limit is your imagination. That's when I decided to make Valerian."

Finding Our Heroes: Valerian and Laureline

Within minutes of meeting Dane DeHaan, who exploded onto the screen as Spidey's nemesis in The Amazing Spider-Man 2, Luc Besson knew he had discovered the titular character of his boyhood inspiration. 'I'd seen a couple of Dane DeHaan's films and liked him as an actor," Luc Besson says. 'The first time I met him at a restaurant, he smiled, said -Hi,' and that was it. I knew. The tone of his voice, the sparkle in his eyes and his smile – I thought -My God. This guy is Valerian.'"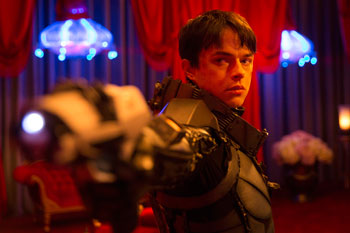 Dane DeHaan gravitated to the role because it gave him a chance to portray a swashbuckling space-age investigator who also happens to be a hopeless romantic. 'Valerian has a huge crush on Laureline, but he has a history of being a player," says the actor. 'The movie's not only about saving the universe, it's also about Valerian's mission to convince Laureline that they should spend the rest of their lives together."

As portraying a top interstellar space agent requires whipping oneself into peak physical condition, Dane DeHaan would have to spend seven months prior to filming getting into shape for the role. 'Almost every day there were stunts, and it was important that I sustained my performance with this super-positive, Valerian-like energy," he explains. 'I had to work out a lot because I definitely didn't look like I could save the universe before I got cast!"

Replete with a newly muscled physique, Dane DeHaan threw himself into the spectacular action sequences, urged on by an exuberant Luc Besson. 'Luc Besson's enthusiasm on set every day was amazing," the thespian recalls. 'He was having the time of his life, and that rubbed off on all of us. I've never acted in a movie before that was such pure fun to make."

As for stepping into character and donning Valerian's iconic spacesuit, Dane DeHaan reveals: 'It's a cool feeling. It awakens that little kid in you that played dress up. It makes you feel like a badass: walking around in your spacesuit and going to work. We were basically playing superheroes."

For the role of the intrepid Laureline, Luc Besson needed to find an actress who could live up to the spirit of empowerment embodied by our heroine. Laureline is no shrinking violet, no damsel in distress – she is wholly equal to Valerian: brave, strong, whip-smart, and sharing in a 50/50 partnership in their crime-fighting endeavors. It would take someone wildly unique to embody the character that Luc Besson had fallen in love with as a boy.

From then-unknown performers from Natalie Portman to Milla Jovovich, Luc Besson has a knack for recognising actresses with potential to break out as action stars. By choosing his dream Laureline, Luc Besson would place her in rarified ranks as the next global star. Ultimately, he chose model-turned-actress Cara Delevingne, who has made her mark on small dramas such as Paper Towns and big-budget blockbusters like Suicide Squad. 'I knew Cara Delevingne from the modeling world, and my first concern was to make sure she was serious," Luc Besson notes. 'Cara Delevingne's gorgeous, but I had to know if she had the capacity, physically. Could she act? Did she really want to?"

After allowing Cara Delevingne a rigorous audition process, Luc Besson determined the answer was a resounding 'yes." Recalls the British actress: 'Luc Besson put me through trials like you'd have at drama school. He'd ask me to become an animal and that type of work. It was very oldschool, and so very cool."

Cara Delevingne proclaimed her ambition to act just before kindergarten, so she was thrilled by the prospect of working with a director whose films she'd long admired. 'As a kid, I remember being mesmerised by the colors and the characters in The Fifth Element, like that amazing blue alien," she reflects. 'I fell in love with it, and it's remained one of my alltime favourite movies."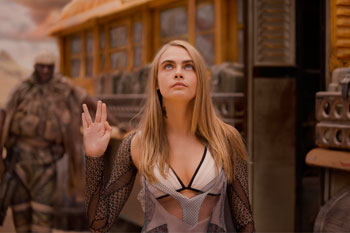 Longtime Luc Besson producer Virginie Besson-Silla wholly understands Cara Delevingne's reaction: 'Throughout the years, The Fifth Element has attracted a cult following, and a lot of people appreciated seeing Luc Besson going back to that genre."

In this age of online spoilers and social-media leaks, Luc Besson and Besson-Silla were determined to safeguard the secrecy surrounding the film's storyline. They developed a topsecret protocol that would surely earn respect from international intelligence agencies; it required Cara Delevingne to read the script in one sitting…with an attendant waiting nearby. 'I sat in a room by myself for an hour and a half, but I just blazed through the script because it was so captivating," she recalls.

Drawn to the space-cop's take-no-prisoners attitude, Cara Delevingne describes Laureline as, simply, 'a badass. She's a very intelligent, strong woman who holds her own," the performer says. Still, the character has a softer side. Laureline endures (and enjoys) Valerian's constant flirtation, but keeps her focus on the mission at hand. Romance must take a back seat to protecting the galaxy. 'She has a heart of gold and is romantic, but she doesn't want to let her guard down." The actress pauses. 'Laureline ends up falling in love while saving the world."

Our heroine doesn't sit idly by and wait for things to happen to her; she's fighting right alongside Valerian, which required Cara Delevingne to get quite physical. 'I had to punch Clive Owen in the face about a hundred times," she grimaces. 'I'm sure I clipped his nose at least twice…because my depth perception is not the best. I apologised, and fortunately, Clive's a good sport."

All the sore muscles were worth it, as Valerian And The City Of A Thousand Planets will be a delight for audiences everywhere, according to Cara Delevingne. 'This film is visually breathtaking," she raves. 'Audiences will be overwhelmed with all the characters they see. The amount of effort that went into every single thing – costumes, design, the art – created an incredible movie."

Understanding that the heart of the story drew from his character's on-screen relationship with Laureline, Dane DeHaan established a breezy rapport with the film's leading lady quite early on. 'It's important the relationship feels so alive off-set. Cara Delevingne has this vivacious energy, so it's easy to fall under her spell. Usually, I take myself seriously, but Cara Delevingne and I found ourselves singing songs and goofing around in between takes. That became helpful because Valerian and Laureline's relationship is so playful."

Allies and Enemies: Supporting Cast of the Epic Adventure

While separated from Laureline, Valerian ventures into Alpha Space Station's red-light district, Paradise Alley, where he makes the acquaintance of the shape-shifting 'glampod" Bubble. 'She's an alien who has the capacity to take any shape she wants," Luc Besson explains. 'In our film, glampods are artists who've gone to school, so they know masters such as Shakespeare, Molière and Rimbaud, by heart. In that way, Bubble is the ultimate actress."

A multi-platinum global pop star and rebellious fashion icon in her own right, Rihanna was Luc Besson's first choice to play Bubble. 'Everybody said, -Forget it; that's impossible,' shares the writer/director. 'I said, -It doesn't cost anything to try.'" Luc Besson arranged a meeting with the megastar and was delighted to discover she was interested in tackling her first film role in the fantasy genre.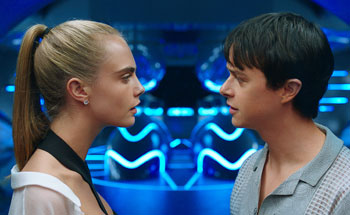 'Obviously, Rihanna's not scared of the camera, and she plays in front of thousands of people," Luc Besson offers. 'But she told me, -I'm a beginner at acting and unless I work with someone who is good, I won't learn.' I was touched by her honesty because if she'd said, -I'm a superstar; you can't shoot me from this angle,' what could I have done? She followed direction very well, got all the details and was delightful to work with."

Valerian first encounters Bubble when she performs a dance routine, then proceeds to unleash a rapid-fire kaleidoscope of transformations; it's the ultimate intergalactic makeover montage. 'It was so much fun for me to go from look to look," Rihanna raves. 'There were a lot of makeup changes and hair changes. The Cleopatra look took the longest because there was so much detail, and I had to wear waterproof makeup. But my favourite look was the nurse outfit, which was all latex and had me sweating."

Bubble quickly goes from simply a performer at the Glam Club to becoming an ally to Valerian and playing a significant role in his rescue mission. 'Bubble is an artist, and what makes her feel free is performing and making people happy," the performer continues. 'She's an entertainer who is sensitive about her art, and she and Valerian build this close bond."

Recounting the collaboration with Luc Besson, Rihanna marvels at her director's relentless specificity. 'He'd check my makeup, tell me what he thought about each outfit and ask me how I felt. If I didn't like something and wanted to change it, he was open to that because he wanted me to love Bubble and to own her. I'm new to movies, so Luc Besson was very patient and I appreciated that. He knows exactly how to get the performance he wants out of you."

Although Valerian is populated with thousands of alien species, the film also has a substantial human contingency, anchored by British actor Clive Owen as Commander Arun Filitt – a military leader whose shadowy past comes back to haunt him in the present. 'I hit the ground running, got the temperature of the film quickly, stepped into the role and did my thing," Clive Owen says. 'It was easy because Luc Besson's so relaxed and precise. When you do a movie that has so much computer generation you have to be incredibly specific in terms of what you're shooting. Everything has to be worked out and Luc Besson did so much preparation, he knew exactly what he wanted each day."

No stranger to the subgenre of digital-effects-driven action movies, thanks to his work in such fare as Sin City, Clive Owen easily grasped the challenges of performing within Valerian's green-screen environment. 'You're in limbo in the sense that you're acting in this space where the world will be created around you later," he says. 'That was extraordinarily exciting."

Veteran performer Ethan Hawke, who portrays Bubble's pimp, Jolly, succinctly recalls Luc Besson's creative brief. 'Luc Besson told me that if Dennis Hopper were alive, he would have cast him to play Jolly, so I just took it from there," laughs the actor. 'I channeled my inner Dennis Hopper and had a great time. Being on Luc Besson's set was exactly like I thought it would be: insanely creative and playful, yet organised and meticulous."

'Luc Besson has a way of looking at the universe that's silly and joyous and wild and spontaneous – love and playfulness mixed with artistry," adds the actor. 'His movies aren't like anybody else's. You can always tell when it's a Spike Lee, Martin Scorsese or a Tarantino film. It's the same thing with Luc Besson. You know when you're watching a Luc Besson film, and Valerian is very much Luc Besson."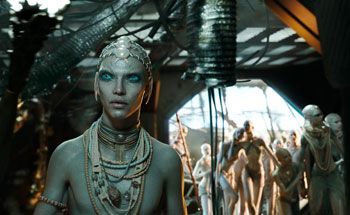 uc Besson drew upon the passions and influences from his adolescence for many of the casting choices. To play the Minister of Defense, he tapped Herbie Hancock, whose music has enamored the director since he was a young man of 13.

During a visit to Herbie Hancock's Los Angeles home, Luc Besson persuaded him to join the production. 'It's a very small part, but I liked the idea of playing a minister in Valerian," reveals the jazz legend. 'I've been a goodwill ambassador for UNESCO for six years, so I wanted to be in a project that promotes a global view. At this point in our development in the 21st century, it's important for humans to aspire to be global citizens."

While in Los Angeles, Luc Besson also courted Emmy ® Award-winning actor John Goodman, who provides the voice of CGI alien criminal overlord Igon Siruss. John Goodman remembers being wowed by Luc Besson and his concept drawings. 'Luc Besson has got such an incredible imagination," marvels the actor. 'I didn't know if they wanted to put me in rubber or give me a cartoon head or what, but with Luc Besson running the show, I figured it would turn out fine…whatever it was."

In a move sure to delight sci-fi fans, Luc Besson cast Rutger Hauer to portray the President of the World State Federation. 'Rutger Hauer was so iconic in Blade Runner, it was a thrill to work with him in Valerian," Luc Besson raves. As part of the secrecy protocol to protect the plot, Rutger Hauer was not shown the script in advance; instead, the actor only received his lines of dialogue the day before he began shooting.

'Luc Besson works by instinct, and I feel very much at home with people who work like that," says the legendary Dutch actor. 'He knew it would be an adventure but, like his fellow cast, was game. It was a beautiful experience."

In a tip of the hat to his deeply connected French filmmaking community, Luc Besson gave walk-on roles to several fellow directors. Louis Letterier (The Incredible Hulk), Benoît Jacquot (Farewell, My Queen) and Olivier Megaton (Taken 2) all appear briefly as military officers. 'They did little cameos, just for the fun of it," says Besson-Silla.

A Visionary Approach: The World of Valerian

In order to bring his vision to life, Luc Besson employed a unique approach to conceptualising, creating and fleshing out the worlds and creatures that comprise the Valerian universe.

Long before the cameras began rolling on the film's production, Luc Besson adopted a novel approach to formulating concept art for the film by building out the art in two distinct phases. The first phase, commencing in 2010, entailed mobilising hundreds of amateur and professional artists to submit concept work via a competition.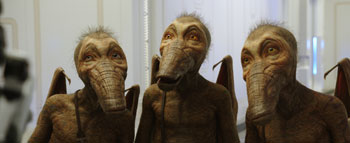 After narrowing down the general pool of admissions to a smaller group of designers in late 2010, Luc Besson further pared down his selection to approximately twenty designers who met with him either in France, Los Angeles, or via Skype in order for Luc Besson to share his vision of how to cinematically render the world of the comic book. The artists then worked independently on developing their interpretations of Luc Besson's dream as a test to see if they would proceed to the second phase.

Ultimately, Luc Besson selected six key artists to move to Phase 2 and further develop the drawings that Luc Besson chose as part of the first phase of the concept art process. From there, Luc Besson provided directives and guidance to the six artists on how to combine, finesse and augment the selected drawings. By the end of the second phase, the drawings were predominantly the product of a collaborative effort between Luc Besson and the six artists, with the exception of several drawings from the first phase, which were kept intact.

This process lent itself to a thorough, thoughtful and comprehensive approach to creating painstakingly detailed designs that fit together into one cohesive vision.

A Wild Menagerie: The Species of Alpha Space Station

Also known as the City of a Thousand Planets, the Alpha Space Station is truly an intergalactic hub. 'All the knowledge in the universe is there. It's Wall Street, City of Science, United Nations, Broadway – everything is there," explains Luc Besson. 'That makes it the most important place in the entire universe."

An ever-expanding metropolis, its population includes thousands of species from across the galaxy, many of which are rooted in the mythology established in the graphic novels. Luc Besson's fertile imagination gave birth to the creation of dozens of astonishing intergalactic characters, including the Mylea jellyfish, the massive 300-ton aquatic Bromosaur, and a Khodar'Khan by the name of Igon Siruss – voiced by Goodman – who is the criminal mastermind of the intra-dimensional trade center known as Big Market.

Among the most memorable of the aliens are the Doghan Daguis – a species of multilingual information brokers who exist as a trio and make a big impression, even though they stand just under four-feet tall. 'They sell information and speak 8,000 languages," Luc Besson explains. 'One of them starts a sentence, the next one continues the line, and the third one finishes it, because they're one brain in three pieces. No one likes the Doghan Daguis, but you can't kill them. If you kill one, you kill the information."

Luc Besson also conjured up a squad of ruthlessly efficient mechanized soldiers called K-Trons, which serve as the personal bodyguards of Commander Filitt. According to the writer/director: 'They never talk and only have two functions. When the dot is green, everything's okay. As soon as the dot turns red, you have five seconds to lie on the floor because they're going to shoot everyone. That's how simple they are. If you control the KTrons, then you truly have the power."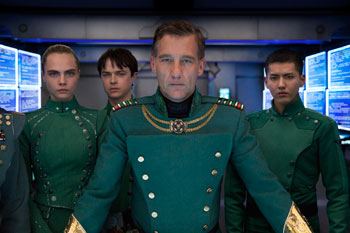 Concept artist Ben Mauro, who has worked on films from Lucy to The Hobbit series, played a key role in designing the Alpha Space Station's wild menagerie. Drawing inspiration from video-game artist Yoji Shinkawa and French graphic novelist Mobius, he based his spaceage species on the physiology of actual animals. 'Once you understand how biology works, you can take these underlying laws and turn that into something totally different," Ben Mauro says. 'Some of the aliens in the movie are based on rhinos or elephants. You study them in real life and figure out how to make something weird…while giving them this tough skin like something we are familiar with on Earth."

In addition to the aliens designed in-house, Luc Besson populated the bustling Paradise Alley sequence with walk-on creatures glimpsed only for a moment. Taking a unique approach to engage fans early on via creative crowd sourcing, Luc Besson invited sci-fi fans to submit their own alien drawings. The contest attracted more than 3,000 submissions from all over the world. Luc Besson selected 20 and tasked his team with bringing them to life on screen. The inclusion of such a diverse stable of otherworldly creatures and aliens underscores the heartfelt message that underlies the film's action. Creatures such as The Pearls showcase an example of a peaceful and progressive species tragically impacted by the consequences of a society operating without empathy – underscoring the importance of compassion for the unfamiliar.

A Brave New World: Visual Effects of the Film

One key player Luc Besson needed on his dream team was a visual effects supervisor who could embrace a challenge of intergalactic proportions: overseeing the action unfolding in myriad locations, including the tragic paradise known as Mül, the desert planet Kirian and its bustling Big Market, Pooulong aquatic park, the watery realm of Galana and seedy Paradise Alley, as well as the visual smorgasbord of Alpha Space Station.

Luc Besson found the exact person he needed in Oscar®-winning visual effects supervisor Scott Stokdyk. 'If you're a special-effects supervisor and you read my script for Valerian, there are only three reactions," Luc Besson jokes. 'The first one: you die from a heart attack. The second one: you run. And the third reaction is: you get a big smile on your face and say, -Oh my God, I don't know if I can do it…but this is great.' That's what Scott Stokdyk did. He scratched his head, and within 10 minutes he was already figuring things out. He's very pragmatic and well organised."

Scott Stokdyk who took home an Oscar for effects supervision on Spider-Man 2, started out by assessing the requirements of each scene. 'We studied the storyboards for every shot – to see what species of aliens are in it, how many aliens there are, how long the shot lasts and what the movement is," he explains.

The motion-capture process often tested the actors' mettle. In one climactic scene, Valerian and Laureline encounter the peaceful species known as The Pearls, portrayed by actors dressed in sensor-embedded motion-capture suits…so that digital artists could transform them into aliens during post-production. 'There was blue screen everywhere," Scott Stokdyk notes. 'Weta Digital has a brilliant mo-cap team of more than 30 people, so they rigged cameras all over, and even cut holes into the set so they could hide cameras."

After filmmakers shot the human characters interacting with the motion-capture aliens, Scott Stokdyk tasked Weta with capturing a 'clean" pass, one that featured human characters only. 'That's tricky because actors basically have to mime with something that is not there," Scott Stokdyk says. 'It can be really hard on performers if they don't have something to react to, but the Valerian actors did an astonishing job."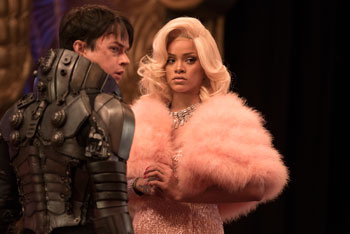 In addition to New Zealand's Weta Digital, Luc Besson enlisted ILM, with whom he had partnered on Lucy. 'Both companies were enthusiastic about the project, but it was too much of a job for one company, so they agreed to share the work," offers Luc Besson, who also brought in Rodeo FX, the Montreal-based shop that wrangled brilliant car-chase sequences in Lucy. With the massive scope of effects required to bring Luc Besson's vision to life, delegation was essential. 'We gave Rodeo all the spaceship work, the space station, everything mechanical," he says.

Working in concert, the three companies together produced 2,734 special effects shots for Valerian And The City Of A Thousand Planets, and accomplished the ambitious mission set forth by Luc Besson. 'I told them I wanted to film the story as two cops on the streets of New York doing an investigation," he says. 'I didn't want to hear about the blue screen. I wanted to see the spaceship, the space station and the aliens in advance. Then, I could put my camera on my shoulder and know exactly what's going on."

Lensing at Cité du Cinema: Outer Space, Outside Paris

'There is no way to make this kind of movie quickly," sums Luc Besson. For three years, he supervised artists, illustrators and designers as they developed meticulous concept art. He spent another year and a half devising painstakingly detailed storyboards.

Principal photography began on January 5th, 2016, with shooting wrapping in June. 'I'm glad we took the time to do this right," Luc Besson says. 'I'm a long-distance runner. I don't do 100 meters; my distance is 10 miles, so I'm used to long shoots. For The Big Blue, we spent 24 weeks under water and 22 weeks on land. Joan of Arc took 24 weeks. I'm stubborn, so 100 days of shooting for Valerian felt almost easy."

Valerian was shot entirely at Luc Besson's Cité du Cinema in the suburbs of Paris. Launched by Luc Besson and his partners in 2012, this facility serves as the largest film complex in France, designed to compete with Rome's Cinecittà film facility and England's Pinewood Studios. With nine soundstages spread across 65 acres, Cité du Cinema has everything needed to build a fantastical cinematic universe, according to producer Besson-Silla.

With the benefit of having everyone in the same place and on the same page, if not on the same stage, this insular production mode allowed for ideal collaboration. 'There were no locations outside of Cité, which was great," says Besson-Silla. 'All of a sudden, we had about 80 VFX people, the costume designer, set designer and the actors working together. The shoot went very smoothly, which is surprising for a project of this size."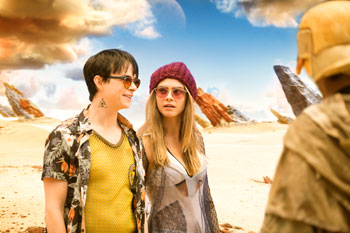 Large-scale Hollywood productions typically involve up to a dozen producers, but remarkably – and a testament to her skillset – Besson-Silla is the sole producer for Valerian And The City Of A Thousand Planets. 'There's no use for 10 producers," she surmises. 'I talk with Luc Besson a lot, so I have a good idea of what he wants. It's much easier for everyone on the team because if somebody has a question, it doesn't have to go through a million people. Questions go straight to Luc Besson and me. That's the advantage of working with EuropaCorp, which started with the two of us and then expanded. Because it's a director's studio, we're able to stay very close to the actual making of the film." Production on Valerian And The City Of A Thousand Planets occupied seven of Cité du Cinema's nine stages, which remained abuzz in a continuous cycle of activity. 'One building was covered all over with blue screen," recounts Besson-Silla. 'Then, there'd be a stage where the team would be building one set while we'd film in another one. At the same time, another set was taken down. It was a continuous rotation from set to set."

Much effort went into creating fantastical environments for 'practical" creatures, including the Doghan Daguis. 'We had them in real size, so they looked like statues on set," BessonSilla shares. 'Each time we filmed a scene with the Doghan Daguis we'd shoot them first, then we'd take them out and put in the guys with the gray suits for motion capture. Then, as a lighting reference, we'd film the background VFX plates without anything in front of them. We did the same thing for the huge K-Tron, where we'd bring big black robots for a shot, take them out, then the actors would come for motion capture."

Designed by Luc Besson, the Cité du Cinema campus includes three film schools, a restaurant and a daycare centre, all aimed at fostering a nurturing atmosphere for cast and crew alike. 'Instead of having trailers, we have green rooms furnished like nice, cozy apartments," Besson-Silla offers, proudly. 'We covered the walls with the designs from the film so the actors could get different scenes inside their minds. Then they'd just take the elevator down and go straight to the set."

The bustling collegial atmosphere yielded a variety of unexpected surprises, like the time Luc Besson alum Natalie Portman walked past Besson-Silla dressed as Jackie Kennedy for her role in Jackie. 'I also remember one very special night," the producer reflects. 'Herbie Hancock filmed that day and in the evening we said, -Herbie, we do have this piano…' So this genius played for the whole crew. We had a lot of special little moments like that. Everybody was there to make a film, but in a good and nice way."

Welcome to the 28th Century: A Unified Design Vision

To bring his childhood inspiration to life, Luc Besson assembled a core team of longtime collaborators. 'The most important thing was the coordination among the production designer, costume designer and the DP," Luc Besson states. 'If you treat each of these elements separately, you're in trouble. The synergy has to come from all three, so every day, I wanted the DP to see the costumes; I wanted the costume designer to see the sets. We were constantly exchanging information."

This core team consisted of veteran costume designer Olivier Bériot, whose outfits graced Lucy and the Luc Besson -produced thriller Taken; longtime cinematographer Thierry Arbogast; and production designer Hugues Tissandier, who had also previously teamed with Luc Besson on Lucy.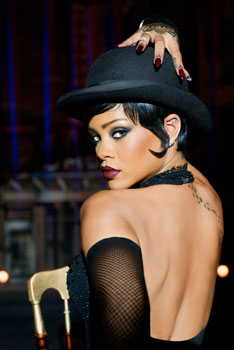 Production Design

Creating the massive physical sets, including the Big Market, Paradise Alley and Mül – the ethereal home planet of The Pearls – as well as multiple spaceships, control rooms and a flying bus, was a gargantuan undertaking. Although visual effects would later enhance these sets, which were based on the original concept designs, the production designer rose to the additional challenge of shifting between eras – ranging from the 1970s to the year 2740. This required complete collaboration with nearly every department to bring Luc Besson's vision to life.

This proactive collaboration helped avoid technical delays during actual shooting, which usually involve lighting changes. 'It was important to integrate lights throughout the set," says production designer Hugues Tissandier. 'We worked with DP Thierry Arbogast and his chief electrician, and with Greg Fromentin."

'We put everything in LED so that we could make light changes and change the light intensity before we began shooting," continues the production designer. 'This way when Thierry arrived to set, he would have what he needed in terms of sequences…and at the same time be able to change colours. For example, we wanted to be able to change everything to red on the same design, and to be able to go and create black zones, relight it. These decisions enabled us to give Luc more possibilities."

Costumes

Before Bériot created a single stitch of clothing, Luc Besson had already thought through every detail of the outfits. 'We'd started with drawings where I'd tell the concept artist, -I like the sleeves here but not the back,' or -I don't like the feet; I like the pants,'" Luc Besson explains. Supervising dozens of staffers in three departments, Bériot started work in June 2015, seven months before shooting commenced. 'Luc had already spent a long time with illustrators, so he would show me precise drawings of Valerian and Laureline in their spacesuits and say, -I want that,'" reveals Bériot. 'It was about transforming information from the comic book into the details and richness you need for the big screen."

Perhaps the most important wardrobe pieces are the spacesuits worn by the movie's swashbuckling heroes. 'In the original comic book, spacesuits are super important," says the costumer. 'Valerian and Laureline wear white spacesuits – very '70s. In Luc's mind, we needed a more futuristic-looking, technical superhero suit that was both functional and fashionable. One part of the costume looks like armor, smooth as a diving suit, but it's actually foam painted with metallic paint. The rigid parts are made of epoxy resin, and the collar looks brilliant close up. My idea was to keep the waist as thin as we could for both Cara Delevingne and Dane DeHaan, so the shape on the big screen looks beautiful."

Cara Delevingne fell in love with her spacesuit the minute she slipped into it. 'I've never taken so many pictures of myself in my life," she laughs. 'It was the coolest thing in the world. It's basically made of plastic sewed onto a wetsuit, but looks incredible."

The outfits were designed for fight functionality as well as form. 'It was hard to keep all the tiny LED lights attached and connected because of all the action," Cara Delevingne says. 'While I was afraid the stunts were going be impossible, it was easy to move in the space suit after all."

Inspired by a visit to the Mission to Mars wardrobe workshop in Budapest, Bériot established his own operation in Paris – complete with a seamstress workshop, a department devoted to sculptures made from epoxy-resin, foam or plastic, a crew of dyeing and aging experts, plus two electricians. It was akin to a full-fashion design house, yet one that specialises in intergalactic haute couture. 'We wanted to imagine bizarre things you haven't seen before, and we pushed the hair and makeup department in that direction," Bériot concludes.

Lights and Camerawork

To help shape the visual ambience for Valerian, Besson partnered with longtime collaborator Arbogast who, beginning with 1990s La Femme Nikita, has served as director of photography on all but one of his movies.

Unlike most directors, Luc Besson prefers to operate the camera himself; he entrusts Arbogast with orchestrating lights. After viewing storyboards and photographic references during preproduction, Arbogast immediately felt that the film was going to be extraordinarily colourful.

'We decided to use new projector technologies that feature LED lights in the three primary colours of red, green and blue," he notes. 'These projectors allowed us to vary the colour, until we found the exact right nuance for each set. We inserted light strips into the décor and controlled them from a console, so we could mess around with the colours – a bit like a painter's palette. This gave Luc Besson enormous flexibility, to the point where he could come to set and say, -I don't like this colour blue, I want it to be like that.'"

Naturally, each environment called for a distinctive tone. In the scene where Bubble performs for Valerian, Arbogast created a golden aura. 'We set up RGB ribbons in the columns beneath a varnish and used the projector to softly light the scene in the style of a spotlight projector," the DP says. 'It was like the stage lighting in The Fifth Element opera scene, but silky and gentler."

In contrast, Paradise Alley called for a brash vibe partially inspired by Paris' own Pigalle adult-entertainment district. 'Paradise Alley needed a lot of neon, signs and blinking lights – it needed to be very rich in colour," Arbogast states. 'We also put moving spotlights, as if they were passing in the street from search helicopters or drones."

Throughout Valerian, Arbogast varied lighting to suit the mood of the scene. 'I don't try to have -continuity' as one might do in English films," he concludes. 'For me it's scene by scene. When the light varies, then the scenes can collide with each other. For instance, we go from the sunny beach, and – bam! – we're in the blue Intruder. Or we've got the warm light of Big Market, then we move to cold lights in some other atmosphere. That's what I really like: diversity of light."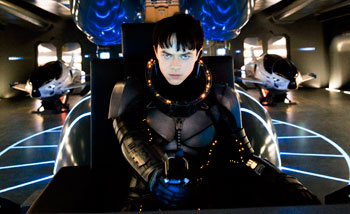 Virtuoso Images: Desplat's Sounds in Space

The visually stunning, cinematic spectacle demanded a score that would complement the exotic majesty of alien worlds and species – transporting the audience to faraway planets. Enter Alexandre Desplat, composer of a wide swath of acclaimed films including Oscar Best Picture winners Argo and The King's Speech. In addition to the pedigree that Desplat brought, he also possessed a deep familiarity with the Valerian source material, stemming from reading the comics in the magazine 'Pilote" as a teenager growing up in France.

When it came to Luc Besson's directives for the score, Desplat explains: 'Luc said he wanted an orchestral score with a lot of melodies. That says it all. It meant that I had to write good melodies and write for a big symphony orchestra."

The scoring session took place at Radio France, marking Desplat's first time recording a symphony orchestra in Paris. Although Desplat initially had reservations about undertaking the score in a studio where he hadn't previously worked, he soon changed his tune. 'The first time I came on the podium, in front of the orchestra, it was immediately stunning," raves the composer. 'The sound and the play were beautiful."

While the beginning of Desplat's process tends to be a solitary one, he graciously invited Luc Besson to listen throughout the course of composing. Incorporating Besson in the collaborative evolution entailed sharing fully orchestrated demos, which gave a comprehensive sense of what the finished product would sound like. 'If anything bothered Luc, he would point at it and I would adjust it," reflects Desplat. 'If he didn't like the flute, clarinet or piano, whatever it was, I could change immediately."

While Desplat has tackled a wide variety of genres in his career, he relished the opportunity to diversify the kind of sounds expected in a sci-fi universe. Offers the composer: 'The images that Luc Besson offered were so virtuoso, brilliant and various. In terms of technique, they were incredibly rich."

To capture the essence of the multitude of Valerian's characters, as well as highlight big combat sequences or emotionally crucial scenes, Desplat created wholly specific themes. Asked whether he was afraid of falling into any sort of sci-fi movie tropes or clichés, he simply replies: 'No, because the movie has got a voice of its own."

In addition to Desplat's lush score, Luc Besson has also included existing and new vocal recordings as emotional mile markers in his thrilling-yet-intimate intergalactic journey. The film opens with a mostly-wordless sequence beginning with the 1975 docking of the United States' Apollo capsule with the USSR's Soyuz, and we then see hundreds of other craft, from other nations and then other worlds, joining them over centuries to form the Alpha Space Station. For this sequence, Luc Besson chose David Bowie's seminal song 'Space Oddity" to emotionally anchor viewers as he transports them from a comptemporary world to his specatacular vision of the future. Also included in the film is 'Jamming," by Bob Marley; and Wyclef Jean, featuring Refugee All Stars, and their take on the Bee Gees classic 'Stayin' Alive;" DJ Mustard's new track 'Bubble Dance," which accompanies 22

Bubble's performance for Valerian; and as end credit songs, Alexiane's 'A Million On My Soul," and 'I Feel Everything", composed by Pharell Williams and performed by Cara Delevingne.

Production wrapped, the boy who began dreaming of a space saga all those decades ago is satisfied he has done 'Valerian and Laureline" justice. Luc Besson reflects that he has long envisioned Valerian And The City Of A Thousand Planets as 3D escapist entertainment at its most mind-blowing: 'I want people who work all day to see this movie in the theatre and forget everything for two hours, like they went on a holiday."

While the vintage source material remains inextricably embedded in the film, Besson has imprinted the science-fiction genre with his own unmistakably vibrant aesthetic. With technology that has finally caught up to Luc Besson's vision, not since Avatar has there been a 3D movie going experience that leaves viewers so breathless. The director took pains to ground the cavalcade of outlandish alien spectacle in a compelling human partnership. 'We show you this crazy world in the 28th century, but the characters' lives, feelings and emotions are ones that everybody can relate to," he concludes. 'You will love Valerian and Laureline because of who they are and what they go through together."


Valerian and the City of a Thousand Planets
Release Date: August 10th, 2017