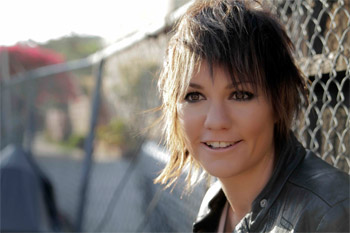 Sarah Spillane Around The Block Interview
Cast: Christina Ricci, Hunter Page Lochard, Jack Thompson
Director: Sarah Spillane
Genre: Drama
Running Time: 104 minutes

Synopsis: Around The Block is about breaking cycles and building dreams. Set in a contemporary, tough, inner-city precinct, this is a story of revenge and triumph, as a teenage boy is torn between his unexpected love of theatre and the disintegration of his family. With encouragement from his unconventional American drama teacher, he confronts his past and eventually takes control of his future.

Around The Block
Release Date: June, 2014



Interview with Sarah Spillane
Question: How would you describe Around The Block?

Sarah Spillane: Around The Block is a story about an American drama teacher, played by Christina Ricci who lands a job teaching in a tough inner-city high school in Redfern, she tries to stage a production of Hamlet for her, inner-city high school students and in the process she becomes quite close friends with a 16-year-old aboriginal boy who plays the lead role of Hamlet, in her production.

We soon learn that his personal life, in Redfern, he has a similar journey to Hamlet as his father is in jail and his supposed to avenge his father's incarceration.


Question: What originally inspired the idea behind Around The Block?

Sarah Spillane: I wrote and directed Around The Block when I was living in Redfern where I was teaching at an Aboriginal arts school. Philosophy is my other passion away from film and I was interested in the concept of existential freedom (are we defined by our family and background and is it possible to overcome social expectations and live a free life). I was fascinated with the concept whilst living in Redfern, only metres from The Block where there was a lot of community tension with local police and heavy issues during the Redfern riots 2004 which became the perfect backdrop to explore this concept.


Question: How did your own teaching experience inspire the character of Dino?

Sarah Spillane: Yes, absolutely. One of the key character developments in the film is that Dino realises that she's learning as much from the students as what she is teaching them, on a dramatic level.


Question: Can you talk us through your casting process?

Sarah Spillane: Sure, Christina Ricci was always at the top of my list as the ideal actress I'd love to work with to play Dino. I was working in LA at the time and managed to get the script to Christina Ricci's agent and managers; I was so relieved and excited that she responded so positively. Her team read it first and they responded positively to the script and then after the script had been forwarded onto her she responded positively too. I met with Christina Ricci first in LA and then in New York to talk about the script and story. She was really interested in the themes of the story and the setting of Redfern as she'd visited Australia a few times. It was great that the movie addressed issues she was interested in.

Once Christina Ricci came on board that enabled us to begin casting in Australia; as she helped green light the film into production.

Once I was back in Sydney I worked with the most incredible casting director, Allison Meadows who worked for Mullinars Casting Consultants and she had been a part of the process for so many years and because of that, between the two of us we had always been keeping our eye out for young Indigenous boys who could potentially play the role of Liam. I was aware of Hunter Page Lochard as he'd been involved in Bangarra Dance productions yet he hadn't had a lead role in a film before. We called Hunter Page Lochard in and he did an incredible audition for the role of Liam.

Jack Thompson plays a role in Around The Block and it was an honour to work with such an Aussie legend. I had met Jack years before and he'd also responded positively to the script.

I was very lucky as a lot of the Australian cast are incredible actors and it came down to them responding positively to my script.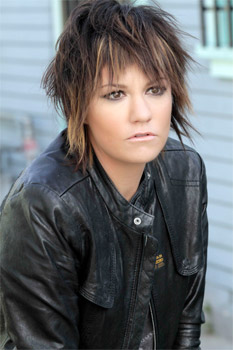 Question: What was the most difficult part about directing a film you also wrote?

Sarah Spillane: It's interesting as you wear two very different hats as a writer and a director. What was difficult was that when you move into production sometimes things need to be changed at the last minute and reset so you can fit into the logistics of shooting. For example in my film, Around The Block, there was a scene that was supposed to be shot inside Redfern RSL Club and due to logistics I had to reset that scene, I reset the scene in the school carpark as it featured two teachers.
It would be very helpful to have a script writer when things like that occur as you can tell them 'this is what we need to do" and they go off and write it however when you are the writer yourself you can reset it as the director and then at the end of the shoot you have to go home and re-write the scene yourself to be able to shoot it the next day.

There were challenges but the positives were that I knew the story so well that it made it easier to capture the key elements.


Question: How did it feel to premiere at the 2013 Toronto International Film Festival?

Sarah Spillane: The Toronto International Film Festival was amazing; not only one of the highlights of my career but one of the highlights of my life. It was fantastic to be invited to participate in a Film Festival that has not only launched Oscar winning films but also my personal favourite films; to be in that company is surreal.


Question: What do you hope audiences take from the film?

Sarah Spillane: I try to avoid preaching a certain message for the audience to take away from a film. What I really hope with all my work and particularly Around The Block is that the film initiates conversation and thought. I hope the film makes people question their own values and how they may make judgement on Indigenous Australians.

If someone thinks they can't do something, hopefully after seeing Around The Block they may have a conversation with someone and think -maybe I can do this'.

The film is about initiating discussion and encouraging audiences to re-think.


Question: Are you currently working on another project?

Sarah Spillane: I am! I am excited as based on someone seeing my film at the 2013 Toronto International Film Festival, I've been approached to direct a new Australian film which unfortunately I'm not allowed to say the name but what I can say is that it's a story that is very close to many Australian's hearts.


Around The Block
Release Date: June, 2014
Interview by Brooke Hunter
Image: Alina Gozin'a