Christina Ricci Around The Block
Cast: Christina Ricci, Hunter Page Lochard, Jack Thompson
Director: Sarah Spillane
Genre: Drama
Running Time: 104 minutes

Synopsis: Around The Block is a story about American Dino Chalmers – an edgy and charismatic drama teacher with a passion for Shakespeare. When the opportunity arises for her to work at a school in inner Sydney, she embraces the chance to introduce the magical world of theatre as an alternative to life on the tough streets of Redfern, Sydney, Australia.

On arrival at Redfern High School, Chalmers finds her drama class of sixteen year olds to be a melting pot of nationalities – white, Aboriginal, Maori, Lebanese, etc. As she entices a core group to join her class, her attention becomes focused on Liam, a young part-Aboriginal boy.

Although Liam's family enjoys a strong profile in the city's underworld, (his father, Jack Wood, being recently imprisoned for twenty years and his brother, Steve, eager to get a revenge hit on the man who put him there) Liam has other aspirations and develops a fascination with the theatre. After Chalmers encourages Liam to audition for the school play he wins the lead role of Hamlet and is introduced to the world of acting. As he studies the play, Chalmers shows him the parallels that emerge between his own life and the life of his character Hamlet.

While the rehearsals take place, Steve develops plans for the hit. Liam feels great pressure as he is torn between duty (family obligations) and passion (the play) and his angst and confusion is noticed by Chalmers. Chalmers however has her own crisis at hand, as an encounter with an old friend leads her to question her sexuality, and thereby her imminent marriage to long-term boyfriend Simon.

Chalmers tests the boundaries of her personal relationship as Liam's turmoil peaks and the hit finally takes place, which Liam almost ruins, in an attempt to save the target's daughter from witnessing her father's murder. The deed done, Liam is dragged from the crime scene by Steve and his accomplice, Jason.

As the boys drive away from the execution scene Liam jumps from the car and runs off in to the surrounding bush land until he can run no further.

At this point Liam hits rock bottom psychologically and emotionally. In a spiritual moment as he sits on the cliff edge, he finds a connection with the land and reaffirms his Aboriginal identity. It is his moment – -to be or not to be'.

When the performance finally proceeds, it is clear that Chalmers has successfully guided Liam to a new focus in his life as he performs the role of -Hamlet' with empathy and pride. As Chalmers takes in the performance she realises that she too has evolved from the process and achieved her own existential goal of personal freedom.

Around The Block
Release Date: June, 2014
About The Production
Directors Notes

Around the Block is a universal story about a teenage boy who stands up to his father and mob, to choose his own path in life. It is ultimately a -feel good movie' infused with a truthful gritty reality that is consequential to the world inhabited by -kids-at-risk'.

On a personal level, the film delves into a world that I lived in for nine years, the Aboriginal Community in Redfern, Sydney, Australia. Through a strong connection with the community, many characters were inspired by friends. Similarly Chalmers' sexual awakening delves into equally familiar territory and serves as a counterpoint for the central theme of freedom.
The story places Liam, an underdog and our male protagonist, on a roller coaster journey towards and existentialist life. Dino Chalmers, our charismatic drama teacher and female protagonist, introduces Liam ot a world of possibility and escape through dramatic art. As Chalmers guides Liam towards choice and responsibility, Chalmers herself must find the courage to leave a stifling relationship, oppose convention and expectation, in order to attain her own form of personal freedom.

The greatest challenge for the character of Liam is the reality of the antagonistic forces that surround him. Not only does his Aboriginality place him in a social minority, but so do other aspects of his life that are beyond his control – his white father in gaol, his brother planning a revenge killing and his local community in turmoil. These realities lead the film to an ironic ending where Liam appears to have -lost' in terms of the social system, yet he achieves a personal victory as he knows who he is and where he's going in life (both literally and metaphorically). He achieves an existentialist victory and the story concludes by providing the audience with feelings of hope towards him and his community.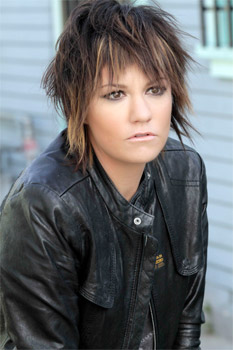 Both protagonists' journeys explore the concept of existential choice; an individual's ability to create their own destiny. Chalmers and Liam act as catalysts as the audience embark on their own journey towards understanding, feeling the pain, pressure and confusion as both Chalmers and Liam face the ultimate temptation to escape reality. We, the audience, must make up our own minds as to whether they will remain a product of race and social convention, or their own determination.
– Sarah Spillane
Production Notes

From its first draft Around The Block has been receiving critical acclaim for its strong cultural and contemporary themes that has enabled the film- makers to attract a stellar cast and crew. Set in the infamous 'block" in Redfern, Sydney, it follows the story of a young boy at risk, Liam (Hunter Page-Lochard), and a teacher, Dino (Christina Ricci) who introduces him to a world of possibility and escape through dramatic art. Although a work of fiction the world within the film is one that Director/Writer Sarah Spillane knows well having lived in Redfern for nine years and having taught drama at the EORA TAFE.

The film centres its location around the -Block', an area that is now owned by the Aboriginal Housing Company (AHC). Their plans have now been approved for redevelopment of the -Block' as the 'The Pemulwuy Project". The redevelopment will breathe new life into the -Block', and restore a strong and healthy Indigenous community to Redfern with an emphasis on cultural values, spirituality and employment.

However the film is about the -Block' as it was a few years ago – a tough urban ghetto where strangers were not welcomed. The art department used a lot of dressing in of wrecked cars and detritus to create that past environment. They also used colourful graffiti and earthy colours on sets to reflect indigenous culture that set The Block apart from the rest of the city. In turn, DOP Martin McGrath made use of smoke barrels to get that feeling of a precinct at war against authority.

Shooting Around The Block in the inner suburbs of Sydney was a challenge in itself. Blending a film crew with busy daily life is always a strain, however our crew was experienced in keeping any confrontations at bay. Working during the winter months of June and July supplied spectacular light opportunities for the cinematography and the locations themselves give the film a rich urban feel.

Both the Art Department and Costume Department based their designs and colour-schemes on the rich textures and materials of the inner-city. The intent was not to be dark and gritty but to have a strong palette of primary colours. Both departments utilised the talents of local young artists who are still developing their design skills, but who were eager and pleased to be able to be guided by the expertise of the respective heads of department. Also 'the school class" actors helped in creating the indigenous and islander motifs on the Hamlet set to truly reflect their cultures.

All of the above talents combined have made a strong urban picture – which has been enhanced by a stellar music track guided by both the director, Sarah Spillane, and the composer, Nick Wales. The track mixes modern hip-hop songs with a strong score using a mix of violins and indigenous instruments to give it a very contemporary but unique sound.
Christina Ricci on her character in the film:

This character I play, Dino Chalmers, who is living in Australia, is an American school teacher, she's engaged to be married to an Australian and she starts teaching at Redfern High school. It's really close to The Block which is a notoriously bad neighbourhood and she starts teaching drama at a public school and gets involved in these kids' lives.

Through having these kids -and one kid in particular, Hunter Page's character Liam - rehearse this and explore Hamlet, the Shakespeare play on the school curriculum, they draw parallels to their lives.

She is trying to effect some sort of change in their lives and especially in Liam's life because she can tell that he's a really special and talented boy who's heading down – who's being sort of dragged down by sort of the more negative elements of his community and his family life.

I think in the beginning we see her trying to mould herself into what she dubs to be a normal acceptable life, which would be to marry a man and she's moved here to start a life with him. But deep down she knows she is a lesbian who's trying to live as a straight woman and by teaching these kids, and especially Liam, she has to confront who she really is.

Liam is sort of trying to mould himself and adhere to a lifestyle which is generally popularly frowned upon but within his community and his family, they expect him to follow in the footsteps of the family but his father is in prison. His father expects his sons to follow in his footsteps and Liam is torn by this expectation.

I think that she sees in Liam this really talented, smart, sensitive child who's obviously gone through a lot of trauma and is carrying around a lot of damage. And I think that when you see someone, especially someone that young in that much pain and you're an empathetic person, I think that you naturally reach out to them and want to help them and in her case it's handy that he's a natural actor because he can play Hamlet for her.

Dino realises by talking to Liam and trying to get him to change and not conform to what he thinks is expected of him, she realises that she should be talking to herself. They both have to try not to conform to the pressures put upon them by their families and society to be something they're not.

I liked the script, I found it really upsetting and very moving and interesting about a culture I knew little about. It was an interesting part for me, it's just a bit more complex than a lot of the things you come across.

Sarah Spillane's really fun to work with. Very succinct, knows what she wants. There's not a lot of messing around or trying to figure things out as we go. I mean you need somebody with a really strong point of view who can guide and direct you and she's amazing at that. It's very much her story.

Hunter Page on his character in the film:

In his home world his personal world is very dark. His brother kind of puts him into all these little scenarios that he really doesn't want to be in but he has to be in because he's kind of intimidated by his brother. And then on the other side he has this little fantasy of being an actor just like his Uncle Charlie and so it's a big battle between, I think, not between anyone else, but between himself and the way he has to stand up for himself and to do what he wants to do and not turn out like the people – the role models in his life.

I do not think that he sees his brother Steve as the bad guy – he's just lost. He's what Liam, I think – to me Steve is a mirror of Liam if he didn't do what he did.

His relationship with his drama teacher, Dino Chalmers played by Christina Ricci, is interesting. Her American accent and all, yeah, that's different but it's not about that, it's about the way she acts with Liam. No teacher would come up to a little rebel black kid, knowing his father and his brother and all that shit, no teacher would come up to him and … not threaten him … but tease him a bit – no-one would do that. So I think for a teacher to actually do that – that's enough for him to go -ok – what … who are you? I want to see where this goes.

My favourite and most memorable scene without a doubt is with Matt Nable, the scene where I give him the letter and tell him I'm not going to be like him. I only met Matt Nable on the day we shot that scene so I did not know him and it was a very tense scene. He was amazing and gave me so much. When we shot the scene we were both crying at the end and he came up to me after Sarah Spillane called cut to make sure I was okay. It was one of those magical moments when actors just fire. The other emotional scene for me is when I dance at the edge of the cliff. It was at dawn and although quite cold and the sun was just coming up and as I started my ritual dance a whale in the ocean breached and we all felt a strange spiritual moment – that was really magical.

The parallels with Hamlet I think, first of all, with Liam's character – I think he's a big Hamlet. When we were doing rehearsals, me and Sarah Spillane got the kind of gist that Liam was Hamlet and obviously she knew and she got me to realise it and I think that was the funniest part actually reading the script and delving into Liam – to see that it all does relate to Hamlet and, you know, even the little quirky things like the tags on the fence saying -Tobe' and it's really -To be' and there's a little tag -or not' underneath. I loved how this modern tale could interlink with Shakespeare it is really cool. And how Dino uses Tupac to get the interest of the class. In fact all of us as actors where quite taken by the rhyming couplet comparison of hip-hop and Shakespeare.

Even though Hamlet is a tragedy it is also inspirational in context of our film. I also liked that Liam has to pay the price of helping out his brother and face the consequences of his actions but through that I know he will survive and be a stronger person for it and make something of his life.

Jack Thompson on his thoughts about the film:

Well, it could be argued that the story is about freedom, it could be argued that the story is about independence and a sense of responsibility.

It's a wonderful coming of age story, it's a wonderful love story and it's set in an ethnic community within a city. It happens to be about the Aboriginal community on The Block in Redfern, Sydney, which gives it it's title – Around The Block, but it could be a Vietnamese community within this city, it could be a community of Lebanese people within the community.
It's about close community and the prejudice about that community of people within the city.
Right at the top, it is a love story. Our heroine comes to this as an outsider and through her eyes this tale is revealed. She comes here as a relief teacher and she tells her tale, we tell her tale.

She arrives and we see this place through her eyes. She's from another country, so all of this is brand new to her, but at the heart of it, it is not new.

It's about her own need for independence and it's about the need for independence of these young people that she is teaching.

Mark Coles Smith on his thoughts about the film:

I think it's about people in the most part. There's quite a few characters and story lines running parallel, and I think all of them are to do with people trying to take control of their own lives and gain a sense of freedom and self direction.

I'm the older brother of the character Liam, and Steve's a bit of a troubled lad. He's in many ways caught up in his environment and it's not necessarily a healthy one, it's quite a troubled sort of neighbourhood.

There is a high crime rate and there seems to be quite a lot of drugs during the period this story is set. So he's sort of growing up without a strong base or positive role model and I think he reflects that in his own behaviour.

The first time I met writer-director Sarah Spillane was via a Skype chat on a laptop a couple of months ago. I initially auditioned for it at the start of 2012 and then I moved from my hometown across to Melbourne on the other side of the country. Shortly after that she got back in touch with me and wanted to talk about the role and whether or not I was still interested.
We had a talk and I got to understand her history, her understanding of film, her relationship with the area and with it's history, which is really important to me with regards to knowing that we had someone steering the project that had a genuine understanding with the material.
When I first read the script I was really impressed. I thought it was quite heavy in a lot of ways, especially with Steve and Liam's back story and I was wondering how I would be able to do the script justice.

Ursula Yovich on her thoughts about the film:

The film follows a young boy by the name of Liam Wood, who's my son. I guess it's a coming of age story, it fights the contradictions that occur in people, so you really get to see that.
It's all set in The Block, a really small section of Redfern where the main drag is Eveleigh St and where a lot of Aboriginal people live. It's also a real congregating kind of area, I know when I moved to Sydney that was one of the first places I stayed, a lot of Aboriginal people come and stay there before they branch out.

It's got its wonderful community feel as well as some of the really dark elements to it and this is the thing that Liam is constantly fighting with.

I feel Chrissie is probably from Redfern, has grown up around there and this is the world that she's always known. She's the mother of Liam and Steven and the wife of Jack Wood. A young mother, she'd had her two boys early and that's basically been her life.

I think I'm more of an emotional type of actor where it's not what I thought about the script it was more what I felt. There was just something about it that I felt was very real and truthful.
Jack Wood is obviously Christine's husband but definitely from her perspective there's a distance between them. It's that high school love that they have outgrown. It's that relationship where he's stayed in this place and she's beginning to just move on.

For me, what I loved about the whole script was the contradictions in everybody.

Even though we tell these stories of the Woods, they're not your average Aussies. They're in a difficult place and they really are trying to navigate their way through life on a daily basis.
I think it's a joy watching Hunter Page. I think he's going places and I'm really excited to see exactly how far he's going to take it.

For me the most tragic thing is seeing potential that's never fulfilled and that's what you see in Liam and same with Steve. Liam actually does get to that point where he realises that he is the only person that can free himself and he chooses to do so despite the consequences of his actions.

I think we are our own worst enemies. We actually imprison ourselves with the way we think.
Chrissie has always thought that this is the best that she can possibly do but then there's this opportunity when her husband is sent to jail for 20 years. Then she gets to the point of thinking differently and realising she can actually change her own destiny.

Damien Walsh-Howling on his thoughts about the film:

It's about a teacher coming into a school where there's troubled kids and certain social issues and brings Shakespeare into the school to create some sort of place for change.

I play a character who is another teacher at the school who's opposed to that to begin with. The teacher who comes in is someone from another culture, from America, but finally she wins me over.

Mr Graham grew up in Redfern himself, so he knows a lot about the community and he knows a lot about the issues. He's taken up teaching as a way to engage with the Indigenous community. He's someone who's really quite principled.

He really does love and care for this community.

The initial relationship with Chalmers is a pretty conflicting one. He doesn't really believe in what she's doing but as he sees the work actually begin to take effect, he has to admit that it's having a positive influence.

Christina Ricci's been amazing and we've been having a lot of fun. I've really enjoyed shooting with her and doing scenes with her has been a real pleasure. It's been a real highlight.

I think Hunter Page Lochard is a consummate actor. I remember being very struck by him when we first met and just going woah what a presence and a wisdom.

Working with Jack Thompson has been amazing. I haven't done that many scenes with him in this film but I've spent quite a bit of time talking with him. He's a really wonderful man.

I loved the piece and I felt really connected to the character and got the role. I met Sarah Spillane a couple of days before we started shooting and instantly found a rapport. I really like where she's coming from and a lot of her personality and spirit feels like it's in the story.

I hadn't been to The Block before we went there for the Welcome To Country but when I walked onto that piece of land I really felt that it was somewhere significant.

It has a huge significance for the Indigenous community and that's a really important part of this story. Shooting on The Block was quite amazing.

I think the film has very strong roots in human rights. Asperformers it's a really nice thing to work on something that has a meaning and has some sort of heart to it, that goes beyond a story that comes from the imagination.

I think one of the most memorable scenes of the film is when Mr Page did his dance on the cliff tops overlooking the ocean and a whale jumped out of the water. That says so much about the film itself that I think would have to be one of the most exciting scenes in the film.

Ruby Rose on her thoughts about the film:

This film is all about The Block in Redfern and the teacher Miss Chalmers coming in and giving a breath of fresh air and a new energy to a school of kids that probably weren't getting the attention they deserved.

It's a really inspiring feel-good film, that's written by probably the best writer in the history of writers, Sarah Spillane, who I have a lot of respect for and it's, you know what it's close to my heart because I remember a lot of – how far Redfern has grown in the last sort of five/ten years. It's you know, it's just a film about defying the odds and being passionate and making choices that are right for you and the ones that are going to make you happy and the choices that you make and how they define you.

Sarah Spillane is amazing. She's super talented, she makes you feel really comfortable, she's straight to the point, honest and nurturing. So you always feel really protected by her and you feel safe in her company. I feel like this film will let Australia, if not the world, know who she is better and I feel like she definitely deserves the kudos for that.

Hannah's very confident and I think she's quite independent. It's a smaller role in the film but it's a very integral one. I am part of one of the choices that's made in the film and it ends up being really important to the overall story.

I've already heard about how beautiful some of the scenes are and I think there are going to be some really heart wrenching scenes between the brothers and the father and the decisions that are made.

My knowledge of The Block was moreso that it was Indigenous land. I then understood about the riots that took place. For us you know as white Australians a lot of people just go why can't they just go all live out in Alice Springs and it's like, that's not the point. You may see that as being more spiritual but to them this block of land in Redfern is exactly the same. It's where they've grown up, it's where they've done ceremonies and it means as much to them as it does anywhere else that they are in Australia and it's important that that stays theirs.

I think that the tragedies in this run parallel to Hamlet as in you've got the older brother that's wanting to do the wrong thing so to speak, the right thing in his eyes but the wrong thing in the bigger picture. And then you've got Liam who's just got a heart of gold, that wants to do the right thing by himself but is struggling to work out what is the right thing to do by his family.
And the positives in that though are the people that believe in each of the characters, so people like Miss Chalmers and how she's turned that whole school from thinking these kids were hopeless dropkicks that could never do anything into proving to them that they were like anybody else and that they were gifted and smart and capable of any of their dreams.
Around The Block
Release Date: June, 2014