Tina Fey and Amy Poehler Sisters
Cast: Tina Fey, Amy Poehler, John Cena, James Brolin, Maya Rudolph, Ike Barinholtz
Director: Jason Moore
Genre: Comedy

Synopsis: Over the past two decades, an irrepressible sisterhood has formed between two comedy performers who first met during their time together at the famed Chicago troupes ImprovOlympic and Second City. They have gone on to slay as co-anchors on the iconic news desk at Saturday Night Live, co-star in the endlessly quotable feature Baby Mama, share their Thursday-night spotlight with concurrent shows on NBC and serve as inimitable three-time emcees of the Golden Globe Awards.

In the process, one of the funniest and most-beloved pairings in entertainment history has managed to capture the world's collective attention with their deceptively effortless timing, inclusive banter and whip-smart humor.

This holiday season, Tina Fey and Amy Poehler reunite for Sisters, the new comedy from Pitch Perfect director Jason Moore about two disconnected siblings summoned home to clean out their childhood bedroom before their parents sell the family house. Looking to recapture their glory days, they throw one final high-school-style party for their classmates, which turns into the cathartic rager that a bunch of ground-down adults really need.

When the Ellis sisters, the always-responsible Maura (Poehler) and impossibly hotheaded Kate (Fey), receive word from their retired mom and dad"Deanna (two-time Oscar®-winning actress Dianne Wiest of Hannah and Her Sisters) and Bucky (James Brolin of Catch Me If You Can)"that their family home is on the market, they discover they have one weekend left to clean out the old junk in their bedroom. Their understandable reaction? Childish, emotional outrage. The loss of the talisman that is the Ellis homefront comes as a blow to both, who are separately struggling with the sucker punches that adulthood has inevitably thrown their way.

Back in Orlando, as they comb through the artifacts of their teen years, Maura and Kate's trip down memory lane leads them to a seemingly crazy, could-be-cathartic plan. While reading diary entries and playing blissfully '80s mix tapes, the siblings decide that the perfect cure for their melancholy is a straight-up party, just like the ones they threw when they were in high school. It's time for one final 'Ellis Island" blowout.

As their last-minute idea for a reunion turns into a balls-out rave, Kate swears she'll act mature so the newly divorced Maura can let down her guard and tear it up"like she dreamed of in school. Now, two best sisters will either exorcise demons at the party of the century…or bring down the entire neighborhood in the process.

Sisters
Release Date: January 7th, 2015



About The Production
The Book of Paula: Sisters Begins

In comedy circles, Paula Pell, 20-year-plus Saturday Night Live veteran, longtime 30 Rock writer, Twitter wisecracker and frequent performer"notably, as Ron Swanson's mom on Parks and Recreation and Pete Hornberger's wife on 30 Rock)"is often named as the funniest person anyone knows. While Pell has collaborated with Judd Apatow on several of his films, such as This Is 40, she was pondering ideas for a feature script of her own when she revisited her 13-year-old diary from her Florida childhood.

Pell recounts: 'I found it so funny that my sister's journal and mine were wildly different, because she was very foxy and tall and all the boys loved her, while I was very short and matronly and looked like I was 50 at 13. Her journal was always like: -Oh my God, I made out with Bill.' Mine was: -I changed the grit on my rock tumbler in my science kit!' You could tell by reading them who was getting action and who wasn't."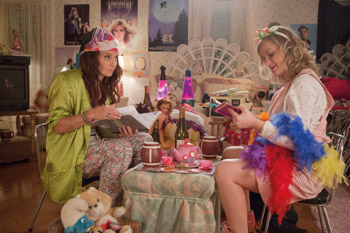 Over the years, Pell has shared portions of the journals with those she is close to, including her agent, Michelle Bohan, and friends at SNL. Pell credits Bohan as the confidant who urged her to explore seeing the diary as source material: 'I decided to try to do something with that journal down the road. I was thinking of doing a little Broadway show, and then Michelle"to whom I'll always be grateful"looked at me in a meeting and said: -I think those two girls are your movie.'"

From there, Pell met with Tina Fey, a longtime friend and collaborator on both SNL and 30 Rock. Fey recalls laughing at the journals during their days together on set: 'I met Paula in 1997, when I first started as a writer for Saturday Night Live, and she had been there since '95. I had the pleasure of seeing her diaries years ago as a wonderful found object that she brought around the office. They are stunning. Paula's very artistic. There are great drawings in them; and also, just where she was in eighth, ninth and 10th grade is so heartwarmingly nerdy and so sweet…as is her obsession with Sylvester Stallone and Rocky."

Early in the film's development, filmmaker Jason Moore was given a photocopy of the entire set of Pell's journals. The director offers: 'One day, I sat down to read them and was amazed. I thought -Ohhhh, right.' One, they gave me tremendous insight into Paula. She was always funny and observant, but she had a poetic joy in the way she wrote them, which is adorable for a 13-year-old girl who is looking at life so optimistically. But, she also has keen observations about her insecurities and what's wrong with the world. All that, and she's clearly a caretaker."

The director found himself taking a trip down a memory lane of his own. He continues: 'The journals are the root of how the movie got started, because they are a literal reminder of how adolescence brings on so many different feelings, and your perceptions of the world are formed by your interactions in high school. They were the key to the movie when we began, and they remain the core part of the movie now."

For some time, Pell and Tina Fey worked on the concept of using the journals as the basis for a movie pitch. During Sisters' development, another real-life event influenced the story. Pell states: 'My partner's mom was selling the house that had been her childhood home, and it made me think, -What if my parents sold the home that we grew up in?' and how adults can act like little kids when they think their past is being taken away from them. Even though parents are the ones that still have to mow the grass, and now they're in their 60s or 70s and they're like, -I don't want this shit. I want to have freedom and go sit by a lake and drink a cocktail and be done with raising children.' So that's the premise we started with, and then we started talking about what would happen that weekend when they come to clean out their stuff."

Tina Fey agrees that there is often an overly emotional connection to the home in which you were raised: 'There's nothing as comforting as your parents' house. If you had a pleasant childhood, as I was blessed enough to have, and as Amy and Paula had, you feel safe and comfortable in your family home, and you want that place to exist forever. Even now, as soon as I get to my parents' house, I leave my shoes everywhere. I eat everything, nonstop, and take a nap on the living room floor."

Fey was on board as a producer and collaborator with Pell long before she considered acting in the comedy; but when she did decide she might take on the role of one of the sisters, Tina Fey knew which one she wanted to be…and it was the one who lives out loud. She says: 'I'd been planning to produce this screenplay Paula wrote for a long time, not knowing if I would be in it at all. Once the script started taking shape, I said I'd love to play Kate because I never get to play characters like her: a wild child who's trying to get on the straight and narrow. It's like playing someone who was the world's greatest ice skater…but is now in a wheelchair."

With Tina Fey agreeing to tackle one of the signature parts, the search for the overly apologetic Maura began. Fortunately, it didn't take very long to find the yin to Kate's yang. Tina Fey shares: 'Once I was into the role of Kate, we thought it would be fun to have Amy Poehler play the sister who's more dutiful. Over the course of the film, Maura stars to cut loose. You get to see her finally go wild, which is, of course, what you want to see Amy do and what she's so great at."

For her part, Amy Poehler says the decision to play the overly worrisome owner of a one-eyed bulldog was easy: 'Tina Fey had been working on the script with Paula for a long time, and then Jason came aboard. I met Jason and talked to the three of them about it. I jumped at the chance to play Tina Fey's sister on film, because we serve as chosen sisters for each other. We don't have sisters in real life, but I've known Tina 20 years, and she's the closest thing I have to one. It was exciting to get the chance to play that on screen."

Lest things become too sentimental, however, Amy Poehler reassures that despite certain 'expectations about female-driven comedies…that they can't be as physical," she is quite excited that in Sisters, 'there's a lot of punching, slapping, throwing, lifting, cheering, crying, screaming, fire, water, air, earth and mud."

Having Tina Fey and Amy Poehler lined up to play siblings was a dream for Moore, who says of the pair, 'Tina Fey and Amy Poehler are the two funniest women in America. They work so wonderfully independently, but they have something special together that most people recognise. They made me laugh before I ever met them; I was already a huge fan."

Because Pell is so close with Tina Fey and Amy Poehler, as well as a number of the supporting cast, her writing process was made easier. She notes: 'The strong love and enmeshment is something that Tina Fey and Amy Poehler have captured so well, because they've known each other for so many years. What was beautiful was that it wasn't like I was introducing two people to play Kate and Maura. There would be lines they had memorized from the script, but then they also had this flavor of two real sisters. Because Tina Fey and Amy Poehler are such old friends, and have such a past from when they were very young comedy ladies in Chicago, they were able to get into an intimate way of performing."

Moore agrees, noting that his leads' generosity of spirit made the production that much more entertaining. He states: 'Tina Fey and Amy Poehler are infinitely creative and hilarious, but what I love most is that they arrived on set already sisters. They finish each other's sentences and make each other laugh. It's obvious that from a comedic perspective they bring all of that to the movie. What I love most is that they bring all of this love, heart and connection. I'm grateful for that and for the fact that they've allowed me to play in the circle with them."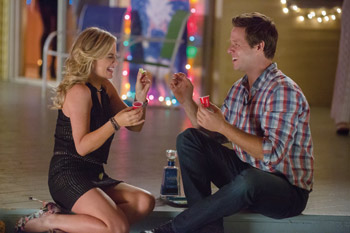 Producer Jay Roach cites Tina Fey and Amy Poehler as one of the main reasons he was interested in joining the project: 'I'm always eager to get involved in good comedies. I love Tina Fey and Amy Poehler, and I've wanted to work with them for a long time. The idea of having them play sisters is inspired. They seem like they've known each other since childhood and share total love and trust as characters, but they also share that they are on to each other's dysfunction in such a hilarious way."

Roach, himself a veteran director of hit comedies from the Austin Powers trilogy to Meet the Fockers, was likewise impressed by what Moore brought: 'I hadn't met Jason, but I had seen Pitch Perfect. It was very funny, and the way he staged the a cappella scenes was impressive. We met when I was thinking about coming onto this film, and I was moved by his layers of storytelling…and that he was committed to a deepening of the characters. Even though they had to be hilarious, it was a chance for the two actresses to go into a deeper zone than they were used to playing. Jason's incredibly calm, organized and decisive. He was completely on top of it, and the actors adore him."

Producer John Lyons, Roach's compatriot on the Austin Powers trilogy, as well as dramas such as the powerful Pieces of April and Boogie Nights, rounds out the production leads. Discussing his work with the team, he lauds: 'It's really an embarrassment of riches. From Paula and Tina Fey and Amy Poehler to Jason, every time someone joined this project, the talent just kept on escalating. I'm so honored to be part of such comedy gold, and I am grateful to every cast and crew member for what they were able to bring to the team."

Guests at the Nest: Casting Friends and Family

With Tina Fey, Amy Poehler and Pell"three of the most popular women in comedy"shepherding the production, Sisters was a party that many wanted to join. The film attracted an extraordinarily talented cast of both old friends and new discoveries.

For the roles of the Ellis parents, Bucky and Deanna, the group was thrilled to welcome two-time Academy Award® winner Dianne Wiest and the ever-dashing talent that is James Brolin. Brolin was instantly attracted to the script, noting: 'Paula's dialogue, as far as I was concerned, was the reason I came after this role. I didn't know her or that she wrote for Saturday Night Live. I read the script and said, -I'm right for this and nobody can tell me I'm not.'"

Soon after being cast, Brolin was delighted to find out the identity of his on-screen spouse. He reveals: 'I was surprised that it would be Dianne Wiest playing my wife. I mean, such a treat, such a darling and an Oscar® winner. I just love her, and I felt like I have known her for years."

Securing actors like Brolin and Wiest for the roles was crucial to Moore, who notes, 'Jim and Dianne are both wonderful characters. They have such presence, and Dianne and James are both great actors. What I love about them, and the reason I thought of them early on for the parts, is that they have a joy and innocence about them"and that's the way the characters were written. They are ready to go on to the next chapter of their life, and Jim and Dianne are full of such vibrancy and have sensuality about them. They're also people that you want to win.

'These characters decide to sell this house because they're moving on to a great new chapter," the director continues. 'They're going to go have lots of drinks, make new friends and have great sex. There's a joy and a vibrancy that Dianne and Jim bring. They're funny, because they're genuine and the characters are well written, but they also know how to land a laugh. Never forget Dianne in Bullets Over Broadway. She knows where the laughs are."

Maya Rudolph, who portrays Brinda, confirms that the perfect Bucky and Deanna are the ones we find on screen: 'When you work with somebody at Saturday Night Live, they become family. So I've had the chance to meet Paula's sister and her parents. It was amazing when I read her take on her life"knowing Paula as well as I do"and her giving nature as a human being. The James Brolin/Dianne Wiest version of Paula's parents makes me so, so happy."

With the Ellis family unit in place, many of the other roles were filled with additional family from the SNL circle, like Rudolph, who muses, 'I feel like we're all kind of wayward, blood sisters in some way."

Rudolph doesn't mince words when she discusses her character, jealous Brinda, who is both desperate to crash the Ellis Island party and still furious about ancient snubs. 'It's always scary when you have to play the dickhead," laughs the actress, 'but it's also the most fun. I got an e-mail from Tina and Amy saying, -We would love for you to come do this,' and she was such a well-written and fun-to-play character. They told me, -Your character's name is -Brinda,' with an i.' I said: -I'm in. I'm in!'"

The role of Alex, the exhausting, always-trying-to-be-funny guy at the party, was cast with another SNL star, Bobby Moynihan"who appreciates Pell's gifts. He raves: 'Paula is a genius, and I wish more people knew that. She is a brilliant mind with such a distinctive voice. I can go back to SNL episodes that I used to watch as a kid and think, -Paula wrote that.' She writes in such an easy way for comedians to speak, and it's hard not to go into her voice because she writes so clearly. Paula knows all the dumb little things I can do, all the little stupid tricks that comedians have that they can pull out. Once she knew I was cast, I got the script back and after a line, it would say in parenthesis, -exits during a spirited-tap solo,' because she knows I can weirdly tap dance. It's nice to have someone who knows what you're good at."

For the role of James, with whom Maura forges an awkward romance, Ike Barinholtz of Neighbors and The Mindy Project was cast. The actor possesses an earnest charm, gushing about his leading ladies: 'Tina Fey and Amy Poehler are two of the funniest people in the world. They're every bit as smart and cool, and funny and pretty as you imagine they are." As well, Barinholtz loved the party atmosphere of the film, commending: 'I love that this is a giant high-school-type party where people are drawing penises on the walls and doing kegstands and eating pot brownies. That's unique for people of our age."

Up-and-coming comedic actress Greta Lee was thrilled to be cast as Hae-Won, a nail-salon employee invited to the Ellis party who turns out to be quite wilder than expected. She offers: 'I shot a pilot with Amy for NBC a few months before, but Tina and I had never met. To be working with Tina Fey and Amy Poehler together in the same scene, on my first day, was so special but also sad"sad like eating a cheeseburger you never want to end. You're having a great time! But every bite you take is a little devastating because eventually there will be no more cheeseburger left! This is called the Cheeseburger Method of Acting. I was only expecting to have a few lines in that nail-salon scene, but we improvised something like five pages worth of material. I Paula Pell-ed it when I got home and wrote, -Dear diary: Wow! Today was an amazing day.'"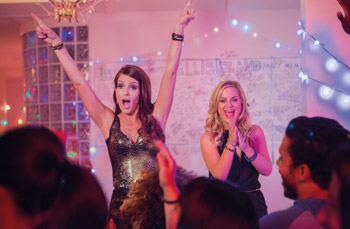 The rest of the party is populated with a who's who of New York theater and comedy talent. New Yorker John Leguizamo plays Dave, the burnout who worked in the local liquor store in high school and remains there 20 years later. Tony-nominated stage actor Santino Fontana (who voiced Hans in the blockbuster Frozen), plays an obnoxious yuppie, Mr. Geernt, who has bought the Ellis house alongside his equally irksome wife, Mrs. Geernt, played by Britt Lower of TV's Unforgettable.

For Kim and Dan, the high-school sweethearts who are still together, the filmmakers cast veterans of the comedy world, including Jon Glaser"a five-time Emmy-nominated comedy writer for Late Night With Conan O'Brien and a performer with credits from Parks and Recreation to Trainwreck. His better half is portrayed by Renée Elise Goldsberry, who has been in everything from New York's Shakespeare in the Park to her current work in the Broadway blockbuster Hamilton.

The couple that is desperately in need of a night away from their kids is played by The Daily Show correspondent Samantha Bee and comedy actor/writer Matt Oberg (FX's The Comedians). Kate McKinnon (SNL) and Colleen Werthman (writer on The Nightly Show with Larry Wilmore) portray a lesbian couple that volunteers to help with party planning, while another longtime friend of Fey and Poehler, Rachel Dratch"who famously portrayed Debbie Downer on SNL, a vintage Paula Pell sketch"plays Kelly, whom Dratch describes as 'the melancholy drunk."

Of her character's moniker, Dratch laughs: 'Kelly is their friend from way back in the day, and she starts thinking about time and how everyone's getting older. Actually, Paula told me Kelly is based on a real experience when she had this huge party. There was this girl crying in the corner, saying, -I'm just sad about time.' Only after I shot that did I find out that that was a real thing that happened to Paula."

Much to Kate and Maura's dismay, their blowout actually starts out on the somber side, with people discussing their aging parents and other depressingly sober topics"and only the sound of crunching chips interrupting the quiet. The panicked sisters quickly spring into action, working to bring up the mood. Best fix? Drugs.

WWE entertainer John Cena, who recently demonstrated his scene-stealing comic chops in Trainwreck, plays the role of a thug brought in to kick things up a notch. While his character"the neck-tattooed, drug-dealing bad-boy Pazuzu"is delightfully out of place at the Ellis Island rager, Cena admits that he had a blast in the role. He sees (a modified) version of this need to unwind as very necessary for grown-ups: 'What I love about Sisters is that it's a great story about family togetherness. This party they have represents a slice of life that we all miss. I make it a priority a few days a year to get together with friends that I had in college, and we just shut off life for about two and a half days. It's awesome. We all need to reset the calendar and rework the engine."

Long Island as Florida: Building the Ellis Home

Although the Pell home is in Orlando, it was decided early on that it would be more convenient to shoot Florida in New York. As the script was semiautobiographical, the Florida-ness of it was essential. Led by production designer Richard Hoover, the team found their Orlando in Dix Hills, Long Island, approximately an hour and 20 minutes outside of New York City. Identifying streets that had canopies of trees reminiscent of Florida, the crew was able to cheat by planting palms and other tropical foliage.

Hoover reflects on their luck: 'Obviously, there's a different kind of light, plant life and houses on Long Island. On the last day, when we were going to give up searching for our house, we drove one mile over the New York local-shooting zone and found this community called Dix Hills, where a developer had built a series of 1965-ranch-style houses. They're open-floor plans, and they're all the same but with different configurations"now overgrown with greenery. We found a street that was flat, and there was a house for sale that was in bad shape. That became a great gift because the rest of pulling off Florida involved bits and pieces of things at other locations."

With the exterior of the hero location solved, how to shoot the interior scenes"a much bigger problem from a technical point of view"still loomed. The original idea was actually to not build the house on a stage, but in a lot. That would allow Moore and his team to sink the pool in a real yard and have complete control; they could cover it to protect the shoot from weather. When that became too difficult of a prospect, the crew decided to create the house on an indoor stage. Because there's a pool in the Ellis' backyard, the bottom of the set needed to be at least as high as the top of the water. Therefore, the production was approximately 10 feet up in the air at ground level.

Hoover discusses the decision: 'When you are shooting four weeks in a house that goes through mayhem, you have to build that, because the environment needs to be controlled. We played around with the idea of building a house on location and putting up a big tent over it, but that became too prohibitive. So we ended up on a stage in which we created the back porch and the pool. That's all very archetypal Florida living, and I am proud of the job we did creating it."

Moore was thrilled with Hoover's finished product. He lauds: 'Richard designed and built an amazing set. Florida invites some crazy characters and has a unique tone and specific colors, and we knew we had this huge party sequence that was going to last about an hour in the movie. Those two factors made us realize that we needed to have the control to build something onstage that looked like Florida and to be able to destroy it. We didn't want to worry about rain, and we needed to have a pool with a big sinkhole. I also knew that we'd have dozens of extras dancing with half their clothes off and thought, -If we don't have room to move, we're going to drive each other crazy.'"

Dratch was blown away her first day on the set, as were her fellow performers: 'I was shocked when I walked in here, because I imagined we were shooting at a real house. It was like a snow globe around a real house with a yard and a pool, and it was incredible. I thought I was in a grown-up Disney World."

The other tricky part involving the house set was figuring out how to destroy it gradually, as the chaos of the house party escalates. In fact, it was always the team's intention to shoot it in phases of destruction. When we first see the Ellis house at the beginning of the film, it's in mint condition…as the sale has already gone through. Everything's clean and ready; the keys are ready to be handed over that following Monday. Between the Friday night when Kate and Maura arrive and that Monday morning, the house is utterly destroyed. To accomplish that, Hoover and cinematographer Barry Peterson knew that they would have to ease gradually into the destruction. As the party goes on, it gets more chaotic, and the house is further decimated.

The decline of the house set, which was so lovely and impressive to behold when the cast and crew first arrived at the stage, became visceral. When production moved from the practical locations to the stage, Hoover's work was so real that it seemed you could move into the house. It was functional inside and out, complete with a circular driveway and landscaping in the front and back, as well as a deck and pool in the back. Poehler and Fey felt so at home that they would occasionally take a nap in the Ellis girls' bedroom, one adorned with authentic teen memorabilia"everything from records to instruments, trophies, and '80s movie and music posters. Luckily, the stars contributed suggestions for the contents of the room. For example, Poehler suggested an Out of Africa poster, as she recalls being obsessed with the film as a teen.

Naturally, it became bittersweet to see the realistic deterioration of the house as the party scenes were shot and everything got more and more insane. Poehler cringed when she anticipated the horrified reaction of Wiest and Brolin"who shot some scenes when the house was in pristine condition"as they returned to the set to pick up scenes three weeks later.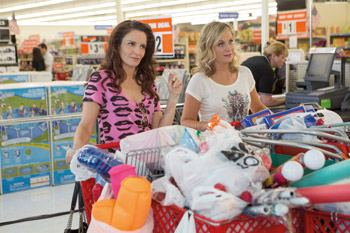 She confirms it was almost the dread of expecting your real parents to walk in and witness that you have ruined their house: 'We turned the house into a disgusting mess, and we were all in it for what seemed like 100 years," says the actress. 'It became a horrible place to stay and work"stuff everywhere, items destroyed, with food all over. It did look and feel like a party house."

By the end of the shoot, the walls were covered in graffiti, and pizza boxes, abandoned drinks and garbage littered the set. Mud from the backyard was tracked everywhere, necessitating the crew to wear boots, and a none-too-pleasant morning-after party odor permeated the air. By the time the production shot the scene where a giant tree crashes into the sun porch, the charming faux-Florida ranch was completely and utterly trashed.

Paula's Post-its: Improv on the Set

Pell's brilliant, hilarious, warped"and occasionally vulgar"mind never shuts down. That began with her childhood journals and carries into the present, with an important stop at Saturday Night Live, where she wrote or co-wrote some of the most iconic sketches and characters in that show's history. Fey raves: 'Right from the very beginning, I thought that Paula was one of the funniest people I've ever met. She was already known as the hit-maker at SNL at that time, famous for writing with Will Ferrell and Cheri Oteri those cheerleader sketches. She is a well of jokes that has never gone dry. Her gross national product of jokes is higher than any person I've ever met."

When you combine Pell's prolific joke-writing ability with her familiarity with the film's two stars and the majority of the supporting cast, you have a recipe for an endless stream of new material to provide the talent on set. They were delivered via Pell's unique, should-be-trademarked, Post-it delivery system.

Pell explains her process: 'When actors rehearse, you get an idea of their dynamic and what they're going to try. I came up with a system a couple of years ago on movie sets, where I would sit next to the director. As I'm watching the shoot, it gives me an idea for another joke or line off of what they're doing. Actually, quite a few of the jokes end up getting in the film. What I like about the Post-it notes is that you can just put them along the cart by the monitors, and the director can pick and choose. They're like pieces of candy. If he wants them, he can take one and go show the actor."

Moore loves Pell's system: 'It's such a gift to have Paula on set. The script is her voice, and why would we not want as much of her comedy as we can? Because she knows these people, she thinks -I can make this better. This makes me think of another joke.' She wrote Post-its and subtly put them next to my monitor; they made me laugh. Then I was able to cherry-pick the ones that I thought would work in the scene. It was fun for the actors, too, because I was able to hand them a little gift. I tried not to let the other people in the scene know what was on the paper, so that everybody heard it for the first time, and it created a freshness and a playfulness on set."

Fey agrees with her director: 'Talk about a Christmas morning pile of presents. Paula will sit at the video monitors, and, if you're in a scene that has jokes in it, she will write new jokes to go in the same spot. Then, Jason would come in and hand you a Post-it of your new line. Her jokes are always funny, and it's fun to surprise the other actors. With the Post-it method, only the person saying it sees the joke. In other movies, you get an alternate to your joke, but the crew or the director yells it out, and everyone's already heard it by the time you film it, so there's not that freshness to it."

Poehler adores that level of collaboration, commending: 'It's a cool present that you get, and you look at it and you giggle before you say it with your partner. But it's also a very generous act, because the writer or the director isn't saying the joke first. I've been on many sets where the director will pitch you jokes from the monitors, and then they get the laugh. It's a perfect summation of the kind of writer Paula is. She's the funniest person in the room by far, and she doesn't feel like she has to constantly prove that. It's why we all love her."

Rudolph calls the Post-its 'Easter eggs" and 'a pure treat." She feels that the system creates an extra layer of energy on set, because 'you can't wait to find out what each Post-it is going to say." The jokes are even aesthetically pleasing, she admits. 'Paula has impeccable penmanship. So you see these lovingly handwritten notes, and sometimes they're pretty unbelievable. But knowing Paula personally is such an added bonus. It's not just because I enjoy knowing Paula so much, but truly because I know her voice. So when you're reading these things, it makes you laugh really hard."

Leguizamo observes that he's a fan of ad-libbing on set because 'it makes for great comedy if everybody's relaxed." With the addition of Paula churning out her top-notch stream of jokes, he adds: 'It's like a Dream Team, and you've got Phil Jackson coaching you on the side."

Even a seasoned comedy director like Roach was impressed observing Pell in action. He recalls: 'I loved just watching Paula come up with dialogue as rich and funny and specific as any I've ever seen; she's a fountain of hilarious lines. One day, she came up with a line where Maura says, -I've been teaching my dog to smell diabetes.' That's the most insane line, but that's what Paula does. She makes some kind of connection that is both super-specific and universal at the same time; that's great dialogue writing."

In addition to the fun of participation, Moynihan enjoyed sitting back and observing the interaction on set: 'It's like watching old friends get together. You see Paula, Amy and Tina talking to Rachel and Maya...and they have this deep relationship as they start cooking and messing around. There's nothing more entertaining than to watch comedians who've known each other for years and are comfortable with each other."

Moore hopes the film will introduce Pell to the worldwide public. 'Everybody should know Paula," he asserts. 'The first time I read this script, it's her voice that compelled me. It's human, weird and off-center, but it's deeply observant and surprising. It's one thing to laugh when you read something, but it's another thing to laugh out loud. She's been writing on SNL for years making people laugh, and audiences don't even realize that it is Paula who is making them laugh. I'm glad that this is a chance to put her voice front and center."

Production wrapped, the players of Sisters reflected on their work on this 'teen party movie, with adults," as they shorthanded it. But within the escalating mayhem, says Moore, it goes deeper: 'At the film's core, it's a love story; these two sisters love each other. They are competitive and codependent. They resent each other at times, but it's all within the context of -You are my family, and I would do anything for you.' Sisters has a root of love and connection and warmth, which is what I hope comes through in addition to the crazy comedy."

To Tina Fey, the core of the move is about 'letting go of who you were in your youth. It's okay if you want to be someone different now, and it's okay to grow up. The home you find is in the relationships you have with your family, no matter where you live, and you have to maintain those relationships and love each other properly."

Poehler has long appreciated that there is a deeper layer underneath this comedy: 'There's more to this film than just two sisters who are different. What's interesting is this concept of -Who were you in high school, and can you change?' I liked the idea of second chances when you're in your early 40s and have an idea that one night could help you change direction and get unstuck. We see Maura and Kate loosen up and do different things: some that are great and others that are a disaster."

Beyond its clever lines and hard-'R" gags, Pell sums up the emotional core of Sisters. Our writer concludes: 'It's that feeling when you're an adult and still don't feel like you have it all together. There's panic at the thought of losing the place that was the shrine of your past"one that you could come back to and remember who you are. You think: -Now, I have to be a real, true adult; I can't come home.'" She pauses: 'I've always loved writing super-hard and dirty comedy, but I like there to be heart under it. Sometimes in a big -R'-rated movie, with all the action, you lose the emotional underpinnings. I don't feel like we lost that, and that's why I am so proud of the film."

Sisters
Release Date: January 7th, 2015