Ricky Gervais and Ty Burrell Muppets Most Wanted
Cast: Ricky Gervais, Ty Burrell, Tina Fey
Director: James Bobin
Genre: Adventure, Comedy, Crime
Rated: PG
Running Time: 107 minutes

Synopsis: While on a grand world tour, The Muppets find themselves wrapped into an European jewel-heist caper headed by a Kermit the Frog look-alike and his dastardly sidekick.

Muppets Most Wanted
Release Date: April 10th, 2014
Production Notes

Disney's 'Muppets Most Wanted" takes the entire Muppets gang on a global tour, selling out grand theaters in some of Europe's most exciting destinations, including Berlin, Madrid, Dublin and London. But mayhem follows the Muppets overseas, as they find themselves unwittingly entangled in an international crime caper headed by Constantine"the World's Number One Criminal and a dead ringer for Kermit the Frog"and his dastardly sidekick Dominic, aka Number Two, portrayed by Ricky Gervais. The film stars Ty Burrell as Interpol agent Jean Pierre Napoleon, and Tina Fey as Nadya, a feisty prison guard.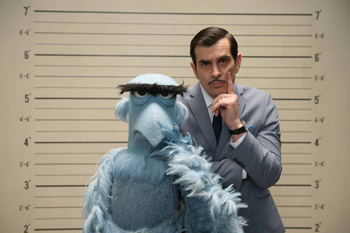 'It's an old-style caper movie," says director James Bobin (Disney's 'The Muppets," 'Flight of the Conchords"). 'Muppet movies often have very classic movie tropes, and the evil doppelgänger"a bad-guy, evil-frog, Kermit-the-Frog look-alike"seemed like such a fun premise for the Muppets' next film."
Disney's 'Muppets Most Wanted" is produced by David Hoberman ('Warm Bodies," 'The Proposal") and Todd Lieberman ('The Fighter," 'Warm Bodies"). Bobin wrote the screenplay with Nicholas Stoller ('The Five-Year Engagement," 'Neighbors" (director)), who is also executive producer with John G. Scotti (Disney's 'The Muppets," 'The Incredible Hulk").
'The audience really embraced the Muppets with our big-screen come-back two years ago," says Todd Lieberman. 'They love the Muppets like we all did growing up"Kermit and the gang are as relevant today as they were 30 years ago. We realised that there was a lot of enthusiasm for these characters so we wanted to bring them back"but with a completely different story and all-new human cast."
'It takes a special actor to work with the Muppets," adds David Hoberman. 'There has to be a passion for these characters, a genuine belief in them and an appreciation for their performances. Ricky, Ty and Tina all have a natural rapport with Kermit, Miss Piggy and the gang"which shows on screen. It would be impossible to pull off a movie like this without the right chemistry."
James Bobin says the cast and filmmakers may have created an all-new genre for 'Muppets Most Wanted." 'We have comedy. We have a caper. And we have songs. To me, it's an action-comedy-musical"and I don't think there are many of those around."
In the grand tradition of the Muppets, the film features a host of cool cameos. Among them are Danny Trejo, Tom Hiddleston, Celine Dion, Salma Hayek, Sean Combs, Christoph Waltz and Ross Lynch. The film features music from Academy Award®-winning songwriter Bret McKenzie (Disney's 'The Muppets," 'Flight of the Conchords"), and a score by Christophe Beck, the composer behind the Academy Award-winning short 'Paperman" and the Golden Globe®-winning and Oscar®-nominated feature 'Frozen." Rahel Afiley is the costume designer, Don Burgess ASC returns as the director of photography and Academy Award- nominated Eve Stewart joins the crew as production designer.
Constructing An Action-Comedy-Musical
Filmmakers Venture to the Dark Side for New Muppets Adventure
'In film, I am Number One Criminal," says Constantine, who joins the Muppets for the first time in 'Muppets Most Wanted." 'I have a secret plan with Number Two to steal the crown jewels of London. This plot has never been done before"well, at least not with Muppets."
According to director James Bobin, a caper of this magnitude needed to be set in an international locale. 'If you're going to do a '60s-style caper, it needs a world setting and Europe gives it that classic feel. London, Madrid, Berlin and Dublin are the places to go if you're going to steal great treasures."
The whole Muppets gang returns to the big screen for 'Muppets Most Wanted." 'That's one of the great things about the Muppets," says James Bobin, 'you have so many to play with and you want to do them all justice"so we were happy everyone could be part of the international tour. They pile into a old timey, dilapidated circus train together and travel through Europe."
Convinced by dubious tour manager Dominic Badguy (Ricky Gervais) to take on the overseas tour, the Muppets are excited to perform in the biggest and best theaters Europe has to offer. But always the ribbit of reason, Kermit has his doubts and is reluctant to tackle such lofty venues. His troubles only get worse when his evil double leaps onto the scene. 'Constantine escapes from prison and swaps places with Kermit," says James Bobin. 'Kermit ends up getting mistaken for the Number One Criminal and thrown in a Russian prison in northernmost Siberia, whilst the tour carries on with Constantine posing as Kermit."
Kermit encounters some shady characters"and cool cameos"while in prison, and tries to convince his captors of his true identity. But Nadya (Tina Fey), perhaps the feistiest prison guard in Siberia, keeps him on his flippers. Says James Bobin, 'I thought it would be good to have a character who's quite tough, but secretly soft on the inside. Nadya has a bit of a crush on Kermit because he's a very charming frog."
With Kermit out of the way, Number One and Number Two are free to pursue their evil plan. But hot on their trail are Jean Pierre Napoleon (Ty Burrell), a laid-back Interpol agent, and Sam Eagle, a slightly more driven CIA agent. They don't exactly see eye to eye, but must work together to solve the crime.
According to James Bobin, the three comedy couples"Constantine and Dominic, Kermit and Nadya, Jean Pierre and Sam Eagle"form the engine that drives the global adventure.
Who's Who In "Muppets Most Wanted

All-Star Cast Combines the Best of the Muppets and Humans
Filmmakers assembled an all-star cast of both Muppets and humans, including a roster of cameos that guarantee surprises for audience members of all ages.
Kermit The Frog enjoys the Muppets' return to fame following their latest big-screen hit"until they kick off a global tour and he's mistaken for the World's Number One Criminal, Constantine.
'I play the role I've trained for my whole life"Kermit the Frog," says the amphibian extraordinaire. 'But this is me like you've never seen me, where you've never seen me"in prison. Ulp!"
'Two quite bad things happen to poor Kermit," says director James Bobin. 'Firstly, Dominic"this charming guy who arrives to take the Muppets on their Global tour"is very good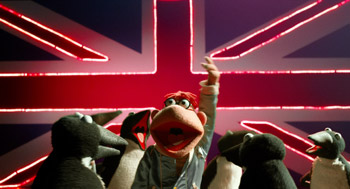 at telling people what they want to hear. Meanwhile Kermit is the voice of reason, so the Muppets are naturally drawn to Dominic. Then, Constantine"who's just escaped from prison"swaps places with Kermit, making sure he gets captured and sent to the Siberian gulag."
Constantine is the World's Number One Criminal"and a dead ringer for Kermit. Despite his prowess in all things evil"Constantine does not share Kermit's natural talents on stage.
'Constantine endeavors to replace Kermit and control the Muppets' world tour," says James Bobin.
'Originally, Kermit was going to play this part, as well as his own," says Constantine. 'But when I showed up on the set and they found out that my name is already Constantine and I am already the World's Number One Criminal, they figured they'd give me a shot. The rest, as you say, is history"and hysterical. See, I am already knowing how to give the witty quotes. I am a natural."
'Constantine does a very bad Kermit impression," adds James Bobin. 'But it's enough. It fools the Muppets."
Dominic Badguy (pronounced 'Badgee," it's French!) is a handsome opportunist who books the Muppets on a grand global tour. What they don't realise is that he's really Constantine's dastardly sidekick aka Number Two.
Ricky Gervais was tapped to fill the role, and the award-winning actor did most of his scenes with newcomer Constantine. 'I've been a fan of the Muppets for about 35 years, but this is my first time acting opposite a frog," says Ricky Gervais, 'but it's probably the best experience of my life. This is a big Hollywood production. The sets are amazing. The effects are great. It's a really funny caper plot."
'Ricky Gervais plays the role with one part salesmanship, one part smarm, one part fear and one part confidence," says producer Todd Lieberman. 'It all blends perfectly."
'Ricky Gervais is one of the funniest people I've ever met," says James Bobin. 'He's incredibly sharp and loves the Muppets. He's the perfect foil for Constantine. They're both quick thinkers and are great at the classic one-upmanship banter."
'He is wonderful bad guy," adds Constantine. 'He do what I tell him to do. He is great big Number Two."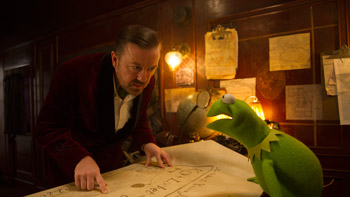 Miss Piggy"fashion icon, super diva"delights in the news of the Muppets' global tour"starring her, of course, in her best performances ever. Even better, overseas adventures are ripe with romance. Oh Kermie! (Or is it?)
'In this movie, moi was fabulous and funny, with award-worthy acting that better win me major kudos and statuettes," says Miss Piggy.
Nadya is a feisty prison guard. She does her homework and is always one step ahead. Nothing gets by Nadya. 'She loves entertainment and Broadway," says Tina Fey, who was called on to portray the complicated Russian. 'She's been in charge of the prison review here for years. And when Kermit is wrongly imprisoned in the gulag, she's very excited to force him to help her make the show good."
'I thought it would be good to have someone who's apparently quite tough, but secretly soft inside," says James Bobin. 'She develops a liking for Kermit because he's a charming frog. We needed someone who's funny and could play hard and soft. Tina pulls it off with style"and a hilarious Russian accent."
'Tina is fantastic and so funny," adds Kermit. 'My only problem was that she really gets into character, and I really don't think she had to leave me locked up when we finished shooting each night. But what can I say? She's an artist."
Fey worked opposite a few other super-stars. 'I had the pleasure of working with Ray Liotta, Danny Trejo and Jemaine Clements. We did"as you would expect of the four of us"a lot singing and dancing. I only had one scene with Miss Piggy, but I hope to spend more time with her because I'm kind of in awe of her."
Jean Pierre Napoleon is an Interpol agent who's charged with solving an elaborate crime spree. He's not alone in his mission, however, as Sam Eagle, CIA, is assigned to the same case.
'James Bobin first described my character as being a sort of an amalgam of all the French inspectors that have ever existed, which I loved," says Ty Burrell, who portrays the outlandish Frenchman. 'We went back to the '60s films, with Clouseau or Poirot"it's sort of a mash-up of all of them. And I don't remember James Bobin' exact words, but I believe it was something like -Don't worry too much about subtlety.'"
'I think Ty Burrell is one of the funniest people I've ever seen on TV," says James Bobin. 'I thought he'd be great opposite Sam Eagle."
'Ty Burrell is a suspicious character," says Sam Eagle. 'And while he claimed to be upstanding Interpol agent Jean Pierre Napoleon, he is actually an actor. Imagine my shock! Needless to say, I had to keep track of him throughout the production to make certain he did not try to steal any scenes. Sadly, he does"repeatedly."
'For me, as a kid growing up"and now as an adult"the Muppets represent the best of both worlds," says Ty Burrell. 'They're sweet and wholesome, but so funny."
Sam Eagle is a CIA agent who's charged with solving an elaborate crime spree. He's not alone in his mission, however, as Jean Pierre Napoleon, Interpol, is assigned to the same case.
There's an ongoing competition between Sam and Jean Pierre throughout the film, but Sam Eagle says he knows why he makes the better investigator. 'I am tireless, relentless, humorless and I have an eagle eye. Plus, I'm an American!"
'I never saw Sam fly, yet he purports to be an eagle," says Ty Burrell. 'It's funny though, Jean Pierre and Sam actually grow to like each other and become inseparable."
Fozzie Bear hits the stage in some of Europe's grandest theaters, bringing to a global audience the comic stylings of the funniest"and only"stand-up bear. Wocka! Wocka!
Fozzie was eager to take part in the film. 'It was a chance to do an international tour and try out new material"or at least old material that folks in other countries hadn't heard before," he says. 'My writer Gags Beasley and I worked around the clock turning out jokes. Most of our jokes are about clocks. We try not to look too far for inspiration."
Walter, a superfan-turned-actual-member-of-the-Muppets-gang, brings his voice of reason to the Muppets' global tour. And they're gonna need it.
Walter says this film proved far easier, now that he's got the director's short-hand down. 'When James Bobin said -Action,' I acted. When he said, -Cut,' I stopped. Who knew?'"
Animal dreams of a drum solo in the Muppets' global tour. A shaggy appetite with legs, Animal is a gentle soul with a knack for LOUD"but he can sense when something's awry. Says Animal, 'Me no like bad frog."
Gonzo The Great"a poultry-loving daredevil and plumbing aficionado"makes a breakthrough in entertainment and personal injury with a new act that just oozes with European flavor: indoor running of the bulls. 'It'll knock you out of your seats"literally," says Gonzo.
Muppets Most Wanted Goes Global
Production Designer Eve Stewart Makes Muppets Magic
When filmmakers contemplated the setting for the next Muppets adventure, it was apparent that the gang needed to go global. 'We wanted to best serve the story," says executive producer John G. Scotti, 'and the Muppets have done the States, so we decided to make it a European tour."
The production used locations in and around the UK as doubles for some European locales. Kent's Chatham Dockyard, popular to filmmakers due to its cobbled streets, church and buildings dating back to the Georgian and Victorian periods, doubled as Berlin. RAF Upper Heyford, previously a Royal Air Force base located in Oxfordshire, served as the location of the film's Siberian gulag.
With the international locale and the unique requirements of the Muppets, production designer Eve Stewart had her work cut out for her. But she says she approached the project like any other. 'My job is to bring the script to life by creating a world for these characters."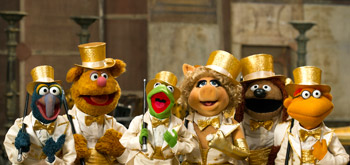 The film was shot in part at London's Pinewood Studios, where Eve Stewart constructed sets that met the unique requirements of the Muppets. According to Eve Stewart, there is a wide range of sizes for the characters in a film like 'Muppets Most Wanted""Kermit is a little over 2-feet tall, while Sweetums is almost 7-feet tall. 'It's certainly an endeavor to get the two to marry completely. Certain things, like doorknobs, have to be placed strategically to accommodate human characters and Muppets. We were constantly playing with scale."
But Eve Stewart says her greatest objective was to ensure that the Muppets looked good. 'We were constantly thinking of how we could make them"particularly Miss Piggy"look their absolute best," she says. 'We had to be very careful with colors and textures and avoid anything that would clash or make them disappear"Kermit's not a chameleon, so we avoid green completely, for example."
The production also went on location, pursuing tricky sites and braving England's weather. 'It seems Mother Nature is a fan of the Muppets," says producer David Hoberman. 'There were a few exterior shots that called for sunshine"a bit of a rarity in that part of the world. But when we needed sunny weather, England obliged."
The Muppets made their way"with a little Muppets magic"to Europe and throughout aboard a train. The Bluebell Railway is a heritage line running for 11 miles along the border between East and West Sussex in England and features in the film. The Bluebell Railway Society preserved a number of steam locomotives before the cessation of steam service on British mainline railways in 1968. It has the largest collection (more than 30) of steam locomotives in the UK after the National Railway Museum. The Society also has a collection of almost 150 carriages and wagons, most of them pre-war.
'We used the station as Dublin," says Eve Stewart. 'There are only a few period stations around and it does actually look incredibly like a Dublin station. The story takes us to real cities, so we tried carefully to make sure they all looked as real as possible."
Creating the train itself proved particularly challenging. 'It's not easy finding an abandoned steam train that's rotting," says Eve Stewart. 'We were diligent. We had to persuade them to drag the trains out and let us paint them."
England's Upper Heyford's bleak airfield was transformed into the Russian gulag. The weather proved Siberian, too, reaching minus 8 degrees Celsius during the three-day shoot. 'We wanted to represent someplace daunting and somewhat fearful to a frog," says Eve Stewart. 'We looked at old films and tried to create something that looked run down with an institutional color."
For the film's finale, filmmakers ventured into a locale that few productions are allowed to access"the Tower of London. Says producer Todd Lieberman, 'I was told that this was the first time ever a proper film crew has been let inside the way we were allowed to film inside the walls, which I think is pretty special."
'We weren't allowed to touch a brick, understandably," adds Eve Stewart. 'They're usually really strict, but luckily the woman who runs it likes the Muppets even more than James Bond, so they opened the doors and said, -Come on in.'"
Eve Stewart and the filmmakers tied the studio and location scenes together with a nod to crime stories of the past. 'We tried to give the Muppets a framework in which they could perform that's realistic, but heightened. You've got to believe that they are in peril, but able to break into a massive song-and-dance number. The experience has been brilliant."
Muppet-Couture
Costume Designer Rahel Afiley Dresses the Diva (and Everyone Else)
Costume designer Rahel Afiley and director James Bobin share an affinity for classic styles of the '20s, '30s and '40s, which was woven throughout 'Muppets Most Wanted" and reflected in the wardrobe.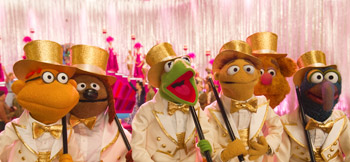 Rahel Afiley is no stranger to Muppets. She served in the same role for Disney's 'The Muppets" in 2011. 'It's a lot easier this time," she says. 'I knew what to expect: what looks good on humans doesn't necessarily look good on Muppets."
Kermit the Frog is a personal favorite of the costume designer, who finds him easier to work with than a certain divine swine. Brooks Brothers provided Kermit's morning suit, and Afiley's team fashioned his gulag outfit, as well as his white tux with gold piping for the opening song.
Color is key, for obvious reasons, when it comes to Muppets"and humans, too, says Afiley. The wardrobe for Ricky Gervais' character Dominic, for example, got slightly darker as his character's criminal escapades escalated.
While Dominic's attire consisted of more traditionally styled suits, Jean Pierre Napoleon's wardrobe adopted the agent's European flavor. 'His character has that '60s-style French cool thing going on," says Rahel Afiley. 'We went with more burgundy and royal blues for him."
The costume designer was careful to consider which Muppets would be on set with their human counterparts. Ty Burrell's wardrobe had to complement Sam Eagle's coloring, for example. And Tina Fey wasn't likely to wear Kermit green"not that her prison-guard garb would've called for it. 'Tina's wardrobe is a prison guard uniform"but tailored with a feminine touch," says Rahel Afiley.
Speaking of feminine, perhaps Rahel Afiley's most important wardrobe role involved a precocious pig with notable needs. 'The rest of the Muppets don't compare to Miss Piggy when it comes to wardrobe," she says. 'Miss Piggy requires a lot of designing. In this film, she has 24 changes, which is more than any Muppet or human. It's actually more than all the humans combined. She's quite a diva."
'Sometimes I amaze even myself," says Miss Piggy. 'The greatest thing about my wardrobe for this movie is, of course, that after we finished shooting I got to take all the dresses home with me! Isn't Hollywood fun? All moi's outfits are fantastique, but my special favorite is a glorious white gown with veil designed exclusively for moi by fashion legend Vivienne Westwood. This dress looks suspiciously like a dress that one"such as moi"could get married in. But you'll have to see the movie to find out."
Vivienne Westwood was commissioned to create couture designs for the fashion icon. Miss Piggy wears a Vivienne Westwood couture Long Ivory Court wedding gown, with corset detailing and paillettes made from recycled plastic bottles, accessorised with an ivory tulle veil. Piggy also entrusted the designer with additional looks for the film, including a Vivienne Westwood couture Harris Tweed houndstooth check coat and matching beret worn in a scene set at Tower of London. Miss Piggy also chose a long silver hand-embroidered floral lace gown for her duet with Celine Dion.
Vivienne Westwood also designed additional gowns for Miss Piggy's film-related public appearances.
Muppets Most Wanted Makes Musical Mayhem
Oscar®-winner Bret McKenzie Returns with All-New Songs; Composer
Christophe Beck is Back with Sensational Score; Choreographer
Francesca Jaynes Adds Muppets Moves
The Muppets wouldn't be the Muppets without the musical mayhem that's made them fan favorites for almost four decades. With songs by Bret McKenzie, who won an Oscar® for the original song 'Man or Muppet" in 2011's 'The Muppets," and a score by Christophe Beck, who's behind the scores of Disney's Oscar-winning short 'Paperman" and the Golden Globe®-, Oscar-winning hit 'Frozen," the soundtrack features all-star vocalists, including Kermit the Frog, Ricky Gervais, Ty Burrell, Tina Fey, Miss Piggy, Josh Groban, Constantine and Celine Dion.
'The -Muppets Most Wanted' soundtrack is some of the best music by a frog, pig, bear, chickens, penguins and a"uh, whatever"ever recorded," said Kermit the Frog. 'It's like going on tour with the Muppets, but without the messy cleanup afterwards."
According to Bret McKenzie, who wrote songs for the Muppets' last big-screen adventure, the songs are true to the Muppets' musical reputation: they're packed with puns, punch lines and Muppets mayhem. 'All of the songs are quite story specific," he said. 'They're very character driven.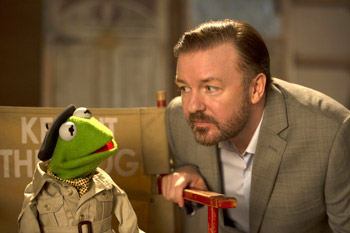 '-I'm Number One' is about the bad frog Constantine being the number one criminal and his sidekick Dominic, played by Ricky Gervais, being number two," Bret McKenzie continued. 'It's a power struggle, a classic rivalry song in a style that could be performed in a cabaret venue."
Choreographer Francesca Jaynes was called on to create the dance sequences. 'The scene with Ricky Gervis and Constantine was the first dance sequence that we rehearsed," says Jaynes. 'It involves Ricky Gervis dancing under a table and down a fire escape. The idea is that Constantine can do everything better than Ricky Gervis's character."
'A lot of the old Muppets songs are like that"show pieces," adds Bret McKenzie. The soundtrack features a host of show pieces, including the fully orchestrated 'We're Doing a Sequel," with special appearances by Lady Gaga and Tony Bennett, along with the whole Muppets gang. 'The opening number was an absolute joy to put together," says Jaynes. 'We have top hats and canes, 65 dancers and 16 synchronised swimmers. Each dancer was a character from a busy film set"construction [worker], painter, wardrobe [assistant], tea lady, cowboy. They perform a brilliant sequence in which they fall into baskets, walk into costume racks and throw hammers at each other. It's anarchic mayhem [culminating] on a huge sound stage."
'Something So Right" is a ballad written for Miss Piggy and celebrated performer Celine Dion. 'Miss Piggy is wonderful," said Celine Dion. 'She's so charming and sensitive and filled with passion. She has a big heart and it was wonderful to sing with her."
'I was magnifique," added Miss Piggy, 'With a little help from moi, I think Celine Dion may have a big future in singing."
The soundtrack also includes 'Interrogation Song," featuring Ty Burrell, Sam Eagle and the Muppets. It's what McKenzie calls 'a conversation put to music," and actually started out as dialogue from the film. Additionally, Tina Fey, who plays feisty prison guard Nadya, takes center stage"complete with Russian accent"with the renowned Josh Groban in 'The Big House."
'There is a scene in the middle of the -The Big House' where the prisoners are escaping," says Francesca Jaynes. 'They are caught against a wall with a spotlight by Nadya. The actors turn the movement into something that is truly comedic. We shot it at night and James Bobin got the crew to join in for a couple of the takes. It was a very special moment."
The 'Muppets Most Wanted" soundtrack features 20 tracks"including 12 new recordings"plus five bonus tracks. Also featured is a score by Beck, who incorporated styles from around the world in a nod to the international locales the Muppets visit in the film. 'This score was incredibly fun to write," said Beck. 'With characters spread across the world, there was opportunity after opportunity to explore many musical styles and settings."
Beck introduced several character themes"Constantine has a Slavic theme, for example, and Kermit and Miss Piggy are accompanied by a love theme (of course) that is an extension of music from 'The Muppets." An 80-piece orchestra was sprinkled with unique instruments, including a banjo, Spanish guitar and a Russian balalaika. 'The real fun was the 20-person Russian male chorus, which is heavily featured," said Beck.
When it comes to the Muppets, Beck knows that comedy is key, but that doesn't mean he needed to weave it into the score. His trick to supporting the funnier moments is to 'let the comedy play out," says Beck. 'The Muppets exist in the real world in their films, and their hardships and triumphs are no less serious than those the audience experiences every day. The comedy comes from watching these personalities that we all love interact with each other and their surroundings. They don't need -funny' music underneath"they need very serious music that supports the scale of what is happening on screen."
Following is the final track list for Walt Disney Records' 'Muppets Most Wanted" soundtrack, which is available March 18, three days before the movie hits theaters.
Preorder is now available at both iTunes (http://smarturl.it/mmwa1) and Amazon (http://smarturl.it/mmwAmazona1).
1. 'They've Ordered a Sequel"* Walter, Statler and Waldorf
2. We're Doing a Sequel The Muppets with Lady Gaga and Tony Bennett
3. 'My Name First_ _ _ Your Name"* Constantine and Ricky Gervais
4. 'I'm Number One" Constantine and Ricky Gervais
5. 'The Casa Grande"* Kermit, Tina Fey, Jemaine Clement, Danny Trejo and Ray Liotta
6. 'The Big House Tina Fey with Josh Groban
7. 'Stick with Me"* Constantine and Miss Piggy
8. 'I'll Get You What You Want" (Cockatoo in Malibu) Constantine
9. 'The Muppet Show Theme" Los Muppets
10. 'Answer Some Questions"* Ty Burrell
11. Interrogation Song Ty Burrell, Sam Eagle and The Muppets
12. 'Oh Foo Foo, It's Always Been a Fight"* Miss Piggy and Foo Foo
13. 'Something So Right" Miss Piggy, Kermit, Celine Dion and The Muppets
14. 'We're Goin' Underground"* Kermit
15. 'Working in the Coal Mine" Jemaine Clement
16. 'The Gulag Finale"* Kermit
17. 'Together Again" The Muppets with Josh Groban
18. 'Moves Like Jagger" Scooter and the Penguins featuring Pepé the King Prawn
19. 'Macarena" (Bayside Boys Remix) Miss Piggy and The Flamingos
20. 'Muppets Most Wanted Score Suite" Christophe Beck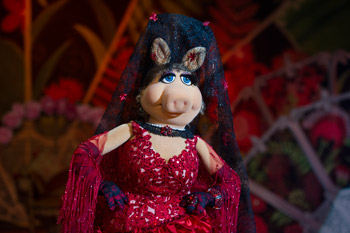 Fun Facts

Lucky Numbers: According to the opening number in 'Muppets Most Wanted," the new film is the seventh sequel to their original motion picture, 1979's 'The Muppet Movie," so it's really the Muppets' eighth big-screen extravaganza in 35 years.
Redemption: 'Muppets Most Wanted" star Ricky Gervais actually filmed a cameo for Disney's 'The Muppets," but the scene was ultimately cut from the film. Fortunately, his bond with the Muppets was cemented and he reunited with the gang for the new film.
French Ty: Ty Burrell's character Jean Pierre Napoleon is a French Interpol Agent. Director James Bobin pitched the character as an amalgam of all the French inspectors that ever existed. James Bobin also reportedly discouraged subtlety in Ty Burrell's performance.
Gulag Garb: The look for Tina Fey's character Nadya was inspired in part by the girl in Elton John's video for 'Nikita." Who says prison guards can't be a little sexy?
And The Winner Is: Constantine has never lost in the voting for 'World's Number One Criminal" – though some suspect he cheats.
A Dressing Room With A Walk-In Closet: With a whopping 24 costume changes, Miss Piggy has more outfits than any Muppet or human. She has more costumes than all of the humans combined.
Anything For The Muppets: Despite the fact that film crews are rarely given access, the Tower of London granted permission to the Muppets team to film inside the walls of the famous locale. Extra security was assigned to Constantine.
Just In Case, Kermit: Miss Piggy's ring size is an 8.
Decades Of Fun: 'Muppets Most Wanted" officially takes place present day, however, filmmakers traveled back in time to add flavor to the film. The plot harkens back to '60s crime capers. The music sports elements of the '80s. Production design for the Hollywood scenes paid homage to '40s-era Hollywood. Costume design uses references from the '20s, '30s and '40s. And the Muppets, who burst onto the entertainment scene in 1976, keep the '70s close to their hearts.
Seeing Stars: In the grand tradition of the Muppets, the film features a host of cool cameos. Revealed so far are Danny Trejo, Tom Hiddleston, Celine Dion, Salma Hayek, P Diddy, Christoph Waltz and Ross Lynch.
Choo Choo: The Bluebell Railway, a heritage line running for 11 miles along the border between East and West Sussex in England, features in the film. The period station doubled for Dublin station in 'Muppets Most Wanted."
Big Muscles: Animal's bicep (flexed) measures 4 ¼ inches. (It measures 4 ¼ inches when he's not flexing, too.)
Laugh Out Loud, Out Loud: According to set sources, director James Bobin was often caught laughing on set"repeatedly. Same scene? Same joke? Still laughing.
Crew The Dancers: After shooting several takes of a musical number sung by Tina Fey, the entire crew was invited to join the cast on set for the final take.
Big Wheels: Agent Jean Pierre Napoleon's teeny tiny little European car in 'Muppets Most Wanted" is named Le Maximum (of course).
Face In The Crowd: Director James Bobin invited his mom and dad to serve as extras at a Muppets celebration in one of the film's climactic scenes.
Tying It Up: Kermit's shoe size is a Kids' size 5 (U.S.). Constantine claims his is a 5 ½ (but he's likely exaggerating).
Muppets Most Wanted
Release Date: April 10th, 2014