Tinsel Korey Twilight Saga Breaking Dawn Interview
Tinsel Korey is a Canadian actress/singer-songwriter who you will recognise as the beautifully scarred fiancée of Sam Uley in The Twilight Saga: New Moon, Eclipse and Breaking Dawn.
Tinsel Korey's other films range from Wyvern, Scott Frank's "The Lookout" starring Jeff Daniels and Joseph Gordon-Levitt, "Hybrid", to "The Quality of Life." Her television credits include shows such as "Da Vinci's Quest", "Godivas", "Intelligence", "The Guard", "Sanctuary" and "Rabbit Fall". Tinsel Korey's independent film "Mothers & Daughters," directed by Carl Bessai (who she had also worked with on "Unnatural and Accidental" in 2006) was completely improvised by the cast, which also included Tantoo Cardinal and Babs Chula, and included in the 2008 Toronto International Film Festival.
Interview with Tinsel Korey
Question:
You were cast as Emily Young, the fiancée of Sam Uley over 800 other actresses. How did you react when you were told you had been cast?
Tinsel Korey
: I was really excited. Especially since I thought I hadn't done well on the audition. But I'm also my toughest critic.
Question:
The character, Emily is scarred from a previous incident with Sam Uley; can you talk about the time you spent in make up preparing for your role in the Twilight Saga movies.
Tinsel Korey
: We had different make up teams for the different movies. For New Moon the make up took three - four hours on the day; because we had two test days. For Eclipse they had to do the make up on set and try to match the first teams job, so it ending up taking eight hours, then five hours, then they got it down to three hours. Then in Breaking Dawn they had a new type of scar material, and it only took two hours. It is quite a process for sure.
Question:
Were you sad to say goodbye to filming the Twilight Saga when you finished part 1 of Breaking Dawn?
Tinsel Korey
: Ofcourse, it's a chapter in your life ending. I remember being at dinner with everyone, and was like "Are we all still going to be friends after this ends?"
Question:
How has your life changed since being cast in the Twilight Saga?
Tinsel Korey
: I guess the amount of attention I get has changed. But how I perceive my reality hasn't, I always remember to stay humble. As fast as something is given to you, it can be taken away just as fast!
Question:
In the movie you are a motherly figure to Sam Uley's werewolf pack, how are you similar to the character of Emily Young?
Tinsel Korey
: I take care of the boys the same way. Always acting like the big sister, and making sure they're ok.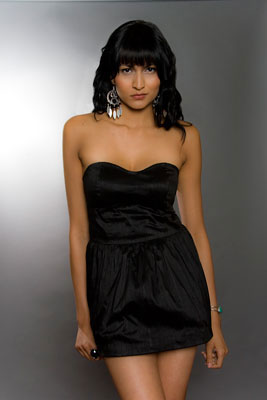 Question:
Can you share with our readers what goes on, on the set of Twilight?
Tinsel Korey
: There are pranks and stuff that we play on each other, and I'm surrounded by boys, so there's lots of male energy on set.
Question:
How do you deal with the crazy fan mania that surrounds Twilight?
Tinsel Korey
: Most of the fans are just really passionate about the Twilight Saga. Some can get a little "interesting", but that's normally online, never in person, for me at least.
Question:
Have you had a crazy fan experience?
Tinsel Korey
: With Twilight? No. Outside of Twilight, yes.
Question:
Did you read any of the Twilight books before auditioning for the role of Emily Young?
Tinsel Korey
: Of course! I read New Moon before filming that movie. Then I spent some time on the Quileute Reservation teaching drama to their kids and visited the Makah nation (where Emily is from) as well, before I started filming Eclipse. I have a very deep understanding of where my character comes from.
Question:
Did you meet Stephanie Meyers on the set of Breaking Dawn?
Tinsel Korey
: No, but I did get the pleasure of meeting her on the set of New Moon.
Question:
Could you talk about your character in the upcoming films Avarice and Stained?
Tinsel Korey
: Avarice: She's sort of a lost soul, really edgy, and her and the other character come upon this mystery box that shows you the one thing you want in life. It's a sci-fi action film.
Stained: Was a darker role cause it's a horror. I played a schizophrenic serial killer. Every day was a challenge for me, as I had to dive into this really dark place. I got to push myself as an actor though, and my craft is the most important thing to me.
Question:
You are working on the comedy Fishing Naked at the moment, can you talk about this film and what audiences should expect?
Tinsel Korey
: After doing such intense films, I started to look for comedies, which is actually a strength of mine. And that's when Fishing Naked came my way. It's sort of like American Pie with a Super Natural twist. I get to work with Bronson again, and I just think he's so talented, so I'm really excited about that. We start filming in September.
Question:
What was your inspiration to get into acting industry?
Tinsel Korey
: Art is a way of me expressing myself. I play music and paint as well. I can't live without art. I don't know if something specific inspired me; I think it was just a part of my core.
Question:
How do you have time to focus on your acting career and your singer-songwriting career?
Tinsel Korey
: Well doing a studio album has been a challenge because every time I get started with music, acting takes my attention away. But I just move with whatever medium inspires me at that time.
Question:
What is the one quote, you live by?
Tinsel Korey
: "Believe in Dreams"
BooBoo Stewart Interview as Seth Clearwater in Twilight Saga Breaking Dawn:
www.girl.com.au/booboo-stewart-twilight-saga-breaking-dawn-interview.htm
Interview by Brooke Hunter