Your Stage. Our Edge.
Atlantic Group [v] best known for its outstanding event venues at Central Pier Docklands has embarked on its latest innovative venture.


DISCOVER the Atlantic On Site Edge
Atlantic On Site offers a unique pricing philosophy, an effortless process where we combine all event elements such as food, staffing, equipment hire & delivery all into a simple per person price.
Simply choose your favourite dishes from our extensive menu items, combine with your choice of beverages and then we will provide you with a proposal which is inclusive of staffing, equipment hire and delivery.
As every event has a different story to tell, we prepare a specific proposal just for you. Whether a simple boardroom lunch for 10, to a extravagant gala dinner for 1000, we will work with you to create a seamless experience from beginning to end.
CELEBRATE the Atlantic On Site Edge
Celebration is not just about the sense of occasion, it's also about the finer details that have relevance and meaning to the individual. Discerning customers know the value of a unique experience. Events can be a celebration for a company, a couple or an individual so it's essential their personalities are reflected in every detail of the day.
For your most cherished and celebrated occasion, we are here to provide you with unforgettable moments and indulge your senses.
The underlying philosophy of Atlantic On Site is that delicious and imaginative food can be presented anywhere.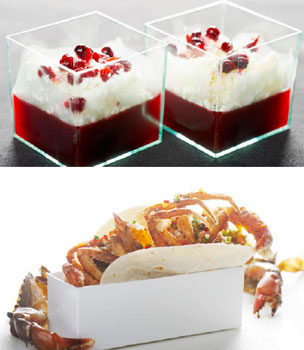 EXPERIENCE the Atlantic On Site Edge
Atlantic On Site offers a completely unique sense of food design and dining décor.
Beyond the exceptional food offering, there is a superior range of china, flatware, and glassware available for hire from Atlantic On Site. Its high quality, designer items are a level above other function centres, hotels and caterers. And because we own the equipment, Atlantic On Site can provide it to our clients at a significant cost saving.
TASTE the Atlantic On Site Edge
When it come to our cuisine and food philosophy integrity is everything. Our chefs use the finest ingredients, perfect technique and maintain a sophisticated level of simplicity. The foundation of our cooking is based not only on both practical and professional cookery but also to uphold the integrity of the dishes.
The ultimate way of producing great food is to go through each step with patience and a commitment to the final product. We know that by taking the time to prepare, using fresh ingredients, achieving perfect balance and contrasting textures will result in a product that not only we want to eat and serve to our guests, but gives us a great sense of pride. Each dish is designed to excite the diners' curiosity, whether it be a boardroom lunch for 10 or gala dinner for 1000 guests.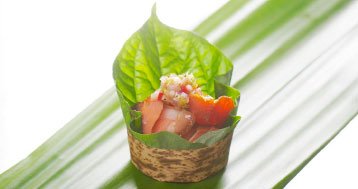 REMEMBER the Atlantic On Site Edge
At Atlantic On Site - its all about the detail. Each occasion is individually and personally created from scratch.
Atlantic On Site embraces the true art of offering highly personalised, imaginative and unexpected experiences.
Characterised by thinking outside the square and going the extra mile, the team behind Atlantic On Site have one thing in mind, your perfect event.
Atlantic On Site is an outside catering arm that enables the taste making team behind Atlantic Group [v] to translate their expertise in hospitality and style at any location.


Atlantic On Site

Shed 9/15 Central Pier
161 Harbour Esplanade
Docklands Victoria 3008

T +61 3 8623 9600
F +61 3 8623 9623

www.atlanticgroupv.com.au