BOB HOSKINS SAYS HIS BUM DICTATES HOW TO CHOOSE A FILM.
EXCLUSIVE by Paul Fischer in Los Angeles.
Bob Hoskins plays a variety of irreverent characters on screen, but off screen, he's one himself. Still sporting that trademark cockney accent, Hoskins, who plays sinister MGM boss Eddie Mannix in Hollywoodland, says it was his rear end that convinced him to do the film. "I saw it when it came through in an envelope, took it to the loo, read it, got a very cold bum and said, oh, this is really good." Apparently his bum has been very good to him, he adds, laughingly. "If a script turns up I take it out of the envelope, take it to the john and start reading it. If I suddenly think, oh, wait a minute I've got a cold bum, this must be a pretty good script. It's quite practical and a very definite sort of reaction to something."
Hollywoodland centres around the apparent suicide of 50s TV star George Reeves [played in flashback by Ben Affleck] who may well have been murdered, possibly by Haskin's Mannix, whose pretty wife had been having an open affair with Reeves, an affair that the actor ended, just prior to his death.
Bob Hoskins, a sprightly 64, says he knew about Reeves' Superman TV series, but little beyond that. "I saw all the series, but I didn't know anything about his suicide, murder and Eddie Mannix. I'd heard about him but I'd never sort of really known much about him." A character that could easily be played purely unsympathetically, Bob Hoskins didn't see Mannix as being just a bad guy. "What attracted me to the part was the fact that this ruthless sort of tough, pragmatic film producer has the depth of feeling to love his wife so much for exactly who she was. I thought that there's something going on there and that man's got a bit of depth." Bob Hoskins says he didn't feel it necessary to do any research on either Mannix or the period. "Well the script was pretty crystal clear and I didn't want to build a sort of rigid structure and impose it onto Allen [Coulter's] production. I didn't know what Diane Lane was going to do, what Adrien Brody was going to do or Ben, so I had to fit in really. Hoskins adds that Mannix was not an easy character to play. I don't think characters with that kind of depth are all that easy, as you've got to be careful with them. But I must say acting with the actors that we had made it a lot easier."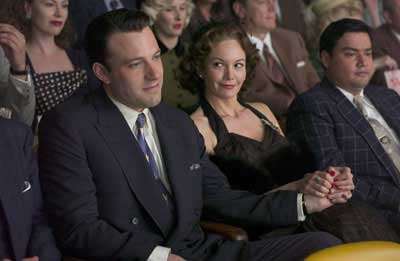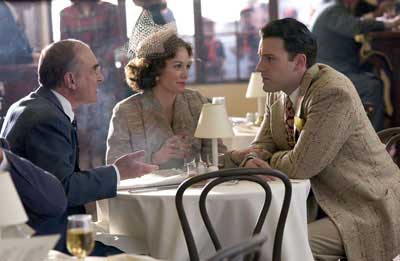 Bob Hoskins continues to be busy, admitting that he has completed four films. He won't say which of the group he's the most keen on. "When I finish a film I'm finished, I've done my bit, but up next it could be a film called Sparkle or a film called Ruby Blue or a film called Outlaws or it could be on the television on Boxing Day, The Wind in the Willows." In the latter, by the way, he plays Badger, he adds smilingly.
One wonders how an actor that keeps himself so busy can maintain a sane and happy marriage. "I've got a really good wife and that's the thing. We've been married for a long time. One of the things about sort of doing this business is you've got to have a life apart from this business and if you've got a really happy marriage that's most of your problems gone." He says he's about to take 'his old lady' on holidays, and flew into Los Angeles for this press junket, immediately following the terrorism alerts in London. Suffice it to say, the good humoured Bob Hoskins has been left rattled, having caught the last plane out prior to the drama unfolding. "I arrived and everybody said are you okay, are you okay and I'm saying, yea, why. And then they told me what had happened and I've got to get back tomorrow night, so I'm scared shitless."
And Bob Hoskins has told his agents that he's hanging out the do not disturb sign for the time being.