Belkin SportCommand, the wireless iPod remote designed for snowboarders & skiers, and definitely the adventurous at heart. Enter for your chance to win 1 of 5 Belkin SportCommand's.
Wirelessly control your iPodSportCommand™ for iPod® SportCommand lets you control your music while your iPod stays protected. It lets you listen easily while snowboarding, mountain biking, running - and doing virtually anything that takes you outside.
The SportCommand armband straps to your arm or wrist and communicates wirelessly to your iPod. You can store your iPod in a backpack, jacket, or virtually anywhere, from up to 50 feet away. The SportCommand works through walls, backpacks, and jackets. The smart-fabric remote attaches to almost any surface with its VELCRO lining or the included carabiner clip.
SportCommand controls: play/pause, next/previous track, and volume up/down.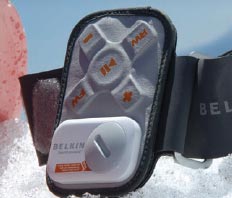 Benefits


Includes smart-fabric remote

Prevents rips and malfunctions from exposure to the elements with durable, flexible design
Features big buttons for easy control - even with gloved hands

Secures to your arm, leg, belt, or another strap with tough neoprene and VELCRO® closure strap

Water-resistant

Hand-washable

50 ft range


www.belkin.com/anz



---

* iPod not included
* 2-Year Warranty

Works with:
* iPod with video30GB 60GB
* iPod20GB 40GBU2 Special Edition
* iPod with color display20GB 30GB 40GB 60GBU2 Special Edition
* iPod mini4GB 6GB
* iPod nano1st generation1GB 2GB 4GB
* iPod nano2nd generation (aluminum)2GB 4GB 8GB