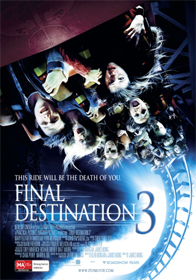 Starring: Mary Elizabeth Winstead; Ryan Merriman; Kris Lemche; Amanda Crew; Alexz Johnson; Texas Battle; Jesse Moss & Chelan Simmons.
Directed by: David Wong
Genre: Thriller
Rated: MA15+ Strong horror & violence
Running Time: 92 mins

On what should be one of the happiest days of her life, high school senior Wendy (Mary Elizabeth Winstead) joins her friends for a graduation night celebration at a local amusement park. As they're about to board a roller coaster, Wendy is suddenly spooked. Her boyfriend Jason ( Jesse Moss ) reassures her that it's merely the act of relinquishing control that's giving her the jitters.

Wendy overcomes her fear, but no sooner has the pneumatic harness descended, securing her in her seat, than Wendy experiences a vivid premonition of a fatal accident in which the roller coaster becomes a death trap for her and her friends.


Thanks to Roadshow Films here is your chance to win double passes to 'Final Destination 3'