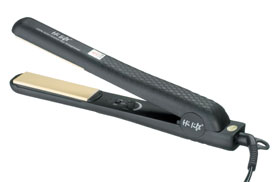 Want 100% straight and silky hair? Thanks to M&U Imports here is your chance to win Hi Lift 100% Solid Ceramic Hair Straightener to flatten out that frizz this summer.

You can have it with the Hi-Lift 100% Solid Ceramic Iron. Using 100% solid ceramic plates, the ceramic technology is enhanced.

The solid ceramic plates eliminate heat damage by heating hair evenly and emitting ion reflectives. These ion reflectives not only abolish frizz and create silky results, but also assist with the breakdown of bacteria. Dry and damaged hair will be forgotten, as your becomes straighter and cleaner than ever!

The Hi-Lift 100% Solid Ceramic Iron has a super slim design for easy styling and an 80-200° Celsius temperature control.

Achieve 100% results and feel 100% happy with your hair with Hi-Lift's Solid Ceramic Iron!