Gourmet Valentine's 'Fortunate' Cookies Love - WIN 100 love letter mini fortune cookies adorned with red roses and love messages. Packaged in spectacular gift bowl - sure to impress your lover.
Manufacturers of the world's only Gourmet Fortune Cookies.
Fortunate
cookies offer delicious flavours to choose from including; chocolate, cinnamon, vanilla (regular but yummy too), citrus, pineapple and ginger.
Special Offer
This Valentine's Day break tradition. Cards and flowers are fine but there is a more sweeter way to tell someone you care this Valentine's Day - with Fortunate's Love Letter Edible Card range...
You get a giant gourmet Fortune Cookie, your own personalised love letter as the message. Write your own love letter and we will insert for you. Or, if you are finding it hard to put into words? Not a problem, choose a quote from our Valentine's Day Love Letter Quote Gallery or talk to our very own love letter fortune tailor to craft your own?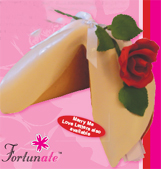 ° Love Letter Edible Cards are boxed in a gorgeous clear acetate box and tied with decorative ribbons
° Each Love Letter Edible Card is adorned with a single long stem rose - made out of edible icing
° All love letter edible cards are custom made using only the fi nest ingredients
Orders only. $35.00 + delivery
*Offer closes 4th February
To order call (612) 9652 0519 to discuss your very special and personal needs for this important romantic occasion.
Or you visit
www.fortunate.com.au
Fortunate - Home of the Gourmet Fortune Cookie