Must-have New York cosmetics brand e.l.f has unveiled its stylish new packaging with hot new additions - which can now also be discovered in Australian retail stores.
Previously only available to Australians via
www.eyeslipsface.com.au
, the brand's leap into retail means everyone can now get hold of the new-look e.l.f range - and at the same price of only $2.95 each!
Exclusive to Kmart, the clever new e.l.f Elements range means you can now create your own customised compact. Start with a sleek and stylish mirrored compact ($2.95), then mix and match with a selection of eye, lip and face colours in your desired shades ($2.95 each).
Other hot newcomers to hit Australian shores include e.l.f Plumping Lip Glaze, e.l.f Super Glossy Lip Shine SPF 15, e.l.f Healthy Glow Bronzing Powder and e.l.f All Over Color Stick - all available in selected Terry White Chemists from October 2006 for $2.95 each.
e.l.f has captivated media attention worldwide since its launch in 2003. CNN headlined "A pretty face that won't cost an arm and a leg" (January 2006) and examined the phenomenon of women with expensive tastes gravitating towards cosmetics without the high-end price.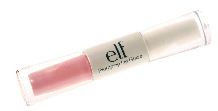 Joey Shamah and Scott Vincent Borba, creators of e.l.f, said the idea came after seeing 99-cent stores in Los Angeles, California, with BMWs and Mercedes in the parking lot and women wearing high-end designer clothes inside buying low price cosmetics.
"I saw all these women with Louis Vuitton purses, and they were just buying truckloads of lip balms and nail polishes," Borba said. "And I thought there's a major market here."
Plumping Lip Glaze $2.95

Designed to enhance and volumise lips. Dual sided, each glaze has a tinted color for a subtle plump or a clear gloss that power plumps your lips. Use together and instantly feel the lip enlarging effects. Comes in eight shades.
Super Glossy Lip Shine SPF 15 $2.95

Brilliant, never sticky, long-lasting shine. Moisturises and soothes on contact, while protecting against the ageing effects of the sun. Deliciously flavoured and sweetly scented. Comes in eight shades.
Long Wearing Lip Liner $2.95

Velvety ProVitamin Complex™ ensures lips are lined with naturally long-lasting, never feathering, hydrating pigments. Formulated to be used with any e.l.f. lip care product. Comes in five shades.
Eye Widener $2.95

This soft white eye pencil goes on smoothly and blends easily, helping to create the illusion of brighter, wider, sparkling and illuminated eyes. Pencil cap has a built in sharpener.
Perfect Tweezers $2.95

Professional quality, stainless steel slanted tweezers with a strong grip for accurate tweezing.
Eye Makeup Remover Pads $2.95

The fragrance-free formula allows you to quickly and easily remove eye make-up. Contains eighteen pads.
Healthy Glow Bronzing Powder $2.95

A touch of sunshine to warm up every complexion, this powder has a soft and silky texture for a beautiful and natural glow. Comes in two shades: Warm Tan and Sun Kissed.
All Over Color Stick $2.95

Multi-purpose formula that can be used to highlight the face, eyes and lips to provide instant illumination. Comes in four shades.
Tone Correcting Concealer $2.95

Diminishes dark under-eye circles, blemishes and redness with natural looking, silky smooth coverage. Comes in three shades.
Sheer Foundation SPF 15 $2.95

Hydrates, illuminates and protects skin, providing an instant natural glow while protecting against sun damage. Comes in three shades.
e.l.f elements available exclusively in selected Kmart stores. All other e.l.f products will be available in selected Terry White Chemists.
For stockists call 1800 858 986. or shop online at:
www.eyeslipsface.com.au
Review: 5 years ago cheap cosmetics were taboo, but now, but e.l.f. proves that you don't have to pay high prices for quality makeup.