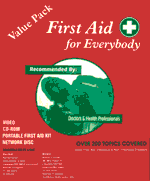 A Complete First Aid Resource In One Package

First Aid for Everybody is a complete First Aid resource in one package. Consisting of a video, CD-ROM, first aid kit and a network disc, this package is a valuable addition to any school or home.

With an easy to use interface, the First Aid for Everybody CD-ROM covers over 200 topics including Burns, Asthma and heart attack using real-life QuickTime movies. The 40 minute video produced by Educational Emergency is a how to guide for First Aid produced especially for inexperienced first-aiders. Also included is a comprehensive twelve piece first aid kit for all minor emergencies. The perfect solution for schools and first aid training. Available now as a complete package for Mac OS and Windows.