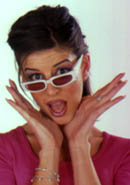 DIVA'S GOSS (with special guest THE SQUIRREL!)

Here at GIRL, we love a good gossip session as much as the next gal does! So each month feast your eyes on the juiciest goss as our resident gossip queen DIVA gives you the inside scoop on all your fave celebs.

The first word off the street is that funny gal Whoopi Goldberg will host the 74th Annual Academy Awards as she did in 1999. Steve Martin did the job last year. The show will mark Goldberg's fourth turn at the helm. She also hosted in 1996 and 1994. Woohooo….can't wait for the soppy acceptance speeches, tragic fashion sense and the boring acts featured! Hmmm…better glue myself to the telly for that one – NOT!

The Squirrel says, "Well DIVA, I think you may be aware that the GOOD OLD SQUIRREL was nominated for a few awards … and as I am a BIG fan of WHOOPI's, I can't wait for the night …. YEAH RIGHT!! WHOOPI lost the plot when she appeared in STAR TREK… Since then all she does are these SORTA Shows… What next, the TV Week Awards?? The part of MADGE'S long lost sister in neighbours? A duet with LIL BOW WOW? Marriage to BOB the BUILDER? PLEASE!!!!"

Home-wrecker Penélope Cruz has told a German magazine that she intends to take a break from filmmaking for at least six months. Addressing a question about her "whirlwind past year," during which she starred in a film with Tom Cruise (Vanilla Sky) and began dating him, Cruz commented: "I wouldn't have had it any other way and I've had fun. But now I urgently need a break." However, when asked whether she might use the time to start a family, she replied, "I simply don't feel ready for that." Wonder if she is taking time off to take the plunge with Tommy-boy?

The Squirrel says, "Penelope Who ? Mark these words from the Squirrel, once this LATINA craze dies down and the Cruises have another few FLOPS in their movies, no one will know or care who Penelope is... I mean, remember Penelope Pitstop?? No you dont??? See! Exactly, I don't even remember her!! As for Tom, Australia's former son-in-law... there won't be anymore mission impossibles, no more TOP GUNS, I think he has done his DASH!! I mean Nic told me the other night over a few drinks that Tom wasn't really interested in acting anymore.... he would rather hang out and dance around the house singing "old time rock and roll" in his JOCKS!! "

Pierce Brosnan, whom many film writers had assumed would pack it in as James Bond after filming the current 007 epic, has agreed to star in at least one more. Speaking with reporters in London as shooting began on the 20th Bond feature, Brosnan said, "Yes, I will do another one. ... I would like to get off the stage with grace. It would be wonderful to do another one". Meanwhile, the stunning Halle Berry has been named as the next Bond Girl - oooh la la!

The Squirrel says, "Does anyone remember the BEAUTIFUL Halle Berry in her last movie?? The Squirrel does indeed!!! Oh my she's a hot one!!! OOH OH ....I heard Pierce was looking at being the new star of another TV remake about to begin production, and yes it is from the 70's!! The word in the Trees is that he will be 'Cotter' in "Welcome Back Cotter"... and other nominees for roles include Nikki Webster as herself, The Squirrel as BOBO the Space Monkey and Hugh Grant as that guy who spoke with the high pitched voice!!! I am sure the Delightful and Delicious Diva is looking forward to that one?? "

Oh yes Mr Squirrel! Friends of the author of the Harry Potter stories, J.K. Rowling, have confirmed that the highly successful 36-year-old writer has married her 30-year-old boyfriend in secret ceremonies in Scotland. The first movie adaptation of Rowling's books about Harry Potter became 2001's big box-office hit ... and there's more to come. So stay tuned Harry Potter fans!

The Squirrel says, "My guess is that the boyfriend is really HARRY IN DISGUISE!!!..You know, he used some magic and made himself older??? I wish he would use some magic on me and make me a superstar!"

The world's most famous virgin, Britney Spears, will be gracing our movie screens in an upcoming flick titled "Crossroads". In it, Spears dances in her underwear, gets drunk and then becomes a non-virgin with some help from an ex-con. Truly a daring move!

The Squirrel says, "What's a VIRGIN DIVA?? Isn't that Olive oil??… Anyways, Britney seems to make it a monthly event by appearing in this column… you remember the HOME VIDEO incident…? Maybe they used some of those home movies in the CROSSROADS MOVIE… ??? I hope her movie isn't a FLOP!!!"

Accusations continue to fly between ex-Baywatch babe Pamela Anderson and rocker Tommy Lee in the custody battle over their two sons. SHE claims that he is an alcoholic, a bad father and a very angry and violent man, while HE claims that she is a bad mother, who works too much and is never around for their kids. Will the circus ever end?

The Squirrel says, "We all know that BOTH of them are the most beautiful and homely people in the world …. Did I say that?? … Now you know I am going nuts again! Where's WHOOPI when I need her to ensure myself that I am normal??"

Pop hotties N'Sync have released their new single called "Girlfriend" which is shaping up as another cross-over hit for the boys. More R&B flavoured, it has sparked a lot of interest from a number of R&B music producers and looks set to follow in the footsteps of Britney Spears' R&B tinged track "I'm A Slave 4 U".

The Squirrel says, "Girlfriend?? Gee that's original boys! Ummm… call me nuts, but surely between the lot of you, you could of thought of a better title for the song??? Like "The Squirrels BAD" or "The Squirrel gets the GIRLS" … or "WHOOPI with the SQUIRREL??" …. Maybe?? Maybe … I am NUTS ??? No I am nuts … Sorry Diva, my relationship split with BABY SPICE is getting to me … I just hope I don't go too NUTS and start DATING anyone who has ever been in BIG BROTHER! Scary!"