Jessica Hart was born in Sydney before moving to Kew, Victoria. Jessica Hart's career began back in 2000 when her aunty entered her in the Dolly modeling competition. By year 9 Jess had to choose between modeling and school, because the school wouldn't let her have any more time off, she chose modeling and has become an international success.
In 2005 she was the face of the Melbourne Spring Fashion Week and Spring Carnival. Whilst in Australia Jessica Hart starred in Antz Pants commercials and was the face of Portmans.
Jessica Hart moved to New York to pursue her career in modeling and whilst being there has graced the cover of international fashion magazines such as Vogue, UK Glamour, Marie Claire Elle, V Magazine and Elite. Since her move to New York Jessica has been popping up in all sorts of editorials and campaigns, one became the face of the fabulous fashion label Guess.
Height: 5'9.5 or 177cm
Hair: Blonde
Eyes: Blue/Green
Shoe Size: 9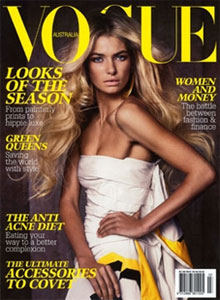 Jessica Hart
When did you move to New York?
Jessica Hart
: I moved to live in New York three years ago.
Who suggested you make the move?
Jessica Hart
: My agent had always said New York was the best place to be! But also said it wasn't the first place to go, he insisted I live in Japan, Paris and London before I make the big move to New York, so that's more or less what I did!
Was it hard?
Jessica Hart
: Well at first it was really hard, going to live overseas at 16 by yourself and leaving all your friends and family isn't easy. When I moved to Paris I met my boyfriend, and then we started to travel and live together, that made it much easier. We moved from Paris to London and then after a year in London, we decided to move to New York. We love it here…
When you entered the Dolly competition back in 2000 did you imagine that you would be featuring in Guess campaigns and in Vogue?
Jessica Hart
: No! Never! I don't think I ever knew what Guess or Vogue was! I learnt everything I know about the fashion industry as I went…
What are you most proud of?
Jessica Hart
: My cover of Australian Vogue.
What was the most memorable shoot?
Jessica Hart
: That is a hard question. Umm.. There are a lot of memorable shoots for different reasons; good, bad, boring etc. I can't pick one.
Do you have a copy of every magazine you have been in?
Jessica Hart
: My Mum probably does!
Who have you enjoyed working with the most?
Jessica Hart
: Nicolas Ghesquiere for Balenciaga, Chanel, Alexander Wang, Ksubi, there are so many more! I could go on for ages… Isabel Marant, Rag and Bone, Givon.
What do you do to relax?
Jessica Hart
: I love watching movies and going to the gym.
Do you plan to come back to Australia?
Jessica Hart
: YES!
What do you miss most about Australia?
Jessica Hart
: My Mum, my sister, all my Australian mates, Vegemite and Cordial.