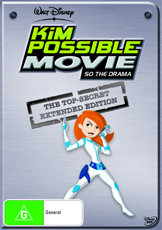 Your average teenage girl out to save the world, is back on DVD in KIM POSSIBLE MOVIE: SO THE DRAMA: THE EXTENDED VERSION available now.

KIM POSSIBLE MOVIE: SO THE DRAMA: THE EXTENDED VERSION is a top-secret edition with all-new additional undercover action, on Disney DVD. Together with her sidekick, Ron Stoppable, they battle even more wacko-bad guys and foil even worse sinister plots - and still manage to finish their homework on time!

Here's the sitch: Dr. Drakken has hatched an evil new plot for world domination, his most insidious yet. What can he possibly want with robots from Nakasumi Toys, Dr. Possible's cybertronic technology, creepy syntho-drones, and the latest teen fads? Kim's used to taking on Drakken; but the prom presents a bigger problem - She is so not going with Ron Stoppable, who's so not that kind of friend.

Kim and Ron's friendship is put to the ultimate test when a new kid, Eric, arrives at school and steals Kim's heart and Ron suddenly realises he too, has feelings for Kim.

Meanwhile, Ron is facing an evil all his own and is up to his eyeballs in strange little Diablo Devil toys when his favourite food joint, Buenos Nachos, crosses over to the dark side.

But it's not over till it's SO over and Kim and Ron will have to figure out a way to save the world one more time, leading to the debut of a spankin'-new outfit and surprise ending.

Don't miss more undercover adventure and explosive action, in the DVD's additional episode "Monkey Fist".
Yori's sensei has been kidnapped and all evidence indicates that Lord Monkey Fist is responsible. Yori and Ron head off to South America to attempt to stop Lord Monkey Fist. However, Kim becomes suspicious of Yori's sudden appearance in Middleton, and heads off after them to get to get to the bottom of their predicament.

Starring Christy Carlson Romano as the voice of Kim Possible, and featuring music by Christy and Jesse McCartney, in Disney's KIM POSSIBLE MOVIE: SO THE DRAMA: THE EXTENDED VERSION features bonus features found only on the DVD:


Special Top Secret Longer Version with Added Footage
Never-Before-Seen Bonus Episode of the Kim Possible series "Monkey Fist"
All-New Christy Carlson Romano Music Video "Could It Be" and "Get Your Shine On" performed by Jesse McCartney


Other Kim Possible DVDs: