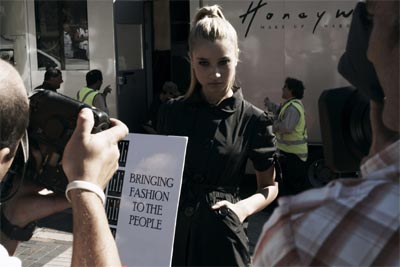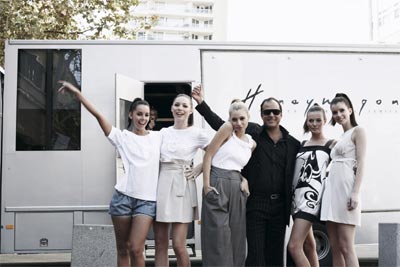 Young models dressed in Australian fashion label Lili' were bullied by Fashion Week's burly security guards when they attempted to stage a rebel parade during today's frock fest.
Like a Trojan horse, an enclosed truck containing the top models snuck inside fashion Week's perimeter and rolled out a red carpet for the girls to strut their stuff while holding placards proclaiming, 'Lili, bringing fashion to the people'.
Within 30 seconds of the parade's start, Fashion Week's security bullied and pushed the girls back into the truck. Undefiant, the girls continued to strike poses as they shouted – 'fashion for the people' to the assembled crowd.
The man behind the label commented,
"We believe in showcasing the Lili label in fun and relevant ways; and a zesty parade is an ideal way for our customer to connect with the label.
When Lili was virtually unknown to the media, buyers and the public; we used Australian Fashion Week as a very successful launch pad. We have shown at Fashion Week on three previous occasions.
Now that it appears the sole focus of Fashion Week is to launch unknown brands and for those trying to establish themselves on a commercial level, we feel it is no longer relevant to Lili.
Unlike other international Fashion Weeks where the big name fashion houses are shown to much fanfare, Australia's Fashion Week has suffered an exodus of just about every established designer and is primarily showcasing designers nobody has heard of."