The Sand Wedge Beach Bean Bag Chair, Sun Lounge and Beach Bag all in one!
The Sand Wedge bean bag beach chair is the most comfortable and versatile beach seat ever designed on the beautiful Gold Coast of Australia for the beaches of the world.
The Sand Wedge is no ordinary bean bag chair, it is compact, extremely comfortable, light weight and portable. The Sand Wedge bean bag seat would make a perfect unique gift for Christmas or any other occasion.
The bean bag also doubles as a beach bag and comes with 3 pockets for storing everything you need for a visit to the beach or outdoors. There's a sealed pocket for your mobile phone and MP3 player, one for sun block and a neat internal pocket that is just perfect for your sunnies, purse, keys and more.
The Sand Wedge beach bean bag is also designed so that you can carry your beach towel and a magazine or book. The beanbag comes with straps on both sides making it easy to carry on your back similar to a back-pack, leaving your hands free for the extras you may need for your day at the beach or any outing.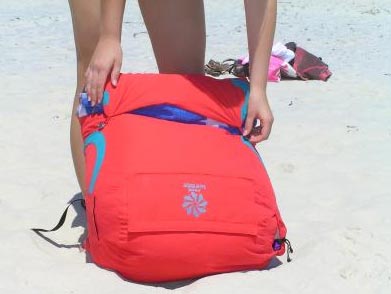 The Sand Wedge bean bag is a beach chair with a difference. Unlike traditional folding beach chairs that are heavy and can only be used as a seat, with the Sand Wedge you can sit, recline or simply lie on your back and lounge in the sun. Or you may choose to lie on your stomach to read a book or have a little nap. You can even invert the beanbag and it becomes a stool, perfect as an extra chair on any beach or camping trip.
The Sand Wedge bean bag chair cover is made from heavy weight 100% quick dry polyester micro fibre (Board Short material). Sand simply falls off with a tap and once wet it dries in no time at all.Designed to lay your beach towel over the top it also keeps the sand from sticking to your wet beach towel, saving you from that exfoliating experience when drying off after your swim.
The many uses for this new invention are endless. Ideal for gifts, the Sand Wedge bean bag cover comes packaged in a small fabric tube with full instructions and samples of positions and uses of this wonderful new product. Enjoy!
RRP: $49.95
Available in Red, Blue & Black helpfull by the pool or at the beach.
www.sandwedge.com.au