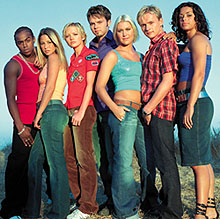 S CLUB SIGN MULTI-MILLION POUND DEAL AND BAND MEMBER, PAUL CATTERMOLE, ANNOUNCES SOLO CAREER

The UK's favourite pop band, S Club, today announced reasons for a double celebration! Not only did they extend their contract with Simon Fuller's 19 Entertainment and Polydor Records, making them all millionaires, but they were also wishing band member, Paul Cattermole, the best of luck in pursuing a solo career.

After 4 years in Britain's chart topping band, 25 year old Paul announced that from August, he will go solo to develop different styles of music. However, that didn't stop him cracking open the champagne with the rest of the band to celebrate their huge achievements as a group to date.

S Club's television series is the fastest selling series in the history of BBC Worldwide and has been sold to 110 countries. The band have won two Brit Awards, sold 10 million CDs throughout the world and are the first British act since 'The Spice Girls' to have their first eight singles reach the top 3 in the UK singles chart. The group's most recent American release, "Never Had A Dream Come True" reached the Billboard Top 10 with gold status. In the UK, each of the group's three albums have achieved multi-platinum status, whilst American album sales have exceeded 1 million copies.

The band have spent the past few months touring the UK on their sell-out tour after winning Record Of The Year 2001 with "Don't Stop Movin'".

S Club said; "Today's a great day for us all! Emotions are high, obviously, as we'll miss Paul hugely and it's sad to see him go, but at the same time, we're delighted to have extended our contracts. This means we'll be recording heaps of new material, we're about to film another TV series and there's the movie too, and that's just this year! We're very happy and can't wait to get started, plus, as Paul's got so much to look forward to, we're really excited for him and everything he's hoping to achieve in the future."

Commenting on his decision, Paul said; "I've had some of the best times of my life over the past 4 years with S Club and I'd like to thank all my fans for that and also the other 6 guys. It will be a sad day for all of us when I leave and I'll really miss not being with them every day – they are my best mates!"

He continued; "I've reached a point in my life where I'd like to experiment in different types of music as a solo artist. I love S Club to bits and I know they'll continue to be hugely successful. I'll be watching them every step of the way and wish them all the best. "

Paul will film with S Club for the 4th TV series, to be televised later this year, and he will also perform at Buckingham Palace for the Jubilee celebrations.