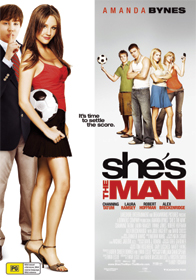 Starring: Amanda Bynes, Channing Tatum, Laura Ramsey, Vinnie Jones, Robert Hoffman, James Kirk
Directed by: Andy Fickman
Rated: PG - Mild sexual references, Mild coarse language, Mild violence
Running Time: 105 mins

In SHE'S THE MAN, everybody has a secret...

High school soccer player Viola Hastings (Amanda Bynes) learns the girls' team has been eliminated. So when her mischievous twin brother Sebastian (James Kirk) calls from London to say he's ditching and won't be back in time to start at his new boarding school Viola decides this is her chance to get even with the boys.

With the help of her friend, a makeover artist (Jonathan Sadowski) she transforms herself into Sebastian and heads off to his boarding school to join the boys' soccer team. But pretending to be a guy turns out to be a lot more complicated than Viola expected, especially when she starts developing feelings for her roommate, Duke (Channing Tatum), who has a long-simmering crush on the beautiful Olivia (Laura Ramsey), who in turn is attracted to the surprisingly sensitive new kid... "Sebastian."

Just as school officials close in on Viola's secret identity, the real Sebastian arrives on campus, setting the stage for the hilarious climax of this contemporary take on Shakespeare's timeless comedy "Twelfth Night."

In cinemas April 6th 2006.