The Chronicles of Narnia: Prince Caspian
Cast: Ben Barnes, Georgie Henley, Skandar Keynes, William Moseley, Anna PopplewellDirector: Andrew Adamson
Genre: Fantasy
Rated: M
Running Time: 144 minutes

Take a leap back in time once more to the mystical, magical world of Narnia. Join the characters of C.S Lewis' literary masterpiece series, the Pevensie children, as they are transported back from England to Narnia where a thrilling, new, adventure awaits in this next installment The Chronicles of Narnia: Prince Caspian, available to own on Disney DVD.

Only a year after the unbelievable events of The Lion, the Witch and the Wardrobe, the young Kings and Queens of Narnia- Lucy, Susan, Edmund and Peter Pevensie, are swept back to the breathtaking landscapes to discover that over one thousand years have passed, and the golden age of Narnia is over.

With its unspoilt beaches, mythical ruins, fearsome fortresses and leafy forests, Narnia, filled with creatures of every shape and size imaginable, faces its grimmest days. With their greatest friend and fearsome ally, Aslan, nowhere to be found and with the Kingdom of Narnia under the control of the ruthless King Miraz, the rightful ruler Prince Caspian desperately needs their help. It will take all of the magical powers of the children to call forth the creatures of Narnia to restore the rightful heir to the land's throne.

The Chronicles of Narnia: Prince Caspian will also be a journey of self-discovery for the Pevensie children. With intriguing new creatures at their side including Reepicheep the courageous mouse, a Black Dwarf named Nikabrik and Trufflehunter the badger, they will realise that victory comes at a cost and foolish pride can be their undoing, as together they seek the means to restore peace and harmony to Narnia.

With Aslan's supposed elusiveness to all but Lucy, the Pevensie children and Prince Caspian must look deep within as they lead an army of Narnian's into ferocious battles, plus a stunning swordfight showdown that will have families on the edge of their seats to see if good can triumph over evil.

Directed by the talented Andrew Adamson, the original cast is reunited once more for this must-have film on DVD. Don't miss this chance to follow the adventure of the Pevensie siblings, the handsome Prince Caspian and to find out if Aslan returns to the children's side, as they face their most exciting Narnian challenge yet.

With stunning bonus features only available on Disney DVD The Chronicles of Narnia Prince Caspian will also be released in a 2-disc limited edition with never-seen-before added content, making it the must-own DVD of the year.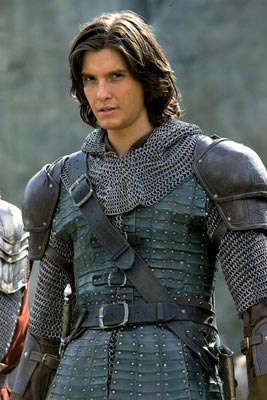 THE CHRONICLES OF NARNIA: PRINCE CASPIAN
HOWARD BERGER (SPECIAL EFFECTS DIRECTOR)
QUESTION: What in Prince Caspian are you most proud of?

HOWARD BERGER: Character-wise I am very proud of Trumpkin and Nikabrik our red dwarf played by Peter Dinklage and our black dwarf played by Warwick Davis. I was proud of them because I really wasn't happy with the dwarves that we did on the first film. We had cast little people from Thailand and India and they really weren't actors. So before we finished that film I went to Andrew Adamson and said that in Prince Caspian we had two hero dwarf characters and we could do one of three things. We could go the same route that we followed in the first film - and I did not feel that was successful - cast average sized actors and cheat it like they did on The Lord Of The Rings with the hobbits. Or we cast actors that are smaller people.

I said I only knew two such actors who were fantastic and they were Peter Dinklage and Warwick Davis. So right away Andrew started thinking about that and we started designing things round Peter and Warwick and luckily we got them. Warwick has been around forever. When he was 11 years old he was in Return Of The Jedi as an Ewok. He has so much experience and is so involved in his make-up; he really nitpicks. He looked at every single make-up and I appreciated that. He wanted it to be the best. I had wanted to disguise Warwick because we have seen him do much and I also wanted to give him another tool to help create his character.

With Peter I did not want to disguise him. He uses his face so much and he has very expressive eyes and eyebrows. The first thing I said to Andrew was that we did not want to cover up his eyebrows. So Peter's make-up ids less elaborate but it is still pretty gigantic. We shaved Peter's entire head and he has thick black hair. So we shaved his head every morning and we had to paint over his five o'clock shadow because his hair grew so fast. If we had just put make-up over it you would have started to see the shadow by mid-day.

He also had a gelatin nose and gelatin ears and scars and then all the hair work. It was a beautiful make-up. Warwick always uses his hands so we had scarring on them and busted up cuticles. You may never see that on screen but for Warwick that is one more tool. It is very important for him.

QUESTION: How important is DVD for your work?

HOWARD BERGER: I try to reference everything that comes out so I have tons of DVDs. I have all the movies I love and what is cool is that as my kids get older I can let them see my favorite films. I have all my favorite films from every era on DVD and watching them is learning. What is exciting is looking at how they went about making movies then compared to how we do it now. It is two different worlds. I was watching my son Travis while he looked at the DVD of John Carpenter's The Thing and I told him there were no digital effects in that movie. That was exciting or him.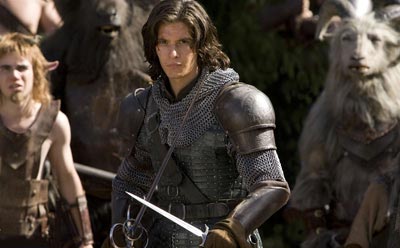 QUESTION: Which DVDs would you take with you to a desert island?

HOWARD BERGER: Well Jaws, my all time favourite movie, The Empire Strikes Back, The Godfather II, The Creature From the Black Lagoon and My Favorite Year, which is my favorite comedy. So those are the five movies that I would take with me to my island.


QUESTION: Can we expect lots of extras on the DVD of Prince Caspian?

HOWARD BERGER: We shot a lot of stuff that will probably be on the extras. There are probably scenes that will be deleted from the film that will be on the DVD. They are definitely structuring a lot more for the DVD release of Prince Caspian.


QUESTION: Does your job get any easier second time round on the Narnia series?

HOWARD BERGER: No. Well yes and now. What got easier was that I had Andrew Adamson's trust…10 per cent. So that was great. But it was harder because we had a lot to live up to. We had to do better; we had to be better than we were on the first film. We had an Oscar and a BAFTA win that we had to live up to. And we had a whole new world; it wasn't like we were going back to the same stuff all over again. If that had been the case and it had just been a re-hash I think that all of us would not have been very interested. But Andrew wanted to make a whole new film. There were common threads - the Pevensies and we were in Narnia - but that was all. So it was wonderful to go back and to try and re-invent the wheel. I had thought that nothing could be more difficult that working on the first film - but this was much harder. The working conditions were very difficult.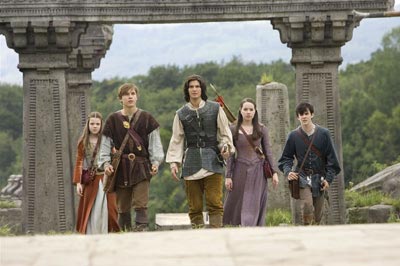 QUESTION: What were the challenges?

HOWARD BERGER: We had a lot more make-ups to do. In the first film we split it between men in suits and make-ups. This time we had very few suits. I think we maybe had 32 suits before we had triple that. We had a tremendous amount of make-ups, which meant we had a tremendous amount of hours making everybody up every day. It was about a 150-day shoot and probably 100 days of that were very heavy make-up days. My crew and I were doing a good 18 to 20 hours a day - with very little turnaround from the time that we reached our hotels to the time that we were back on set. At times it could be three to four hours and that is murder. Doing a 20-hour day then going home to eat something and then sleep for two hours before getting up to go back to work. That was pretty tough!


QUESTION: What were the make-ups you were doing?

HOWARD BERGER: We had a lot of the same species. We had fauns and dwarves and centaurs and female centaurs. Last time we did background female centaurs but this time we did lots of different things with centaurs. For instance we have black centaurs - a whole family of them and that was fun. We came up with some really cool hairstyles; one of the sons has cornrows. There were child centaurs and very old aged ones. We also had older fauns and minotaurs. We wanted to create the feeling that there had been an evolution and there is a cycle of life. We didn't want people to think that in Narnia everyone was in their twenties so they do age. So we also had feature female centaurs and there is a little thing to look for at the end of the movie during the crowning of Prince Caspian as King and there is a procession going through the town. You will see Tilda Swinton and her family as centaurs. We had a family day and Tilda had told me she and her family wanted to be centaurs. So I asked if she wanted to fly in for the day. So Tilda and her son and daughter were made up as centaurs for the day.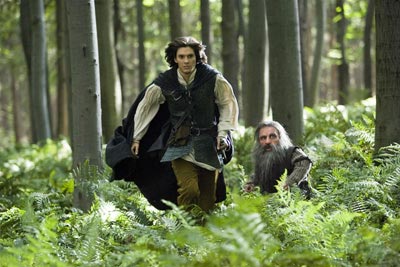 QUESTION: Why was Tilda so keen to be a centaur?

HOWARD BERGER: I think she was jealous not to have been in make-up and so she got this opportunity. She thought it would be fun so she and her kids came on early morning and we made them up and they had a great time. So family day was great and Tilda and her kids were there and my kids are in the movie. Kelsey and Travis were villagers and Jacob was dressed as a faun. He is right there at the beginning of the procession, walking in front of Caspian. So hopefully he will end up in the film.


QUESTION: Didn't you want to be in the film?

HOWARD BERGER: I did appear but I don't know if it will be in the movie. It was during a green screen scene and I went behind the screen put on green pants and a wig and ran out in the middle of the shot. I ran around crazy and Andrew laughed and said to put on a tighter lens. It will probably on the DVD bloopers reel. A bunch of my guys ended up being in the movie as centaurs or fauns and that was nice.


QUESTION: What did you do about the centaur's legs this time?

HOWARD BERGER: Thank goodness I was able to talk Andrew out of using any horse bottoms. That worked fine for some shots on the first film. But all the horse sections this time were done digitally. So they would be made up and have their wigs done and they would wear green pants for the green screen that added the horse legs.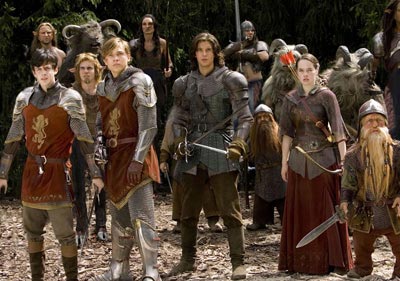 QUESTION: What new creatures are there this time?

HOWARD BERGER: Well now the minotaurs are good. They were baddies in the first movie. Regarding new creatures there is Reepicheep who is our mouse and Trufflehunter who is the badger. Trufflehunter is going to be cool. To help the other actors we had full sized versions of Reepicheep and Trufflehunter on set that they could act to. Ken Stott is the voice of Trufflehunter and Eddie Izzard is the voice of Reepicheep. It is very exciting.


QUESTION: Has the advance of science helped you any since the first Narnia movie?

HOWARD BERGER: We improve things on an artistic level. We found things that worked better this time around. When we shot the first film we made lists of what we might do differently. What definitely helped was having a better understanding of how the digital aspects would work. On the first film we created a lot of minotaur legs and faun legs. Some we used and a lot we didn't. But this time Andrew committed to having the make-up for all creatures stopping at the knees. That saved a tremendous amount of time and aggravation. The digital things probably went a lot smoother. We worked as a team, which was great. A long time ago it was butting heads with digital versus practical but it worked so well because we all worked together for Andrew.


QUESTION: What type of hair did you use?

HOWARD BERGER: Each creature has its own sort of hair. The satyrs have a combination of yak and goat hair and the faces are goat hair. We did something that is called flocking. We shaved all the fur off pelts and used a machine called a flocking gun. So you have foam rubber skin which is painted and glued and then you use this gun to attach the fur and it stands up on end. So you can lay the hair down in the fur pattern that you want and it looks beautiful. For the minotaurs it is all yak hair and the fauns use human hair. The dwarves also use human hair and some yak hair. We needed tons of hair. But there seems to be plenty of yak hair. We never had a point when we were out of yak hair.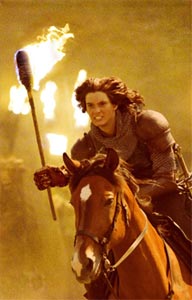 QUESTION: Was there anything that you almost ran out of?

HOWARD BERGER: The only thing was that back in Los Angeles we needed a constant supply of prosthetic faces. We had huge amounts but we went through them quickly and it was quite stressful as we hoped that our shipments of faces arrived on time because without them we wouldn't have any creatures on set. So that was very difficult. It is amazing how many faun noses you can go through in a week. I kept count and at the end we did 4,600 make-ups on the movie. We had 42 people working on that. It was a huge amount of work; I did five make- ups a day, at least. I think the number of make-ups that we did is a record.


QUESTION: How did you maintain your energy levels?

HOWARD BERGER: I am a great cheerleader. It is part of my job to rally the troops. Also I am very involved. If I was not doing the work then it might be different but I don't ask anybody to do anything that I wouldn't do. I am a very high-energy person. It is infectious. I tried to keep it funny and light. Yes there were a lot of tears and anger and aggravation - that happens when you are sleep deprived. But we kept going and tried to make the best of it and keep everybody happy. And Andrew is such a happy guy. It might be different if he was kicking garbage cans and yelling and cussing but he always has a smile on his face. We also tried top keep a team spirit. I tried to have dinners with everyone. In Prague we welcomed the entire team and had a huge dinner with all 42 members of the team. I wanted to make it one big happy family. If you don't have that then at 2am it could be hard to get the morale going.


QUESTION: During filming you coped with extreme weather, how did that impact on your work?

HOWARD BERGER: It affects a lot. You always expect bad weather and for some reason these films are cursed with bad weather...I don't know why. The sun comes out and you start to roll and then it starts pouring. So we had to make sure that we had rain ponchos for all the characters. As soon as it started raining we ran out there with wardrobe to give all the creatures a poncho. Otherwise the rain would matt all the hair and make it look unnatural. So we also had big tents set up so that everybody could go inside - and it rained a lot.


QUESTION: What about the extremes of hot weather?

HOWARD BERGER: That can be a problem, especially if we are doing stunt stuff and the make-up can slop off.... noses could melt off. Luckily everyone was trained in doing things like a faun nose quite quickly. It was a constant thing of always being prepared.



Ben Barnes The Chronicles of Narnia: Prince Caspian Interview
http://www.girl.com.au/ben-barnes-prince-caspian-interview.htm

The Chronicles Of Narnia DVD
http://www.girl.com.au/chronicles-of-narnia-dvd.htm

The Chronicles of Narnia Prince Caspian Book
http://www.girl.com.au/the-chronicles-of-narnia-prince-caspian.htm