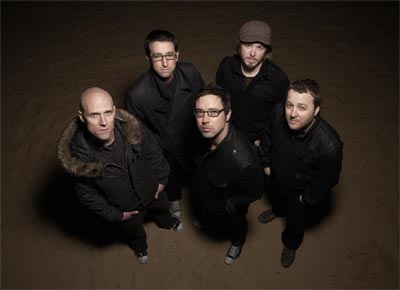 Damian: Vocals, electric and acoustic guitars.
Tom : Bass and upright bass.
Buffalo Soldier: Vocals, Keyboards, piano, harmonia, junior beards.
Scott: Electric and acoustic guitars and backing vocals.
Chris: Drums and percussion and backing vocals.

Goodbye Motel are a 5 peice band from Melbourne Australia who utilise guitars, melody, vocals, bass, dynamics, keyboards, drums, everything and then nothing to make songs that are special.

Melbourne's goodbyemotel are set to launch their new EP End. Play in October. It has been a steady rise for the five-piece over the last two years since they formed, with one EP under their belts, Australian, UK and US airplay, and a UK and Australian management and release deal. Recorded in a converted church in the backstreets of Collingwood and mastered in New York by Howie Weinberg (Jeff Buckley, Smashing Pumpkins, Nirvana), End.Play even includes a moving orchestral finale courtesy of conductor Ben Northey (Hilltop Hoods, The Whitlams).

goodbyemotel started to take shape in early 2005 after members kept crossing paths in the local Melbourne music scene. Over the next few months the guys locked themselves away in a Melbourne rehearsal room and began developing their sound. goodbyemotel's sound has been described as "powerfully driven vocals and lyrics meshed with melodically woven keyboards and guitars that come together in a unique fusion of indie rock".

Late in 2005 the guys released their debut EP Information. The EP was well received at Australian radio and media. goodbyemotel toured Information nationally during 2006. Come late 2006, it was time to record again. Producer Kalju Tonuma (Crowded House, Evermore, The D4, The Mavis's) caught the guys at a show and they immediately decided to cut a new EP together. They picked an old church converted into a studio in a back street in Collingwood (Melbourne) to record and mix the 5 tracks for the new EP End.Play. End.Play was mastered in New York by Howie Weinberg (Jeff Buckley, Smashing Pumpkins, Nirvana).

For an independent band the thought of using a 51-piece orchestra seemed a little far-fetched. That is until conductor Ben Northey (Hilltop Hoods, The Whitlams) came across one of their songs If This Is The Way Out (Then I Am Staying Here) and was so impressed, that he arranged a stirring piece to go with this last track; making the perfect ending for End.Play.

Track 2 All That Bad is already receiving airplay on Australian radio, along with indie and internet radio stations in the US and UK. All That Bad is also being released in the UK in October 2007 (where the band has UK management) and Track 3 Hell Out Of Here has been selected for a compilation CD being released in the US in November 2007.


Tom Marks from goodbyemotel Interview
1. How did it feel to hear your song played all over the airwaves?

It's a great feeling. Your song is out there and its real. People can hear it and maybe it makes them feel something. It gave me a really weird but nice feeling. Like sliding down the rope in gym class.


2. Did you have any pre-conceived ideas about the music industry?

Just that its a tough place to live. We just do what we do and we are what we are. There's no manufacturing shit for anyone but us and our fans, and we have a ball doing it!


3. Do you write your own songs? What's your inspiration?

We all put into the writing but Damian (singer) has done a lot lately. The inspiration changes every time you pick up your guitar. It's not all about girls and broken hearts.


4. What music/artists do you listen to when you are not playing your own?

So many... Radiohead, Death Cab For Cutie and The Frames to name the main offenders, but also anything from The Beatles and Bowie to Metallica, Muse and Mozart. They all play a part.


5. What's next? Tour/Album/Single?

We are all heading down to a house by the sea in the middle of nowhere to write an album. It's a time where we all sit in a room together and write write write. Its all about the new. It's exciting because you never know what's going to come out.


6. Was there a moment you contemplated throwing in the towel?

Every year when I hear the 1st single of the Idol winner!


7. Do you prefer performing live or recording?

It can be fun getting ready to go out for a big night, but it's never as good as the dance floor!


8. What/who was your inspiration to go into the music industry?

All the big bands we have grown up with and playing your music in front of thousands of loud people. Music is essential to everyone in the band. Cannot do without it.


9. What is the biggest challenge you have faced along the way to your musical success?

Late Limmo drivers and not giving a shit about what people think.


10. What's a typical day like?

The band is also a video production crew called "Nicebike" we make video clips and dvds for music festivals. So that is what keeps us out of bed. Then it's off to a sound check, dinner then a gig.


11. What has been your favorite part of becoming a music artist?

Playing a gig in front of a crowd who are in for a great time. We feed off of that. Its an amazing buzz.


12. If you could collaborate with another artist, who would it be?

John and Paul from the fab four. I'd love to hear our music mashed into the Beatles.


13. Are you single? What do you look for in a partner?

I was until I was on a plane not long ago. I couldn't stop looking at this girl a few rows across from me. She kept busting me looking at her, but I just couldn't help it, she was mesmerising. I had to meet her. If I didn't think of something the plane would land and that would be it forever. So.... I pulled out the safety instruction manual from my seat pocket and changed the safety instructions with a texta. Safety tip number ONE was "to the girl in 37c, "meet the guy in seat 44a" he is your extremely funny and good looking safety officer and you must meet him asap"...I gave the note to a little kid who said he could deliver my new safety manual. He gave it to the wrong lady but after a quick discussion with a sweet 74 year old lady the note was transferred to the right person. We met and have been together ever since.


14. Do you have a website fans can visit?

Most people can hear and see us on our myspace page www.myspace.com/goodbyemotel


15. Can you tell us 5 things required for a happy healthy & enjoyable life?

Laughter, good music, good food, good friends, do what you love! You may never get another chance to.


16. What message would you like to say to your fans?

Thankyou


17. What is the story behind the bands name?

When we all first met we had all been through a lot. We all needed a fresh start so we had to check in to the "goodbyemotel" a place to say goodbye and let go of all the things that hold you down.


60 Second Quiz
Full Name: Tom Marks
Nickname(s): Marksy
Star Sign: Scorpio
Music Talent: Bass expert
Favorite Food: Hotdogs or anti pasto
Favorite Film: Anchorman
Favorite Actor: Johnny Depp
Pet: 2 labradors Lily & Eddie
Describe yourself in 3 words: harsh, honest, funny
Best Feature: bum
Worst Feature: impatiance
Person You Would Most Like to Meet: Kate Moss
Hobbies/Interests:Taboggining/being at the beach
First Job: started a production company with two mates just after puberty.
Are you a Pub, Bar or Club kind: none...home on the couch on rainy day guy
What Can You Never Leave Home Without: mostly pants
What is the first thing you think of when you wake up in the morning: sex